It is quite common for sports stars to have befitting nicknames and Marshawn Lynch is no exception. The veteran NFL running back is variously known as Beast Mode (for his powerful running style and ability to run over defenders and break tackles), Skittles, and even Shitty (by some of his detractors and critics). Another famous nickname that Lynch goes by is money. Hearing this, it is quite easy to jump to the assumption that the running back has given in to an ostentatious lifestyle and lavish spendings. The reality, however, is the opposite as he is quite frugal. This admirable trait has helped him build up a decent fortune in the course of his astounding career
How Marshawn Lynch Began His Football Career
Born on April 22, 1986, in Oakland, California, Marshawn Terrell Lynch was raised by his mother, Delisa, alongside his three older siblings. As a child, he fell in love with swimming and spent all his spare time engaged in it. He subsequently dabbled into other sporting activities, and as a high school student, he got lettered in about four sports, including wrestling, track, football, and basketball. Marshawn Lynch excelled particularly in football, and in his senior year, he recorded a total of 1,722 rushing yards with 23 touchdowns. He received All-American honors (from the SuperPrep and PrepStar) and was named the San Francisco East Bay Player of the Year.
Given his outstanding high school run, Marshawn Lynch had no trouble gaining a scholarship to the University of California, Berkeley. He spent three years in the school, during which he bettered his stats each season. For his final season of 2006, he totaled 490 carries for 3,230 rushing yards and 29 touchdowns. The Oakland native also recorded an additional 68 receptions for 600 receiving yards and 6 touchdowns, and this fetched him the award for Pac-10 offensive player of the year. Lynch's exploits made him a small-town hero, and his school cashed in on this. They sold thousands of his No. 10 jersey and utilized his images on billboards. The player also appeared in ads for the school. He, however, received no outright remuneration as the NCAA guidelines prohibited such.
Details of His NFL Career & How Much He Has Made So Far
Lynch announced his intention to join the NFL on January 2, 2007, and his dreams became a reality on April 28, 2007, when he was selected in the draft by the Buffalo Bills as the 12th overall pick of the first round. He went on to sign a five-year contract with the franchise, which was worth $19.065 million. Under the terms of the deal, the running back received as much as $3.8 million per annum, and he went on to reward his bosses with good performances. In his rookie season, he finished with a total of 7 touchdowns and 1,115 rushing yards and was named to the NFL All-Rookie Team of the season.
Marshawn Lynch continued in this manner for the next two seasons. He, however, encountered some disciplinary and injury issues, and as such, his team traded him to the Seattle Seahawks in October 2010. He saw out the remainder of his rookie contract at the franchise, and they subsequently gave him a four-year deal worth $31 million in 2012. This contract paid Lynch $7.5 million per annum, and it spurred him to improved performances, which eventually resulted in the franchise winning Super Bowl XLVIII in February 2014.
Following the successful Super Bowl run, the Seahawks extended Lynch's contract by two years in a deal worth $24 million. The contract, however, ran for one year before the player unceremoniously decided to retire in February 2016. At that time, he had reportedly earned a total of $49.7 million in salaries alone. Lynch spent just one year in retirement before returning in 2017 on a two-year deal with the Oakland Raiders.
The contract was worth $9 million and paid him $4.5 million for the next two years. He then retired from the game once again, having earned about $58 million in salaries. Lynch once again came out of retirement in 2019. He is now signed to the Seattle Seahawks on a contract that would see him earn $60,000 in basic salaries, as well as other juicy incentives. All these exploits, both on and off the field have helped Lynch to amass a decent net worth of $30 million.
What Are His Other Sources of Income?
Even though the exact figures are not available, it is safe to assume that Marshawn Lynch has made about $80-$90 million in the course of his NFL career. Asides from his salaries, which account for about 70% of that amount, the running back has also benefitted generously from his off-field activities. Lynch has trademarked his Beast Mode nickname and now licenses the term to producers who use it on necklaces, t-shirts, sunglasses, headphones, and bracelets, etc. These licensees pay him hundreds of thousands of dollars to be able to use his name.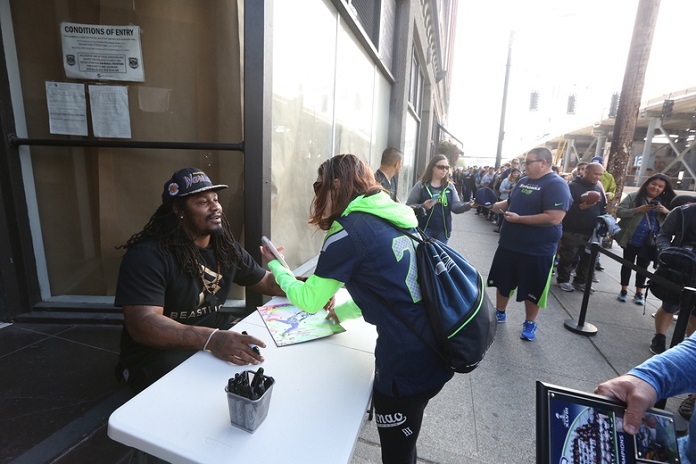 Apart from licensing his nickname, Marshawn Lynch also has his own Beast Mode lifestyle and athleisure brand, which features several categories of apparel. The brand sells its merchandise through online and pop-up stores, and Forbes estimates show that they have generated revenue running into millions of dollars. Another lucrative source of money for Lynch is endorsement deals. Even though he is notorious for his reluctance to talk to the media, this has not stopped brands from wanting to associate with him.
The running back has therefore repped the likes of Skittle, Nike, Progressive, Pepsi, Activision, and Microsoft, and makes as much as $5 million in endorsements each year. Lynch's deal with Skittles deserves special mention. The running back has the habit of eating their candy during games, and this goes back to his high school days when his mother would always bring some along. He continued this habit even as a pro, and in 2011, it was nationally noticed. Mars couldn't resist such an opportunity for publicity, and so, they offered Lynch two years' worth of supply of the candies. They also offered him upfront cash, as well as donations to charity work.
See Also:  Who is Drew Brees and How Old is He? His Net Worth, Wife, Children, and Family
This is How The Running Back Spends His Wealth 
As earlier stated, the reason why Marshawn Lynch is nicknamed money is because of his saving habit. The NFL veteran tries as much as possible to avoid wasteful spending, and this is due to his background. He grew up in a poor family and didn't have much to eat. He, therefore, had to resort to eating unwholesome food occasionally, including cereals infested with cockroaches, to stave off hunger. Lynch has come a long way from those lean days, but he never forgets it. He also never wants to be in that situation again, and this is why he spends money wisely and saves as much as possible.
Despite the above thriftiness, there is one thing that the running back has a weak spot for, and that is grills. For the curious, a grill is a gold or diamond dental jewelry that is worn over the teeth. It is especially popular amongst the hip-hop community and is commonly won by musicians in that genre. Lynch first started wearing grills at the age of 12, and now, he has many of them. Some of them are customized with inscriptions like Beast Mode and Seattle Seahawks. The player also has two, which are almost won permanently.
Asides grills, another thing that consumes Lynch's money is charity. The running back is dedicated to helping others from a similar background and has set up the Family First Foundation. This is a youth development center located in his hometown of Oakland, and it is dedicated to providing youths with opportunities to expand their horizons. The Non-profit organizes food drives during the holiday season, as well as annual football camps for youngsters. The center also provides training in useful skills such as coding, architecture and design, music production, and culinary arts.