Call him controversial or intelligent, the truth may not be far fetched. However, it doesn't change the fact that Kodak Black is one of the few hip-hop stars who have made a name for themselves and gained a massive fanbase in a short span of time. As a young boy, the rapper struggled with poverty which inspired his drive for musical success. Even though he eventually dropped out of school and has been arrested multiple times for the most part of his life, Kapri has gone on to become an established rapper. Was Kodak Black's net worth legitimately acquired? Have the controversial rapper's criminal records affected his wealth? Here are facts that should help satisfy your curiosity.
How Kodak Black Built His Net Worth of $600,000
Dieuson Octave, popularly known as Kodak Black was born to Haitian parents on June 11, 1997. The rapper had a humble and tumultuous childhood while growing up in his hometown of Florida. The motivating factors for Kodak on his journey to fame were the love for money, comfort, and luxury. Contrary to popular opinion, the rapper's success story didn't come overnight. He began practicing his rap game as a pre-teen. In 2009, Kapri (as he is also known) joined the rap group, Brutal Youngnz, and later The Kolyons using the pseudonym J-Black. By the time Kapri became a legal adult, he had already carved a niche for himself in the hip hop world, releasing mixtapes and amassing a huge fanbase.
Kodak Black's first mixtape, Project Baby was released in 2013. His first breakthrough came the following year after dropping Heart of the Projects. In April 2015, he caught the attention of Atlantic Records which signed him to a deal after Drake posted a viral video of himself dancing to Kodak's single SKrt, a month earlier. While Kapri's third mixtape Institution was dropped in 2015, his fourth project Lil B.I.G. Pac (2016) was an even bigger hit peaking at Billboard charts.
One of the highlights of Black's career was in the summer of 2016 when at least three of his singles topped the Billboard charts, establishing him as a star rapper. Kapri's Tunnel Vision which dropped in early 2017 was even more successful. It was later that same year that the rapper eventually released his debut studio album, Painting Pictures, which was not just a top chart climber but was also certified gold. The hip hop star's sophomore album, Dying to Live dropped in December 2018 and reached the highest spot on the Billboard 200.
With multiple singles, six mixtapes, and two full albums, it is clear that the rapper has been hard at work gaining a steady flow of income over the past several years. In addition to record sales, Black is also known as an energetic performer who always engages his audience at live performances.
Away from rap music, the Floridian rapper is a businessman with investments in the fashion industry. His clothing line, Sniper Gang which offers customers a range of quality apparel ranging from hoodies to goggles, t-shirts, pants, bags, and more, also accounts for Kodak Black's increasing source of income.
What Are His Legal Issues?
Black has been in and out of court for years, even before he came into the spotlight. As a youth, Kapri was placed in a detention center at least three times and his legal track record hasn't gotten any better in the course of his career. He's always had run-ins with the law on each step while climbing the ladder of fame.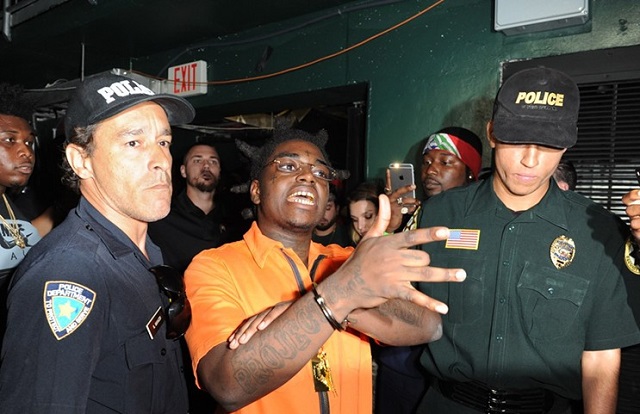 Since 2015, Kapri has been arrested at least 10 times and incarcerated multiple times. Some of his criminal charges include sexual assault, armed robbery, drug possession, and battery. His most recent arrest was in May 2019 in a case that involved firearm charges. While these legal issues may have taken a toll on Kodak Black's net worth of $600,000, the rapper still has an impressive fanbase who continue to support him.
His criminal records have made some doubt the legality of his wealth. But there have also been arguments that it is the rapper's rough past that helped shape his musical style. Perhaps, Kodak's poetic lyrics which have brought him fame and fortune were inspired by his dark experiences and pain. It was in 2018 and while incarcerated that Kodak Black became a Hebrew Israelite and legally changed his name to Bill Kahan Kapri.
See Also: Nas Net Worth and How He Made A Fortune From Rap Music
How Does Kodak Spend His Wealth?
Kodak Black reportedly has investments in sports. In 2018, the rapper revealed on social media that he made heavy investments in a Florida Youth Football League team called the Pompano Gators. Kapri also gives back to the community. Both in Florida and Haiti, he is known to have donated to some foundations for various causes involving kids.
Kodak Black is not yet married but he has a son King Khalid with baby mama, Jammiah Broomfield. The exes have recently been in the news following their child support drama. However, Kapri is legally obliged to pay $4,200 monthly to Broomfield as child support until 2033.
Kodak Black's net worth may be insignificantly affected by his other personal spendings. Like most hip hop stars, Black also lives a luxurious lifestyle. In addition to the stacks of cash (mostly $100 bills) which he often flaunts on social media, the rapper has a lavish mansion in Pembroke Pines, Florida. Kodak's garage also boasts of some expensive automobiles such as a Rolls Royce Ghost and a BMW X6. He also spends part of his wealth on expensive jewellery. Some of his bling collection include a Cuban link chain and a gold grill.