Hugh Hefner was the founder of the adult magazine, Playboy. He is a writer, television personality and an entrepreneur who is appreciated mostly for his self-determination and passion to go big in the sector that none would have imagined.
Early Days
Hugh was born on April 9, 1926, in Chicago, Illinois as Hugh Marston Hefner. He served as a writer for U.S. Army for two years in World War II. Later, he worked as a journalist for the famous magazine, Esquire. His sudden interest towards publishing his own magazine came in 1952 when he was denied a raise of $5 in Esquire magazine.
He published his first magazine, Stag Party in 1952, with a nude picture of Marilyn Monroe and this magazine, went on to be the most liked adult magazine of the century. Hugh funded the first edition of the magazine with some help from his mother and by taking some loans from his friends. Hugh Hefner took out a mortgage, generating a bank loan of $600, and raised $8,000 from 45 investors, including $1,000 from his mother.
This initiation made the magazine sell over 50,000 copies in the first edition. This gave a boost to Hugh and the Playboy magazine still remains amongst us as the most popular adult magazine.
Hugh lived a dramatic life in his youth and made his name as a playboy as he started dating different women time to time.
See Also: Trisha Paytas Biography, Musical TV Career
This started after he divorced his first wife Mildred Williams. Both got married in 1949 and had two children: daughter Christie and son David. Their separation was prompted by infidelity; Mildred had confessed before their wedding, that she had an affair while Hugh was away in the army.
The confession probably influenced his promiscuous lifestyle. Hugh was notorious for dating seven women simultaneously and has shown the lifestyle that he promotes in his magazine in reality and proudly does so.
With extreme success garnered by Playboy, Hugh has been prominent on TV in one way or another. He hosted TV shows like Playboy's Penthouse and Playboy After Dark, etc., and has made several appearances in movies like The Girl Next Door and many others. He has also produced many television shows as well as movies.
In 1985, Hugh Hefner suffered a minor stroke at age 59 that made him re-evaluate his lifestyle. He made several changes; the wild, all-night parties were toned down significantly and in 1988, daughter Christie took over the operation of the Playboy empire.
Hugh Hefner's Assets and Earnings
Hugh makes millions from his Playboy empire and at the peak of Playboy's success, Hefner had an asset base of $200 million. Hugh lived quite a lavishing life and until his death, seized not to be young at heart. He lived in his Playboy mansion and later got married to his third wife, a 29-year-old model, Crystal Harris. As a father of four children, his legacy is bound to transcend to one of his offspring. His youngest son Cooper Hefner is reportedly the one to succeed him as the public face of Playboy.
Hugh Hefner lived a lavishing life in his Playboy mansion and had a net worth of $43 million. As a millionaire, he was a philanthropist and circulated a chunk of his money to several organizations including charity, and restoration of the Hollywood Sign. He donated $100,000 to the University of Southern California's School of Cinematic Arts to create a course called Censorship in Cinema, and $2 million to endow a chair for the study of American film.
See Also: Is Tyler The Creator Gay? His Earnings, Age

Death
The playboy passed away at age 91 in his home Holmby Hills, Los Angeles, California, on September 27, 2017. He died of both cardiac arrest, respiratory failure, sepsis and an E. coli infection.
During his lifetime, Hugh was criticised for making pornography a legitimate business. According to journalist Suzanne Moore;
"He was a man who bought and sold women to other men. Part of Hefner's business acumen was to make the selling of female flesh respectable and hip, to make soft porn acceptable."
Quotes by Hugh Hefner
Life is too short to be living somebody else's dream.
The major civilizing force in the world is not religion, it is sex.
In my wildest dreams, I could not have imagined a sweeter life.
I've spent so much of my life looking for love in all the wrong places.
I always say now that I'm in my blonde years. Because since the end of my marriage, all of my girlfriends have been blonde.
Quick Facts about Hugh Hefner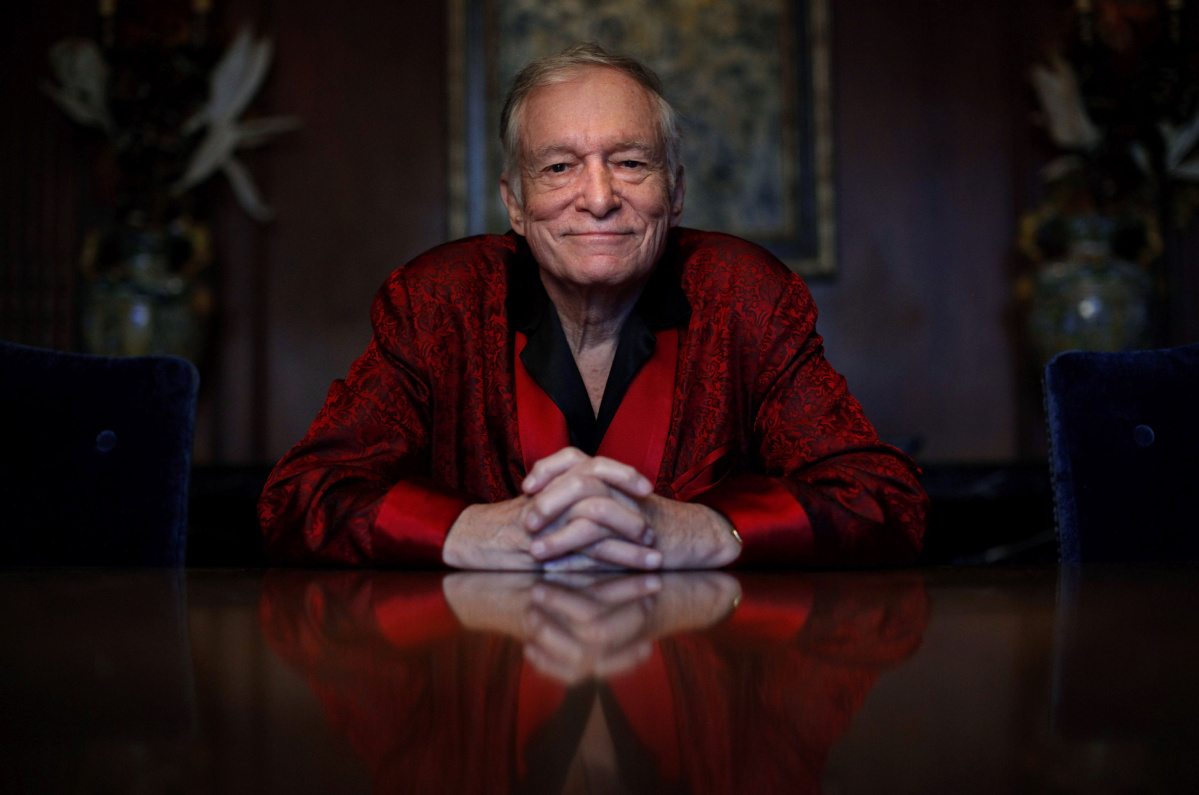 Full Name: Hugh Marston Hefner
Profession: Author, publisher, entrepreneur, producer, TV personality
Height: 5ft 8in
Ethnicity: German, English, Swedish
Nationality: American
Date of Birth: April 9, 1926
Place of Birth: Chicago, Illinois
Marital Status: Married to Crystal Harris
Astrological Sign: Aries
Hugh Hefner Financial Standing: $43 million