| Age/Date of Birth: | April 9, 1926 – September 27, 2017 |
| --- | --- |
| Height: | 5 ft 9 in or 175 cm |
| Ethnicity/Race: | White |
| Nationality: | American |
| Wife or Girlfriend: | Crystal Harris (m. 2012). He was formerly married to Mildred Williams (m. 1949; div. 1959) Kimberley Conrad (m. 1989; div. 2010) and was involved with many more women before his death |
| Parents: | Glenn Lucius Hefner and Grace Caroline Hefner |
| Net Worth: | $26 million |
Hugh Hefner was the founder of the adult magazine, Playboy; the late writer, television personality, and entrepreneur was worth $26 million when he passed in 2017.
Still remembered and appreciated for founding the popular men's lifestyle and entertainment magazine, it has been expressed on several quarters that the man would have left much more wealth behind if not for his extravagant lifestyle.
Though he was criticized for exploiting women for professional gain, history would always think of Hef as an advocate of sexual liberation; someone who led a sexual revolution that questioned and overhauled some of the traditional principles associated with sexuality in the United States of America and indeed the world at large. Because of that, it is expected that future generations would find the Playboy founder and intriguing personality. Among other things, his family life, the wealth he made from his magazine, and how he spent it have continued to pique the interest of the public.
Analysis of His Net Worth, Assets, and Earnings
Hugh made millions in his lifetime. At some point, the total value of his wealth was estimated at over $200 million. While no one needs to be told that he made a bulk of his wealth from his magazine, it wasn't the only source of his wealth. Hugh Hefner was able to turn Playboy into an empire that ultimately became a powerful media and entertainment company. Thanks to this, he also made money from other ventures that range from his Playboy Clubs to his modeling agency, record label, and a TV and film company.
Revenue Generated from Playboy Magazine Was The Primary Source of His Wealth 
The late American publisher was one of the richest in his line of work at the peak of Playboy's success. Founding Playboy laid the foundation for him to grow his wealth and it started in 1952. Born on the 9th of April 1926 in Chicago, Illinois, Hugh Marston Hefner served as a writer for U.S. Army for two years during the second world war. Later, he worked as a journalist for the famous magazine, Esquire. His sudden interest in publishing his own magazine came in 1952 when he was denied a raise of $5 at Esquire.
He published the first issue of his Playboy magazine which he wanted to call Stag Party that year; it came with a nude picture of Marilyn Monroe. In the years that followed, Playboy thrived and went on to be the most liked adult magazine of the century. To publish the first edition of the magazine, Hugh had to take loans from friends and family members. It is said that he took out a mortgage, generating a bank loan of $600, and raised $8,000 from 45 investors, including $1,000 from his mother.
Records have it that the first issue of the magazine sold almost 54 thousand copies in a few weeks. Released in December 1953, the issue was undated. This was so because Hefner wasn't sure if there would be a second issue. But the rate at which it was sold made him realize he was onto something massive. He held on to it and Playboy continues to operate to date. In the 1960s, Playboy magazine was said to be selling more than a million copies per month. By the next decade, the magazine's sales record had skyrocketed with around seven million copies being sold each month. Given that record, it is not difficult to see how the magazine made the publisher a multi-millionaire.
His Playboy Clubs and Other Franchises Were Cash Cows for Hugh Hefner 
Capitalizing on the fame and fortune that Playboy magazine brought him, Hugh Hefner spread his wings to other lucrative endeavours. It was sometime in February 1960 that he launched his first Playboy Club in his hometown, Chicago; this was after he purchased the Playboy Mansion in the city.
Like the Playboy magazine, the Playboy Club proved to be a successful effort. As such, Hef expanded it and franchises sprang up in other cities. Around 1971, there were about 23 Playboy Clubs across the country. Meanwhile, the franchises extend to other facilities like casinos, resort hotels, a limousine service, and what have you.
While we may never know what Hugh earned from each of these businesses, there is no doubt that they were cash cows for the publisher, bringing in several million dollars for him every month.
He Also Made Millions from His Entertainment Companies 
Hugh Hefner was a man who understood how to make the best of what one has. When he realized that his Playboy brand was a big deal, he ventured into almost all the notable divisions of showbiz, from modeling to music, television, and the movie industry. He owned a modeling agency and founded Playboy Records, a defunct label that recorded some successes in the 1970s. Playboy Records went out of business in 1978 only to return as Playboy Jazz which was said to be part of Concord Music Group.
Through his TV and film company, Playboy Productions, Hugh Hefner gained relevance in the field as the host of "Playboy's Penthouse", a syndicated television show. He also got to produce numerous Playboy-themed documentaries, TV specials & movies, feature films, and whatnot. Records have it that he produced as many as 210 projects.
Paychecks from Movies and Television Appearances
Given the level of success he attained after he began publishing Playboy magazine, it was only natural that Hugh Hefner carried massive clout that earned him appearances in several television shows like "Saturday Night Live". More than that, he featured as a guest performer in numerous television series and movies like "Burke's Law", "Get Smart", "History of the World: Part I", "Sex and the City", "Citizen Toxie: The Toxic Avenger IV", and much more.
In all, he was part of about 29 small and big-screen projects. What he made from them was never disclosed to the public but considering the calibre of man he was, one can conclude it added a significant amount to his wealth.
The Various Sources of Hugh Hefner's Wealth 
Proceeds from the sale of his Playboy magazine
Income from Playboy Clubs and other Franchises
Revenue generated from his entertainment companies
Paychecks from movies and television appearances
A Rare Insight On What He Earned Monthly
To a large extent, what Hugh Hefner earned from his various streams of income was unknown to the public. This changed in 2009 after the famous publisher filed for divorce from his wife Kimberley Conrad citing irreconcilable differences.
Among the court documents he filed was an income and expense declaration which gave an insight into his earning power. As culled from the said document, Hef's monthly income amounted to over $290,000. Below is a breakdown…
Salary from Playboy: $116,667
Social Security: $1,896
Dividends and interest: $121,099
Rental property: $17,058
Income from HMH Productions: $15,808
Pensions and retirement: $413
Other miscellaneous income: $17,639
Total monthly income: $290,580
The document also disclosed that he had over $43 million in assets, excluding Playboy stock and property. This was broken down to include cash of $306,548, $36,802,558 in stocks and bonds that didn't include Playboy, and $6,122,990 in a joint account with an unnamed individual. All of these sum up to assets worth $43,232,096.
The Playboy Founder Was Worth About $26 Million When He Died
For many years, Hugh Hefner's Playboy empire thrived. At the peak of its heydays, its magazine was selling over 7 million copies and making as much as $12 million in revenue. Hef branched out to other endeavors as detailed above, launching Playboy Clubs and other franchises. More millions rolled in but a few years down the line, it all came crashing.
The 1980s witnessed a rise in video pornography and as more of such videos became available, the circulation of Playboy magazine continued to decline. Also, the magazine had to contend with competitors like Penthouse and Maxim. Before the decade ran out, all of the Playboy Clubs had packed up as they were no longer making a profit.
In all, Hugh Hefner's income continued to decline but he kept up with his generosity and lavish lifestyle which took its toll on his net worth. When he passed on, it was estimated that he was worth around $26 million.
A Good Measure of His Wealth Was Spent on Supporting His Lavish Lifestyle
Hugh Hefner lived quite a lavishing life and was known to be young at heart. Right from when he became famous as the brain behind Playboy magazine until he died in 2017, he kept numerous girlfriends that he partied with and financially supported. These women lived with him at the Playboy mansion in Los Angeles where Hef hosted numerous lavish parties attended by socialites and celebrities.
It was thought that he owned the Playboy mansion but it later emerged that he paid rent annually for the portion of the mansion he used exclusively. That, in addition to other services rendered to him which included the cost of non-business meals and beverages, amounted to $4 million in three years (2002 – 2004). In 2009 when he filed for divorce from Kimberley Conrad, his court documents showed that he was spending almost $110,000 per month. His expenses were broken down thus:
Rent and household expenses – $53,593
Food – $18,000
Entertainment: $25,000
College expenses for kids: $10,130
Health care: $3,215
The publisher went as far as purchasing a jet for partying; reports have it that he forked out $5.5 million to purchase the 119-foot plane called The Big Bunny. The jet regarded as the world's largest and costliest business aircraft when it was purchased would be worth over $38 million today.
Hugh Hefner Donated Millions to Charity
For a man once estimated to be worth over $200 million, it is not hard to see why many were surprised to learn that his net worth was only around $26 million when he passed. People were quick to point at the lavish way he lived and with that, it was concluded on various quarters that the Playboy founder blew his fortune away.
While it's difficult to argue that it was not the case, the fact remains that his extravagant living was not the only reason he left behind only $26 million. First, his Playboy empire rapidly collapsed and Hugh had to let it go. After Rizvi Traverse Management acquired Playboy Enterprises in 2011, Hugh was left with little option but to settle for a $1 million annual salary.
Also, even though he was not making money as much as he used to, Hef continued to keep up with his financial commitment to his foundation which cost him about $250,000 each year. The publisher was very public-spirited and it saw him donate millions to charitable causes. For instance, he donated $100,000 to the University of Southern California's School of Cinematic Arts to create a course called Censorship in Cinema, and $2 million to endow a chair for the study of American film. That's not all, he reportedly made another donation of $1 million to the UCLA Film & Television Archive which was used to establish the Hugh M. Hefner Classic American Film Program.
He Was Married Thrice and Fathered Four Kids 
Hugh lived continued to live at his Playboy mansion even at an old age. In the last seven years of his life, Hef began dating Crystal Harris, an American model and television personality who was 60 years younger than him. They reportedly began dating in January 2009; this was after Hugh's former "number one girlfriend" walked out of their relationship that had lasted for about seven years. On Christmas eve of 2010, it emerged that Crystal was engaged to the Playboy founder. A few days before their wedding, Crystal called off their engagement. Nonetheless, Hugh and Crystal were able to work out their differences and eventually wedded on the 31st of December 2012. They remained a married couple until Hugh died on the 27th of December 2017.
Huge Hefner lived a dramatic life and was known to have multiple girlfriends. He was relentless about dating several women at the same time and this started after he divorced his first wife Mildred Williams. Both got married in 1949 and had two children: a daughter named Christie and a son called David. Their separation was prompted by infidelity; Mildred had confessed before their wedding that she had an affair while Hugh was away in the army.
Hugh was said to be a virgin until he got married and, it is believed that Mildred's affair triggered his promiscuous lifestyle. After the marriage ended, Hugh became notorious for dating seven women simultaneously. His second wife was Kimberley Conrad and they were married from 1989 to 2010. Their marriage was received massive media attention but it wasn't meant to endure a decade. After about nine years of being married, they separated but didn't make it official because of their kids. Their separation lasted for over a decade (11 years) before Hef filed for divorce in 2009 citing irreconcilable differences: this was after their youngest child turned 18. As you would easily find, the divorce was finalized in March 2010.
Hugh and Kimberley who was the Playmate of the Year 1989 had two children (sons) together. Their first child named Marston Glenn Hefner was born on the 9th of April 1990; yes, he shares his birthday with his late father. His younger brother was born on the 4th of September 1991, his name is Cooper Bradford Hefner.
Meet Hugh Hefner's Kids
The Playboy founder fathered four kids, two with his first wife Millie Williams and another two with his second wife Kimberley Conrad. In all, he fathered a daughter named Christie Ann Hefner and three sons.
Christie Ann Hefner  
Date of Birth: November 8, 1952
Age: 70 Years Old
Occupation: Businesswoman and Activist
Spouse: William A. Marovitz (1995 – 2013)
2013 – Hef and Christie Hefner at the Playboy mansion on Christmas Day.#ScrapbookSaturday pic.twitter.com/jm4JSWQLnj

— Hugh M. Hefner (@hughhefner) December 21, 2019
Christie Hefner is the only daughter of Hugh Hefner and his first child. She was born in Chicago, Illinois, and lived with her mother after her parents parted ways when she was five years old. Christie schooled at New Trier High School in Winnetka, Illinois, and thereafter, attended Brandeis University in Waltham, Massachusetts. From what we gathered, she graduated summa cum laude from the institution with a degree in English and American literature; this was in 1974. Christie had a similar career with her father. Following her graduation from college, she began freelancing for Boston Phoenix, writing movie reviews. She would later relocate to Chicago where she began working for her father's Playboy.
Sometime in 1982, Christie became the president of Playboy Enterprises. She would later serve as the Chairperson and Chief Executive Officer of the company; this lasted from 1988 to 2009. It was Christie that created the Hugh M. Hefner First Amendment Award which honors individuals who have significantly protected the First Amendment rights for Americans. She was once married to William A. Marovitz, a former Illinois state senator. They didn't have any children together.
David Hefner
Date of Birth: August 30, 1955
Age: 68 Years Old
Occupation: Computer Systems Analyst
Spouse: Unknown
David is the younger brother of Christie, the first son of Hugh Hefner, and his second child with his first wife, Mildred Williams. David is probably the least popular child of the late publisher. Even when his father was alive, David evaded the limelight and it is hard for anyone to tell anything about him apart from the fact that he is a computer systems analyst.
Because of how he has stayed away from the spotlight, one might be tempted to suspect he didn't get along with his father. To the best of our knowledge, this wasn't so. Hef once tweeted a photo with David sometime in 2012. David has a good relationship with all the members of his family, he only prefers to keep his private life away from the prying eyes of the public.
Marston Glenn Hefner
Date of Birth: April 9, 1990
Age: 33 Years Old
Occupation: Writer
Spouse: Unknown
Marston is the second son and third child of Hugh Hefner. He is also the first child the late publisher had with his second wife Kimberley Conrad. Marston isn't as popular as his younger brother Conrad but reports have it that he's a writer. It was in 2014 that Marston completed his first book. According to what he shared on Twitter, it's a zombie book.
Hi all Long time no see. I just finished my first book. It's a zombie book. Click here if you're interested! http://t.co/jI8eFlI1Nf

— Marston Hefner (@MarstonGHefner) August 5, 2014
As a kid, Marston lived in the Playboy mansion, so he received a lot of media attention. But as an adult, much hasn't been heard of him, even though he got arrested sometime in 2012 for assaulting Playmate Claire Sinclair who was said to be his girlfriend. As it was reported, Marston was charged with battery on a spouse and released after he dropped $20,000 for bail.
Cooper Bradford Hefner
Date of Birth: September 4, 1991
Age: 32 Years Old
Occupation: Businessman and Activist
Spouse: Scarlett Byrne
Being a father of four children, Hugh Hefner's legacy is bound to transcend to one of his offspring. His youngest son Cooper Hefner was widely considered as the child to succeed Hef as the public face of Playboy. But as an adult, Cooper has embraced a different approach to life and career.
He is a reservist of the United States Air Force but previously worked as the chief of global partnerships and chief creative officer of Playboy Enterprises. Cooper graduated from Chapman University in 2015, he currently teaches at the institution and is working towards kicking off a career in politics. He got engaged to British actress Scarlett Byrne in 2015 and they got married in 2019. The couple welcomed their first child on the 24th of August 2020.
His Death and Legacies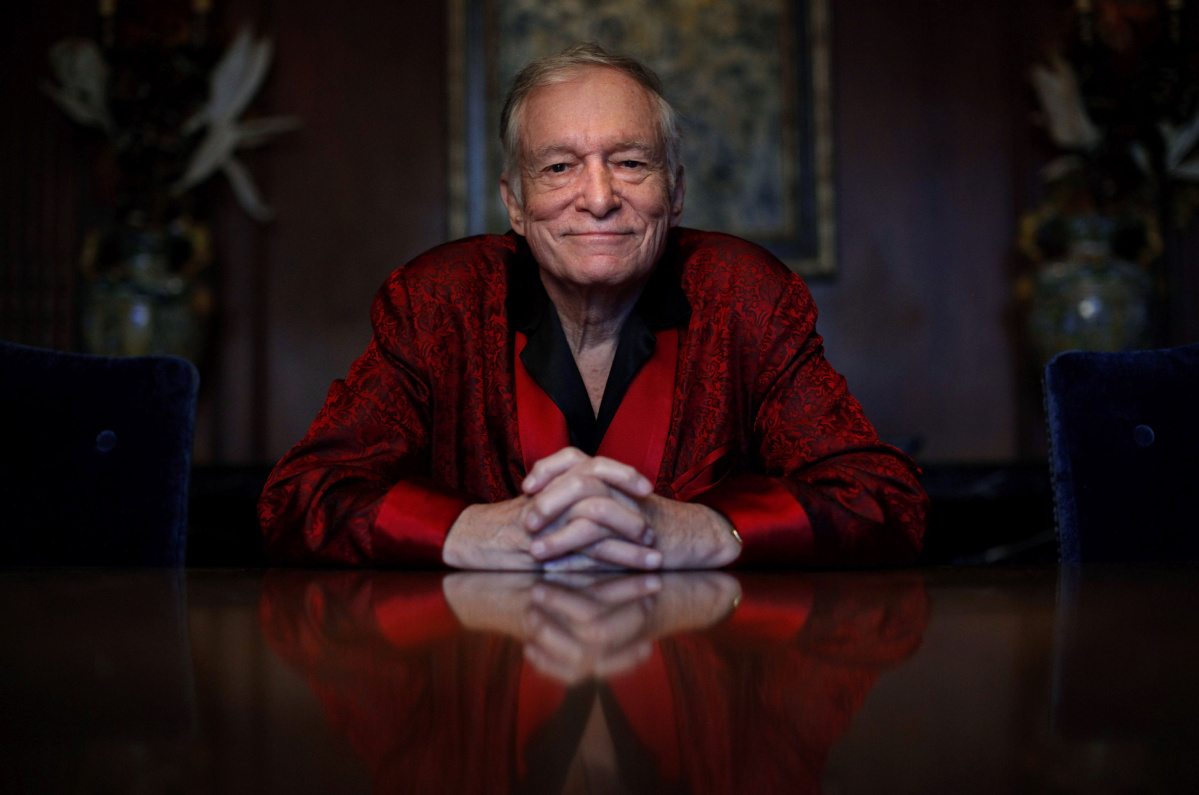 In 1985, Hugh Hefner suffered a minor stroke at age 59 that made him re-evaluate his lifestyle. He made several changes; the wild, all-night parties were toned down significantly and in 1988, his daughter Christie took over the operation of the Playboy empire.
The Playboy founder passed away when he was 91 years old; he died in his home at Holmby Hills, Los Angeles, California, on September 27, 2017. He died of cardiac arrest, respiratory failure, sepsis, and an E. coli infection.
He is remembered as someone that championed sexual liberation but was criticized for exploiting women. For instance, a journalist named Suzanne Moore described him as "a man who bought and sold women to other men". For Moore, Hef built his career and fortune from making "the selling of female flesh respectable" and "soft porn acceptable".
Favorite Quotes of Hugh Hefner
Life is too short to be living somebody else's dream.
The major civilizing force in the world is not a religion, it is sex.
In my wildest dreams, I could not have imagined a sweeter life.
I've spent so much of my life looking for love in all the wrong places.
I always say now that I'm in my blonde years. Because since the end of my marriage, all of my girlfriends have been blonde.
Profile Summary
First Name:
Hugh
Last Name:
Hefner
Also Known As:

Hef, Puffin, The Pajama Man
Sex/Gender:

Male
Profession:

Magazine publisher
Famous For:
Being the founder of the iconic publication, Playboy, of which he served as the editor-in-chief and was the driving force in making it a popular institution. He was also popular for his womanizing habits as he was linked with numerous women
Colleges/Universities Attended:

University of Illinois at Urbana–Champaign, Northwestern University (dropped out)
Educational Qualifications:

Bachelor of Arts degree in Psychology. He also earned a double minor in Art and Creative Writing
Religion:

Hefner was raised in a devout Methodist household, however, as an adult, he was believed to be agnostic
Birthday & Zodiac

Age/Date of Birth:

April 9, 1926 – September 27, 2017
Zodiac Sign:
Aries
Birth Place:

Chicago, Illinois, United States
Nationality:
American
Ethnicity/Race:

White
Country of Residence:

USA
Physical Attributes

Height:

5 ft 9 in or 175 cm
Weight:

67 kg or 147.5 lbs
Eye Colour:

Dark Brown
Hair Color:

Gray
Other Body Measurements:

Not available
Relationships

Marital Status:

Married
Spouse/Partner:

Crystal Harris (m. 2012). He was formerly married to Mildred Williams (m. 1949; div. 1959) Kimberley Conrad (m. 1989; div. 2010) and was involved with many more women before his death

Family and Relatives

Father:

Glenn Lucius Hefner
Mother:
Grace Caroline Hefner
Children:

Cooper Hefner, David Hefner, Christie Hefner, Marston Hefner
Siblings:
Kieth Hefner (Younger Brother)
Other Relatives:

James Marston Hefner (Paternal Grandfather), Lois Nina Hefner (Paternal Grandmother), Frank David Swanson (Maternal Grandfather), Ida Swanson (Maternal Grandmother)
Net Worth
Estimated Net Worth:

$26 million
Salary:
Salary from Playboy: $116,667
Source of Wealth:

Playboy magazine