Guy Fieri Net Worth: $8.5 Million. Guy Fieri is a self-made American restaurateur, television personality, and author. Long before his TV stardom, Fieri at the age of 10 began making money from the food business. Today, he co-owns not less than 3 restaurants in California, runs a number of TV series on the Food Network and banks from his best-selling books including cookbooks. Fieri receives as much as $100,000 for personal appearances. In 2012, Forbes estimated that he made $8 million within 12 months. His net worth is estimated at not less than $8.5 million. Here is his story…
Guy Fieri Net Worth: How He Began
Guy Ramsay Ferry was born on January 22, 1968, in Columbus, Ohio. His love for food began during his childhood days while growing up in Ferndale, Humboldt County, California. At the age of 10, Guy teamed up with his dad to establish his first food business. It was a special pretzel cart called "The Awesome Pretzel". In the next 6 years, Fieri was able to save enough from the business to sponsor his culinary education in France. At the age of 16, he made his dream trip to Chantilly, France and spent 1-year studying cuisine.
Upon returning to France, he put his education to use at the Red Lion Inn in Eureka, California. Subsequently, he enrolled at University of Nevada, Las Vegas, while still working simultaneously in numerous restaurants. In 1990, at the age of 22, Fieri graduated from college with a degree in Hotel Management. He then had a three-year stint as a manager in a Stouffer's restaurant in Long Beach, California. His next job was as a district manager for Louise's Trattoria, managing about 6 locations.
With a 6 year experience as a restaurant manager, Fieri decided it was high time he established his own. Joining forces with Steve Gruber, Fieri opened his first restaurant in Santa Rosa, California in late 1996, a "California Pasta Grill" called Johnny Garlic's. Following its success, the pair opened another location in Windsor, California. The third, opened in Petaluma, California in the early 2000s was later closed. In 2003, they launched their first non-Italian restaurant called Tex Wasabi's– a fine blend of Southern BBQ and California-style sushi.
See Also: Bobby Flay Net Worth
Guy Fieri Net Worth: Food Network Fame
While Fieri was earning solvent income as a trusted restaurateur, his fame with the Food Network greatly helped to boost his success. It began in 2005 when his friends urged him to audition for Food Network's reality show "The Next Food Network Star". He successfully auditioned for a place in the show and ultimately won the competition in 2006, becoming the show's second winner after Dan Smith & Steve McDonagh both won the debut season.
Fieri's victory meant he also snapped the winner's prize of making his own series on the Food Network. His show "Guy's Big Bite" premiered on June 25, 2006, to much success, leading to a renewal of a second season and its continued run. His success on the show was hugely credited to his unconventional chef look and rockstar persona, a trait that has attracted him a cult following as well as a large number of male viewers, more than any other show on the network.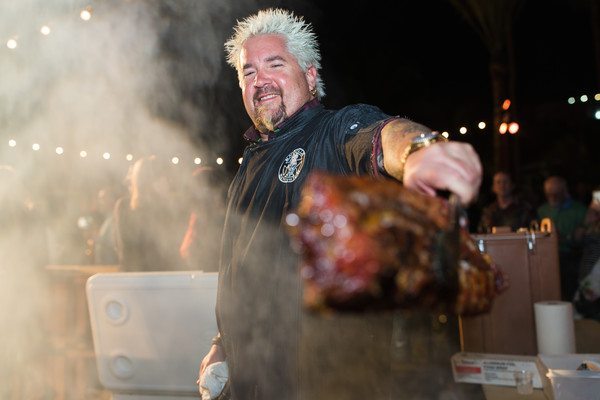 Also in 2006, he launched another show "Diners, Drive-Ins and Dives" where he travels the world visiting diners, and drive-in restaurants. The two shows continue to run and remain his most enduring shows and biggest money makers.
Fieri has gone on to boost his TV fame with other shows like "Guy Off the Hook", the game show "Minute to Win It", reality series "Rachael vs. Guy: Celebrity Cook-Off", and chef challenge show, "Guy's Grocery Games". In 2010, he became the face of the Food Network.
Guy Fieri Net Worth: Endorsements, Businesses
In addition to the income he earns from his numerous shows, Fieri, thanks to his popularity, also banks from advertising gigs. He has worked with the likes of auto exhaust parts manufacturer, Flowmaster, restaurant chain T.G.I. Friday's, and insurance company, Aflac. Fieri in 2011 launched his own line of BBQ sauces and salsas. The sauces are devoid of fat, cholesterol, or high fructose corn syrup.
Fieri's first two books "Diners, Drive-Ins and Dives: An All-American Road Trip" and "Dives: Another Drop-Top Culinary Cruise Through America's Finest and Funkiest Joints" released in 2008 and 2009 respectively sat atop the New York Times best-seller list for over 12 weeks. Fieri went on to release other books including a book of recipe and a cookbook.
Post reality tv fame, Fieri expanded his restaurant business to include "Guy's Burger Joint", his first New York restaurant "Guy's American Kitchen and Bar", and the Vegas version "Guy Fieri's Vegas Kitchen and Bar".
Guy Fieri is married with two sons. The family lives in Santa Rosa, California where Fieri collects vintage American cars. He also owns a Lamborghini Gallardo valued at $200,000.