Net Worth:
$25 million
Age/Date of Birth:

January 22, 1968
Height:

5 feet,10 inches (1.78 m)
Ethnicity/Race:

Italian (paternal grandfather), Scots-Irish (Northern Irish), English
Nationality:
American
Wife or Girlfriend:
Lori Fieri (m. 1995)
Parents:
Father: Jim Ferry
Mother: Penelope Ferry
Guy Fieri is a self-made American chef, restaurateur, television personality, and author. Famous for hosting popular television series on the Food Network, Guy possesses great passion mixed with professionalism which has carved an enduring niche for him in the highly competitive field of food-business. He's such an interesting fellow you'd certainly love to know more about.
His Early Life 
Guy Fieri was born Guy Ramsay Ferry on January 22, 1968, in Columbus, Ohio. However, grew up in Ferndale, in the Humboldt County of California. His parents, Penelope Anne (Price) and Lewis James Ferry are both Americans. In addition to his American nationality, Guy is of mixed descent – Italian, Scots-Irish, and English. His Italian roots originate from his father and grandfather.
Guy changed his surname 'Ferry' to 'Fieri', an Italian old family name when he got married. The celebrity chef said he did that to honor his great-grandfather, Giuseppe Fieri who first changed the name to Ferry when he immigrated from Italy. Fieri in Italian is said to mean "proud people".
Guy Fieri is 1.78 meters tall. The Food Network star has made a series of body changes through his career, ranging from tattoos to different colors of hair. The most striking one is his spiked blonde hair which he got about 17 years ago, after many years of wearing long hair. Although Guy never intended to have his hair that way, he succumbed to his hairstylist's constant complaints that long hair was out of date. According to him, he told the lady to do what she thinks is okay, only for him to realize at the end that his hair has been cut, spiked and dyed.
Guy Fieri's success on the Food Network, as well as his unconventional chef look and rock star persona, has earned him much popularity on social media. As a celebrated chef, it will obviously be hard for Guy to name his favorite dish, but he'd always prefer collard greens with smoked turkey.
How He Began
Guy's love for food started during his childhood days while growing up in Ferndale, Humboldt County, California. At the age of 10, Guy and his dad established his first food business. It was a special pretzel cart called "The Awesome Pretzel". In the next 6 years, Fieri was able to save enough from the business to sponsor his culinary education in France. At the age of 16, he made his dream trip to Chantilly, France, and spent 1-year studying cuisine.
Upon returning from France, he put his education to use at the Red Lion Inn in Eureka, California. He subsequently, enrolled at the University of Nevada, Las Vegas, while still working simultaneously in numerous restaurants. In 1990, at the age of 22, Fieri graduated from college with a degree in Hotel Management. He then had a three-year stint as a manager in a Stouffer's restaurant in Long Beach, California. His next job was as a district manager for Louise's Trattoria, managing about 6 locations.
A Break Down of How He Made His $25 Million Net Worth
Guy Co-owns Several Restaurants Across the Country
With 6 years of experience as a restaurant manager, Fieri decided it was high time he established his own. Joining forces with Steve Gruber, Fieri opened his first restaurant in Santa Rosa, California in late 1996; a California Pasta Grill called Johnny Garlic's.
Following its success, the pair opened another location in Windsor, California. The third which opened in Petaluma, California in the early 2000s was later closed. In 2003, they launched their first non-Italian restaurant called Tex Wasabi's – a fine blend of Southern BBQ and California-style sushi.
Fieri has since expanded his restaurant business to include Guy's Burger Joint, his first New York restaurant; Guy's American Kitchen and Bar, and the Vegas version called Guy Fieri's Vegas Kitchen and Bar. Also, he tried his hands on a cruise ship's kitchen business. This also turned out successful, inspiring him to launch 19 restaurants on Carnival's cruise ships.
What he has been able to make from all of these establishments may not be known to the public but they have contributed in no small manner to his $25 million fortune.
TV Shows Have Also Contributed Massively to His Fortune
While Fieri was earning solvent income as a trusted restaurateur, his fame with the Food Network greatly helped to boost his success. It began in 2005 when his friends urged him to audition for Food Network's reality show, 'The Next Food Network Star'. He successfully auditioned for a place in the show and ultimately won the competition in 2006, becoming the second winner of the show after Dan Smith and Steve McDonagh, both of whom won the debut season.
Fieri's victory meant he also snapped the winner's prize of making his own series on the Food Network. His show "Guy's Big Bite" premiered on June 25, 2006, its success led to a renewal of a second season and its continued run. His success on the show has attracted him a huge cult following as well as a large number of male viewers, more than any other show on the network.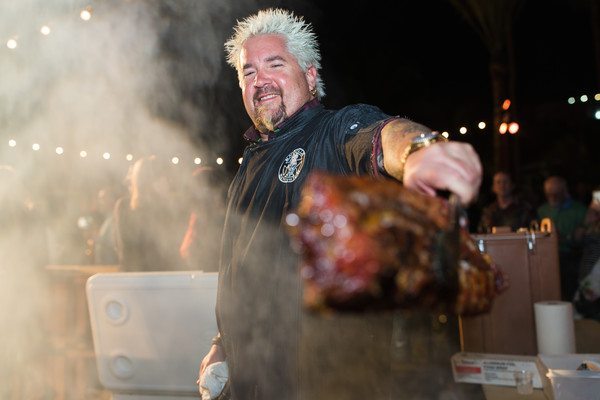 Also in 2006, he launched another show titled Diners, Drive-Ins and Dives. The show revolves around him visiting diner and drive-in restaurants across the world. The two shows continue to run and remain his most enduring shows and biggest moneymakers.
Fieri has gone on to boost his TV fame with other shows like Guy Off the Hook; the game show, Minute to Win It; reality series, Rachael vs. Guy: Celebrity Cook-Off; and chef challenge show, Guy's Grocery Games. In 2010, he became the face of the Food Network. What this means is that he pockets a huge sum per episode of his various shows. The amount involved is best known to him but it has been claimed that he charges $100,000 per public appearance.
Guy Fieri Is a New York Times Best Selling Author
His first two books – "Diners, Drive-Ins and Dives: An All-American Road Trip" and "More Diners, Drive-ins and Dives: Another Drop-Top Culinary Cruise Through America's Finest and Funkiest Joints" were respectively released in 2008 and 2009.
The books sat atop the New York Times best-seller list for over 12 weeks. Fieri went on to release other books including a recipe book and a cookbook. He has thus far published at least 8 books. As such, it wouldn't be out of place for one to conclude he's also a big earner as an author.
The Restaurateur Also Make Money from Endorsements
Given the level of fame he has attained, it is only natural that various establishments have thought it wise to partner with Guy Fieri. As stated earlier, he became the face of the Food Network in 2010.
So, in addition to the earnings from his numerous shows, Fieri, thanks to his popularity, also banks from advertising gigs. He has worked with the likes of auto exhaust parts manufacturer, Flowmaster, restaurant chain T.G.I. Friday's, and insurance company, Aflac.
Again, details of what he makes from this avenue are best known to him but it is easy to see that whatever the figure is, it isn't insignificant.
Guy Fieri Was Worth Only $8.5 Million in 2015
Long before his TV stardom, Fieri at the age of 10, began making money from food business. Today, he co-owns several restaurants and runs a number of TV series on the Food Network. Disregarding those, he earns from his best-selling books and endorsement deals.
Fieri receives as much as $100,000 for personal appearances. In 2012, Forbes estimated that he made $8 million within 12 months. Considering all of that, it is not difficult to see how he has been able to accumulate his fortune estimated at $25 million.
Needless to say, Guy Fieri has not always been that wealthy. He has only become wealthier as he spread his wings to other endeavors instead of focusing on solely being a chef and a restaurateur. In 2015, his net worth was estimated at $8.5 million.
Houses and Car Collections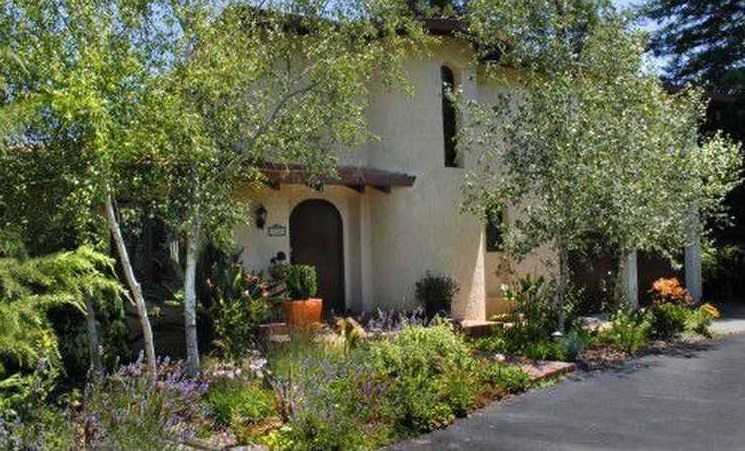 Guy lives with his family in a revamped 1980 ranch-like house in Santa Rosa, California. Lost in a 7-acre land of rich gardens, olive trees, and an orchard, the home contains 3 bedrooms and 3 bathrooms.
It also has a dirt-bike track, basketball hoops, game rooms, and a pool. But the chef regards a $175 trampoline as the finest features of the house. According to him, there is always a kid jumping on it whenever he looks out of his window.
According to reports, the home was originally a 3,700-square-foot home but he upgraded it to include a 6,000-square-foot ranch house with at least 260 goats and a 1,000-square-foot kitchen. Only Guy can tell how much it cost him to have his dream home but no one needs to be told the abode is worth several million.
Although Guy evacuated his family during the horrific California wildfire, their home was fortunately spared in the massive destruction.
The Chef Has Spent Millions of Dollars Collecting Fancy Cars
On the side of automobiles, Guy Fieri is in deep love with vintage American cars. He's got a lot of them, even though he is often seen with his 1967 Chevrolet Camaro. His love for cars runs almost as deep as his passing for cooking up wonders. Below is a list of some of the fancy cars he owns and their value.
2008 Lamborghini Gallardo – $186,900 – $225,040
1969 Chevrolet Corvette – $43,000 – $174,900
1968 Ford Camper – $6,900 – $22,000
2004 Cadillac Escalade – $1,240 – $3,800
Aston Martin DB9 – $306,800 – $387,860
1978 Datsun 28OZ – $30,000 – $140,000
1967 Chevy C10 – $8,500 – $95,000
Chevrolet Kodiak – $48,465 and Above
1968 Pontiac Firebird – $19,594 – $253,000
2004 GMC Sierra – $970 – $8,195
2007 Chevrolet Corvette -$6,879 – $27,893
1967 Camaro – $26,000 – $66,900
2011 Chevrolet Camaro – $4,127 – $17,189
1996 Chevrolet Impala – $1,463 – $7,074
1976 Jeep CJ-5 – $12,600 and Above
Chevrolet Chevelle – $52,040
CSX COBRA – $189,900
Guy Fieri Fell In Love With His Wife the First Time they Met
Wife's Birth Name: Lori Ann Brisson
Date of Birth: Sometime in 1973
Occupation: Undetermined
Duration of Marriage: 1995 – Present
No. of Children With Guy: Two Sons (Hunter and Ryder Fieri)
Guy, aged 25 met Lori, a 20-year-old American lady in 1993. Fate made their paths cross as Lori's friend took her to a restaurant Guy was managing at the time. According to Guy, his love for Lori was at first sight. In addition to that, he captured her attention with food; yes, he cooked for her, and she was deeply impressed.
Realizing they both love food, the two became a pair straight away. Their relationship blossomed and then they got married in 1995. Apart from being married to Guy, Lori who was raised in a low-income background in North Province has no fame, career, or brand name of her own.
She enjoys being a housewife but gives her husband all the support he needs in his very challenging career. It is also interesting to note that the couple has no record of any kind of marital problem.
Lori Fieri Has Been Very Supportive of Her Husband Career
Guy Fieri is easily one of the most accomplished culinary stars in the world. To a large extent, he has himself to thank for all the things he has been able to pull off as a restauranteur, chef, TV host, and author. Nonetheless, his wife Lori has contributed meaningfully to his journey to stardom which began when he was only 10 years old.
In adding to running the home while Guy focuses on his various career engagements, Lori has been of immense support to what Guy does, encouraging him to try out his ideas no matter how unviable they may seem.
A good instance was when Guy came up with the idea of setting up restaurants on cruise ships. He was not very eager to try it out but Lori nudged him to give it a shot. He did and never regretted it as the venture became profitable; Guy now has no fewer than 19 cruise ship restaurants.
The Couple Are Parents to Three Sons
Hunter Fieri
Date of Birth: August 13, 1996
Occupation: Restaurateur and Reality TV Star
Famed as the Price of Flavortown, Hunter is the first child and son of Guy and his wife. Hunter Fieri studied at the University of Nevada, Las Vegas (UNLV), his dad's Alma mater. He is obviously getting along very well with his father, and his food tours with him remain one of Guy's best memories.
Time would reveal what Hunter would spend the rest of his life doing but at the moment, it seems he is bent on following his father's footsteps. It was reported in late 2020 that he would be joining his dad for a new season of his reality-based cooking television game show, Guy's Grocery Games.
Ryder Fieri
Date of Birth: December 31, 2005
Occupation: Reality TV Star
Ryder is the second biological son of Guy and Lori Fieri. Considering his age, it is early to conclude on what he does for a living but he has appeared in several episodes of his father's television shows; from Guy's Grocery Games to Guy's Family Road Trip, Guy's Big Bite, Guy & Hunter's European Vacation, and Diners, Drive-ins and Dives.
Their Third Son Is Guy's Nephew
Name: Jules Fieri
Date of Birth: Sometime in 1999
Occupation: Reality TV Star
Guy had a younger and only sister, Morgan Fieri. Morgan was diagnosed with cancer at the age of 4. Although she later overcame this, she was diagnosed with Metastatic Melanoma at 38 and died a year later on February 19, 2011, aged 39. Morgan Fieri was gay and married to Annie Antepara. She had a son named Jules who was born in 1999. Since Morgan passed, Guy and Lori have had custody of Jules and they regard him as one of their sons.
Being a hospitality expert and massage therapist, Morgan co-founded The Guy Fieri Foundation of Inspiration and Imagination. As a vegetarian, she also contributed to Guy's recipe and cookbooks. Her sad demise occurred ahead of Guy's show at the South Beach Wine & Food Festival. Guy, however, managed to make it to the festival where he officiated 101 gay marriages, saying that it will please Morgan he did.
According to Guy, his sister's life and death inspired him to be more compassionate and liberal. In addition to so many charity works including helping children living with cancer, Guy rendered selfless assistance to victims of California wildfire in his resident community, Sonoma. Fieri had turned up at the evacuation centre with a complete cooking kit and crew, feeding over 5,000 people every day for days!
Profile Summary
First Name:
Guy
Last Name:
Fieri
Also Known As:

Guido
Sex/Gender:

Male
Profession:

restaurateur, author, TV presenter
Famous For:
His prime-time shows including "Dear Food Network", "Guy's Family Road Trip"
Colleges/Universities Attended:

University of Nevada, Las Vegas
Educational Qualifications:

Bachelor of Science in Hotel Management
Religion:

Non-religious
Birthday & Zodiac

Age/Date of Birth:

January 22, 1968
Zodiac Sign:
Scorpio
Birth Place:

Columbus, Ohio, U.S.
Nationality:
American
Ethnicity/Race:

Italian (paternal grandfather), Scots-Irish (Northern Irish), English
Country of Residence:

United States of America (USA)
Physical Attributes

Height:

5 feet, 10 inches (1.78 m)
Weight:

85 kg / 210 lbs
Eye Colour:

Brown
Hair Color:

Blonde
Other Body Measurements:

Unknown
Relationships

Marital Status:

Married
Spouse/Partner:

Lori Fieri (m. 1995)
Family and Relatives

Father:

Jim Ferry
Mother:
Penelope Ferry
Children:

Hunter Fieri (Son, b. 7 August 1996)
Ryder Fieri (son, b. 2005)
Siblings:
Morgan Fieri (Sister)
Other Relatives:

N/A
Net Worth
Estimated Net Worth:

$25 million
Salary:
$8 million per year
Source of Wealth:

His Culinary career and TV shows