Guy Fieri is a self-made American chef, restaurateur, television personality, and author. Famous for hosting popular television series on the Food Network, Guy possesses great passion mixed with professionalism which has carved an enduring niche for him in the highly competitive field of food-business. He's such an interesting fellow you'd certainly love to know more about.
Meet His Wife and Sister
Guy, aged 25 accidentally met Lori, a 20-year-old American lady in 1993. That was when Lori was taken by a friend, to a restaurant Guy was managing at the time. According to Guy, his love for Lori was at first sight. In addition to that, he captured her attention with food; yes, he cooked for her, and she was deeply impressed. Realizing they both love food, the two became a pair straightaway! They later got married in 1995.
Apart from being married to Guy, Lori who was raised in a low-income background in North Province has no fame, career or brand name of her own. She enjoys being a housewife but gives her husband all the support he needs in his very challenging career. It is also interesting to note that the couple has no record of any kind of marital problem.
Guy had a younger and only sister, Morgan Fieri. Morgan was diagnosed with cancer at the age of 4. Although she later overcame this, she was diagnosed with Metastatic Melanoma at 38 and died a year later on February 19, 2011, aged 39.
Morgan Fieri was gay and married to Annie Antepara. She, however, had a son, Jules who was born in 1999. Being a hospitality expert and massage therapist, Morgan co-founded The Guy Fieri Foundation of Inspiration and Imagination. As a vegetarian, she also contributed to Guy's recipe and cookbooks. Her sad demise occurred ahead of Guy's show at the South Beach Wine & Food Festival. Guy, however, managed to make it to the festival where he officiated 101 gay marriages, saying that it will please Morgan he did.
According to Guy, his sister's life and death inspired him into being a more compassionate and liberal person. In addition to so many charity works including helping children living with cancer, Guy rendered selfless assistance to victims of last year's California wildfire in his resident community, Sonoma. Fieri had turned up at the evacuation center with a complete cooking kit and crew, feeding over 5,000 people every day for days!
Details Of Guy Fieri's Sons
Guy Fieri has two sons – Hunter and Ryder Fieri. Hunter was born on 7th August 1996 while Ryder arrived on 31st December 2005.
Hunter Fieri studied at the University of Nevada, Las Vegas (UNLV), his dad's Alma mater. He is obviously getting along very well with his father, and his food tours with him remain one of Guy's best memories. Ryder is also not left out, playing daddy's pet in many of his outings.
His Financial Standing
Long before his TV stardom, Fieri at the age of 10, began making money from food business. Today, he co-owns about 3 restaurants in California, runs a number of TV series on the Food Network and banks from his best-selling books including cookbooks. Currently, Fieri receives as much as $100,000 for personal appearances. In 2012, Forbes estimated that he made $8 million within 12 months. He is currently worth not less than $8.5 million. Here is his story…
How He Began
Guy's love for food started during his childhood days while growing up in Ferndale, Humboldt County, California. At the age of 10, Guy together with his dad, established his first food business. It was a special pretzel cart called "The Awesome Pretzel". In the next 6 years, Fieri was able to save enough from the business to sponsor his culinary education in France. At the age of 16, he made his dream trip to Chantilly, France and spent 1-year studying cuisine.
Upon returning from France, he put his education to use at the Red Lion Inn in Eureka, California. He subsequently, enrolled at the University of Nevada, Las Vegas, while still working simultaneously in numerous restaurants. In 1990, at the age of 22, Fieri graduated from college with a degree in Hotel Management. He then had a three-year stint as a manager in a Stouffer's restaurant in Long Beach, California. His next job was as a district manager for Louise's Trattoria, managing about 6 locations.
With a 6-year experience as a restaurant manager, Fieri decided it was high time he established his own. Joining forces with Steve Gruber, Fieri opened his first restaurant in Santa Rosa, California in late 1996; a California Pasta Grill called "Johnny Garlic's". Following its success, the pair opened another location in Windsor, California. The third which opened in Petaluma, California in the early 2000s was later closed. In 2003, they launched their first non-Italian restaurant called "Tex Wasabi's" – a fine blend of Southern BBQ and California-style sushi.
Food Network Fame
While Fieri was earning solvent income as a trusted restaurateur, his fame with the Food Network greatly helped to boost his success. It began in 2005 when his friends urged him to audition for Food Network's reality show, 'The Next Food Network Star'. He successfully auditioned for a place in the show and ultimately won the competition in 2006, becoming the second winner of the show after Dan Smith and Steve McDonagh, both won the debut season.
Fieri's victory meant he also snapped the winner's prize of making his own series on the Food Network. His show "Guy's Big Bite" premiered on June 25, 2006, its success led to a renewal of a second season and its continued run. His success on the show has attracted him a huge cult following as well as a large number of male viewers, more than any other show on the network.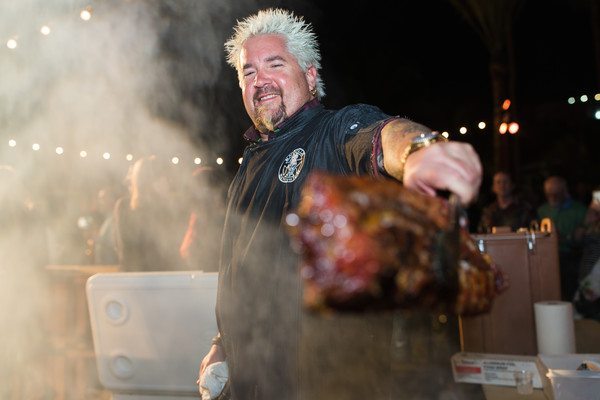 Also in 2006, he launched another show "Diners, Drive-Ins and Dives" where he toured the world visiting diners, and drive-in restaurants. The two shows continue to run and remain his most enduring shows and biggest money makers.
Fieri has gone on to boost his TV fame with other shows like "Guy Off the Hook", the game show, "Minute to Win It"; reality series, "Rachael vs. Guy: Celebrity Cook-Off"; and chef challenge show, "Guy's Grocery Games". In 2010, he became the face of the Food Network.
Endorsements, Businesses
In addition to the earnings from his numerous shows, Fieri, thanks to his popularity, also banks from advertising gigs. He has worked with the likes of auto exhaust parts manufacturer, Flowmaster, restaurant chain T.G.I. Friday's, and insurance company, Aflac. Fieri in 2011 launched his own line of BBQ sauces and salsas. The sauces are devoid of fat, cholesterol, or high fructose corn syrup.
Fieri's first two books "Diners, Drive-Ins and Dives: An All-American Road Trip" and "More Diners, Drive-ins and Dives: Another Drop-Top Culinary Cruise Through America's Finest and Funkiest Joints" released in 2008 and 2009 respectively, sat atop the New York Times best-seller list for over 12 weeks. Fieri went on to release other books including a recipe book and a cookbook.
Post reality tv fame, Fieri expanded his restaurant business to include "Guy's Burger Joint", his first New York restaurant, "Guy's American Kitchen and Bar", and the Vegas version "Guy Fieri's Vegas Kitchen and Bar". In addition, he tried his hands on cruise ship's kitchen business. This also turned out successful such that Guy has so far launched 19 restaurants on Carnival's cruise ships.
His latest venture, a beer and BBQ joint, "Guy's Pig & Anchor Smokehouse Brewhouse" is also set to launch on Carnival Horizon in May 2018.
House and Car Collections
Guy lives with his family in a revamped 1980 ranch-like house in Santa Rosa, California. Lost in a 7-acre land of rich gardens, olive trees and an orchard, the home contains 3 bedrooms, a 900q² foot lavish kitchen, and 3 bathrooms. It also has a dirt-bike track, basketball hoops, game rooms and a pool.
Although Guy evacuated his family during last year's horrific California wildfire, their home was fortunately spared in the massive destruction.
On the side of automobiles, Guy Fieri is in deep love with vintage American cars. He's got a lot of them: a Lamborghini Gallardo valued at $200,000, 1968 Pontiac Firebird, 1971 Chevrolet Chevelle, a revamped 1976 Jeep CJ-5, 1967 Chevrolet C10 pickup, 2007 Chevrolet Corvette, a personalized 2007 Shelby Cobra and a 2011 Chevrolet Camaro.
Guy Fieri Wiki
Guy Fieri was born Guy Ramsay Ferry on January 22, 1968, in Columbus, Ohio. However, grew up in Ferndale, in the Humboldt County of California. His parents, Penelope Anne (Price) and Lewis James Ferry are both Americans. In addition to his American nationality, Guy is of a mixed descent – Italian, Scots-Irish and English. His Italian roots originate from his father and grandfather.
Guy changed his surname 'Ferry' to 'Fieri', an Italian old family name when he got married. The celebrity chef said he did that to honour his great-grandfather, Giuseppe Fieri who first changed the name to Ferry when he immigrated from Italy. Fieri in Italian is said to mean "proud people".
Guy Fieri is 1.78 meters tall. The Food Network star has made series of body changes through his career, ranging from tattoos to different colours of hair. The most striking one is his spiked blonde hair which he got about 17 years ago, after many years of wearing long hair. Although Guy never intended having his hair that way, he succumbed to his hairstylist's constant complaints that long hair was out of date. According to him, he told the lady to do what she thinks is OK, only for him to realise at the end that his hair has been cut, spiked and dyed.
Guy Fieri's success on the Food Network, as well as his unconventional chef look and rock star persona, has earned him much popularity on social media. He currently has over 3 million followers on Twitter, over 500k on Instagram and over 800k likes on Facebook. As a celebrated chef, it will obviously be hard for Guy to name his favourite dish, but he'd always prefer collard greens with smoked turkey.