What is Clint Eastwood's net worth?
Net Worth:

$375 million
Salary:
N/A
Income Sources:
His acting, music, and filmmaking career.
Age/Date of Birth:

93 years old (May 31, 1930)
Height:

In feet: 6 ft 4 in
In centimeters: 193 cm
Nationality:
American
Last Updated:

2021
Clint Eastwood is an American actor, producer, director, musician, and political figure. He has acted, directed, and produced over 50 films throughout his career. His successes have made him one of the richest Hollywood stars with a total net worth of $375 million as of 2021.
Eastwood was born on May 31, 1930, in San Francisco to Clinton Eastwood Sr. (1906–1970) and Ruth Wood (née Runner; 1909–2006). His dad was a steelworker and migrant worker thus the family moved often. When they finally settled in Piedmont, California, he attended Oakland high school where teachers encouraged him to take up roles in school plays. He, however, turned a deaf ear and worked other jobs instead. Among these jobs included lifeguard, grocery clerk, golf caddy, forest firefighter, and paper carrier.
Eastwood was drafted into the US Army in 1951 and was appointed as a lifeguard and swimming instructor. His swimming skills saved his life when a warplane he was flying in from Seattle to California crashed into the sea. With the aid of a life raft, he was able to swim 3.2 km to the shore to save his life. It was sometime after this experience that he gave acting a chance to become the star that he is today.
How Clint Eastwood Amassed His Wealth
Many might argue that Clint Eastwood should be worth a whole lot more than his reported net worth of $375 million since he has been in the movie business for over 60 years. More so, when taking into consideration that films featuring him have grossed a total of more than $1.81 billion in the United States alone, it appears that the actor and filmmaker may have had his hands in a few things that cost him money. Regardless, Eastwood is still one of the richest people in Hollywood. He has come a long way from the time he was paid $15,000 for the role he played in the 1967 movie, A Fistful of Dollars.
His Impressive Acting Career
Eastwood's acting debut came via an uncredited role in the 1955 film, Revenge of the Creature. It took several other uncredited roles before he caught the attention of a Universal studio assistant. He would later meet Chuck Hill who with his connections to the entertainment industry helped land him an audition at Universal Studios. Clint would eventually land a role as Rowdy Yates in the CBS series, Rawhide, in 1958 which became his breakthrough role. He earned $750 per episode in the show's first season. By the time it was cancelled in the middle of the 1965-66 season, he received severance pay of $119,000 per episode.
In 1964, Clint Eastwood was able to establish himself as a movie star thanks to his role in the hugely successful western Italian-made movie, A Fistful of Dollars, where he played the character of "the man with no name". The film grossed $14.5 million, netting the actor his first big paycheck of $15,000.
Clint Eastwood would go on to reprise his role in the film's sequels; For a Few More Dollars in 1965 and The Good, the Bad, and the Ugly in 1966. The stardom he achieved from these movies opened the floodgates of blockbuster roles he landed and meant he was paid a lot more to feature in subsequent projects.
After the three movies known as the Dollars Trilogy, Eastwood starred in the American revisionist western, Hang 'Em High (1968). He earned $400,000 for his role and further received 25% of the movie's box office gross. In that same year, he was also paid $750,000 for starring in the war epic, Where Eagles Dare.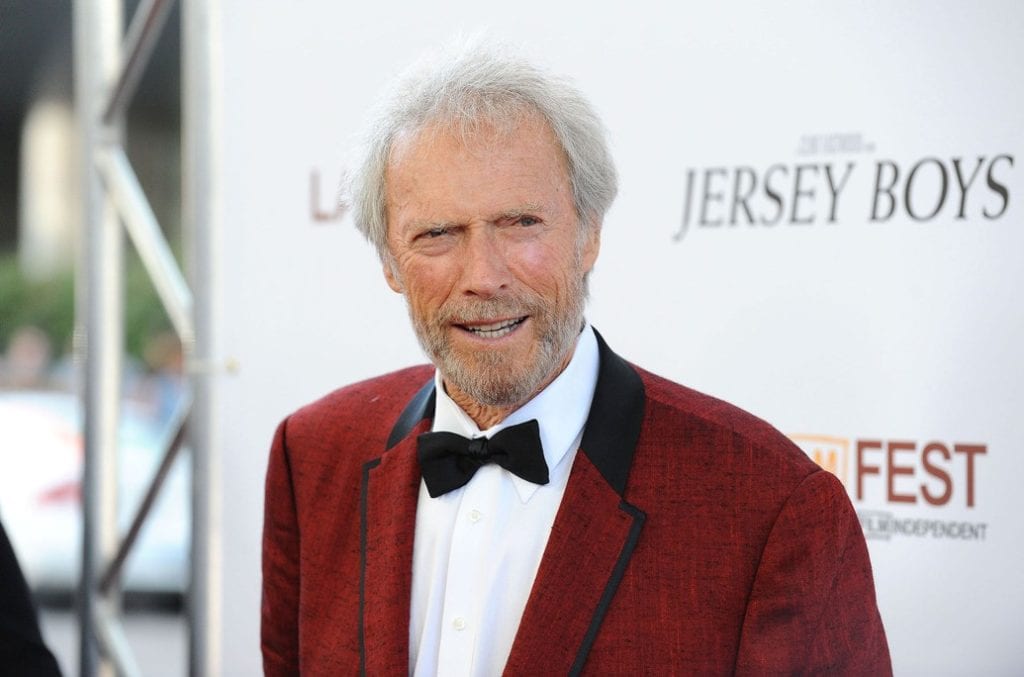 Eastwood's success continued through the 1970s and 1980s, a time during which he was frequently featured on Quigley's Top Ten Money-Making Stars Poll. Roles in movies like Every Which Way But Loose (1978) which became his most commercially successful movie at the time, helped cement his position on the list. The movie was the second-highest-grossing film of 1978, making almost $300 million in 2016 money. The film's sequel, Any Which Way You Can (1980), was also successful, ranking among the top five highest-grossing films of the year.
In 1992, Clint Eastwood starred in Unforgiven which grossed $159.2 million worldwide and brought him an Academy Award nomination for the best actor. The following year, he played Frank Horrigan in thriller film, In the Line of Fire (1993) which earned $102 million in the United States alone and saw the actor return to the top of Quigley's Top Ten Money-Making Stars Poll.
1958 – He earned $750 per episode of Rawhide.
1966 – He received severance pay of $119,000 per episode of Rawhide.
1964 – Paid $15,000 for his role in A Fistful of Dollars.
1965 – Paid $50,000 for his appearance in For a Few More Dollars
1966 – Paid $250,000 for his role in The Good, the Bad, and the Ugly
1968 – He earned $750,000 for starring in Where Eagles Dare and $400,000 for Hang 'Em High
1978 – Eastwood was paid $12 million for Every Which Way But Loose
1984 – He was paid $5 million for his appearance in City Heat
1993 – Earned $7 million for appearing in In the Line of Fire
Directing and Production
Following his success with the Dollar Trilogy series, Clint Eastwood launched his own production company, Malpaso Productions, in 1967. He made his directional debut with the film Play Misty for Me (1971) which grossed $10.6 million to establish him as a successful director. Eastwood has since then earned more awards for directing than acting. He was notably awarded the Irving G. Thalberg Memorial in 1994 for consistently producing high-quality pictures. He has also received an Oscar award for best picture for his movies like Unforgiven (1992) and Million Dollar Baby (2004).
Other projects he has directed and/or produced that were commercially successful and have contributed to his wealth include Space Cowboys (2000), the Oscar-nominated Mystic River (2003) and Letters from Iwo Jima (2006), Changeling (2008), Gran Torino (2008) which is his second-highest-grossing film with $270 million, Invictus (2009), and American Sniper (2014) which grossed $547 million to become his highest-grossing film to date.
1971 – Play Misty for Me grossed $10.6 million
1992 – Unforgiven made $159.2 million
2000 – Space Cowboys raked in $128.9 million
2003 – Mystic River made $156.6 million
2004 – Million Dollar Baby raked in $216.8 million
2006 – Letters from Iwo Jima made $68.7 million
2008 – Changeling and Gran Torino grossed $113.4 million and $270 million, respectively
2009 – Invictus made $122.2 million
2014 – American Sniper grossed $547 million
Business Ventures
In 1971, Clint Eastwood opened an old English-inspired pub called Hog's Breath Inn in Carmel, Monterey, California. While he would go on to sell Hog's Breath Inn in 1999, he has since gained ownership of the Mission Ranch Hotel and Restaurant in Carmel. He also owns the Tehama Golf Club located just outside of Carmel.
Clint Eastwood Spends His Money Like Every Other Hollywood Star
As you would expect from somebody who has been one of the biggest stars in Hollywood for more than five decades, Clint Eastwood has lived a life that is full of luxury. From the houses he owns to the cars he drives, the actor and filmmaker does not hold back when it comes to how he takes care of himself.
Eastwood owns various properties in the state of California. They include a 6,136-square-foot Spanish style mansion in Bel-Air, a 1,067.5 acre Rising River Ranch in Burney, and an apartment in Burbank. In 2010, the then 80-year-old built himself a 15,949-square-foot compound in Carmel-by-the-Sea that cost him approximately $20 million. Other properties he owns around the U.S. are a 1.13-acre, oceanfront manor in Kihei, Hawaii, and a 5,700-square-foot house in Sun Valley, Idaho.
In regards to his cars, the wheels that you would find in his garages in the houses he owns across the U.S. include a Ford Roadster, a Lincoln K-Series Convertible, an Austin Healey, a Cadillac Eldorado Series 62 Convertible, and a Jaguar XK150 Roadster. Others are a Ferrari 275 GTB, Ferrari 308 GTB, a Ferrari 365 GT4 Berlinetta Boxer, a Gran Tarino, a Morris Mini Countryman 'Cooper S', a Pontiac Special Edition Trans-Am, GMC Typhoon, and a Fiat 500e.
Clint Eastwood further owns a few helicopters as he often flies himself to work to avoid traffic. He is an FAA licensed fixed-wing and rotary craft private pilot.
Divorce Settlements Have Also Contributed to the Decrease of His Net Worth
As further discussed below, Clint Eastwood has over the years had numerous serious and casual relationships that have sometimes overlapped each other and has led to the birth of his many children. While the filmmaker refuses to confirm his exact number of offspring, it is public knowledge that he has had to pay child support for those that he acknowledges. Some of the women he has been involved with have also demanded palimony/alimony when their relationships end.
Two notable settlements that cost Eastwood were those to wife Maggie Johnson and partner Sondra Locke. His divorce from Maggie in 1984 cost him $25 million while his separation from partner Locke who filed a palimony claim against him led to an out of court for an undisclosed amount.
Things To Know About Clint Eastwood's Wife And Children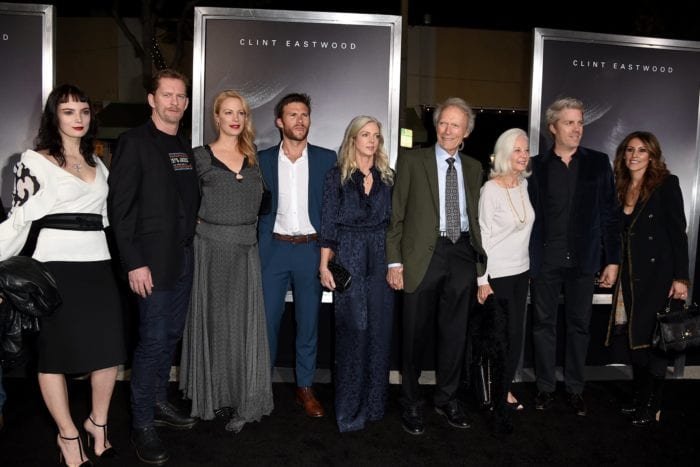 Clint has been observed to have a history with lots of women which has produced six legally recognized children. He first tied the knot with Margaret Neville "Maggie" Johnson on December 19, 1953, in Pasadena. He met Maggie while she was still working as an auto part supplying company. In the same period he met Maggie, he was already in a serious relationship with another woman who suddenly became pregnant with his child. It is thus alleged that the child which was a daughter was given up for adoption.
After ten years of marriage, he was involved in an affair with a stunt woman and dancer "Roxanne Tunis" with whom he had his earliest verified child, a daughter Kimber Eastwood in 1964. At this time Clint and his legal wife Johnson were separated on trial but they came back together to try and make it work. This reunion produced two kids Kyle Eastwood (born May 19, 1968) and Alison Eastwood (born May 22, 1972). The pair finally separated in 1984.
After this separation, he started dating actress cum director, Sandra Lock in 1972; however, he was keeping various maintenance relationships with other women. This external affair produced two children, a son Scott Eastwood (born March 21, 1986) and daughter Kathryn Eastwood (February 2, 1988) with one of his mistresses Jacelyn Reeves, a stewardess. He also had another daughter, Francesca Eastwood, on August 7, 1993). As a result of the many affairs Clint was having while officially dating Locke, they separated in early 1996 after a series of court battles.
In the same year his marriage to Locke ended, he got engaged to Dina Ruiz. They got married on the 31st of March 1996 and had a daughter Morgan Eastwood (born December 12, 1996). As with past relationships and marriages Clint has been involved in, his marriage to Dina got dissolved in 2014. Dina filed for divorce citing irreconcilable differences. She requested to have full custody of their 16-year-old daughter and spousal support.
Death Rumours
In June 2017, the news about the death of veteran actor Clint set social media on fire. The news was initially reported by the hoax news site CNN (Chinese News Network). Obviously, the news site has no connection with the original Cable News Network (CNN). This name and logo were used in order to make the news seem more credible, but thank goodness it was fake news. As sad as it would have been to hear about the demise of an iconic movie star, fans can rest easy as their favourite vintage actor is still alive and well.
Profile Summary
First Name:
Clinton
Last Name:
Eastwood Jr.
Estimated Net Worth:

$375 million
Salary:
Not available
Source of Wealth:
His acting, music, and filmmaking career.
Last Updated:

2021
Also Known As:

Dirty Harry, Samson
Sex/Gender:

Male
Profession:

Actor, film director, producer, and composer.
Famous For:
His roles in movies such as "A Fistful of Dollars" (1964), "The Good", "the Bad and the Ugly" (1966), "Dirty Harry" (1971) and "The Bridges of Madison County"(1995). He is also known for his film scores for movies such as "Grace Is Gone", "Changeling", and "Million Dollar Baby"
Colleges/Universities Attended:

Wesleyan University in Connecticut
Educational Qualifications:

honorary Doctorate
Religion:

Buddhism
Birthday & Zodiac

Age/Date of Birth:

93 years old (May 31, 1930)
Zodiac Sign:
Gemini
Birth Place:

San Francisco, California, U.S.
Nationality:
American
Ethnicity/Race:

White


Country of Residence:

USA
Physical Attributes

Height:

In feet: 6 ft 4 in
In centimeters: 193 cm

Weight:

In kilograms: 82 kg In pounds: 180.5 lbs


Eye Colour:

Green
Hair Color:

Dark Brown (Natural)


Other Body Measurements:

Not available
Relationships

Marital Status:

Dating
Spouse/Partner:

Currently dating Christina Sandera. Was married to Maggie Johnson (m. 1953; div. 1984), Dina Ruiz
(m. 1996; div. 2014)
Family and Relatives

Father:

Clinton Eastwood Sr.
Mother:
Ruth (Runner) Wood
Children:

His known children are: Laurie (born 1954), Kimber (born 1964), Kyle (born 1968), Alison (born 1972), Scott (born 1986), Kathryn (born 1988), Francesca (born 1993), Morgan (born 1996),
Siblings:
Jeanne Bernhardt (b. 1934)
Other Relatives:

John Belden Wood (1913–2004) (Stepfather)