6ix9ine's net worth is something that has been discussed in the media and among fans in recent times, especially because of his rise to prominence as a rapper and the way he has put his name on people's lips through his controversial lifestyle. The name 6ix9ine attracts instant attention in the hip-hop world at the moment and the reason is quite obvious; the man behind the name is one of the most controversial people in the rap game. An American rapper, 6ix9ine is famous in the USA for his really contentious behavior which has earned him quite some lashes from the public in the past. He is also known for the brute-force screaming technique that he uses in his songs. This has, in many ways, helped to make him more popular around the world as more people are introduced to his name and music.
Having become one of the rising forces in hip-hop, 6ix9ine's net worth has also felt the touch of fame as the rapper is quite a wealthy man now, worth $4 million. However, what many don't quite understand is how the young man managed to build all that wealth. Did he become this rich just by making music? Or are there other means of income that he banks on to make his money? Let's find out.
How 6ix9ine Rose To Prominence
6ix9ine, whose real name is actually Daniel Hernandez, was born in Bushwick, Brooklyn, New York. The rapper grew up in New York with a brother. According to reports, 6ix9ine has Mexican and Puerto Rican roots because he was born to a Mexican mother and a Puerto Rican father.
After his father died in 2009, 6ix9ine went into bad ways, selling drugs to make a living. He eventually dropped out of school and later decided he wanted to do music. The rapper started his career in 2014 by dropping some rap songs which initially did not gain much attention. However, his unique style which involved brute-force screaming eventually began to fetch him some fans.
Finally, 6ix9ine shot into fame nationally across the USA in 2017 when he released his official debut single titled Gummo. The singe became a national hit and even reached number 12 on the Billboard Hot 100. Some months later, he went on to feature world-famous rapper, Nicki Minaj on his single Fefe. The song did very well, peaking at number three on the Billboard Hot 100. At this time, 6ix9ine was already very famous, especially on social media where he had built a very loyal community of followers. He has since gone on to do some more exploits in the hip hop music industry, raking in an amazing net worth of $4 million.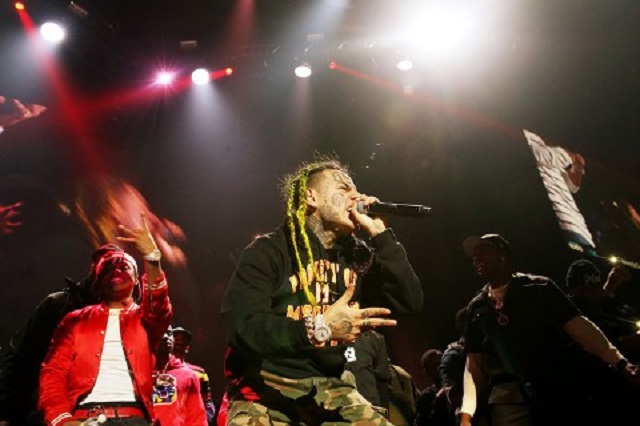 How 6ix9ine Built His Net Worth of $4 Million
As aforementioned, 6ix9ine's net worth has been revealed to be about $4 million but the questions fans have been asking is how the rapper managed to achieve all that.
6ix9ine's net worth of $4 million has been built from different income streams which we shall now talk about below.
Record sales
6ix9ine has spent only a few years in the hip-hop industry but he has already made quite an impact and has sold out quite a number of records. His debut single Gummo enjoyed a lot of commercial success and was even certified Platinum, which means it sold out more than two million units.
In 2018, the rapper released his debut album called Dummy Boy. The album went on to become his highest-charting creative effort as it debuted at number two on the Billboard 200, selling out quite well. The song has been streamed millions of times on streaming platforms, fetching 6ix9ine a lot of money.
Concerts and shows
6ix9ine is known for being very energetic in the way he sings and the way he performs on stage. The rapper has a penchant for putting up dramatic shows and this is one reason why his concerts are always anticipated by his many fans. Since he gained prominence, 6ix9ine has staged so many shows and concerts around the USA.
Usually, the venues for his shows get sold out, a testament to the level of popularity he enjoys. Apparently, the rapper smiles to the bank in a big way whenever this happens. The rapper has also been on tour, another avenue for raking in money.