In the ultra-competitive world of the Internet, many websites have come and gone over the years. However, some sites have taken hold of the public's imagination and become more than websites. The most visited websites in the world have become part of our lives, as familiar to all of us as a pet or best friend. From Google, Facebook to Tmall, and Jingdong Mall, these sites are popular because of the services they render to the global population.
The list of the top ten most visited websites in the world ebbs and flows. But a few of them have remained unchanged. This is due in part to the brilliant business plans employed by the executives in charge of these websites. The ability to anticipate future changes in the industry and react to them has been critical in keeping these websites on top.
Based on data compiled by Alexa, the leading web traffic analysis company, here are the top ten most visited websites in the world right now.
A Global Ranking Of Sites With The Most Traffic
1. Google
This website provides many features, the most famous being its search engine. They also offer Gmail, their popular email service. Google also owns YouTube and Blogger, so they control three of the most popular sites in the world. It enables users to search the world's information, including webpages, images, and videos. It offers unique features and searches technology.
Google also provides specialized searches through blogs, catalogues, videos, news items, and more. The search engine giant also offers Internet services that let you create blogs, send an email, and publish web pages. It also has social networking tools, organization tools, and chat tools, services for mobile devices, and even Google-branded merchandise.
According to Alexa, the average internet user spends approximately 14 minutes on Google daily, and it accounts for 0.40% of the daily traffic from search engines.
2. YouTube
As far as video sharing websites go, YouTube is the most visited website in the world. YouTube is a way to get your videos to the people who matter to you. All you have to do is upload, tag, and share your videos to a global audience. YouTube is a video-sharing website created by three former PayPal employees in February 2005 and owned by Google since late 2006.
The website has expanded since its creation and has become not only a significant source of revenue for its owners but also content creators who take advantage of its reach. The website accounts for an average of 14 minutes of the daily internet use, and up to 15% of web traffic from search engines.
3. Tmall
Tmall is to China what Amazon is to the western world. The site came into existence in April 2008, as a creation of Jack Ma, owner of Alibaba Group. Known initially as Taobao mall, it now boasts of more than 500 million monthly active users, who use the website to sell goods to consumers in China. It also covers other major Asian regoins like Macau, Taiwan, and Macau.
Tmall.com also has more than 50,000 merchants and accounts for more than 47.6% share of the business to consumer retail market share in China. However, compared to Google and YouTube, users spend less time on Tmall daily, with an average of 6.53 minutes per user.
4. Facebook
Mark Zuckerberg started the popular social networking site in his college dorm room at Harvard in 2004. Since then, it has grown to serve over 2.5 billion monthly users worldwide. The service allows you to send messages, as well as share pictures and videos. Just like Twitter, Facebook has helped to assemble and organize people involved in protests and demonstrations all over the world. There is no limit to the popularity of this site.
Such is the influence of Facebook today that it has influenced major elections. One of the contributors to its popularity is how much time users spend on it. Users spend an average of 18 minutes, according to Alexa, which is the most daily time on any site in the top ten most visited websites in the world.
5. Tencent QQ
Known mostly as QQ, Tencent QQ is an instant messaging software service and web portal owned by the Chinese company, Tencent. It is the second of the seven Chinese-owned websites in the Top Ten most visited websites in the world. The site offers services like microblogging, music, online social games, movies, and chatting software.
In many ways, it is everything in one, which is why it ranks highly among global websites. Tencent QQ has more than 900 million active users and accounts for up to 3% of web traffic from search engines. Also, on QQ, users spend an average of 3:44 minutes per day, placing it in the bottom half of the top ten for the most time used by visitors.
6. Baidu
Best described as the Google of China, Baidu is a leading Chinese language search engine that provides a "simple and reliable" search experience. It holds up to 76% of the Chinese search engine market share. Baidu is strong in Chinese language and multi-media content, including MP3 music and movies. It is also the first to offer WAP and PDA-based mobile search in China.
Apart from being the most popular Chinese language search engine, Baidu also provides over 50 other services. They include Baidu Wangpan (cloud storage service), Baidu Baike (online encyclopedia), Baidu Maps, and several others.
7. Sohu
Sohu is another Chinese search engine that caters to up to millions of internet users. The website came into existence in 1996 as the brainchild of Charles Zhang. The site was initially named Sohoo, in homage to Yahoo!, but later became Sohu to differentiate the brands.
Based on Alexa figures, Sohu.com accounts for up to 1.4% of web traffic through search engines, and users spend an average of 3:45 minutes daily per user. Not particularly a recognized name in Western countries, Sohu is notably responsible for constructing and hosting the 2008 Olympic Games website.
8. Taobao
Taobao is the second online shopping platform to crack the top ten most visited websites in the world. Along with the first, Alibaba Group also owns Taobao. The company was founded in May 2003. The online shopping platform, in combination with Tmall, has passed a combined gross merchandise volume of over $423 billion since its creation.
Users spend up to 4:28 minutes on average per day on the website, and it accounts for 2.9% of search engine traffic.
9. 360.cn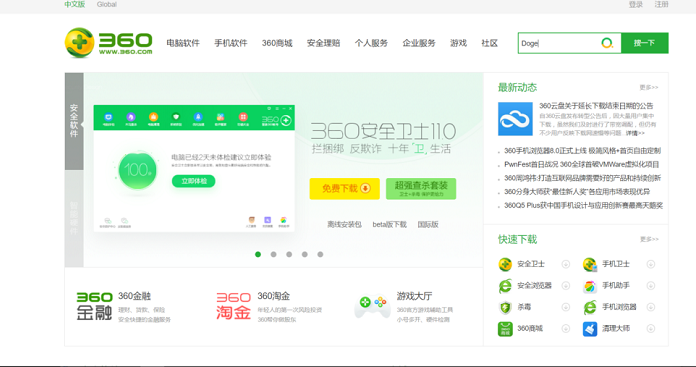 360.cn is a website owned by Qihoo 360. A Chinese internet security company with a few subsidiaries, including 360.cn. Zhou Hongyi and Qi Xiangdong founded it in June 2005. Similar to Western Avast Antivirus service, 360.cn offers services like a web browser and antivirus software like 360 Safeguard and 360 Mobile Safe.
The website has more than 500 million users for its internet security products and more than 600 million users for its mobile products. The popularity of the company accounts for 0.4% of internet traffic via search engines and up to three and a half minutes of the average daily internet user.
10. Jd.com
Finally, the last website on the top ten most visited websites in the world is Jd.com, also known as Jingdong Mall. It is an e-commerce platform and one of the biggest competitors of Tmall, especially in China. Liu Qiangdong established the Business to Consumer platform in June 1998. It has since grown to more than $82.8 billion in yearly revenue.
The e-commerce company was initially named 360buy, and it started as an online magneto-optical store. Today, Jd.com sells various types of electronics, computers, mobile phones. Its popularity is driven by service delivery mechanisms like drone delivery and driverless delivery.