Chris Rock was born on 7th February 1965 in Andrews South Carolina but grew up in Brooklyn. He is a stand-up comedian, actor, screenwriter, film producer and director. His net worth is $70 million.
Chris Rock Net Worth: Career Beginnings
Rock worked at fast-food restaurants before he began pursuing a career in comedy at 19. He started out at NYC's famous comedy club, Catch a Rising Star and quickly became a fixture in the club's circuit. The comedy club is also responsible for the fame of stars like Robin Williams, Ellen DeGeneres, Jerry Seinfeld and more. His promising talent earned him small roles in movies such as I"'m Gonna Git You Sucka" and another TV series.
Rock later landed his first movie role in "Beverly Hills cop II" thanks to fellow comedian Eddie Murphy who was impressed by his performance at a nightclub and offered him the role.
His big break came in 1990 when he joined the Saturday Night Live cast. Rock's comedy was influenced by the fact that he was a bully victim in his white-dominated high school. His style he says was influenced by his paternal grandfather who was a preacher. Rock's comedy became loved by many and together with fellow cast members which included Adam Sandler, they were named the bad boys of Saturday Night Live. A year later, Rock released his debut comedy album titled "Born Suspect". Thanks to the two year spell at SNL, Rock gained national exposure.
Rock began to get frustrated with the SNL and left joining African-American sketch show, In Living Color but unfortunately, it was cancelled few months later. He wrote a movie which he also starred in but still it was unsuccessful. In 1994 Rock returned to stand up and made his debut in HBO comedy special titled Big Ass Jokes.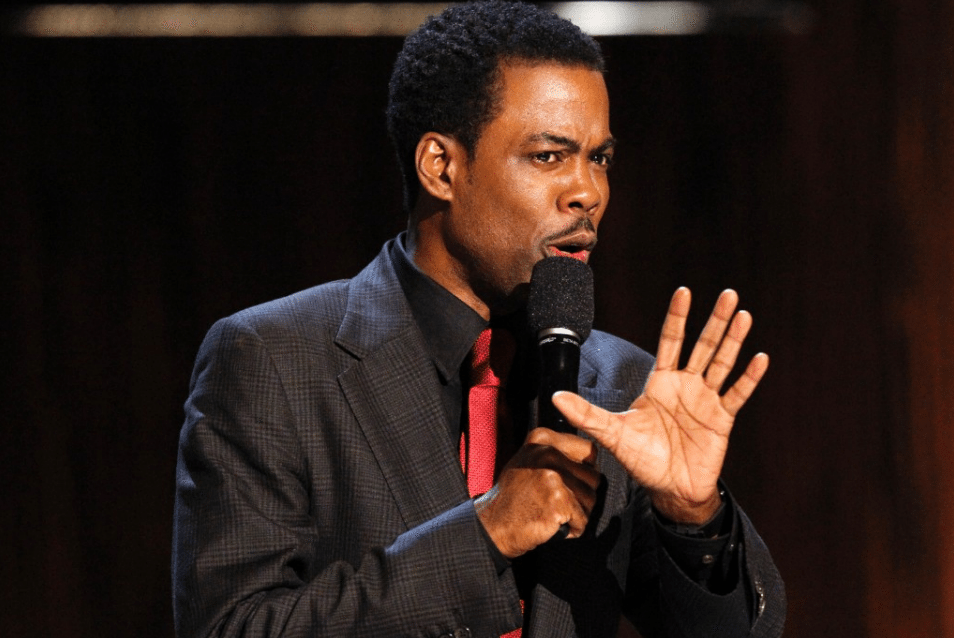 Chris Rock Net Worth: Rise To Fame
Chris Rocks's biggest break came in 1996 in his sophomore HBO special titled "Bring The Pain". The comedy album brought him huge critical acclaim as well as two Emmy Awards. Rock's popularity grew and he began featuring in TV shows including as host of 1997, 1999 and 2003 MTV Video Music Awards. Bigger & Blacker (1999), Never Scared (2004) and Kill The Messenger (2008) were his follow-up HBO comedy special, the first two saw him being named as the "funniest man in America" while the latest won him an Emmy for outstanding writing.
Rock created a comedy talk show, "The Chris Rock Show" which was aired on HBO. The show ran for 5 seasons between 1997 and 2000 and won him an Emmy. Rock's success has been on the increase since them. Now popular, Chris Rock began to receive many major movie roles. He lent his voice to animated film series "Madagascar" (2005-2012) and won the Kids Choice Award for best voice. Some of his recent movies include "Death at Funeral", and "2 Days In  New York".
Music
Rock has also enjoyed success as a musician. His albums "Roll With The New" (1997), Bigger & Better (1999) and Never Scared (2006) have each won a Grammy Award for Best Spoken Comedy Album. He has also made music videos for his songs including "Champagne", "No Sex (In the Champagne Room)" and more.
Writing, Production and Directing
Chris Rock has written a book Rock This! which is a translation of his comedies. He has written directed and starred in movies such as Head of State and I Think I Love My Wife. He produced semi-autobiographical series, "Everybody Hates Chris" which is part of his life story while in high school. The show won 2 Emmys and received several nominations. In 2009 he released his first documentary titled Good Hair and is currently working on another one titled "Credit Is Evil".
Apart from the three MTV VMA's he has hosted, Rock has also hosted the BET Awards and the 77th Academy Awards (2005). He is set to return as host of the 88th Academy Awards in 2016.
As a way of giving back to the society, Rock is involved in charity. He is an ambassador for UNICEF and have donated millions to support causes like Parkinson's disease, human rights, education, poverty and more.
Chris Rock married Malaak Compton-Rock in 1996. Both had two daughters together before splitting up in 2014.