Singers and rappers who got their start in the music industry in their teenage years are a dime a dozen in the American music industry. However, very few of them can boast of the longevity and consistency that Chris Brown has had at the top of his craft. From multiple platinum albums to chart-topping singles, he has consistently remained one of the best singers in the industry. As a result, Chris Brown's net worth has remained one of the largest among American musicians.
Not only has Chris garnered a huge net worth from his music, he is also an entrepreneur and an actor who has appeared in several movies and TV shows. Join us as we take a look at Chris Brown's net worth as well as how much of his wealth goes to child support. Check it out below.
How Much Is Chris Brown Worth Now?
Chris Brown or C. Breezy as he is referred to in certain corners has been in the industry since 2005 after he debuted with his eponymous album, Chris Brown. This first album performed well commercially, debuting at number two on the Billboard 200 with 154,000 copies sold in the first week, and eventually selling over two million copies in the United States alone. The album which earned Brown his first platinum, went on to sell over three million copies worldwide.
Chris Brown has since released several more albums and has sold over 120 million records worldwide. He has over nine albums to his name, many of which debuted on the Billboard 200 and three of whom reached number-one of the Billboard chart. Not only has his music performed greatly commercially, but being a talented dancer, he has forged a reputation as one of the greatest performers alive, and as a result, his tours, concerts, and shows are some of the most consistently sold-out music events in the industry.
Chris Brown is also a producer, a writer, and a composer and continues to have a profitable relationship with the movie industry that contributes to his substantial net worth. His music has also featured as a soundtrack to over 70 movies and shows, all of which generate income for the singer.
With such a career, it is no surprise that Chris Brown has a net worth of $50 million earned through his outstanding success in the music industry.
Brown's Other Sources of Income and Earnings
Aside from his music, Chris Brown is also an actor who has appeared in a few movies and TV shows of his own. He made his acting debut in 2006, appearing in an episode of All of Us as Brandon, and he has since gone on to appear in movies like Stomp the Yard, Blood Rogues, Takers, Think Like a Man and more.
Other major contributors to Chris Brown's net worth is his business interests, which include his record label, Chris Brown Entertainment. He also has other business ventures like an investment in the food chain, Burger King, under which he owns fourteen restaurants. Chris also owns a clothing line called Black Pyramid which he launched in 2012.
See Also: 50 Cent – Bio, Net Worth, Son, Weight Loss, Wife, and Baby Mama
Here's How Much of Chris Brown's Net Worth That Goes To Child Support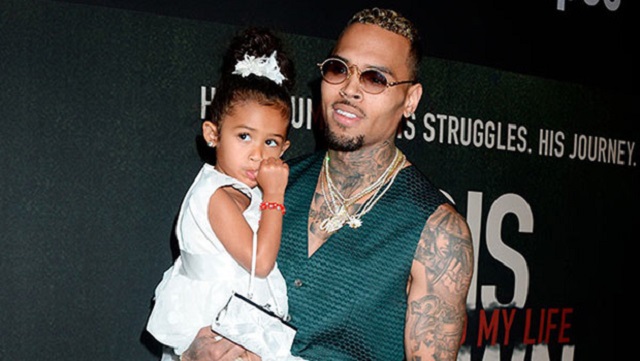 While Chris Brown's net worth shows he has enjoyed a considerable amount of success as a musician, it hasn't all been positive news for the musician. He has faced his share of controversies, one of which is the infamous domestic abuse of Rihanna when they were a couple.
Another is with his baby mama, Nia Guzman, who is the mother of Chris Brown's first child, Royalty Brown. Both Chris and Nia Guzman have been locked in a battle for child support which began in September 2018 when Nia filed for an increase in child support. At the time, Chris was paying $2,500 per month.
According to the law, a person with Chris' income and net worth is required to pay $18,336 per month. However, after a brief court battle, both Chris and Nia Guzman came to a settlement that guaranteed $5000 in child support. Aside from the basic child support, Chris Brown is also going to be paying $6,000 per month for Royalty's private school, her medical needs, and a nanny. He will as well be paying additional $1,770 per month for travel, $1,516 for entertainment, and $419 for extracurriculars. All these amount to almost $15,000 monthly for his child's general upkeep.
Aside from the monthly payment, Chris also agreed to buy a house for Nia Guzman and pay her legal fees to the tune of $100,000.