Before the world turned a sharp focus on sexual assault, particularly from powerful men with the Me Too movement, there were a few high-profile cases that got the attention of the world. One of them was the 2003 sexual assault case involving the now late basketball icon, Kobe Bryant.
What started as a regular day went abuzz with reports that Kobe Bryant had been arrested by the sheriff's office in Eagle, Colorado for an alleged sexual assault of one Katelyn Faber. Kobe was accused of raping Katelyn in his hotel room. What became of the case; where is the sexual assault accuser now?
Following Kobe Bryant's sad and sudden demise through air crash in January 2020, journalist Felicia Sonmez of Washington Post dug out the issue of his alleged rape case which occurred back in 2003, referring to it as part of the late basketballer's legacy. Although many frowned at the ill-timed revisit of the ugly event, the deed of reviving people's curiosity over the issue had already been done. Since then, many questions on what actually transpired between Kobe and his accuser, Katelyn have been popping up, and we've got all the truths and facts you need to know below.
How Did Faber and Bryant Meet?
In 2003, Kobe Bryant aged 24 had a surgery appointment in Colorado scheduled for the 2nd of July. The basketball player came around a few days before, precisely on June 30 and checked in at The Lodge and Spa at Cordillera in Edwards, Colorado.
At the time, Katelyn Faber aged 19, was working as one of the staff of the lodge. It happened that Kobe Bryant and Faber crossed paths. Following their meeting, Kobe invited her to his hotel room on the night of 1st July and had a sexual encounter with her, an act Katelyn said she did not consent to, hence tagging it a rape/sexual assault.
The Sexual Assault Case that Ensued
Following the sexual encounter between her and Bryant, Faber filed a rape complaint at the Eagle County police. The Eagle County Sheriff, therefore, took custody of Kobe in order to interrogate the claim.
During the interrogation session with the police, Kobe Bryant initially denied having sex with Katelyn Faber. However, after a rape test kit and DNA test provided evidence of the presence of his semen in Katelyn, Kobe admitted to the sexual encounter but insisted that it was consensual. Despite the presence of bruises on Katelyn's neck, blood on both her clothe and his, and vaginal trauma (as revealed by her rape kit), Kobe still denied the allegations of rape, saying the injuries were the results of rough sex. He, however, admitted that he never explicitly asked for consent but simply assumed it from various physical cues from Katelyn including her putting her hand on his penis.
Not satisfied with Bryant's claims, the Eagle County Police issued a warrant for his arrest on July 4th. The county subsequently filed a formal charge against him on July 18th. The hearings and the trial following the charge saw the admission of the results of a rape test kit, DNA testing, and Kobe Bryant's testimony. On the other hand, Kobe's defense team questioned the credibility of Katelyn's testimony, citing that she has a history of mental illness and was still taking medications for schizophrenia at the time of the incident. They also claimed that Katelyn's vaginal trauma was a result of multiple sex with different men within the 24 hours that followed her encounter with Bryant.
What Eventually Became of Faber and Bryant's Rape Case?
As a result of the tough time Faber faced during the case, she decided not to testify against Bryant. The Eagle County District judge consequently dismissed the case on September 1, 2004, after months of investigations and court appearances. Prior to the dismissal of the case, Katelyn was pelted with numerous hate mails and death threats.
Seeing the futility of the criminal case, Katelyn Faber who was demanding $75,000 in damages, filed a civil lawsuit against Kobe Bryant in August, 2004. The two parties, however, eventually resorted to an out-of-court settlement, with terms of the settlement undisclosed. Kobe Bryant also issued a public apology to Katelyn, and it effectively ended the drama. Kobe's very supportive wife, Vannessa Bryant was at his side, holding his hand as he rendered the obviously humiliating apology.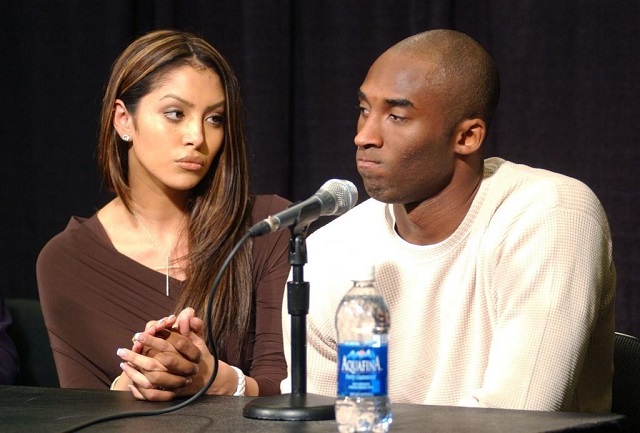 Did Kobe Bryant Truly Rape Katelyn Faber?
Based on the words of his apology, it could be drawn that Kobe indeed had a non-consensual sex with Katelyn. Although Bryant never admitted to sexually assaulting Faber, he fully admitted that he never got her consent before indulging in the act with her. His accuser also revealed that she had asked him to stop but he would not listen.
Many however, still believe to this day that Kobe's massive popularity swayed the case in his favor to Katelyn's detriment.
See Also: Everything You Need To Know About Renate Dolphin
Personal Details of the Woman that Rocked Kobe Bryant's Marriage and Career
Having gained media attention, though for the very wrong reasons, many have been curious over information on Katelyn Faber's personality. Widely known as Kobe Bryant's accuser since after coming to media notice, Katelyn was born on the 18th of June, 1985 in Colorado. Her middle name is Kristine. Her parents, Paul Louis Faber and Kristine Ann Faber raised her in Gypsum, Colorado.
Faber attended the Eagle Valley Senior High School before heading over to the University of Northern Colorado for her bachelors. Although her course of study at the university is not known, Katelyn Faber sometime aspired for a career in music. She followed her passion to the point of landing an auditioning opportunity on the hit music reality show, American Idol. During the audition, she had the privilege of singing in front of popular judges Simon Cowell and Jennifer Lopez.
All these, however, happened prior to her scandalous affair with Kobe Bryant. Having not succeeded in establishing a music career, Faber started taking up paid jobs to earn a living, one of which is probably the hotel job that led to her meeting Bryant.
Following the settlement of her civil case against Kobe, Katelyn withdrew from the spotlight and for a long period, no news about her surfaced in the media. Recent findings, however, claim that she has given birth to a son whose identity and paternity are still under wraps. Further reports also claim that Katelyn is presently in a relationship with one Cort Colon.