Have you ever woken up and felt reluctant to go to work? Or, do you sometimes feel bored at work and need something to play around with? That's not tantamount to being childish. Instead, it's a sign that something might be wrong at your workplace. The need may not even be as grandiose as you thought; it might just be that your office space design needed more variety to make it inspire creativity and zeal.
Gone are the days when offices were unattractive cubicles. Great companies like Google, Box, Facebook, and even Pixar have demonstrated that tremendous success can be achieved in an unconventional working environment. Beyond this, a lot of people are beginning to understand and embrace the idea that a creative work environment helps stimulate minds and inspire innovation. No wonder cool office spaces tend to be more common among tech companies, it has now become a part of the Industry's culture.
If you're trying to bring in a bit of personality into where you spend most of your day, be inspired by the following creative office space ideas and tips.
Playful Office Space Design Ideas To Choose From
1. Create a community of employees who co-operate as if they are gamers
We found this idea actualized already at the new San Francisco office pavilion of the file-hosting company, Dropbox. Dropbox is helping company employees all over the world to work and co-operate with one another on cloud. That means they help companies overcome the need for physical office considerations.
Ironically, Dropbox could not help but fail to get the help they offer. For its cloud infrastructure to work for others, they need to have employees who work off-cloud. For instance, their programmers must be on the ground to create codes from scratch and interface with one another in the process of doing this. To help these workers give out their best output, the San Francisco new office of the company has a design inspired by the concept of what one commentator called 'neighborhood', which is a community of employees who share similar interests working in a cluster of rooms laid out across the 300,000-square-foot Dropbox property.
Said to have been designed by Boor Bridges Architecture in collaboration with Geremia Design and the interior design firm Rapt Studio, this office flies directly in the face of the design of the company's old offices. In the old office design, workspaces were simply thrown among narrow hallways that made collaboration difficult, disruptive or both; the new design simply predisposes the workers for real camaraderie while at work.
2. Think of designs that replace energy-draining rules with emotional cues
We also got this idea from the new San Francisco offices of Dropbox. The communities of employees are groups of 40 to 50 people who virtually create their own company subculture and work with it. They share career questions as well as other interests such as their hobbies through an interconnected network of facilities.
There are no strict rules and regulations that drain energy and creativity. Yet, there are moderating elements such as the libraries that are fully noise-free zones that have windows that glow a bright pink when sunshine falls on them which makes the rooms not only silent but also 'soft'. It even promises an edge to your emotional intelligence.
On the other hand, if you feel like chatting with a fellow employee about a football game you attended the previous day, you can do this at the Karaoke Bar which also has work suitable furniture in case a chattering begins to inspire a profound coding idea.
3. Install queer hammock chairs for employees
We found this implemented at the New York offices of the AI software company, LivePerson. The rooms where these hammock chairs were installed has other perks like arcade games and mini-kitchens attached. All these are aimed at fighting boredom in workers.
4. Install Infrastructure for employees to re-enact their childhood creativity
You will find this at the Los Altos California offices of the popular cloud-storage platform, Box Inc. The entire 100,000-square-foot property doesn't look like a workplace, it feels more like a version of Disney World: workers are allowed to use company-owned scooters inside the office spaces. They have an area lit in multiple colors and even have rollers installed.
5. Add off-beat variety with chalk-artistry
This playful office space design must have achieved some good rewards at the Redwood City (California) offices of Evernote where we found it. In place of elaborate interior design, the company hired the chalk artist Dana Tanamachi to draft a wall-sized representation of the company's identity, complete with its tagline, logo, and all.
6. Create an Amusing replica of a well-known real estate
Imagine designing your Italy-based office to look like St. Peter's Basilica or a London-based office to look like Buckingham Palace. It immediately singles you out in the eyes of the public which is very great for marketing. As for your employees, it will immediately afford them a certain sense of pride and prestige that goes a long way to improve the depth of their creative input.
We found this playful office space design tip implemented at the San Francisco offices of the software developing company, Github. The lobby out there is designed to look pretty much like the Oval Office in the White House. Apart from the curved walls, the oval-shaped floor, the striped walls, and the gold curtains, there is also the American flag located strategically at a corner.
Even the furniture mimics designs at the Oval office. For instance, the reception desk looks like the work desk of the President of the United States.
7. Have a colorful structure that portrays your mission and vision
We can't think of any move to make employees work more collaboratively than having the company's philosophy always on their minds. A good way of achieving this is creating an enduring design that subtly but steadily reminds everyone of what you are all aiming to attain.
A very good instance of this can be found at the 33,000 square feet headquarter of famed print and design company, Moo.com. Among other designs at the Moo office, there is a 200-foot-long colorful spine made of more than 500 rectangular paper panels which practically cuts across all the work areas. According to an official statement from Moo, it reminds everyone that the company's paper products are at the core of their business.
8. Create a brand museum
What we mean by a brand museum is a room where you have a collection of funky souvenirs representing your brand. We found this at the Washington DC office of the online marketplace, LivingSocial. They have a room housing a collection of anything from kitchen utensils to clothing and logo designs all representing LivingSocial.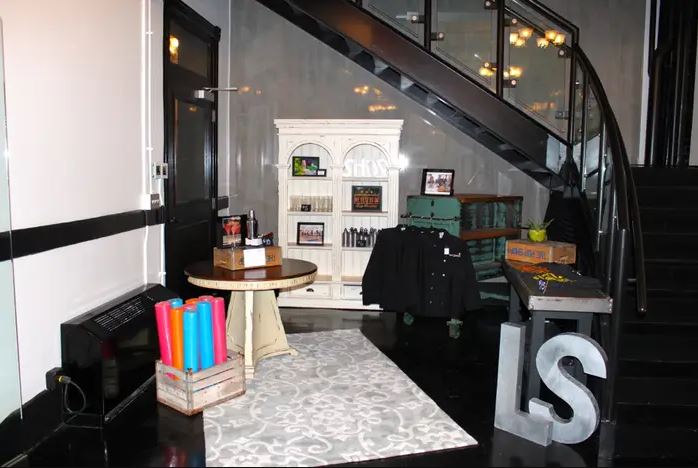 9. Rooms with all sort of shapes and brilliant colors 
Since your employees have left their childhood creativity but have acquired loads of experience, why not find a way to make them relive their childhood with the advantage of experience? It's a good way of enhancing productivity. Have office spaces that are as colorful as any kindergarten classroom.
You will find this at the New York offices of the AI-software company, LivePerson. Here is one of their breakout rooms for your consideration.
10. Have large 3-D artwork on the wall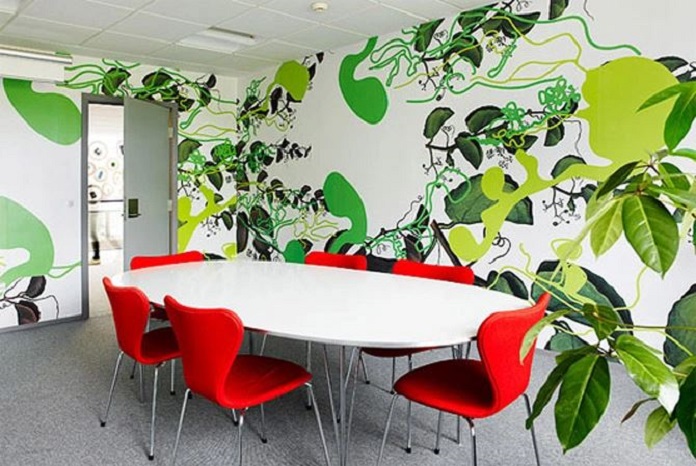 It is a good way to inspire your workers and have them engage in meaningful thoughts that nurture creativity.
11. Implement breath-taking floor designs
Many people will likely ignore the floor when considering playful office space design ideas. But here is a sample that shows it can equally be effective in influencing the mind for good. This is from the San Francisco offices of the defunct photo-sharing and messaging service, Path.
12. Give room for workers to personalize their spaces
Our mental constructions are as different as our thumbprints and faces. So, any office space design idea that gives room for every worker to create a bit of personal space for work will no doubt add to the playfulness that leads to increased productivity at the end of the day.
Personalization could be as simple as having a paper calendar, special furniture chosen by each worker, or a unique selection of books on the shelves.
13. Install indoor sports equipment
From a gym to a snooker board and a scrabble table, there is no limit to the indoor sports equipment you can have in your office space to make it playful and help workers unwind when its due. The picture below is from the Palo Alto office of Skype.
14. Create an outdoor environment
Also at the Palo Alto office of Skype, there is a workroom designed with park benches and rock-like pillows lying about casually and invitingly.
15. Have oddly-shaped furniture in certain places
This can relieve any worker from the very worst of boredom. At the Zurich offices of Google, we found a meeting room that has furniture crafted out of car tires.
16. Create an ambiance of a garden
This idea was also borrowed from the Zurich offices of Google. There is a workroom filled with ample ornamental plants and greenery to help inspire workers who are lovers of nature even while they are indoors.
17. Excite visitors right from the point of entry
If not for any other thing but good marketing, those who come to do business with you should be predisposed for a good business right from their point of entry into your company.
There can be a million ways to do this. But there is one that we found particularly creative. It is found at the Amsterdam office of the advertising giant, J. Walter Thompson (JWT). There, at the reception, there is a glass photo of an upside-down castle at reception.
18. Make an entire city think of you and your brand
Apart from considering your workers and visitors in your office space design, you can also find a way to use it for gaining the attention of the city. You can take your idea from the Santa Clara office of the furniture dealership franchise, One Workplace. The office located at an intersection of public transit helps to reinvigorate a hitherto overlooked industrial hub of the city.
The company practically makes millions of people who pass through that area to spontaneously think of furniture as they do. From the exterior and all the way through, the design speaks of great expertise in furniture-making. They could never have achieved that without using very playful office space design.
19. Provide rooms for pets
Bringing in pets can be a way of helping workers who are animal lovers to stay in a good mood while they work.
20. Have a ceiling structure that lifts one's mood
The ceiling is another aspect of office space that is often overlooked, but it shouldn't be so. The picture above is from One Workplace's Santa Clara office.