Zoie Burgher is an American YouTube star and social media celebrity who is best known for her infamous highly sexual Twitch broadcasts. Although, she ended up getting banned several times before being suspended indefinitely from the platform, that didn't stop the fame-hungry gamer. Since earning notoriety and fame from her knack for playing 'Call of Duty' and other live games while putting on provocative clothing and twerking whenever she got a strike or won the game, Zoie has gone on to achieve popularity on other social media platforms such as YouTube, Instagram, Twitter, and Snapchat.
She gamed the system, managing to gain a million followers in just a few months by sharing erotic content and promising that she would take her clothes off completely once her subscriber count crossed the one million mark. The self-proclaimed queen of e-girls has also gained substantial popularity offline and has spearheaded several ventures including her own gaming group, talent agency, and web reality series. Zoie Burgher has built an entire brand around being controversial and overtly sexual, much to the annoyance of other social media personalities.
How Zoie Burgher's Gaming Antics Made Her Popular
The gamer girl began her rise to fame in 2013, when she decided to broadcast her videos wearing very provocative clothes and twerking anytime she wins a game. This attracted the attention of many other gamers – and ultimately the authorities of the Twitch platform – who frowned at her behavior. Unlike some new internet personalities who might be ignorant of the consequences of such an action, Zoie was not a novice and she knew what she wanted to gain from such bad publicity stunts.
She became quite a hot topic on the gaming platform around 2016 as she had garnered a lot of attention for her highly sexual content on Twitch. More so, it is reported that her unprofessional behavior earned her several warnings from Twitch but she carried on with her antics defying all the warnings. She was subsequently banned indefinitely on Twitch in September 2016.
After she was permanently banned from Twitch, Zoie Burgher decided to take her brand to other social media channels. She began posting half-nude videos and other sexually suggestive content on her self-titled channel on YouTube, promising to go fully nude when she gets to 1 million subscribers. This promise got her a high influx of subscribers and viewers to her YouTube page and in a couple of months, the notorious gamer girl hit the 1 million mark on the platform.
The Twitch streamer turned YouTuber is also famous on Instagram and Twitter. Like her other platforms, she maintains her signature style on these platforms as she regularly posts pictures of herself in very little clothing and this has enticed hundreds of thousands of people to follow her.
Upon becoming a certified social media celebrity, Zoie decided to branch out and explore other opportunities. She started her own company – Luxe Gaming. This included a web reality series that followed a group of female gamers, living together and vlogging their lives, which was then released episodically. The company also featured a talent agency as one of its subdivisions. However, this venture wrapped up sometime in April 2018 but managed to make a come back two months later – in June 2018.
The Controversies Surrounding Zoie's Life & Career
Zoie has been embroiled in a lot of controversies since she began her social media career as people's opinions of her have always been divisive. While some are more than okay with her antics, others have branded her all sorts of unsavory names, denouncing her for being willing to sell her body for a shot at fame and wealth. Many of her fellow YouTubers have also disapproved of the ways Zoie Burgher has gone about earning her popularity and building her brand through hypersexual content. This was subsequently confirmed by her indefinite ban on Twitch in September 2016. However, the gamer did not take this outright ban too well as she went online to share her opinion. She called it an attack on her personality emphasizing that Twitch is a free social network that should not discriminate.
The bikini streamer who earned the name from playing her games while wearing bikinis also had a clash with FOX channel sometime in 2016 when she used the image of the character Zoidberg from the TV series Futurama, which was aired on the channel in most of her videos. The TV channel asked her to stop using Zoidberg's image and in response to this, Zoie tweeted that FOX wants to get $150,000 for each of her videos with Zoidberg's image and went on to say that if they pursued the lawsuit it might cost up to $1.2 million. The gamer wanted to use this incident to her advantage but somehow she dropped the crusade and stopped using the images of Zoidberg in her subsequent videos.
The gamer girl caused another storm of controversies in March 2019 when she tweeted about having a threesome with the popular gamer FaZe Pamaj, and the social media model, Abigale Mandler, who was married at the time of the act. Zoie went ahead to post screenshots, showing that she wasn't lying about what had gone down. She deleted the tweet, but not before it went viral.
See Also: Yodit Yemane – Bio, Age, Height, Body Measurements and Net Worth
Is Zoie Burger Still Dating Taylor?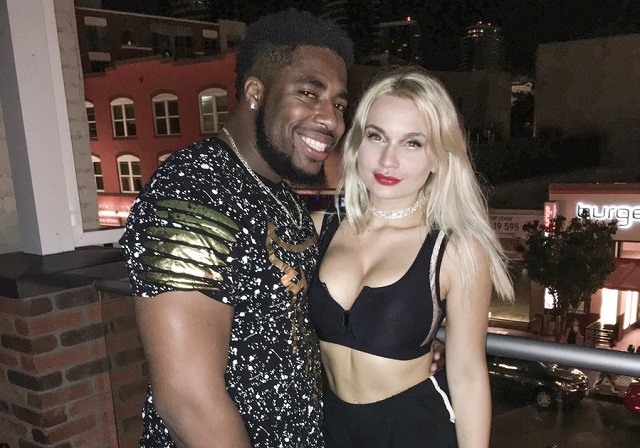 It will shock most of her fans that in spite of her notorious ways, Zoie Burgher is in a loving and committed relationship with a man who makes her very happy in more ways than one. The YouTube sensation is currently dating a man called D'Angelo Taylor. He is employed as a crane operator and is a single father of two.
The couple met while partying at the same club, and they have been together ever since. D'Angelo has been featured in a number of her videos, and Zoie frequently tweets about him and shares pictures of them together on her social media pages. As of 2019, the pair welcomed their first child together.