The story of Cinderella, a young woman who went from obscurity to notable success overnight, might have seemed impossible before the advent of the internet, but not anymore. Stories, such as that of the YouTuber, Zoella, are now commonplace. Although in her case, her prince was YouTube, and the glass shoe was her vlogging skills. And, with a combination of those two forces, Zoella went from being a faceless apprentice who worked in a global fashion retailer, to being a YouTube star with international recognition. If you are not familiar with her journey, here is the story of Zoella.
Meet Zoella, the YouTuber
Zoella was born on March 28, 1990, as Zoe Elizabeth Sugg in Lacock, Wiltshire, in England. She is the daughter of Graham and Tracey Sugg, and she has a younger brother, Joe Sugg. Joe, like his sister, is also a popular vlogger known on YouTube as 'ThatcherJoe.' She spent her early years in the UK, where she attended the Corsham Secondary School and Arts College.
She finished from Corsham with A-Levels in photography, art, and textiles. Subjects that would later transform her into an international star. An anxiety disorder kept Zoella from following in the footsteps of her peers and pursue a university education. According to available information about the social media star, she had no idea what she wanted to do later in life. As a result, she secured a role as an apprentice for a British clothing retailer, while she continued her search.
This is How She Became a YouTube Sensation
At 27 years, she launched her blog, Zoella, in February 2009. At the end of the year, it had grown to a thousand followers. She ran the blog while she worked for the clothing retailer, focusing on fashion, beauty, and lifestyle. In the same year, she expanded the blog from the written form into video, creating the YouTube channel, Zoella. Its original name was zoella280390, named after birth date, and she covered topics like fashion and beauty hauls.
With each passing year, Zoella's creative outlets grew in popularity. Two years after creating the channel, she reached 100,000 subscribers. In 2013, it grew to one million subscribers, and three years after, it had grown to ten million subscribers. As of May 2020, her Zoella channel had reached 11.4 million subscribers, with more than 1.1 billion video views. Her blog, on the other hand, reached over 540 million visits six years after she launched it in 2009.
With massive popularity among young demographic, covering fashion and beauty, the YouTube star expanded her connection with her fans. She started the vlogging channel, Zoe Sugg, in September 2012. On Zoe Sugg, she shares insight into her daily life, and just like her fashion channel, it has been successful. Since its creation, the channel has recorded more than 859 million views and has more than 4.8 million subscribers.
Her YouTube popularity has spilled to other social media platforms like Instagram, Twitter, and Facebook. Across all three platforms, she has more than 10.8 million followers. Her largest following is on Instagram, where she has a combined following of 10.6 million followers across two accounts, @zoella and @zoesugg.
Zoella's popularity has led her to work with other famous YouTubers like Tanya Burr, Tyler Oakley, and Alfie Deyes. She has also won several awards, such as Cosmopolitan Blog Award-Best Established Beauty Blog (2011), Cosmopolitan Blog Award-Best Beauty Vlogger (2012), and Teen Choice Award-Choice Webstar: Fashion/Beauty (2014 and 2015).
See Also: Will.I.am Bio, Cars, Songs, Wiki
She Has A Busy and Thriving Life Outside YouTube
Asides YouTube and social media, Zoella also makes a lot of effort in giving back to society. The talented vlogger was one of the National Citizen Service's ambassadors in 2013, helping to promote the newly launched youth service. In 2014, she also became the first "Digital Ambassador" for "Mind," a mental health charity. She was part of a music video Do They Know It's Christmas by Band Aid 30 in 2014 – a song aimed at raising money for the Ebola virus epidemic in West Africa.
She is also an author and her debut novel Girl Online hit the market in 2014, with around 78,000 sales in the first week of its release. The book broke the record for the highest ever first-week sales for a debut author since records began in 1998, selling a total of 78,109 copies. Following the success of her first book, Zoella released other titles such as a sequel, Girl Online: On Tour, Girl Online: Going Solo and Cordially Invited.
Her most notable work outside of YouTube is her range of beauty products. She launched several beauty products in September 2014 under the brand name, Zoella Beauty. She has also released a collection of homeware products, and under the brand, Zoella Lifestyle, she has worked with brands like Dunelm, House of Fraser, Superdrug, WHSmith, and FeelUnique. Furthermore, she has appeared in several TV, print, and billboard adverts such as The Great British Bake Off. Zoella and her brother also own a merchandise brand, Sugg Life.
Zoella Has Made Fortune From Her Careers
The staggering number of business interests of the YouTuber, combined with her YouTube earnings, has fetched her a total net worth of $4 million. According to Celebrity Net Worth, Zoella makes an estimated $75,000 per month from her YouTube channel.
She also reportedly makes up to $30,000 per month through direct advertising on her Instagram pages and YouTube channels. Thanks to her impressive earnings, the YouTuber owns a five-bedroom house in Brighton, England, worth $1.4 million with her boyfriend, Alfie Deyes.
See Also: Zach Johnson Bio, Wife and Professional Golf Career
She is in a Relationship with a YouTuber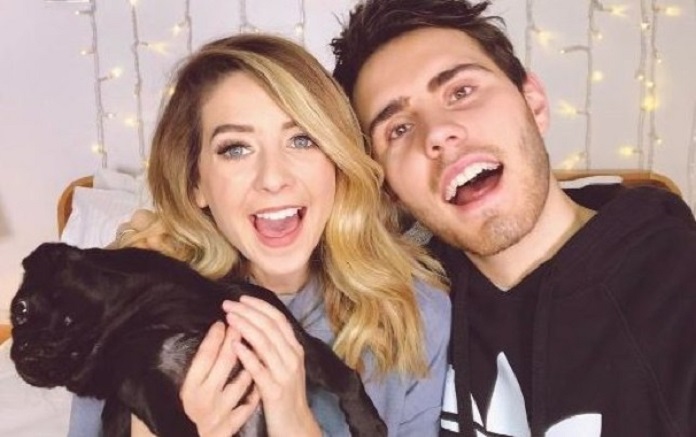 Despite being one of the most successful YouTubers on the planet, Zoella has lived a relatively quiet life, particularly when it comes to her personal life. She has been in a relationship with a fellow YouTuber, Alfie Deyes, since October 2012. The relationship has been one of the longest, in a community known for shortlived coupling. The two of them live together in a home in Brighton, East Sussex, since 2013.
Her boyfriend, Alfie Deyes, is an Enfield, England-born vlogger who owns the channel, PointlessBlog. The channel has more than 4.9 million subscribers, with over 505 million views. His other channel, Alfie Deyes Blogs, has over 3 million subscribers and more than one billion views.
Zoella and her boyfriend have collaborated a few times. They created the Sugg life X PB merchandise, and they are both directors of the brand agency, A to Z Creatives, and A to Z Merchandise. They are also the directors of Crew Live Limited.