When it comes to wives and girlfriends of sports stars, there are plenty of people like the international music star Shakira, who meet at the intersection of their husband or boyfriend's fame and their own individual fame. There are also others like Zelina Bexander, whose claim to fame rest solely on their partner's fame. However, whether you are Shakira or Zelina, one thing is that they both have undivided support of their partner.
For Zelina Bexander in particular, her support has not only been a fulfillment of her wifely duties but it has also helped elevate her husband, Alistair Overeem's brand as a UFC fighter due to her status as one of the most beautiful women in the UFC.
You can read and learn all about Zelina Bexander, including her relationship with Alistair Overeem below.
Zelina Bexander Biography
For Zelina, letting her husband have all the spotlight to himself is her watchword and she has done a good job of it thus far. When it comes to her, unlike her husband, there is a limited amount of information about her childhood background, with the only reputable information being that she is from Gothenburg, Sweden.
Long before she met Alistair Overeem, Zelina Bexander attended the University of Gothenburg and finished with a degree, equipping her with the ability to pursue a career of her own, which she did by joining the Dutch paint company, AkzoNobel as a management assistant.
Although there has been a change in her public status since she met Alistair Overeem, she continues to maintain her career path as an official of AkzoNobel and reports suggests she lives in the Netherlands, spending occasional time in the United States.
Celebrity Facts About Her
1. She Got Engaged to Alistair Overeem in 2011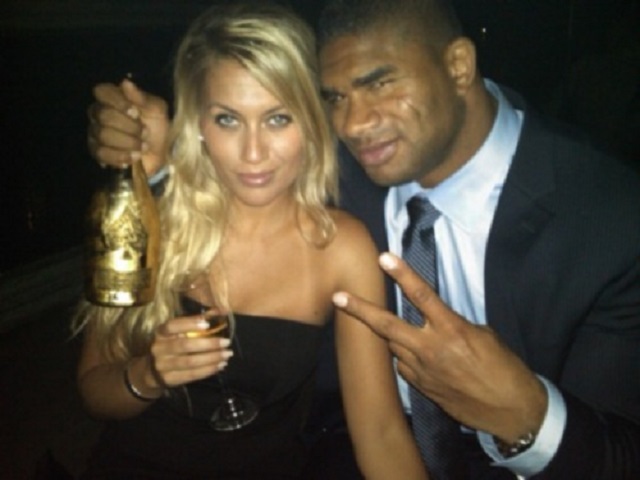 The how and when Zelina Bexander met the UFC fighter is unknown but their beautiful relationship led to an engagement in 2011 which was met with fanfare from fans and lovers of the fighter. When Zelina and Alistair walked the aisle remains a mystery but they have been together for a while as husband and wife, and have been able to raise a daughter named Yazz-Ley, whom they gave birth to in 2016. The daughter is one of two daughters born to Alistair, who already had a daughter from a previous relationship. His other daughter's name is Storm.

2. Her Brother-in-Law is also an MMA Fighter

For Zelina Bexander, marrying Alistair Overeem wasn't just a marriage of love but an acceptance of the mixed martial art lifestyle that defines the Overeem family. Her brother-in-law, Valentijn Overeem, is also an MMA fighter who plies his trade with another MMA organization, United Glory. Being the older brother of Alistair, he encouraged and inspired his brother to take interest in the sport.

3. Net Worth

With her long career working for AkzoNobel, where she has undoubtedly risen in the ranks and added significant value to her income, Zelina Bexander is certainly a comfortable woman with a modest net worth. Further buoyed by her husband, who has an estimated net worth of $5 million, it will come as no surprise if Zelina is a millionaire but as of this time, her exact net worth is unknown.

4. Body Measurements

When it comes to wives and girlfriends of sports stars, often referred to as WAGs, beauty, and gorgeousness is one of the leading commonalities among them. Zelina Bexander fits this stereotype with her blonde hair and perfectly shaped face which makes her one of the most beautiful WAGs in the UFC.

Not only is she admirable facially, but having reportedly had some work done on other parts of her body, including her breasts, Zelina cuts a very sexy figure as the wife of the UFC star. The exact measurements for her body profile are unknown but she cuts a shorter, leaner and shapelier figure to her husband who is 6 feet 5 inches tall with a body weight of 112 kg.

See Also: Ashley Thompson Manning – Bio, Facts About Peyton Manning's Wife

5. Her Husband's Career

Zelina Bexander's support of her husband and creating a happy home for the UFC star has yielded some interesting results in the career of the fighter. He has held the MMA and K-1 world titles simultaneously while his wins include reputable opponents like Brock Lesnar, Frank Mir, Fabricio Werdum, and Junior dos Santos, some of whom have been UFC Heavyweight champions at one point or the other in their respective careers.

Zelina's husband is widely regarded as one of the best MMA fighters in the history of the sport.

Fact Check: We strive for accuracy and fairness. If you see something that needs updating,