Georgian-born Zaza Pachulia may not be basketball's biggest star, but two NBA Championships – among other notable highlights in his career – show he isn't a nobody either. Enthusiasts of the sport may be familiar with Zaza Pachulia, but not very many would say they are familiar with the former player's family. He was drafted by Orlando Magic in the second round of the 2003 NBA draft and had played for several other teams before joining the Warriors in December 2016.
In 2017, the player received the Order of Honor from former Georgian President Giorgi Margvelashvili for his outstanding performance at the NBA Finals. After a two-decade-long career playing between 10 teams, Zaza Pachulia currently serves as an Executive consultant for the San-Francisco based Warriors. Despite his career progression, Zaza Pachulia's family life did not suffer.
Zaza's Family Lifestyle is the Opposite of His Playing Style
In addition to his successful basketball career, Zaza also has a thriving family, thanks to a beautiful wife. In 2008, he got married to his long-term girlfriend, Tika Alavidze Pachulia. Like him, his wife was born and raised in Tbilisi, Georgia, on December 30, 1987. The couple has four children. 
While Pachulia can be described as fierce on the court, his home's personality is the direct opposite. He and his wife Tika Pachulia met in 2007 in their home country Georgia. Tika, who was a dancer with the Georgian National Ballet at the time, stood out among others to Zaza during one of their performances. Drawn by her beauty and graceful movement, the player approached his future wife, Tika, and struck a conversation.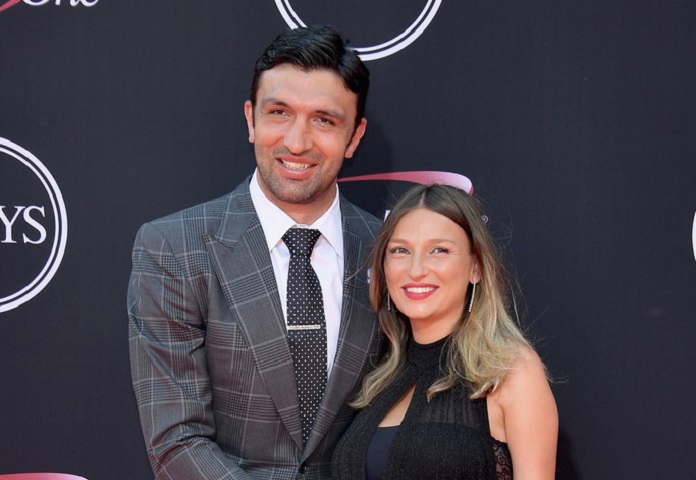 The pair would later realize that they have a lot in common – save for their dancing skills. Zaza cannot dance to save his life. However, not being able to sway his body did not stop the duo from hitting it off and eventually starting a family together. They dated for a while before tying the knot in 2008, and they have been married ever since.
Their oldest children, sons Davit and Saba Pachulia, were born in 2010 and 2011, respectively. Their third child, a daughter named Mariami, was born in 2012 while the youngest, also a girl named Nutsa, was born in 2018. The boys may be following in their father's footsteps as they both attend Piston Basketball Academy.
When Zaza Pachulia is not busy with NBA business, he spends his time with his family in their home in Atlanta. Tika's Instagram page (@tikaalavidzepachulia) chronicles precious time spent with her husband and their children. 
Did You Know His Birth Name Isn't Zaza Pachulia?
The former NBA star Zaza Pachulia was born in Tbilisi, Georgia, on February 10, 1984. Born as Zaur Pachulia, he legally changed his name to Zaza when he was 15. Being extraordinarily tall with a fit physique, Zaza started playing basketball at a very tender age. By the time he was 13, his height was approximately 6 feet 8 inches, which paved the way for him to play at the top. 
At 15, the young scout joined the Georgian National Basketball Team and was also recruited to play internationally by the Turkish professional team called Ulkerspor. While at Ulkerspor, Zaza distinguished himself as one of the team's top players, finishing his four-year career, averaging 6 points and 3.8 rebounds per game. 
Additionally, he played 73 games for Ulkerspor, out of which he won three league titles. He also won the 2001 Turkish National Championship and three consecutive Turkish President's Cup between 2001 and 2003.
What Has He Been Up To Since Retirement?
After decades of playing the game at the highest level, a lot of professional players find themselves at a loss with what to do with the rest of their lives. So far, that has not been the story of Zaza Pachulia. After his contract with the Detriot Pistons ended, he assumed a front office consultant role with the Golden State Warriors. He took the position following days of reflection after GSW Vice President, Kirk Jacob, offered him the job. At the time, the NBA veteran wanted to continue his career as a player.
In his role as front office consultant, Zaza will work as a coach, participate in player personnel meetings, and some scouting. The role is considered a path to an executive position in the franchise. Zaza Pachulia started the job in 2019 and will continue in the role alongside his decades-long role – being a family man.
A Closer Look at His NBA Career
Following an impressive amateur career, Zaza Pachulia was the 42nd overall pick by Orlando Magic in the second round of the 2003 NBA draft. The following year, he was picked by the Charlotte Bobcats in the 2004 expansion draft, after which he was traded to the Milwaukee Bucks. In 2005, Zaza signed as a free agent with the Atlanta Hawks, playing as the team's starting center. He ended the 2005/06 season with an average of 11.7 points, 7.9 rebounds, and 78 gameplays. 
In one of their games against Celtics, Zaza fought with Celtic star Kevin Garnett, which led a sports writer to tag him 'Pachulia Balboa' after the lead character in the series titled Rocky. He extended his stay with the Hawks in 2009 after agreeing to a multi-year contract. During the 2011 NBA lockout, Zaza signed up with Galatasaray of the Turkish league. There, he played for a few months before returning to the Hawks in December of the same year.
After an impressive eight-year career with the Atlanta Hawks, Zaza returned to the Milwaukee Bucks as a free agent in 2013. He achieved the season-high and a franchise record in 2015, averaging 21 rebounds, out of which 18 are offensive rebounds. In the same year, Zaza Pachulia was traded to the Dallas Mavericks, where he made a significant improvement. He recorded his 10th, 16th, 20th, and 22nd double-double in the 2015/16 season, finishing the season with 14 points and 12 rebounds. His outstanding record earned him a spot on the West NBA All-Star game in 2016.
Winning NBA Championship with the Golden State Warriors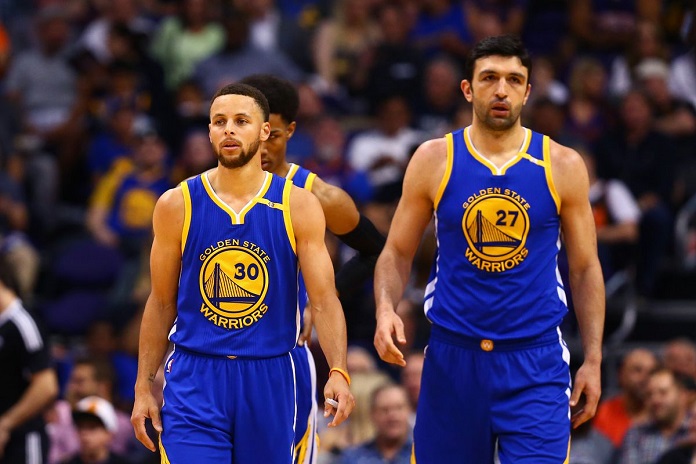 He made history in 2017, becoming the first Georgian player to win an NBA Championship. He played alongside Stephen Curry, JaVale McGee, Klay Thompson as the Warriors defeated LeBron James Cleveland Cavaliers 4-1 to win the 2017 NBA Championship. After the championship, Zaza got a contract extension with the Warriors on July 25, 2017. Additionally, he appeared in 70 games for the Warriors, averaging 6.1 points, 5.9 rebounds, 1.9 assists in 18.1 minutes per game and career best-shooting of 53.4% from the field.
Zaza Pachulia is placed sixth among the active players in offensive rebounds in the NBA and 64th All-time. He recorded over 70% of his free throw attempts in 12 out of his 14 NBA Seasons. In June 2018, Zaza won his second consecutive championship with the Warriors after defeating the Cavaliers in the year's NBA Finals.
The following month, he signed with the Detroit Pistons. A year later, on August 29, 2019, the player retired, bringing a 16-year career in the NBA to an end. Based on his style of play, Zaza was given the nickname 'Zaza Per Cheat Shot' by the notable NBA Analyst Skip Bayless following his numerous encounters, which left his opponents badly hurt.