Zachary David Alexander Efron is an American actor and singer who has managed to become a teen sensation with his popular role in Disney movies High School Musical series. Better known as Zac Efron, he has been prominent in Hollywood since 2002 and has been enjoying the peak of his career success at present. Other than being a sensational actor, Zac is also a tremendously talented singer and has contributed to the soundtracks of his movies which have all been certified either platinum or gold in many countries.
Zac Efron Bio –
Early Life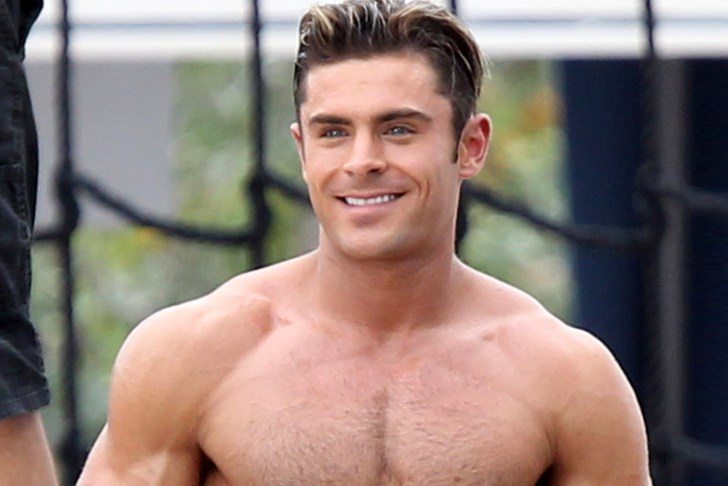 Born on October 18, 1987, in San Luis Obispo, California, USA. Zac was raised in Arroyo Grande with his younger brother Dylan in a middle-class family. He attended Arroyo Grande High School, University of Southern California and later Pacific Conservatory of the Performing Arts Santa Maria.
Also See: Shemar Moore Married, Wife, Kids, Age, Girlfriend, Is He Gay? 
Career
At the age of eleven, Zac started focusing towards acting and played parts in dramas and theatres as a teenager. After he graduated from Arroyo Grande High School and later from Pacific Conservatory of the Performing Arts, Zac started his professional career as an actor and began with minor roles. He appeared in different television series like Firefly, The Guardian, NCIS and more.
Eventually, Zac Efron starred in the movie High School Musical which made him a sensation among teenagers, earned him millions of fans and last but not the least, a large sum of money. As he began starring in movies like Hairspray, 17 Again, Neighbors, The Lucky Ones among others, his career began to skyrocket. All these movies have also won many awards for Zac including a Teen Choice Award for High School Musical.
As Zac gave voice to all the songs in the movie series of High School Musical and all of those albums went on to earn platinum and gold certifications, this success made Zac a prominent singer as well. This wonderfully successful actor has been through some dark days of his life as he struggled with substance abuse and alcoholism for many years but after seeking treatment, he has been sober since 2013.
Movies
Zac has starred in several films and TV movies. Below are some of them.
Baywatch (Movie) 2017
The Disaster Artist (Movie) 2017
The Greatest Showman (Movie) 2017
That Awkward Moment (Movie) 2014
Neighbors (Movie) 2014
The Lorax (Movie) 2012
The Lucky One (Movie) 2012
The Paperboy (Movie) 2012
At Any Price (Movie) 2012
New Year's Eve (Movie) 2011
Charlie St. Cloud (Movie) 2010
Entourage (TV Show) 2009
17 Again (Movie) 2009
Me & Orson Welles (Movie) 2009
High School Musical 3: Senior Year (Movie) 2008
Hairspray (Movie) 2007
High School Musical 2 (TV Show) 2006
The Suite Life of Zack & Cody (TV Show)  2006
High School Musical (Movie) Troy Bolton 2006
Brother
Zac has a younger brother, Dylan Efron. The California Polytechnic State University graduate is the assistant to executive producer Ravi Mehta on 2015's comedy Get Hard, which starred Will Ferrell and Kevin Hart.
Fans think he is hotter and sexier than his brother Zac…but what do you think?
Zac Efron Girlfriend, Is He Gay?
Zac's personal life has always been a scoop for the media. He has been rumored time and again to be a member of the LGTB community.
Sometime in 2014, the one-time child actor was said to be dating his Neighbors co-star Dave Franco. Dave's brother, James Franco actually made fun of the supposed Hollywood article that instigated the rumor with a screenshot of the article and captioned it thus, "Effron and My brother, dating!!!!!! Congrats, boys! I'm so happy for you!!!"
Although Zac isn't gay, he doesn't see anything wrong with being one and he does give the LGBT community his undivided support. According to him, a lot of his close friends and some of the most influential people around him are gay and it makes him happy to see them able to live their lives and do what they want to do.
Meanwhile, Zac had previously been with his co-star Vanessa Hudgens which made great news for many years but the couple broke off as of 2010. He was then linked to The Fast and Furious actress Michelle Rodriguez for about two weeks in 2014 before he hooked up with Sami Miro in September 2014, a relationship which broke off two years later. Other women, he has been linked with includes Halston Sage, Lily Collins and Maika Monroe.
Zac Efron said he is currently thinking about settling down and we hope the wedding bells ring very soon.
Zac Efron Financial Assets
Zac Efron lives a lavish in his own $2.35 million, five-bedroom, five-bathroom, 5,644-square-foot mansion in Hollywood Hills. He had previously bought a mansion for $2.35 million in 2008 and then sold it nearly $2.8 million in 2014.
A sports car enthusiast, Zac enjoys collecting luxury cars and has managed to add Audi S6, 2011 Audi S5 Coupe and much more into his collection.
Height, Body Measurements
Zac stands at 5 ft 8 in (173 cm) and weighs 75 kg (165 pounds). His other body specification are:
Chest – 44 in or 112 cm
Arms / Biceps – 16 in or 41 cm
Waist – 34 in or 86 cm
Also See: Rick Lagina Bio, Relationship With Marty, Married, Death
Quick Facts about Zac Efron
Full Name: Zachary David Alexander Efron
Profession: Actor, singer
Height: 5ft 10 in
Weight: 68 kg
Ethnicity: Jewish American
Nationality: American
Date of Birth: October 18, 1987
Place of Birth: San Luis Obispo
Education: Pacific Conservatory of Arts
Marital Status: Single
Astrological Sign: Scorpion
Zac Efron Net Worth: $18 million
Fact Check: We strive for accuracy and fairness. If you see something that needs updating,