A multi-talented Irish star, Yvonne McGuinness is considered successful – both professionally and personally. Though best recognized as the wife of Irish actor, Cillian Murphy, she has an impressive résumé and is also famed for her unique talents. But the multimedia artist prefers to wear her fame lightly and work mostly behind the scenes.
Besides their romantic link, not many are aware that the celebrity couple has so much more in common. For instance, just like her famous husband, McGuinness also loves to shield her private life away from the spotlight. Find out interesting facts you never knew about Cillian Murphy's talented wife.
Who is Yvonne McGuinness?
Yvonne McGuinness was welcomed into the world on October 12, 1972. The Irish artist is a pretty private lady and has been discreet with details about her personal life. Consequently, there is little or nothing known about her early life. However, it is no secret that Yvonne's hometown is Kilkenny and she had a decent upbringing. While her mother's identity has not been disclosed, her father Gay McGuinness was a successful businessman who owned a renowned French vineyard business. She is also a niece to prominent Irish politician, Jim McGuinness.
There is no information readily available about Yvonne's elementary education. While the field of specialization and school she attended for her first degree have not been disclosed, it is common knowledge that Yvonne McGuinness is an alumna of the London's Royal College of Art where she bagged her post-graduate degree.
Everything About Cillian Murphy's Wife 
Yvonne Is A Unique Artist
Although she was catapulted to the spotlight following her long term relationship with Irish screen actor, Cillian Murphy, Yvonne McGuinness is quite accomplished in her own right. Professionally, she is a successful multimedia artist whose artwork uniquely conceals the originator's innermost persona while also yearning for self-revelation. Moreover, judging by her artworks, it is apparent that Yvonne has a knack for print art and video installations.
Remarkably, the talented artist had a major breakthrough in the year 2017 when she landed a lucrative deal with Draíocht. The contract had McGuinness execute a film installation and commission a site-specific performance for visual artists at the 11th Edition of the prestigious Amharc Fhine Gall exhibition. However, she was able to successfully carry out the task through collaborative efforts with the County Council Arts Office in Fingal.
In addition to her career as a talented visual artist, Yvonne McGuinness has proven her versatility yet again by venturing into the entertainment industry. Although her screen credits are nothing when compared to that of her husband, McGuinness can boast of no less than three features on the big screen. She has three short films under her belt including the 2017 flick The Well which was critically acclaimed.
Yvonne McGuinness and Cillian Murphy Go Way Back
Yvonne McGuinness and her Hollywood heartthrob, Cillian Murphy, have known each other for more than two decades. The lovebirds first crossed paths in Dublin in the year 1996 and the pair, who were both still in their 20s at the time, soon became an item. The artist and actor courted for more than eight years before eventually tying the knot in 2004 in a beautiful ceremony that held in France.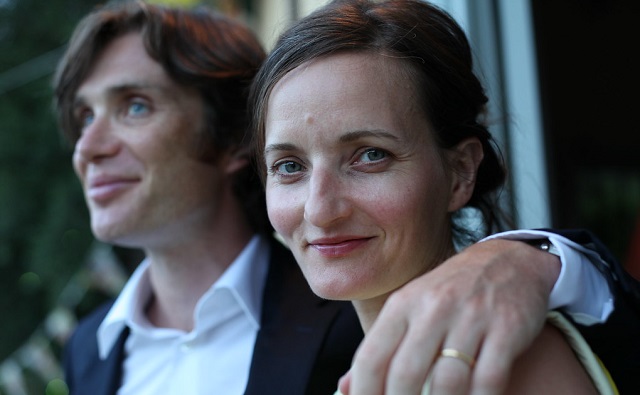 Although the couple prefers to keep details of their marriage private, it has been quite difficult for them to evade the prying media. The longtime sweethearts have remained inseparable since 1996 and appear to be more in love by the day. Judging by the strength and length of Yvonne and Cillian's relationship, it is safe to say they have truly settled in together forever.
She Has Strong Family Values
Yvonne McGuiness and Cillian Murphy are family-oriented and have since expanded their small circle. They are proud parents to two sons; the first Malachy was welcomed in 2005 while the second Aran joined the family in 2007.
See Also: Katie Mcneil – Biography, Age, Net Worth, Facts About Neil Diamond's Wife
Earlier in their marriage, the couple initially lived in Kilburn, north-west London. But McGuinness and her family now enjoy a stable family life in Dublin, Ireland. The couple's decision to return to their hometown was in order for their sons to grow up close to their grandparents.
Yvonne Is Older Than Her Husband
Yvonne McGuinness and Cillian Murphy's relationship is yet another proof that love has no boundaries. The talented artist and Hollywood actor have a four-year age difference between them. In other words, Cillian Murphy who was born on May 1976 is younger than his wife but love continues to conquer for the lovebirds.

Yvonne McGuinness' professional endeavors as an artist and actress have undeniably yielded financial rewards. Although her exact salary and net worth have not been disclosed, she is believed to have amassed a decent financial portfolio over the years and can afford a comfortable lifestyle. Moreover, having been the long term partner to a successful Hollywood actor, Yvonne also enjoys her husband's fortune. Cillian Murphy currently has a net worth that is pegged at about $15 million.

Fact Check: We strive for accuracy and fairness. If you see something that needs updating,