Regent presents Seven Seas Explorer, their first cruise ship in over a decade. Regent Seven Seas Explorer, is dubbed the world's most luxurious cruise ship. And with a building cost of $450 million it also said to be the most expensive cruise ship ever built.
Seven Seas Explorer weighs 51,000 tonnes and comes with 542 crew members. With the capacity to carry 750 passengers. Explorer also touts having one of the highest ratios of space-to-passengers in the history of cruising. We bring you a closer look at the luxurious features that makes Seven Seas worthy of the world's most luxurious cruise ship title.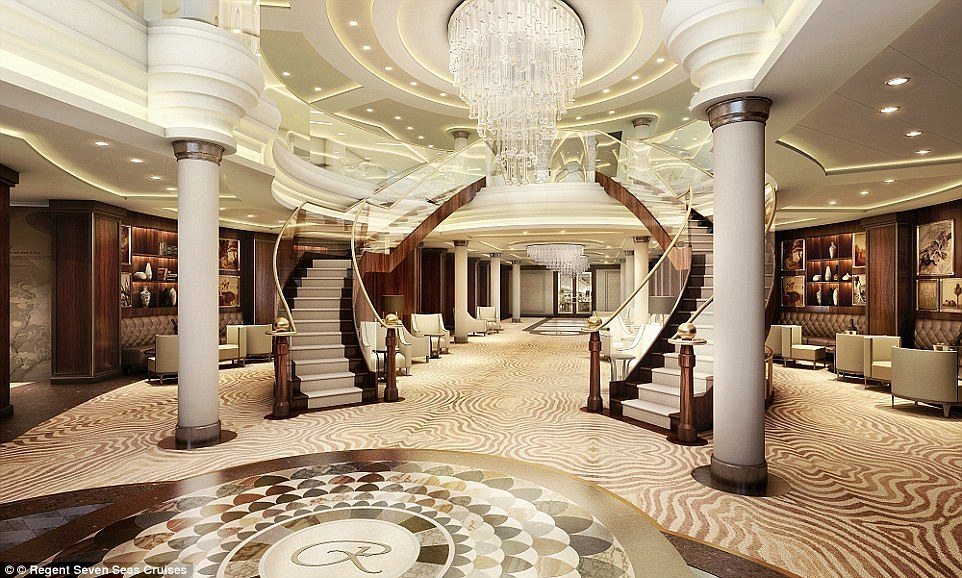 Perhaps the first element that would catch your eyes upon boarding the Seven Seas are the heavenly chandeliers which are indeed a glorious sight to behold, a fine topping on its very grandiosity. There are 158 of them impeccably placed throughout the ship. The chandeliers are complemented by exquisite artworks (including Picassos) that hang up the walls. The entire artworks cost a whopping $6 million.
The Regent Seven Seas Explorer has got no single rooms but suites, yea, that's right, it is an all-suite cruise ship! The suites have 375 rooms in total. Some of the suites include; Veranda Suites, Explorer Suite, Concierge Suite, Grand Suite,  Master Suite, Penthouse Suite, Seven Seas Suite, Superior Suite, and of course, its flagship suite rightly named the Regent Suite. All suites come with their own balconies with rooms all adorned with Italian Carrera marble.
The Veranda Suite albeit being the lowest priced is nothing short of amenities. It measures 300 square feet and is designed to comfortably fit two guests with almost everything in pairs double sinks/showers, 2 separate standing tubs, as well as a deep walk-in closet.
The much bigger Explorer Suite which measures over a thousand square foot features an in-suite caviar service, a 300 square foot balcony, two marble bathrooms fitted with Bottega Veneta bath products. Its guests are granted access to the intimate private dining room. The Master Suite includes 2 bedrooms with a bar that can host an 8-man cocktail party.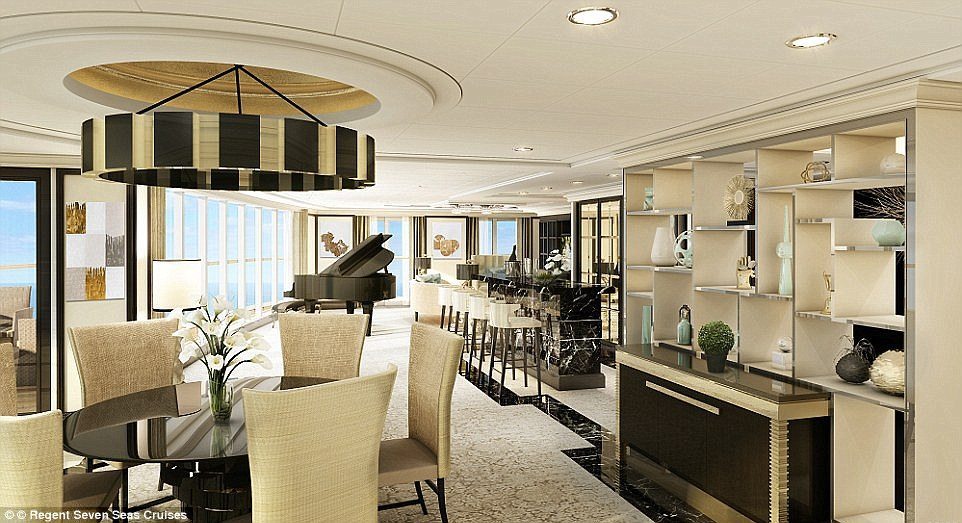 The flagship Regent Suite (pictured) is a commodious 4,443-sq ft cabin that features two balconies, a spa complete with steam room, and an ultra comfy $150,000 The Savoir No. 1 bed. The mattress alone reportedly retails for $90,000. There is also a $250,000 grand Steinway piano in its living room.
Located on deck 14 of the vessel, the Regent suite has two bedrooms, one living room, a dining area and a bar. A night at the luxurious cabin costs a whopping $10,000 per person. But the fee also covers food, drinks, dry cleaning and tips, not to mention special treats like having a chauffeured car awaiting you for an excursion at all the ports.
As a matter of fact, every amenity and service rendered on the Explorer (with the exception of its Canyon Ranch spa treatment) are all included in one single price. From Wi-Fi to room service, wine, entertainment, and even the to and fro business-class airfare. It is one of the features that sets it apart from other cruises. On Seven Seas, customer satisfaction is regarded as a serious business– they'd call beforehand to inquire about any allergies or special requests.
For dining, Seven Seas houses fancy restaurants like Chartreuse, Prime 7 steakhouse, La Veranda, Pacific Rim (a reservation-only restaurant that serves Asian dishes) and its flagship contemprary Compass Rose restaurant (pictured below)
The Compass Restaurant in addition to being the ship's signature restaurant is also the largest, seating 400 on its specially-designed Versace table place settings. Its extensive and refined menu includes bourbon-marinated Black Angus beef strip loin.
The Seven Seas also includes a Culinary Arts Kitchen that will appeal to burgeoning chefs. It offers classes that cover French, Italian, tapas and Greek, cuisines. Seafood and healthy options are not left out.
See Also: The Flying Yacht – The World's Most Luxurious Private Jet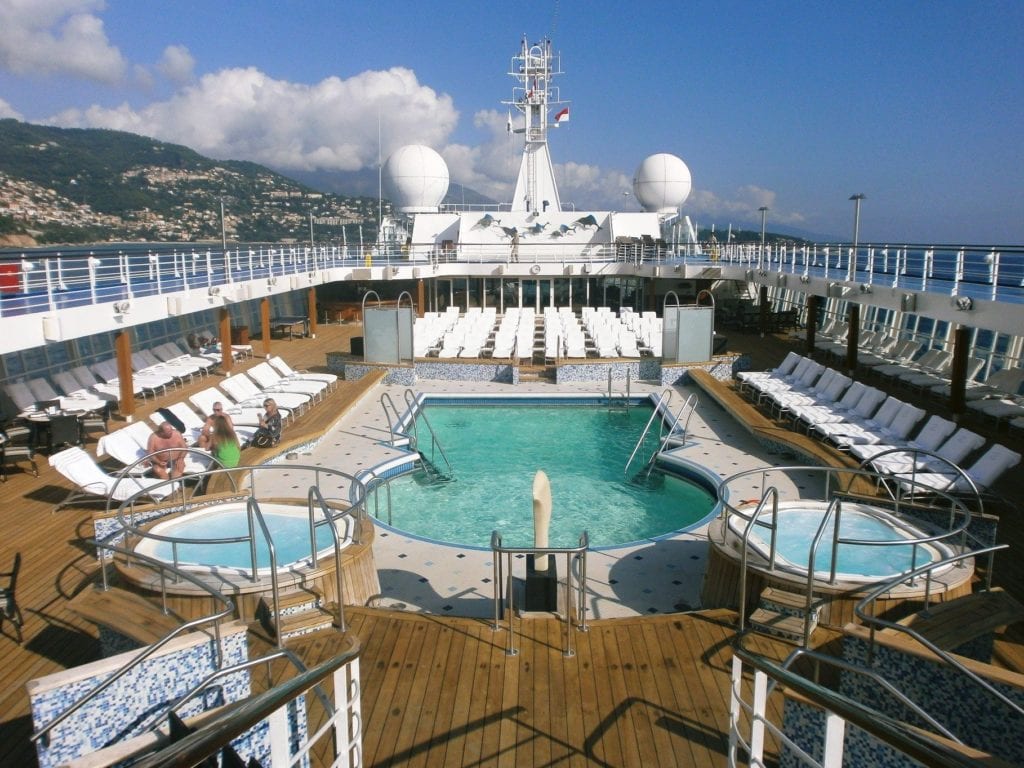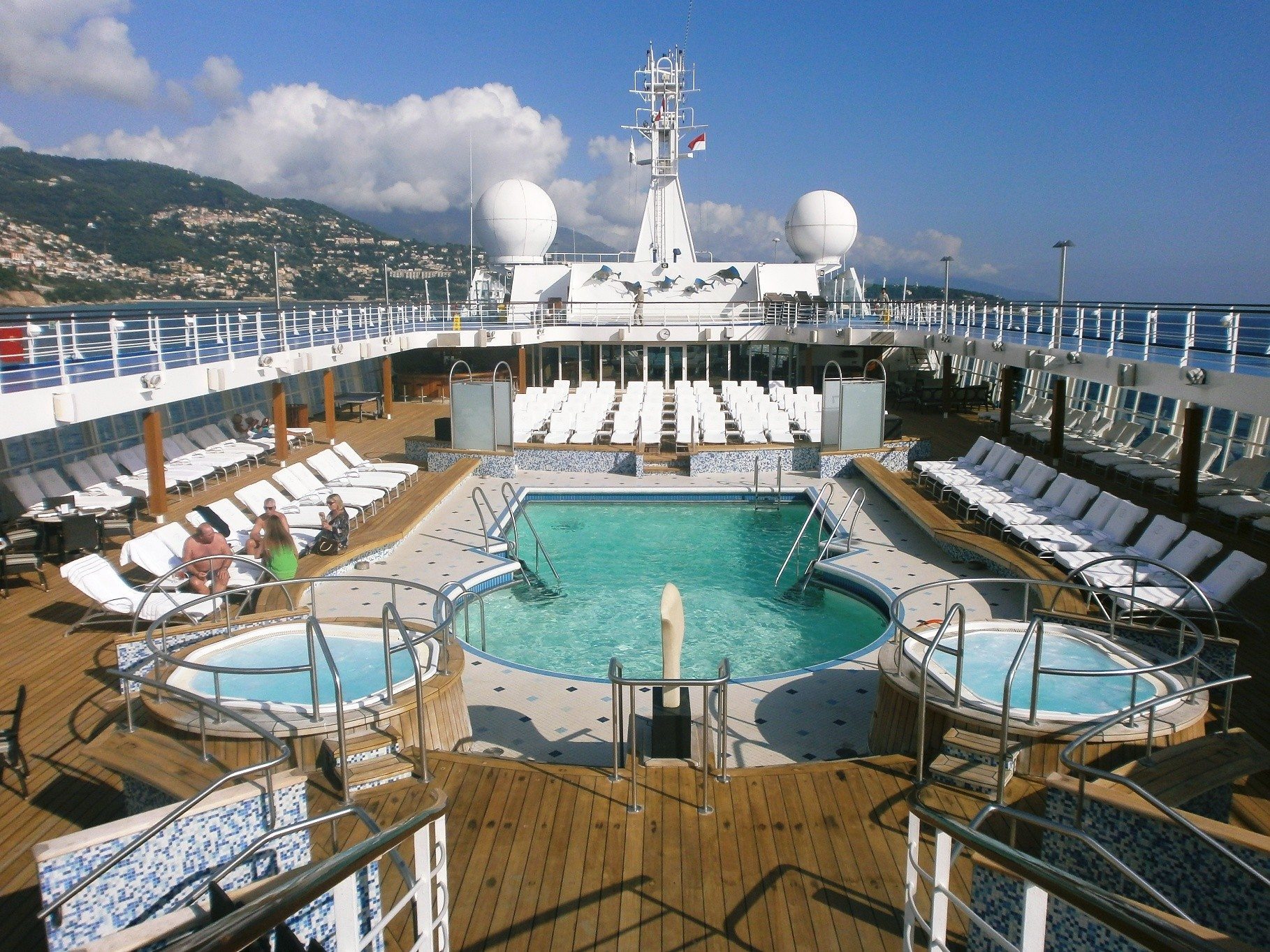 On Deck 5 is a chic spa as operated by Canyon Ranch. The ship has two pools. The main midship pool with twin Jacuzzi has double sun lounges. The infinity pool is located off the spa center.
Public spaces include The Observation lounge, The Explorer lounge, and The Meridian lounge.
Seven Seas Explorer also houses a hi-spec fitness center, a two-tiered, 694-seat Constellation theater for production shows, sports deck with mini golf, casino, among many other exciting features. Its myriad of amenities is apparently more than anyone can handle. But that is exactly the idea. Seven Seas does not call itself the world's most luxurious cruise ship for nothing.
Regent Seven Seas Explorer was christened on July 13 2016 in Monaco by the Princess Charlene. The ship will make its debut voyage to Venice on July 20th. The 14-night journey will include stops at various locations including St Tropez, Ibiza, Palma, Barcelona, and Taormina.