Apparently, for many people around the world, food is nothing more than a substance that they have to consume to in order maintain the survival of the body, however, for others, food is more than that; it is also something to be savored, enjoyed and adored. To those in the latter category, there is often no limit to how far they will go to experience a delicacy, which is how some of the world's most expensive foods have come to be.
Rare and delicious meals, made by some of the best chefs and cooks in the world in some of the world's most exclusive environments is a value that many are willing to shell out several thousands of dollars for, and in this article, we took a look at just how much people are willing to pay for certain delicacies.
Take a look at ten of the world's most expensive foods below.
10 Of The World's Most Expensive Foods
1. Grand Velas Taco – $25,000
Sure, you read that right. This food costs an amazing $25,000. It can be hard to imagine what could be special about a meal that costs as much as $25,000, a Taco, no less; but you should know this is no ordinary taco, certainly not something you would find on the menu list of Taco Bell.
It is exclusively sold in Mexico at the Grand Velas Los Cabos and it is a taco made up of the best of everything and more. It contains chopped Kobe beef, the finest langoustine you can imagine, Beluga caviar and black truffle cheese. On top of all these premium set of ingredients are gold leaves and edible flower petals sprinkled on top to give this not just the perfect Instagram look, but also a delicious and expensive taste.
The taco is also served with salsa made out of selected dried chilies, and while you ingest every bite, you will be able to wash it down with a rare bottle of tequila and a cup of civet coffee. Do you see why it is the most expensive food in the world now? Because we do.
2.   The Fortress Stilt Fisherman Indulgence – $14,500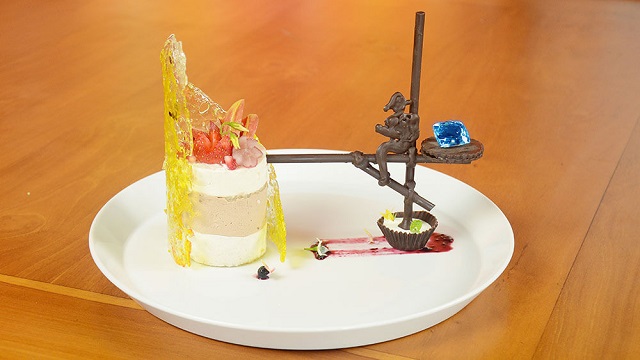 For many people, they would prefer to put a loose $15 thousand towards their student debt or their retirement savings, with a little less than $50 going towards a nice day out for food, but when you are rich, another person's major retirement cash is your bill at The Fortress Resort and Spa in Sri Lanka, where this $14,500 meal is served.
The meal, which consists of Italian cassata, Irish cream, pomegranate, and compote is only made on special request, within 24 hours at the resort. Apart from the aforementioned ingredients, this luxurious food also has a champagne sabayon base that is embedded with an 80-carat aquamarine stone, all underneath a handcrafted chocolate stilt fisherman.
We don't even know what that means; but to enjoy it, you will need to splash almost $15,000, making this the second most expensive food in the world. That is a whole lot more than we pay for dessert at our local restaurant.
3.  Louis XIII Pizza – $12,700
We all love pizza, from the wealthy, famous and powerful, to the economically challenged; the fact that we all love and eat the same cheap pizzas all over the world might provide temporary comfort, that is, until you learn of the existence of the Louis XIII Pizza which cost as much as a college tuition at just over $9000.
The Louis XIII Pizza is the product of Renato Viola, a master pizza chef in Salerno, Italy and it offers a whole lot more than the priciest offerings of Dominos or Pizza Hut.
While a pizza being made specially by a renowned pizza chef would certainly offer more in quality than the commercial offerings of pizza chains, the Louis XIII pizza goes a step further with the addition of sophisticated toppings like lobster, mozzarella di bufala Campana, and caviar, all of which are flown from different parts of the world.
Complimentary to this amazing pizza is a Remy Martin Cognac Louis XIII and Champagne Krug Clos du Mesnil 1995 which explains why this is an appropriately named food because it is befitting of a king.
4.  The Posh Pie – $12,000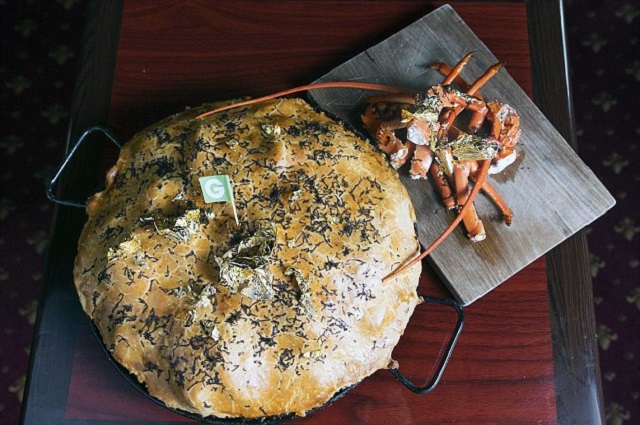 Do you love pie? We imagine your answer is yes, but do you love it enough to spend $12,000 for one? We will leave the answer up to you.
The Lord Dudley Hotel in Sydney, Australia puts everyone's love for a pie to the test with his $12,000 pie that is filled with so many calories, that going Dutch with a couple of friends seems like the healthy and financially wise way to enjoy this meal.
Compared to other meals on this list which are mostly designed to serve one person, the Posh Pie is meant, at least we hope, to serve a couple of people. In return for their $12,000, they will be getting a pie that contains rare winter black truffles, two whole lobsters, and two different cuts of premium beef.
In addition to the aforementioned extravagance are gold leaves and two bottles of red wine that costs more than €400 each. It is certainly worth trying on your next group vacation to Sydney.
5.  Fleur Burger – $5000
Think about the most expensive burger you ever ate? Did it cost up to a thousand dollars? We doubt it. While we certainly won't criticize your burger, we doubt it offered as much in satisfaction as this Fleur Burger which costs $5000.
Fifth among the world's most expensive foods, the Fleur Burger is the creation of the Fleur Restaurant in Las Vegas, and while there is no denying that the environment in which this burger is sold may have inflated its cost, it offers a whole lot to justify its price tag.
Made by a professional chef, Chef Hubert Keller, this burger is made with the rare expensive meat, the Wagyu Beef, which cost as much as $100 per kilogram. Other tantalizing offerings of this $5000 burger are $1,500 worth of truffles as well as a bottle of 1995 Chateau Petrus, which on its own, cost at least $2,500. This is certainly not the kind of burger you eat on a short break from work.
6.  24K* Pizza – $2,700
We mentioned earlier that pizza is one of the most beloved foods in the world, loved by people of all social and economic status, which is why we are not surprised that two pizzas have made the top six most expensive foods in the world. However, the fact that it costs several thousand dollars will always continue to be surprising.
So why does this pizza cost $2,700? Well, the true value of this pizza lies in the upper crust. Made by Industry Kitchen in New York, it trades your plebian cheese and pepperoni for stilton cheese, foie gras, platinum Ossetra caviar, truffles and tops it all with 24K gold leaves.
If you happen to come into enough money to afford this piece of food, you will have to order two days in advance to get a taste of this luxurious deliciousness.
7.  Berco's Billion Dollar Popcorn – $2,500
It is globally agreed that cinema popcorn is way too expensive, and it might be difficult to imagine that there would be popcorn that costs significantly more than the offerings of your local cinema.
However, before settling into that belief, you should meet the Billion Dollar Popcorn, which costs $5 per kernel, with a 6.5 gallon costing a discounted price of $2,500.
So, why would popcorn cost this much? Well, this particular one is made out of Vermont Creamery butter, Nielsen Massey Bourbon vanilla as well as the world's most expensive salt. Add the fact there are edible gold flakes sprinkled all over it and you see why it costs as much as the price of a used car.
8.  The Zillion Dollar Lobster Frittata – $2,000
No matter where you are in the world, lobsters are privileged meals, and they cost a lot more than your standard meal, but at Norma's New York, which is not a place one would expect to find one of the most expensive foods in the world, the Zillion Dollar Lobster Frittata holds a place among ultra-pricey foods at $2,000. It is a meal that stands out in the restaurant's menu list which has a lot of meals in the $30 range. Aside from lobster being the centerpiece of the meal, it comes with an omelet that includes 10 ounces of Sevruga caviar.
By the standards of the other foods on this list, it is a very simple meal, but simple doesn't always mean cheap and even a smaller frittata would set you back $200.
9.  Golden Opulence Sundae – $1000
The name of this food is called Golden Opulence Sundae and for a cup of the sundae that costs $1000, that is the only name it deserves. This sundae is made and sold at Serendipity 3 in New York, and it contains Tahitian vanilla ice cream that was made out of Madagascar vanilla bean. It is covered in 24-karat gold leaf, because of course, and it also has two specialty chocolates, Parisian candied fruits as well as truffles and caviar.
The good news about spending $1000 on this sundae is, it is sold in a Baccarat crystal bowl that you can take home and remind yourself every day that you once spent $1000 on a sundae. If you are going to embark on this journey, however, remember to order for it two days in advance.
See Also: These Are The Most Expensive Things In The World Right Now
10.  Kobe Beef and Maine Lobster Burger – $777
When you combine two of the most expensive items on any upscale restaurant's menu to make a burger meal, you get food that costs enough to be among the most expensive foods in the world.
The Paris Las Vegas Resort restaurant offers this meal that gives a middle finger to gluttony. It consists of a Maine Lobster, goat cheese, seared foie gras, arugula, pancetta, and a 100-year-old balsamic that is paired with a BLT salad.
With your Kobe beef firmly in between your burger bread, you can enjoy this expensive food with a bottle of Rose Dom Perignon Champagne, after you fork out $777, of course.