The mega-rich love expensive luxury items which usually comes bedazzled. If they had their way, they'd probably gold-plate all they own, including food. LOL. Just when you think you've seen enough of gold-plated luxury items, one pops up from out of the blue- A 24 karat baby crib called Dodo Bassinet which at the price of $12 million is the world's most expensive baby crib.
Dodo Bassinet which took 6 months to build is carved out of a 24 karat solid gold. To provide maximum coziness to the super lucky kid that will be spending his/her nights and days here, the bedding is made up of the highest available quality materials: natural wild silk, pima cotton and gold yarn embroideries. The wine-glass-like crib stands at 114 cm tall and weighs 188 kg.
"The Crib of golden dreams" as it is so-called is the brainchild of Spanish luxury designer Ximo Talamantes who is the CEO & founder of Suommo, a company which designs luxury items (including pacifiers) for babies and moms. A different part of the company deals with architectural and interior designs. According to the creator, the crib "possesses the conquering spirit of the most precious dreams".
The solid gold limited version of Dodo Bassinet costs $12 million. However, customers who might fancy a customization with an Insignia would have to shell out a few extra bucks. A diamond and white gold adornment will cost $103,000 while a diamond and pure gold type will cost $99,000.
Apart from the solid gold version, the Dodo Bassinet also includes black, silver, rose gold and white designs which are less expensive. The white edition costs $14,500 while the Rose gold costs $266,000.
Wondering if anyone has actually bought the $12 million version? Well, no names have been revealed. But we strongly speculate from the words of Rafael Esmila, a designer at the company that they will most likely be coming from the Royal families.
Rafael revealed; "London is one of our most popular markets but we also receive orders from all over the world".
"Our customers tend to pass our products to generations as family heirloom"
"Word of mouth among them is a very important source of our revenue".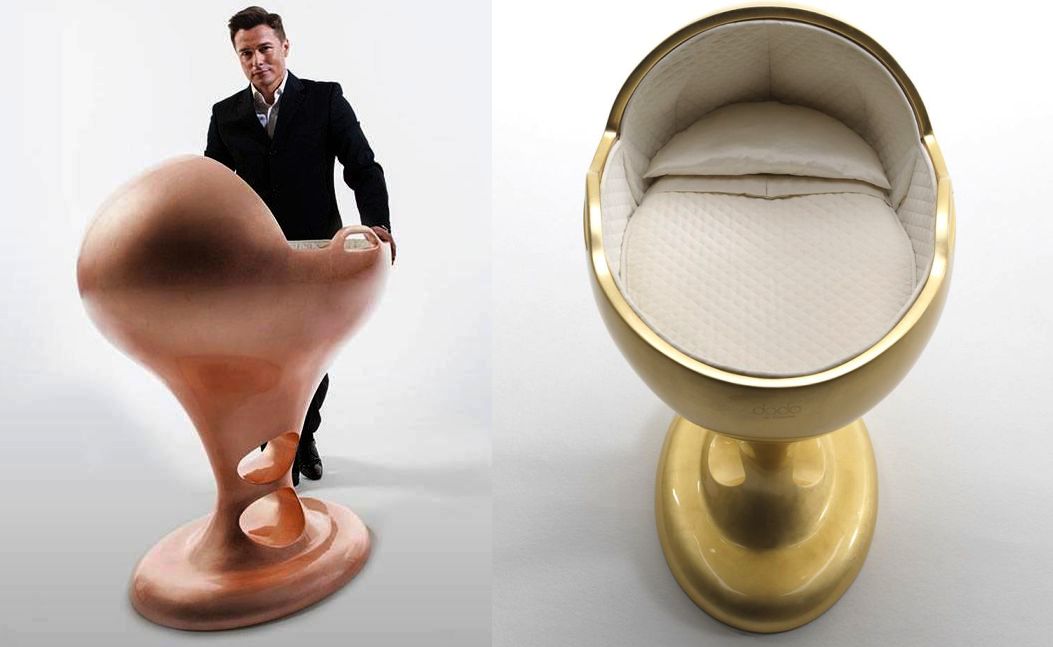 The company also put on sale a pure gold Dodo dummy for the price of $2.5 million, which is probably the most expensive in the world. The pacifier which is made out of 18 karat gold and bedazzled with many diamonds can also be worn by the mother as a broach or necklace when her baby isn't sucking on it. Impressed or Nah?