Now If you think the $17,000 Apple Watch Edition is expensive, wait till you see how much a diamond-studded Apple Watch costs – A customised version of Apple's smartwatch covered in diamonds and 18-karat gold
Brikk's Lux Watch Omni costs a whooping $114,995 and it's an 18-karat gold Apple Watch with multiple rows of 11.30 carat diamonds around the face, buttons and strap clasps.
Brikk, a company that designs and manufactures couture products intends to sell up to 30 luxury models of the watch. The company has announced that it will be selling an 18-karat pink gold, 24-karat yellow gold and a 950 platinum version of Apple's pricey wearable. All of these models come in 38 mm and 42 mm sizes, there will also be other varying band options in Standard, Deluxe and Omni editions are also available.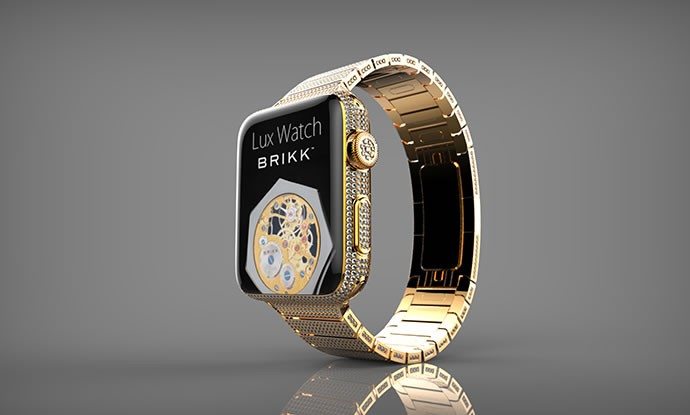 Brikk is making the Lux Watches in a specially designed state-of-the-art lab facility. What the company basically does is to disassemble the Apple watches, they are then repurposed with all possible luxury materials – gold, diamond, you name it. The Standard edition (for lack of a better word) comes with a single row of .50 carat diamonds and a leather strap. That's not so much bling as you'd expect when compared to the one with chain.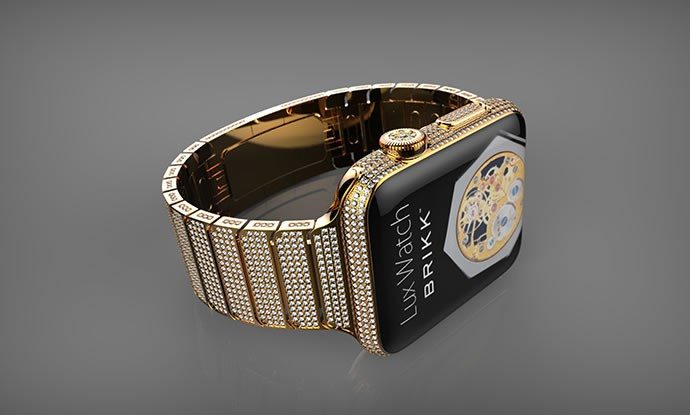 The Deluxe model will feature multiple rows of 2.3 carat diamonds together with diamond encrusted buttons and a diamond studded clasp to make that leather strap really pop. That's what you call Bling! You might be thinking the Lux Watch Omni is "too much," but don't be surprised if you see one of these in a new rap video, or even on the fashion runway in just a few months.
The Deluxe edition will have multiple rows of 2.3 carat diamonds with diamond encrusted buttons. Lux Watch Omni, King-of-the-heap edition, has a fully diamond-emblazoned case featuring over 12 carats of jewels on the device.
Each and everyone of these devices are hand polished before heading off for their final plating using either two layers of gold or platinum, they are plated with fiver layers of precious metals – Awesome! They are also carefully tested before making their way to the consumer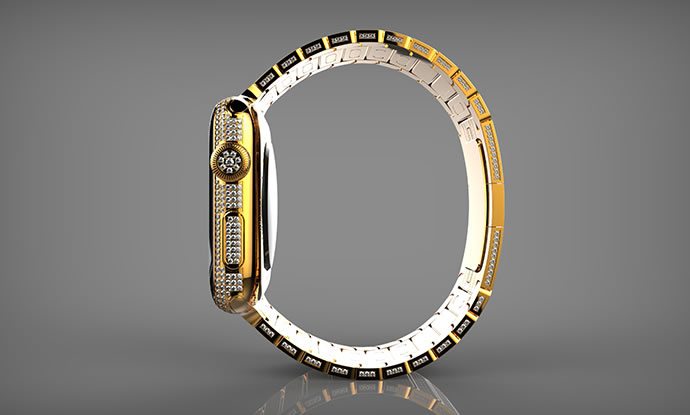 Talking about pricing, – the Standard edition will be priced at $7,595; the Deluxe model will be available for $11,995; and the Omni for $69,995. They are all available in two sizes, 38mm and 42mm. Their prices will vary depending on your preference
Cyrus Blacksmith, the CEO of the company, stated that he wants to sell a pricy watch to the rich and use a percentage of that money to donate to charity.

"The whole reason I created Brikk was to convince other luxury brands that they can raise their prices without seeing a drop in sales and give the difference to charity," Blacksmith said.

All of Brikk's Lux Watches include an "aluminum zero Halliburton case with carbon fiber and suede leather interior, certificate of authenticity with diamond inside," and a 1-year warranty.

Fact Check: We strive for accuracy and fairness. If you see something that needs updating,