Woody Allen is a multi-talented American filmmaker, actor, comedian, and writer, who have made giant strides in the American entertainment industry. He began his career in 1950 and has remained active in the industry for over 6 decades and counting. Allen is best remembered for his roles in comedic films such as The Purple Rose of Cairo, Hannah and Her Sisters, Annie Hall, Manhattan, and Crimes and Misdemeanors, to mention a few.
For his unparalleled contributions in the Hollywood industry, Woody has received several accolades and honors. Interestingly, he was given a Golden Globe Life Achievement Award in 2014. In addition, Allen, through his works, has bagged four Academy Awards and nine British Academy Film Awards, among many others.
Woody Allen – Bio
Although he has come to be known as Woody Allen, it was as Allan Stewart Konigsberg that the comic actor was born on the 1st day of December 1935. Born to American parents, his dad Martin worked as a jewelry engraver and waiter while his mother worked as a bookkeeper. Through his parents, Allen is of Jewish ancestry, while his nationality is American.
Growing up, he spent his early years in Midwood, Brooklyn along with his sister Letty. For his education, he first attended Hebrew School and Public School 99, before graduating from Midwood High School in 1953. Thereafter, he enrolled at the New York University where he was studying film and communication before dropping out to focus on his comedy career in 1953.
Movies and TV Shows
Woody Allen has done a great job both as a writer, comedian, actor, and his works do speak for themselves. He has inspired several upcoming stars in the American entertainment industry. He first began his career as a comedy writer at the age of 15. In 1960, he became a stand-up comedian while pursuing a career as a playwriter and actor.
Throughout his career, Woody Allen has written and performed in several Broadway productions, as well as films and TV shows. Some of his most notable works include Take the Money and Run (1969), Play It Again (1972), Love and Death (1975), Stardust Memories (1980), The Purple Rose of Cairo (1985), and Alice (1990).
Others are Manhattan Murder Mystery (1993), Everyone Says I Love You (1996), Small Time Crooks (2000), Hollywood Ending (2002), Scoop (2006), Whatever Works (1999), To Rome With Love (2012), Magic in the Moonlight (2014), Crisis in Six Scenes (2016), etc. His recent works include Wonder Wheel (2017), A Rainy Day in New York (2019), and Rifkin's Festival, among others.
Woody Allen's Net Worth
The legendary actor has been enjoying a blossoming career in Hollywood. With a career that has spanned over six years, it comes as no surprise that he has amassed a whopping net worth of $80 million US dollars. In addition to his film appearances, Woody Allen has also written and directed many commercially successful movies; all these have contributed to his huge net worth.
Family: Spouse, Daughter, and Son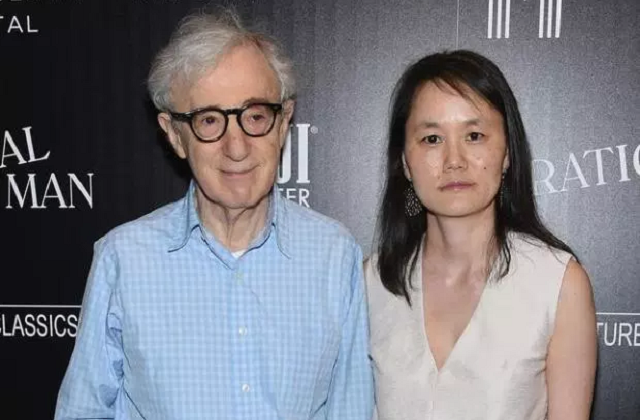 If there is one thing as popular as his stints in the American entertainment industry, that would be his marriages and relationships. Woody Allen has had his own fair share of romantic relationships. Despite being in relationships with over five women, the comic actor was married three times. In addition to this, Woody has a total of five children from his marital attempts.
His first marriage was with his high school sweetheart, Harlene Susan Rosen whom he got hitched to in 1956. After six years of marriage, the couple went their separate ways, citing irreconcilable differences as the reason for their divorce. However, four years later, Woody tied the knot a second time with actress Louise Lasser. Their union lasted for four years ending in 1970.
Soon after his second marital stint ended, Allen had a short-lived relationship with another actress Diane Keaton. The pair began their relationship in 1970 and went their separate ways a year later. Woody Allen's most publicized relationship came in 1980 when he started dating the American actress/model named Mia Farrow. The couple had a 12-year-long relationship which finally ended in 1992.
Also Read: Joshua Snyder Biography – 5 Interesting Facts You Need To Know
After their separation, Woddy Allen started dated Soon-Yi Previn, who happens to be the adopted daughter of Mia Farrow and musician Andre Previn. The duo was together for six years before exchanging marital vows in 1997. Their wedding took place in Venice, Italy and was attended by close pals and family members.
After their wedding, Woody and Soon-Yi adopted two children named Manzie and Bechet. Meanwhile, Woody had three other children from his relationship with Mia – a biological son named Ronan Farrow and two adopted children – Moses and Dylan.