Snoop Dogg and Wiz Khalifa both have something in common, they are both incredible rappers with extraordinary skills that make their fans and followers insanely in love with them. But in cases where you are forced to choose, you may want to consider Wiz Khalifa as a new generation hip hop artist, a fast-rising hip-hop king pushing so hard to take over the throne with hit tracks like "See You Again," "Black and Yellow." It is, however, also arguable that Uncle Snoop Dogg and his generation of West Coast rappers have done so much work to elevate the music genre long before the evolution of the new school rappers.
Admit, Snoop Dogg and Khalifa maybe rap kings in their various ways but in some sort, their raw musical flavor has earned them enviable bucks, huge enough to list them among the richest rappers in the world but who's got the most money among the two? Let's find out.
Who Is Richer – Snoop Dogg or Wiz Khalifa?
Wiz Khalifa joined the music world in 2005 which is over a decade away from 1992 when Snoop began his. Of course, the later was already popular and earning big from the hip-pop business long before the former came into the picture. However, while the new hip-pop trend tends to favour Khalifa more, Snoop Dogg is equally doing well for himself having already established his name in the industry for several decades. The two have, as a matter of fact, achieved their share of successes through music and endorsements.
How Much is Wiz Khalifa Worth?
Cameron Jibril Thomaz better-known by his stage name, Wiz Khalifa is an American rapper, songwriter, and actor born in Minot, North Dakota on September 8, 1987. He came out of the curtains in the year 2005 with his first mixtape, 'Prince of the City: Welcome to Pistolvania'.
Being one of the loved artists by the youths, he avows Jimi Hendrix, Camp Lo, The Notorious B.I.G., and Bone Thugs-n-Harmony to inspire his artistic persona. Wiz Khalifa's wealth in 2013 peaked at around $25 million and in 2014, it was estimated that his net worth has climbed to $35 million. Presently, it is believed that Wiz Khalifa's net worth is $45 million which is why he is among the top 50 richest rappers in the world.
Wiz Khalifa has always been named in Forbes' Cash Kings list which captured the world's highest-paid hip-hop artists. For instance, he was in 2013, ranked as no. 8 with $14 million among the top 20 world's highest-paid hip-hop artists. Hip-hop Cash Kings 2017 saw him listed as no. 7 with $28 million. Some of his hits include "See You Again", Rolling Papers, "Black and Yellow", "Young, Wild & Free", "No Sleep," and "Mac & Devin Go to High School".
His Other Business Ventures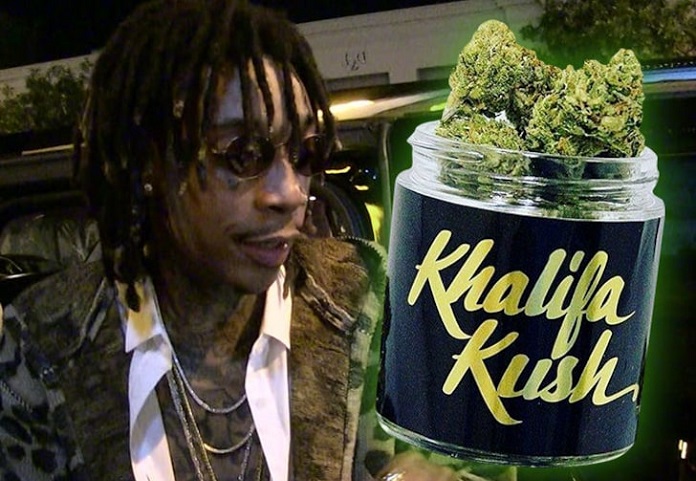 While a major bulk of Wiz Kalifa's wealth has been attributed to his music career, the rapper's great merchandise also contributes immensely to his income.
Khalifa is open about his use of Cannabis. While it is believed that he spends $10,000 a month on cannabis, it is said that he smokes daily. As of early 2014, Khalifa stopped paying for cannabis. The Cookie Factory, a medical marijuana dispenser that sells his Khalifa Kush (KK) strain takes care of his smoking needs. Forbes made a list of 'Khalifa's Smokin' Hot Merchandise' which have all contributed to the value of his wealth. His KK brand has also collaborated with Supreme Cannabis to launch Premium Cannabis Oil.
His other sources of wealth include his widely growing eponymous Youtube channel with about 21.4M subscribers and his line of merchandise that he sells on various online platforms like Amazon.
Khalifa's House and Car Collections
The rapper owns a $3.4 million house in San Fernando Valley. The mini-mansion has 5 bedrooms, a wine bar, a home theatre, a barbecue area, a swimming pool, and a spa. His very rare and unique choice of cars include a 1962 Chevrolet Impala SS, a 2015 Cadillac Escalade, 1996 Chrysler Sebring Coupe, 2005 GMC Envoy, 1985 Chevrolet Monte Carlo SS, 1968 Chevelle Convertible, 2012 Dodge Challenger SRT-8, Chevrolet El Camino SS, 1969 Blue Chevy Chevelle and a 2010 Dodge Challenger SRT-8
What is Snoop Dogg's Net Worth
Best known by his stage name Snoop Dogg, Cordozar Calvin Broadus Jr. a survivor of the 1990's rap scene, is undoubtedly one of the most resilient and successful rappers of all time. While many of his contemporaries are unfortunately long gone, his laid-back style, calm vocals and everlasting love for weed have kept him on track which is why he is as active in music today as he was in 1992. With various social media platforms springing up, the artist uses the opportunity to make himself more accessible to his fans. He's got 18.5M followers on twitter and 44.6m followers, on Instagram.
As for his wealth accumulation, Snoop Dogg's net worth is estimated to be over $150 million and that includes sales from his widely-sold albums as well as his Youtube page, including Snoop Dogg Vlog. The artist has so far released 17 albums with the most recent being I Wanna Thank Me which was released in August 2019. Some of his best selling albums include Doggystyle, his debut studio album released on November 23, 1993. It topped the Billboard 200 and sold over 800 thousand copies in its first week in the USA alone. By 2015, the album sold over 11 million copies worldwide despite receiving some negative criticism.
One other Doggy's most successful album is his Stoner's EP which was released on April 17, 2012, but unlike his first album, it numbered 167 on the US Billboard 200 and sold about 2,500 copies in its first week. Meanwhile, songs like "Nuthin' but a 'G' Thang", "Who Am I? (What's My Name)", "Gin & Juice" and "Drop It Like It's Hot" were among his best hit songs earning him huge income. Even his 2020 song "Que Maldicion" which he collaborated with Banda Sinaloense de Sergio Lizarraga topped at number one on the Billboard Bubbling Under Hot 100.
 His Other Investments 
Aside from his successful songs which have contributed immensely to his wealth, Broadus is also into other business ventures. To start with, he has appeared in many films and television series. His film credits include The Wash, Training Day, Starsky & Hutch, Half Baked, plus a 2012 movie Mac and Devin Go to High School which he co-starred with Wiz Khalifa. As for his roles in TV shows we have Dogg After Dark, Doggy Fizzle Televizzle, King of the Hill, Las Vegas, and more.
Snoop Dogg also has an investment company called Eaze. It is a Califonia-based company that delivers medical marijuana to people at their homes. He also has a digital media company, Merry Jane, which presents news pertaining to Marijuana. His cannabis-based product, Leafs by Snoop is also listed as one of the first cannabis brands in the world.
With his brand manager, Broadus Jr. built an app named Snoopify. The app enables users to plaster stickers comprising of Snoop's face and other additions on photos. It is said to generate roughly $30,000 in sales on a weekly basis. Roscoe's House of Chicken and Waffles are two of the artist's popular food restaurant chain.
His Million-Dollars Houses and Cars Collections
Like many other famous artists, Snoop Dogg has showered himself with lots of luxuries in the form of houses and cars. He's got a 6,500 square feet house worth over $2 million and furnished with jaw-dropping ceiling designs, a baseball court, swimming pool, a movie theatre, and a home-based recording studio. His car collection includes a Challenger SRT8, Parisienne, Phanton.
Who's Got the Highest Awards and Endorsements: Snoop Dogg or Wiz Khalifa?
It is no secret that celebrities endorse many brands to be the face of their campaign if they feel like they have a connection to the products. Wiz Khalifa and Snoop Dogg are among such people who have earned greatly from endorsements. They both have also won numerous awards and received nominations for their work, therefore, increasing their popularity globally. To clear this debate, let us find out who has a higher number of awards and endorsements.
As loved by many of the youths all over the world, Wiz Khalifa was nominated and has won many awards in his career. The rapper has won a total of three Billboard Music Award, two Teen Choice Awards, and one BET award. However, he is yet to win any Grammy Awards.
Broadus Jr. is known to have endorsed Adidas Adi-EaseShoes and Adidas AdizeroShoes. Although he has won none, Snoop Dogg's works have been nominated for several Grammys, Peoples Choice, and MTV Video Music Awards Japan Awards. However, he's known to have won two Soul Train Music Awards, one International Dance Music Awards and three Billboard Year-End Chart Awards among many others.