On Valentine's day of 2019, the United States welcomed a new government official into the Trump administration. William Barr, a seasoned lawyer, successfully checked all the boxes and satisfied all conditions to become the legal watchdog of the world's biggest democracy. It was the culmination of a two-month process that began on December 7, 2018, when President Donald Trump announced his nomination of Barr for the office of Attorney General.
Interestingly, William Barr is not a newbie to the office of the Attorney General. In fact, the Columbia-trained lawyer is manning the office for the second time in his over three-decade-long career. First, in 1991, under President George H.W. Bush. More so, he has served as Deputy Attorney General as well as Assistant Attorney General for the Office of Legal Counsel.
William Barr's journey from an unassuming summer intern to the very corridors of the Justice Department and the White House has definitely been compelling and worth an interest.
Exploring William Barr's Early Days
William Pelham Barr was born on the 23rd of May, 1950, in the city of New York, into the family of Donald and Mary Margaret Barr. His father is a renowned Columbia University lecturer and novelist while his mother was also a Columbia University faculty member. Talk about being born with a silver pen! The Jewish family went through a sudden change when Barr's father, a Jew, converted to Roman Catholicism. This shaped Barr's beliefs and convictions in no small way.
To start with, he joined his family in attending the Holy Name of Jesus Roman Catholic Church; a church situated in the Upper West Side area of Manhattan, New York. Also, Barr was enrolled in Catholic schools and was tutored by Nuns and Priests. From his pre-kindergarten years right up to eighth grade, young Barr attended Corpus Christi School in Upper West Side Manhattan. He later proceeded to Horace Mann School, a member of the Ivy Preparatory School League, in The Bronx. He remained there until the twelfth grade.
William Barr then attended Columbia University, the same institution where his parents lectured, to study Government. He received his bachelor's degree in Government in 1971. He then pursued an M.A. in Government and Chinese Studies in the same institution; graduating two years later. Within this period, Barr's attention was increasingly drawn to the legal profession. He proceeded to George Washington University Law School in Washington DC. The law school is considered one of the highest-rated law schools in the United States. There, he received his Juris Doctor (JD) degree in 1977; bagging highest honors.
How William Barr Began His Illustrious Career
William Barr didn't wait to finish school before trying his hands on the legal profession. In fact, while studying for his Juris Doctor degree at George Washington University Law School, he was also working as an intelligence analyst in Washington DC. Between 1971 and 1977, Barr worked for the Central Intelligence Agency (CIA). Then a student, he joined the CIA as a summer intern where he worked for two years. By the time he was attending law school, he was already juggling two roles; as an agency liaison to Congress and an assistant in the Office of Legislative Counsel.
After he graduated from George Washington University Law School in 1977, William Barr worked as a law clerk to Judge Malcolm Wilkey of the United States Court of Appeals for the D.C. Circuit for one year. By 1978, he was employed into the law firm, Pillsbury Winthrop Shaw Pittman (formerly Shaw, Pittman, Potts & Trowbridge). He remained there until 1989. Though he left Pillsbury Winthrop to go serve as Deputy Assistant Director for Legal Policy on the domestic policy staff (under President Ronald Reagan between 1982 and 1983), he later returned to private practice and became a partner in the firm.
His Journey Into the Public Sector
By 1990, William Barr's public sector career began taking shape as several high recommendations and impressive public sector roles came rolling in his direction. It began with then-President George H.W. Bush. Under Bush, Barr served as the Deputy Attorney General of the US from 1990 to 1991. A year before that, he had been serving as Assistant Attorney General of the Office of Legal Counsel. By 1991, William Barr reached the peak of his public career when he was sworn in as the 77th Attorney General of the United States; an office he occupied from 1991 to 1993.
During his time as Attorney General, Barr worked towards creating strategies to curb violent crime in the United States. He is credited for establishing new enforcement policies in antitrust merger guidelines, civil rights, and of course, legal reforms in financial institutions.
During the Saving & Loans crisis of the early 1990s, Barr oversaw the Justice Department's response to the crisis. More so, he supervised the US government's counter-terrorism initiatives during the First Gulf War, oversaw the investigation of the Pan Am 103 bombing, and helped quell the Talladega prison uprising.
William Barr's Return To Private Practice
In 1994, a year after stepping down as Attorney General, Barr returned to the private sector. First, he served as Executive Vice President and General Counsel for the Telephone & Electronics giant, GTE Corporation. After serving for six years, Barr left GTE at the turn of the millennium to serve in other climes. This time, he spent the next eight years working as Executive Vice President and General Counsel of the telecom giant, Verizon. In both companies, Barr stood as the legal voice and became the face of the companies to the government.
By 2008, during the economic meltdown, Barr spent much of his time serving as an advisor to big corporations on government law enforcement issues. The following year, he served as Counsel at the law firm, Kirkland & Ellis LLP and joined the firm again eight years later in 2017. But more public sector roles came calling.
His Second Appointment As Attorney General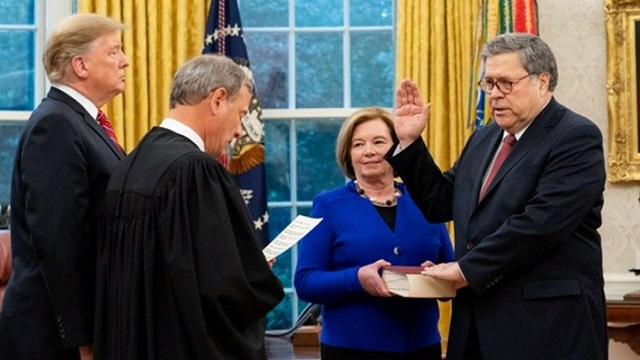 In the heat of the disputes over the alleged meddling of Russia with the 2016 US general elections, the then-Attorney General, Jeff Sessions came under intense scrutiny and eventually resigned. A month later, on December 7, 2018, President Donald Trump announced his nomination of William Barr to succeed Sessions. Two months after the announcement, following a near party-line Senate vote, Barr was confirmed as the 85th Attorney General of the United States. He remains the first person to be appointed to a second non-consecutive term since John J. Crittenden back in 1850.
How Much Is He Worth Today?
According to sources, William Barr is a staunch Republican and has been a major contributor to the interests of the party both within and out of the Senate. He has reportedly donated thousands of dollars to this cause. This begs the question; how much is he really worth?
Though Barr made his name in the public sector, he actually made his fortune in the Private sector. While his legal career began in the 1970s, the money only started to pour in in 1994 after his first term as Attorney General. From then on, his profile went through the roof as most companies would relish the idea of having a former Attorney General on their staff list. While serving as Executive Vice President of GTE from 1994 to 2000, Barr earned over $1.7 million in annual salary and bonuses. He was also receiving valuable stock options which accrued to $3 million.
At Verizon, Barr received a flexible spending allowance of $31,000, financial planning benefits of $10,000, and access to the company's jet for private use. When he left Verizon in 2008, he received $17.1 million and a separation payment of $10.4 million. Today, severel sources aggregate his personal fortunes to the tune of $40 million.
Also, read: Who Appointed James Comey and Why Was He Fired By Donald Trump?
What Do We Know About His Family?

Since 1973, William Barr has been married to Christine Moynihan. The couple has three daughters – Mary Barr Daly, Patricia Barr Straughn, and Margaret Barr. Their first daughter, Mary, was born in 1978. She served at the Justice Department where she supervised the department's anti-opioid and addiction initiatives.
Their second daughter, Patricia, was born in 1982. She served as counsel for the House Agriculture Committee. Barr's youngest daughter, Meg, was born in 1985. She formerly worked as a Washington prosecutor and once served as counsel for Republican Senator Mike Braun from Indiana. The Barr daughters have taken after their father and would likely continue his legacy in the legal profession.