NCIS has been on air since 2003 and in that time, several actors and actresses have joined the show and made a name for themselves through an extended period of playing a character. One of them is Emily Wickersham who is better known for her role as Special Agent Eleanor Bishop. In real life, however, Emily has been married for eight years to Blake Hanley, a musician, and a producer.
During their time together, although Blake was also a member of the creative and entertainment industry, she remained the more popular half of the couple, which meant there was limited public information available about the producer. However, we have been able to gather a few details and facts about everything you need to know about the actress' ex-husband and you can read all about them below.
Who is Blake Hanley?
A person's background often says a lot about them but when it comes to Blake Hanley, there isn't much to know because there isn't a lot of information about his childhood life. All we know thus far is that he was born in Palm Beach, Florida to an Australian father, Daniel Hanley. His father is a former sportsman who played Australian Rules Football in the Victorian Football League for Essendon.
Information about his mother or the existence of siblings remain out of reach and as for his education, it is believed that Blake Hanley studied at the very least, up to high school level before venturing into a career in music. Several unconfirmed reports suggest that he attended college.
Aside from his marriage to the NCIS actress, Blake Hanley is known as a musician and a producer and it all started when he met the guitar player, Enrique Lara on the 1st of August, 2016. Together, they founded the tropical post-punk indie pop/rock music band called Kin Cayo.
Eventually, their band grew in number and they added two more members – Chris Kapica and Mike Torres who played the keyboard and bass guitar respectively. Following the addition of the two members, Kin Cayo changed its name to Ghost Lion and subsequently released its first project, Dim Echo, an EP in November 2016.
Blake Hanley, who remained the leader of the band, combined his obligations to the band along with a solo career of his own, which included the release of a couple of singles like Wolves, Broken Glass and Way Up which were modestly received by the band's fanbase.
Blake and Ghost Lion followed up their first project with the released of another EP, Ballad of St. Panama in January 2017. Through a music video for the song, Wrong Guy from the EP, Blake made his first appearance onscreen with the band. As a producer, Blake Hanley, who also works as a writer, produces with the production company, Deep Sea Sound Productions.
What is his Net Worth?
For all intent and purposes, Blake Hanley is yet to achieve significant success as a musician in the mainstream and this has limited his earning potential. But with the little success he has recorded with his band, Ghost Lion, Blake has been able to amass an estimated personal net worth of $1 million.
His ex-wife, Emily, on the other hand, has a net worth considered to be north of $2 million, following multiple appearances across films and TV shows like Definitely, Maybe, Gone, I Am Number Four, The Sopranos, Law & Order: Criminal Intent and a few more others.
See Also: Steven Roy – Bio, Age, Family, Facts About Carrie-Anne Moss's Husband
Relationship with Emily Wickersham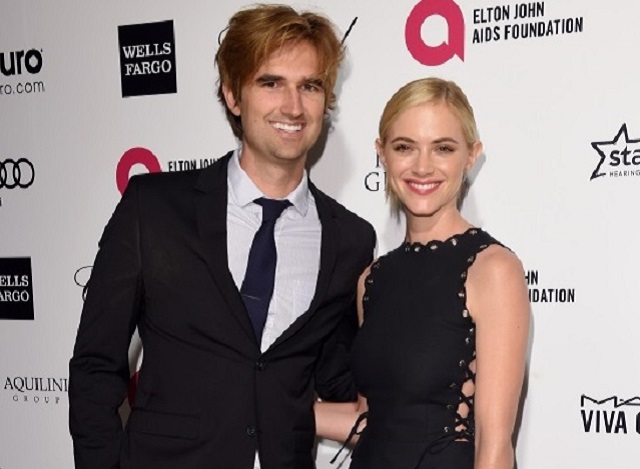 So far, we cannot determine when Blake, whose middle name is Anderson, met Emily Wickersham but after a considerable period of being in a relationship, they got married on the 23rd of November, 2010 in Little Palm Island in the Florida Keys. A Reception party followed four days later at the Palm Beach Bath & Tennis Club and was attended by friends and family members. During their time together, they lived in Los Angeles, California and did not share any children.
After eight years of being together, Emily Wickersham and Blake Hanley got divorced in December 2018. Since then, there has been no information regarding the cause. As for rumored or reported relationships since they went their separate ways, neither of them has been confirmed to be in any new relationship.
You can catch up with both of them via their respective social media profile – @blakehansolo for Blake Hanley and @emilywickersham for Emily on Instagram.