Sports, while it can be exciting and bring to fore some of the best qualities of the human body, it is also an established form of earning a significant amount of income. However, while a lot of sports have churned out billionaires, mixed martial arts cannot be counted in that category. It is considered one of the least paying major sports in the world, yet it has produced several millionaires, enough to make an extensive list of some of the richest MMA fighters in the world.
When it comes to fighting sports, it goes without saying that boxing is the most lucrative with deals worth several hundred millions of dollars signed for every major bout. The MMA, especially under the promotion company, UFC, while currently undergoing an increase in popularity, does not share a similar profile in wealth.
Still, its richest fighters are some of the richest personalities in sports and so we want to take a look at some of the richest MMA fighters in the world right now. Scroll down to take a look.
Richest MMA Fighters in the World Right Now
1. Conor McGregor – $110 million
If the UFC's popularity and the rise of MMA as a fighting sport can be attributed to one person, that person would be Conor McGregor. Not only has his excellent fighting skills been a breath of fresh air to fight fans, but his personality outside of the pentagon has made him a mainstay in the news.
Conor McGregor, who is an Irish fighter, began his career in 2008 and has risen through the ranks to become one of the best fighters in the UFC. Over the course of his professional career, where he has fought over 25 matches, he has won 21 of them, winning a remarkable 18 of them via knockout. He is a champion who has won in the featherweight and lightweight champion.
In MMA history, he is the biggest pay-per-view draw and it has been reflected in his contracts with the UFC which places him as one of the highest-paid MMA fighters in the world.
While his MMA earnings certainly make him one of the richest in the sport, it is his foray outside the sport into the world of boxing that has put him clear as the richest MMA fighter in the world. His high-profile match with boxing icon, Floyd Mayweather, which drew 4.3 million PPV buys in North America alone has earned him a total net worth of $110 million.
2. Rorion Gracie – $50 million
Second on the list of the richest MMA fighters in the world is Rorion Gracie, who is one of the few people in the world to hold a 9th-degree red belt in Brazilian Jiu-Jitsu. The Brazilian MMA fighter, unlike the first name on our list, did not earn his wealth from competing in professional sport but rather as an extra in movies and TV shows, along with being a trainer to several movie stars who sought to use Jiu-Jitsu style in their fighting choreography.
He has worked in major productions like the Lethal Weapon series with Gary Busey and Mel Gibson. Other than movies and TV, Rorion Gracie has also worked with the US military, training the US Marines.
Another effort of his includes his published book, The Gracie Diet, which was released in 2010. Combined with his other career disciplines as a producer, lecturer, and co-founder of the Ultimate Fighting Championship, Rorion Gracie has a net worth of $50 million to place second among the richest MMA fighters in the world.
3. Georges St. Pierre – $30 million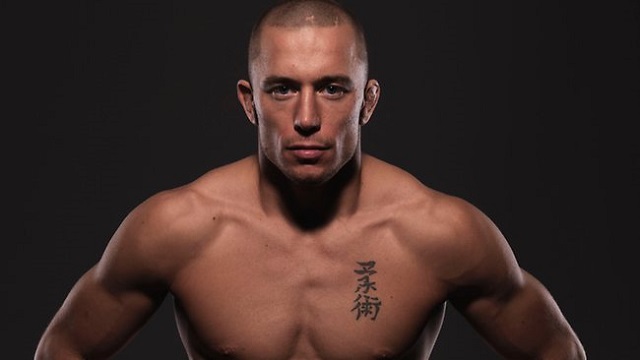 Canadians are widely known to be peaceful people but when they do need to throw a punch, they are very much capable of delivering an effective one. Just ask Georges St. Pierre, a Canadian professional MMA fighter who is considered one of the greatest fighters in MMA history.
He competed professionally between 2002 and 2013, before retiring temporarily and returning to the sport in 2017 when he retired permanently.
Throughout his career, Georges won 26 out of 28 fights, winning eight of them via knockout. He competed in the Welterweight and Middleweight category and won titles in both divisions, retiring as the reigning Welterweight Champion in 2013.
He has a net worth of $30 million, placing third among the richest MMA fighters in the world.
4. Brock Lesnar – $28 million
Except for hardcore fans of the UFC, those who are familiar with Brock Lesnar are more likely to have known him via his career as a professional wrestler for the WWE. Brock Lesnar has had quite the career, as a former football player and a former mixed martial artist. During his years in the UFC, he was once the UFC Heavyweight Champion, fighting a total of nine matches and winning five of them.
A certified blue belt holder in Brazilian jiu-jitsu, Brock Lesnar competed as an MMA fighter between 2007 and 2011 and had a brief stint in 2016. He has a net worth of $28 million, although a sizeable portion of it has been earned through his career as a professional wrestler.
5. B.J Penn – $22 million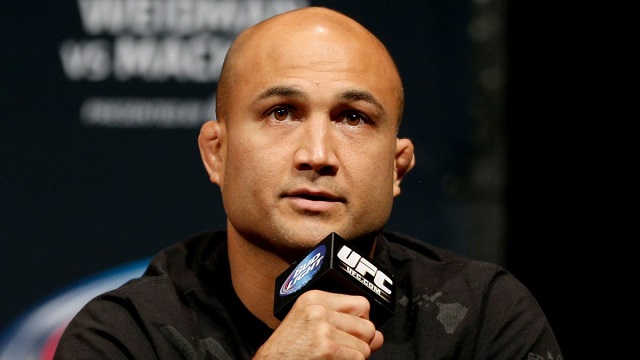 Rounding up the top five of the richest MMA fighters in the world is Jay Dee Penn III, more commonly known as B.J Penn. He is an MMA fighter who has been a professional since 2001.
A Brazilian Jiu-Jitsu practitioner, B.J Penn has earned a net worth of $22 million from competing in the Ultimate Fighting Championship and also in the K-1. His career has featured victories like the UFC Welterweight Championship and the Lightweight Championship. He is also the first American to win a Gold medal at the World Jiu-Jitsu Championship.
Although still an active fighter, B.J Penn has already been inducted into the UFC Hall of Fame.
6. Anderson Silva – $18 million
Mixed Martial Art is a fighting style that incorporates Brazilian Jiu-Jitsu and it would be expected to have a lot of Brazilian practitioners. While there are, very few of them make the list of top ten richest MMA fighters in the world. Among the few who do is Anderson Silva, a fighter for the UFC who has been fighting professionally since 1997.
Anderson Silva has recorded several personal achievements and set MMA records, including holding the longest title reign in UFC history. He was the reigning UFC Middleweight Champion for seven years between 2006 and 2013, recording 16 consecutive victories in the process. Although his net worth does not reflect it, he is widely considered the greatest mixed martial artist of all time.
7. Fedor Emelianenko – $18 million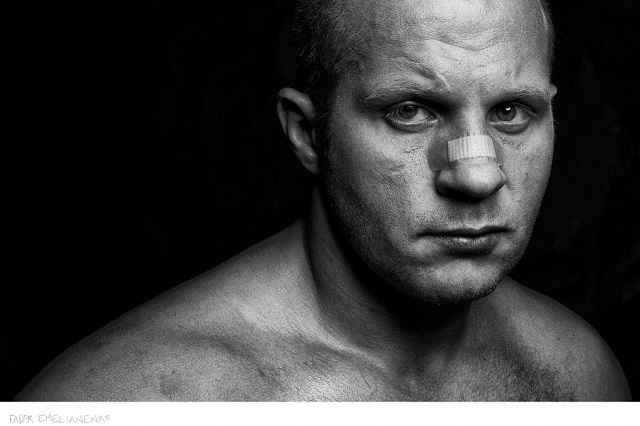 Among the top ten richest MMA fighters in the world is Fedor Emelianenko, a Russian heavyweight mixed martial artist who plies his fighting trade for Rizin Fighting Federation and Bellator MMA.
He has been a professional fighter since the new millennium and has fought over 45 matches, winning an impressive 38 matches. Out of his 38 wins, he won fourteen of them by knockout and fifteen by submission.
Fedor Emelianenko has recorded several titles since he began his career, which has contributed to his significant net worth. Other than his performances in the ring, other contributors to his net worth include serving in various administrative positions such as the Council of Physical Fitness & Sports, President of the Russian MMA Union and being co-owner of M-1 Global, an MMA promotion company.
8. Wanderlei Silva – $18 million
Another Brazilian on our list is Wanderlei Silva, who has fought in the Ultimate Fighting Championship and Pride Fighting Championship, an MMA promotion company based in Japan.
In Pride, Wanderlei is arguably one of the best fighters to grace its octagon, where he holds the record for most wins, title defenses, and longest winning streak in the Championship's history.
A Middleweight fighter, Wanderlei Silva has built his significant net worth through a career that has fought over 50 matches and won 25 of them via knockouts. His $18 million net worth places him at the eighth position on the list of the richest MMA fighters in the world.
9. Randy Couture – $17 million
Randy Couture first served in the US Army and had a college career as a Greco-Roman wrestler before he had a career as a professional mixed martial artist. During his career as a pro-MMA fighter, he fought in the Ultimate Fighting Championship and competed in the Heavyweight and Light heavyweight divisions, both of which he won.
He became the first fighter to hold two UFC championship titles in two different divisions. His career featured 30 fights, winning 19, with seven of them via knockouts.
His net worth, which is estimated at $17 million, came through his career as an MMA fighter and also as an actor, where he has appeared in movies like The Expendables, The Scorpion King 2: Rise of a Warrior, The Hard Way, and a few others.
10. Tito Ortiz – $15 million
Placed last but not the least of the top ten of the richest MMA fighters in the world is Tito Ortiz, a now-retired MMA fighter who was one of the first set of superstars of the Ultimate Fighting Championship.
As a professional fighter, he began his career in 1997, competing in the Light Heavyweight and Heavyweight divisions. He won the Light Heavyweight Champion during his career and aside from competing for the UFC, he also fought for Bellator MMA.
An inductee into the UFC Hall of Fame, Tito Ortiz's place among the richest MMA fighters in the world has further been solidified by his entrepreneurial venture as the CEO of Punishment Athletics, a company dedicated to MMA equipment and clothing line.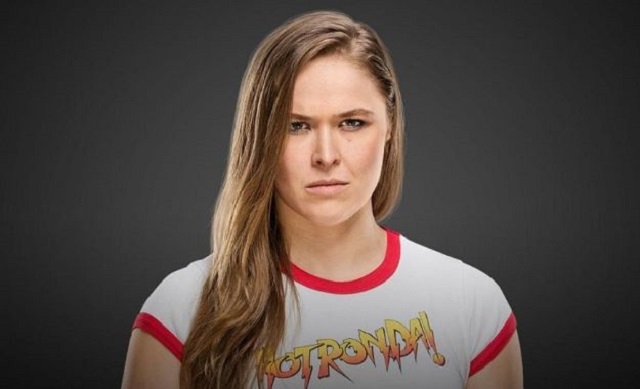 While that completes the top ten of the richest MMA fighters in the world, other noteworthy names include Chuck Liddell who has a net worth of $14 million, Quinton Rampage Jackson, who is also known for his starring role in the A-Team, with a net worth of $12 million, and the only female in the top twenty list, Ronda Rousey, who has a net worth of $12 million. Like Brock Lesnar, Ronda Rousey has taken her talents to the WWE.

Fact Check: We strive for accuracy and fairness. If you see something that needs updating,