For many people, cars are simply a means of transportation, tools that have been designed to offer comfort while they perform a very simple purpose. To a minority, however, cars are more than just simple tools of transportation. They are a form of art, specifically a marriage between creative and engineering art and it is for those people that the most expensive car in the world has been made.
These are rare cars that are designed in limited editions and are owned by the rich and powerful whose ownership of these cars constitute a symbol of wealth. Over the years, there are been several models of cars that held the title of the most expensive car in the world, but which one holds that title right now? Find out below.
What Is The Most Expensive Car In The World Right Now?
In order to fully appreciate the car that currently holds the title of the most expensive car in the world right now, it is important to take a look at some of the cars it beat to attain that status, and so, here is a quick rundown of the top ten most expensive cars in the world right now.
10. Pagani Huayra BC – $2.5 million
The least expensive car in the top ten most expensive cars in the world that is still very much within the reach of the average man is the Pagani Huayra which would set you back a cool $2.5 million.
The car was designed by Pagani, an Italian car manufacturer and the car is one of the most expensive cars ever built by the manufacturer. It boasts of a 6.0-liter V12 engine and has 790 brake horsepower. One of the few owners of the car in the world is an American real estate tycoon.
9. Ferrari Pininfarina Sergio – $2.8 million
Cars that belong in lists like this are not commercially made and are often specially designed for uber-rich car collectors. The Ferrari Pininfarina Sergio came into existence as a concept car in 2013 and it boasts of naturally-aspirated 4.5-liter V8 engine along with a 562 brake horsepower.
So far, only six of this car exist in the world, meaning you might not be able to get one even if you could afford it.
8. Aston Martin Valkyrie – $2.9 million
Aston Martin has held sway in the world of supercars for quite a long time, having gained global reputation through its relationship with the James Bond franchise but while only Mr. Bond gets to enjoy the unique offerings of his Aston Martin, rich men and women who can part with $2.9 million can own the Aston Martin Valkyrie which boasts of 6.5 liter Cosworth V12 engine and has 1,160 bhp.
7. Lykan Hypersport – $3.1 million
Supercars are known to be the trade of European companies but Lykan Hypersport, which was built by W Motors in Lebanon has thrown itself into the mix with this excellent supercar which a beautiful angular design. Its artful look consists of headlights made from over 200 15-carat diamonds.
Lykan is not all flashiness either, it also boasts of an under the hood performance of a 3.7-liter engine with 780 brake horsepower which allows this beauty to go from 0-62 mph in 2.8 seconds.
6. Bugatti Veyron by Mansory Vivere – $3.3 million
The Bugatti Veyron is considered one of the best production cars in the world and while its regular version is already an expensive product, the Bugatti Veyron by Mansory Vivere is the most expensive customized version of the Veyron production.
At $3.3 million, it boasts of 1200 bhp and hits a top speed of 253 mph. Its customized status comes with extra high-end interior panels, body kit among several other cool changes.
5. McLaren P1 LM – $3.3 million
The McLaren P1 LM is a sophisticated improvement on the McLaren F1 GTR. This version boasts of a 3.8 liter twin-turbo V8 engine and an electric motor which produces 968 bhp. One of the crazy things about this car is, unlike a significant portion of some of the cars on this list, it is road legal, meaning, you could find it beside you during a random traffic stop someday. Pro Tip: Don't try and race it.
4. Lamborghini Veneno Roadster – $4.1 million
The Lamborghini Veneno Roadster was created as a celebration of the company's 50th birthday and if you intend to share that history with the company, be willing to part with $4.1 million to own one of the most expensive cars in the world. In return, you will be gaining a car that has a 6.5-liter V12 engine and a 740 brake horsepower. It goes from 0-60mph in less than three seconds. You might be too late though, there are only nine of them in existence.
3. Koenigsegg CCXR Trevita – $4.5 million
As is the trait of most supercars, the Trevita is a limited edition of the Koenigsegg CCXR, and when we say limited edition, we mean limited edition. There is only two of it in the world.
The car has a 4.8-liter V8 engine with 1018bhp and it reaches 62mph in less than 3 seconds.
2. Rolls Royce Sweptail – $12 million
In the first two is the Sweptail, which was specially commissioned by an anonymous car enthusiast in 2013. The car took its basic ideas from Rolls Royce's previous models and a luxury yacht.
The specially designed car has several luxurious features, including a bottle of champagne that was bottled in the owner's birth year. As for its performance, it has a 6.75-liter V12 engine.
See Also: Top 26 World's Most Expensive Houses And Their Owners
1. Bugatti La Voiture Boire – $17 million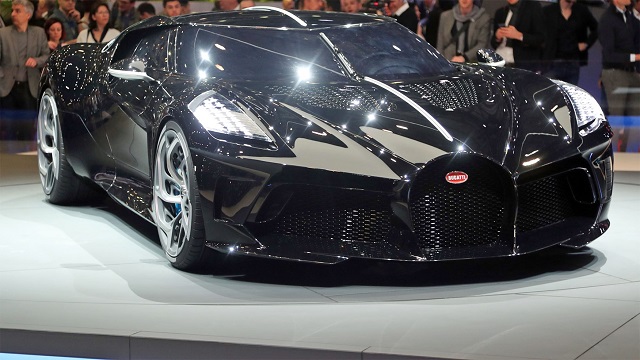 And finally, the cream of the crop, the most expensive of the most expensive cars in the world is the Bugatti La Voiture Noire, which earned the status in March 2019.
The car is reportedly owned by Ferdinand Piech, who is the former chairman of Volkswagen Group. The car has an astounding performance with an engine spec of 1500bhp and a 16-cylinder engine.