Robert Plant has been variously described as "the greatest metal vocalist of all time" as well as the "greatest voice in rock" and the reason is there for all to see. In a flourishing career spanning five decades, the English singer and songwriter has churned out several successful albums as a solo artist. He also held sway as the lead singer of one of the most successful rock bands in music history, Led Zeppelin.
In a successful stint that spanned 12 years, Plant and his fellow Led Zeppelin members dominated the rock scene with albums such as Houses of the Holy, Physical Graffiti, In through the out Door, and Presence. They picked up numerous accolades and sold hundreds of millions of records. The group would disband in 1982 but they continue to reap rewards from publishing rights and re-issuing albums. Plant also continues to make money from his solo career and now has a net worth of about £102 million, placing him amongst the top 20 richest musicians in the United Kingdom
How Robert Plant Acquired His £102 Million Net Worth
He Sold About 300 Million Records With Led Zeppelin
A significant portion of Robert Plant's net worth comes from his days as the frontman of the rock band, Led Zeppelin. Originally formed as The Yardbirds in 1966, Plant joined the ensemble two years later and would later rise to become the leading man of the group. Under his charismatic direction, Led Zeppelin dropped a total of eight studio albums, all of which were certified multiple platinum. They are Led Zeppelin I (1969), Led Zeppelin II (1969), Led Zeppelin III (1970), Led Zeppelin IV (1971), Houses of Holy (1973), Physical Graffiti (1975), Presence (1979), and In Through The Out Door (1979).
The band also released about four live albums and nine compilation albums. All of these went platinum as well, showing that their music sold like hotcakes back in the day. To date, Plant and his fellow Led Zeppelin members have sold about 115 million records in the U.S., making them the third bestselling band and the fifth bestselling musical act in the country.
Worldwide, they have sold an additional 185 million, making them one of the bestselling music artists of all time and contributing handsomely to Robert Plant's net worth.
The Band Earned More than Half a Billion Dollars from Tours Between 1968 and 1980
Plant and his fellow Led Zeppelin members are regarded as the most compelling live music acts ever. It must be pointed out that they did not consciously set out to achieve that reputation. It rather resulted from the struggles they had during the early days of their career.
When they started, most pressmen and media organizations disliked the band and refused to give them any publicity. It, therefore, fell to the group to build publicity for themselves and they took to performing prolifically to help them in that regard.
They would continue with this pattern even after they achieved success and thus grew to become one of the most iconic live performers ever. Between 1968 and 1980, Led Zeppelin performed about 600 concerts all over the world. Some of the concerts formed part of their North American Tour (1968-69, 1971, 1972, 1973, 1975, 1977), European Tour (1969, 1970, 1971), United Kingdom Tour (1968, 1969, 1970, 1971, and 1972/73), and Japanese Tour (1972). These concerts were all sold out and it is estimated that the band made about $1.5 million per show thus leading to estimated revenue of $900 million.
Robert Plant Has Also Made Millions from His Exploits as a Solo Artist
Some people were previously of the notion that Robert Plant was just a pretty boy and that the real brain behind the success of Led Zeppelin was their guitarist, Jimmy Page. Time has however proven that this assumption is wrong as Plant has gone on to enjoy a more successful career than Page since Led Zeppelin disbanded in 1980.
The West Bromwich native has dropped about 11 studio albums out of which three has been certified platinum (Pictures at Eleven, The Principle of Moments, and Now and Zen). He also has two compilation albums and four collaborative albums to his credit. All of these albums have performed well commercially, helping to boost his fortune to its current numbers.
Plant has also toured aggressively as a solo artist. Backed up by bands such as Strange Sensation, Sensational Shape Shifters, and Band of Joy, he has embarked on numerous tours including Non-Stop Go Tour (1987-1989), Manic Nirvana Tour (1990-1991), Dreamland Tour (2002 – 2003), Summer 2013 U.S Tour, Summer 2014 Europe Festivals Tour, Spring 2015 U.S. Tour, and Summer 2018 US Tour. All this has fetched him millions of dollars in revenue as well.
His One Year Collaboration With Allison Krauss Pulled About $13 Million
Another avenue that has contributed to Robert Plant's net worth is his one-year musical collaboration with American country music and bluegrass singer, Alison Krauss. Before that, the Led Zeppelin singer knew next to nothing about American folk music. He was therefore quite enthusiastic when he was contacted for a VH1 show, Crossroads, which facilitates collaborations between singers from hugely different genres. The person that Plant was paired up with was award-winning American singer, Alison Krauss, and they got along so well that they decided to work on an album together.
The album, Raising Sand, was eventually released in 2007 and it went on to become a commercial and critical success. It sold about 2.5 million copies. It also won an impressive five Grammy awards in 2008: they are Album of the Year, Record of the year, Pop Collaboration with Vocals, Country Collaboration with Vocals, and Contemporary Folk/Americana Album. Plant and Krauss also took their music to the road, playing an extended tour in Europe and the U.S. Overall, the collaboration fetched the pair the sum of $13 million.
He Has Earned Millions of Dollars in Led Zeppelin Royalties
Led Zeppelin may have ceased to exist for about forty years now but the members continue to reap the benefits of their work. These benefits take the shape of re-issuing and repackaging their bestselling albums, production of live albums, as well as royalties from publishing deals.
For years, one could not exactly pinpoint the amount of cash that Robert Plant and his bandmates got from this avenue but we now have a hint thanks to a copyright infringement trial involving the band.
Back in 2014, Led Zeppelin was sued for plagiarising their 1971 hit single, Stairway to Heaven. In the course of the trial, it was revealed that they had earned about $58.5 million in royalties over the past five years. A portion of this went to Robert and his bandmates while about $13.5 million went to their record label, Atlantic and Rhino Entertainment.
Sources of Robert Plant's Net Worth 
Led Zeppelin album sales – 300 million records sold
Touring and concerts – $500 million+
Solo albums and tours – $20 million+
Collaboration with Allison Krauss – $13 million
Led Zeppelin royalties – $15 million+
Did He Reject an $800 Million Deal for a Led Zeppelin Reunion?
Robert Plant has never hidden his disdain for aged musicians who take advantage of touring to pile up more dollars for themselves. He believes they should allow some space for new acts to come up and thrive, and it is this mindset that fueled a sensational story that circulated about him in 2015.
According to a news story by a U.K. publication that year, Plant tore up an $800 million deal for a reunification tour by members of Led Zeppelin. The deal was said to have been funded by Virgin billionaire, Richard Branson, and would see the band play 35 shows in three cities. Each member would get about $200 million as well as a portion of the potential $100 million from merchandise sales.
The report had it that all other three members of Led Zeppelin were on board to take the offer but Plant tore it up in line with his long-resistance to any commercialization of a Led Zeppelin reunion. As one can expect, this story gained traction for several days but it later turned out to be false. Plant's spokesman described it as false while Branson also stated that there was absolutely no truth to the story.
His Net Worth Has Grown By About £23 Million Over The Last Decade
Robert Plant has consistently climbed the ladder of the wealthiest musicians in the U.K. As far back as the year 2010, he made it to 30th spot on Sunday Times Rich List for the year with a net worth of £80 million. This amount would remain unchanged until 2014 when his net worth increased by £2 million to a total of £82 million. By the year 2015, Robert Plant's net worth jumped by an impressive £18 million to reach £100 million.
This amount held steady for the next year before it increased once more by £5 million to reach £105 million in 2017. For 2018 and 2019, Robert Plant's net worth remained at £105 million. It however experienced a downward trend as it dropped by £3 million to settle at £102 million for the year 2020. No reason was given for this decrease but it could be as a result of the lockdown brought about by the Covid-19 pandemic in 2020. This prevented musicians like Plant from lucrative touring activities.
Despite this drop in fortune, Robert Plant's ranking has improved on the Sunday Times Rich List. From the 30th position, he has risen to become the 20th richest musician in the United Kingdom for 2020.
An Overview of the Musician's Net Worth Over the Years
2010 – £80 million
2011 – £80 million
2012 – £80 million
2013 – £80 million
2014 – £82 million
2015 – £100 million
2016 – £100 million
2017 – £105 million
2018 – £105 million
2019 – £105 million
2020 – £102 million
The Genesis of Robert Plant's Career in Music
Looking at Robert Plant's early life, one would have no choice but to conclude that he was born to be a musician. As early as the age of 10, he had started mimicking Elvis and by his teenage years, fell in love with blues. This love would eventually lead him to drop out of secondary school at the age of 16 and leave home to explore his music aspirations.
The journey wasn't easy though. Plant spent his late teens working a variety of odd jobs whilst trying to make headway with his music. He managed to do some demos and also joined some small bands like Crawling King Snakes, Hobbstweedle, and Band of Joy.
It was while singing with the latter that he was spotted and hired by future Led Zeppelin bandmate, Jimmy Page.
He Was 20 When He Joined Led Zeppelin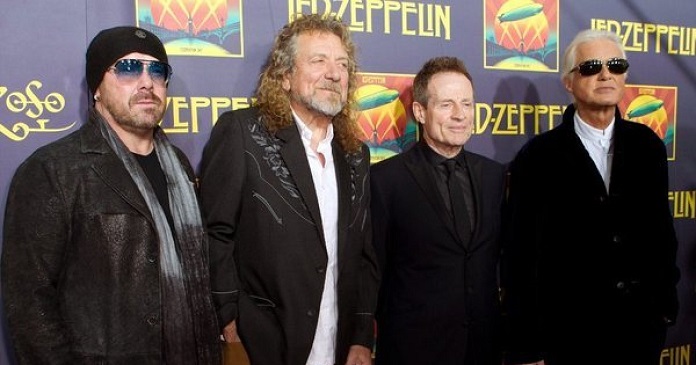 As the story goes, Page was looking for a singer to lead his Yardbirds band. They were referred to a show that Plant was doing at a school and he was immediately bowled over by his vocal prowess.
He made Plant an offer which he accepted and so, at the age of 20, he joined them. The band would spend just a few months as the Yardbirds before morphing into Led Zeppelin in late 1968.
They then dropped their debut eponymous album in 1969 and followed it up with seven more. Plant also pursued a successful solo career with so many hit songs and albums thrown in.
Robert Plant's Bestselling Solo Songs and Albums
Albums 
Pictures of Eleven
Year of release – 1982
Chart – No. 2 (U.K.) No. 5 (U.S.)
Sales – 1 million+
The Principle of Moments
Year of release – 1983
Chart – No.7 (U.K.), No. 8 (U.S.)
Sales – 1 million+
Now and Zen
Year of release – 1988
Chart – No. 10 (U.K.), No. 6 (U.S.)
Sales – 3 million+
Songs
Other Arms
Year of release – 1983
Chart – No.1 Billboard Mainstream Rock Chart
Sales – N/A
Little By Little
Year of release – 1985
Chart – No.1 Billboard Mainstream Rock Chart
Sales – N/A
Heaven Knows
Year of release – 1988
Chart – No.1 Billboard Mainstream Rock Chart
Sales – N/A
Tall Cool One
Year of release – 1988
Chart – No.1 Billboard Mainstream Rock Chart
Sales – N/A
Hurting Kind (I've Got My Eyes On You)
Year of release – 1990
Chart – No.1 Billboard Mainstream Rock Chart
Sales – N/A
Most High (feat. Jimmy Page)
Year of release – 1998
Chart – No.1 Billboard Mainstream Rock Chart
Sales – N/A
Bands He Played With Over the Years
Led Zeppelin
Duration – 12 years (1968-1980)
Albums and sales – 21 albums (300 million records sold)
Concerts – over 600 worldwide
Revenue – over $1 billion
Priory of Brion
Duration – one year (1999-2000)
Album and sales – None
Concerts – over 100 worldwide
Revenue – N/A
Strange Sensation
Duration – seven years (2001-2007)
Album and sales – one album (60k+ records sold)
Concerts – The Dreamland Tour (2002-2003) and The Mighty ReArranger Tour (2005)
Revenue – N/A
Band of Joy
Duration – one year (2010-2011)
Album and sales – one album (100k+ copies sold)
Concerts – over 30 shows in both the U.S. and Europe
Revenue – N/A
Sensational Shape Shifters
Duration – 2012 till date
Album and sales – two albums (160+ copies sold)
Concerts – over 19 tours worldwide
Revenue – N/A