Machine Gun Kelly is a young rapper who took the music industry by storm when he came to fame as a rapper starting from way back when he was just a teenager. His rapid climb through the ropes to stardom has been awe-inspiring especially for many younger people who aspire to become rappers or build a career in music. His success has equally got people wondering what Machine Gun Kelly's net worth stands at. The youngster who was given the name Colson Baker at birth on the 22nd April 1990, in Houston, had a very unstable childhood as a result of the rocky relationship between his parents which eventually resulted in a separation that saw him being raised by his father.
His unstable childhood was made much worse by the fact that he and his father moved around a lot and made home in many cities of different countries Germany, Egypt, Chicago, Cleaveland and Denver where they finally settled with an aunt of his to enable the young lad to attend school and have a chance at a normal life which although it was a good effort never truly panned out for many reasons. First, his father fell into a depression which in turn became a bully point for young Kelly at the Hamilton Middle School where he had his early education. For high school, he enrolled at Thomas Jefferson High School where he did not have many troubles especially because his father who he was often at loggerheads with moved away to Kuwait to work.
The rapper in Machine Gun Kelly showed up from way back in 6th grade when he turned to music as an escape from the many troubles he found himself in. As he listened to more rap works, he was inspired by the works of great like Eminem whose lyrics often sounded like the motivation he needed. Others who inspired his love for all things rap are DMX and Ludacris. He finished high school on transfer at Shaker Heights High School in Cleaveland where he moved next with his father who was not satisfied with his living conditions in his aunt's basement.
What Is Machine Gun Kelly's Net Worth?
This young rapper is many things; a musician, an actor, a social media influencer and an ambassador for well-known brands. Having been in the business of making music for well over a decade, there is no doubt that the young rapper has amassed a tidy sum in net worth. This is made even more believable by the fact that he has not stuck to making music as his only source of income, he has done well to diversify by investing in diverse sources that trickle in good amounts too. Since the onset of his career, he has worked with record labels like Interscope Records and Bad Boy records.
Machine Gun Kelly's net worth has been estimated to be in the regions of $8 million. However, this figure is expected to see a massive increase in the coming years as the excellent rapper releases more albums to critical acclaim.
Moreso, he has invested in assets like real estate and seems to have a thing for fast cars. He has a house in Cleaveland and another in Los Angeles, California but has not revealed how much he splurged on the houses. In the car department, things seem to be a bit clearer.  There are five well-known brands in his collection; a Mercedez S Class, a Range Rover Vogue, a Lamborghini Gallardo, a Rolls Royce Drophead, and a Rolls Royce Phantom. He also owns a Can-Am Spyder bike.
How Does He Make His Money?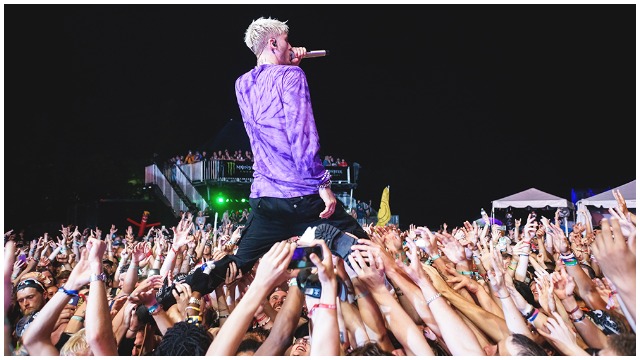 Having developed a love for rap music back in school in his younger years, after school, Machine Gun took up work at a shop that sells T-shirt in 2006. This gave him all the time he needed to make music while earning something to live by. Here, he worked on his sound and soon came up with a mixtape which he titled Stamp of Approval. This mixtape was the beginning of many things for the rapper because it was good enough to announce him as a new voice in the world of rap. It equally attracted the right attention his way.
He has since released other mixtapes and albums which were well received by his numerous fans who have only grown in leaps and bounds. His other mixtapes are Homecoming (2008), 100 Words and Running (2010), and Lace Up (2010). His album Lace Up was released on October 9, 2012, and was certified gold, the next album General Admission was not certified, but it sold well over 56,000 copies and was followed by a third album which was certified gold. He titled his fourth album Hotel Diablo and it was released on the 5th of July 2019. All of these have translated to huge monetary rewards for the rapper, but that's not the only way he makes his money.
See Also: DC Young Fly – Bio, Age, Net Worth, Wife, Girlfriend, Wiki, Daughter
Shortly after the release of Hotel Diablo, Machin Gun Kelly announced tour in collaboration with Young Thug. Since tours are some of the major ways musicians make bank, there is no doubt that his net worth will see a hike after the tour. Besides music, Machine Gun Kelly also banks as an actor and among the many movies he has to his credit are Beyond the Lights (2014), Viral (2016), Nerve (2016), and The Land (2016).
As the mark of true celebrity status, the rapper also rakes in good money from endorsement deals with Reebook, particularly for their Club C line of sneakers. He also inked juicy deals with Ethika, and Young and Reckless. His net worth also accrues from his activities as a social media influencer. He is active on Instagram where his official handle has 4.6 million followers and he makes between $9,203 – $15,339 for every sponsored post he makes. On Twitter, he has over 1.25 million followers.