Following his victory in the hotly-contested 2020 U.S. presidential election, Joe Biden is set to take office as the 46th president of that great nation. This is quite a monumental role but it is one that he should sufficiently be prepared for, given that he has had more than four decades of experience as a public office holder.
Biden spent three years as a councilman in Delaware before getting elected into the United States senate in 1973. He would hold onto that office for about 26 years before joining Barack Obama's audacious candidacy for the White House in 2008. That candidature proved successful and Biden became the American Vice President for the next eight years.
It, therefore, means that the man has spent much of his life as a public office holder. As is common knowledge, public office holders don't make much and consequently lack significant fortunes. Biden has however been able to escape this reality and has gone from the poorest man in congress to a multimillionaire with a fortune estimated at $9 million.
How Did Joe Biden Build His $9 Million Net Worth?
Joe Biden built his $9 million net worth from several sources including his salaries as a senator and vice president, speaking fees, and book royalties.
He Earned From $42,500 to $169,300 Per Annum during His 26 Years Tenure as a United States Senator
Joe Biden's road to life-long public service began in the year 1970 when he was elected as a councilman for New Castle County in Delaware. He occupied this office for about three years and successfully sought an election into the senate in 1972. He was just 29 at that time and made history as the sixth-youngest senator in the history of the United States. Joe Biden would remain in the senate for about 26 years during which he deployed his formal training as a lawyer to serve on the Senate Judiciary Committee. He also chaired the Foreign Relations Committee and International Narcotics Control Caucus and pushed bills aimed at tackling violent crimes as well as crimes against women.
At the start of his senatorial term, Joe Biden earned about $42,500 per annum. This amount increased to $89,500 by 1987 and in 1991, reached $125,100 per annum. A decade later in 2001, the annual salary of a U.S. senator topped $145,100. As at the time of Biden's retirement from the senate in 2008, he earned $169,000 per annum.
A first look at the cover for my new book, PROMISE ME, DAD https://t.co/Ce1eY5Bghw pic.twitter.com/QRXipZz0Ef

— Joe Biden (@JoeBiden) August 24, 2017
He has Authored Several Books Including the NYT Bestseller Promise Me, Dad: A Year of Hope, Hardship, and Purpose
Joe Biden's net worth has also benefitted from his prolific writing career. The former senator has penned several articles over the years mostly connected to his work on Capitol Hill. He has also penned some full-length books including Promises to Keep: On Life and Politics (2007) and Promise Me, Dad: A Year of Hope, Hardship, and Purpose (2017). Both books have attracted good reviews and have also generated much revenue as well. Biden has variously received the sums of $81,250, $9,560, $71,000, $8 million, and $1.8 million as payment for book royalties, audiobook rights, publishing deal, book tour events, etc.
Joe Biden served as the Vice President of the United States from 2008 to 2016.
Remember that 2007 book that Biden wrote? Well, he didn't write it for his health but in a bid to contest for the Democratic presidential ticket. That bid eventually proved unsuccessful but he was asked to join victor, Barack Obama, on the democratic ticket. He accepted and so when Obama won the 2008 presidential election, became the Vice President of the United States of America. Joe Biden would remain in this position for the next eight years during which he played significant roles in the administration including heading the Gun Violence Taskforce of 2013; negotiating the American Taxpayer Relief Act of 2013; as well as overseeing the spending from the Obama stimulus package. He also embarked on diplomatic visits to countries such as Ukraine and Egypt. Biden earned roughly $230,000 per annum, thus further contributing to his net worth.
The Former V.P. Has Taught at Several Schools Including the University Of Pennsylvania.
A teacher's reward is supposedly in heaven but Joe Biden is also getting it right here on earth. The former V.P. has utilized his spare time to teach at various institutions and has been paid for it. In the early years of his senatorial career, Biden taught a constitutional law class at Widener University, Pennsylvania. This gig lasted from 1991 to 2008 and his starting salary was $20,000 per annum.
Fast-forward to 2017, Biden signed on to lecture at the University of Pennsylvania Annenberg School and School of Arts and Sciences. The post earned him $372,000 in 2017 and $405,000 in 2018. He took a leave of absence from the post to focus on his presidential campaign in 2019 and so his salary dropped to $135,000. It is highly plausible that Biden would now resign from this role entirely given his electoral victory and the reality of spending the next four years as the president of The United States of America.
Joe Biden has earned about $2.4 Million in Speaking Fees.
One sure way for retired American politicians to make money is speaking engagements and Joe Biden is not letting this pass him by. The former senator has been quite active on the speaking circuit, following the expiration of his V.P. term in 2016, and has earned millions in the process. Biden's speaking fees greatly vary depending on the occasion. For a speech in the Michigan City of Ann Arbour in 2018, he earned as low as $8,000. That same year, he was paid about $190,000 for a speech in Madison, New Jersey.
Sources That Contributed to Joe Biden's Net Worth
Senate salary – 3.972 million
Book earnings – $10 million est.
Vice President Salary – 1.84million
Teaching – $1.2 million est.
Speaking Fees – $2.4 million est.
How Joe Biden Went From The Poorest Member of Congress To a Multi-Millionaire.
The Joe Biden story is not your typical grass to grace story but rather a grace to grass and back to grace tale. As the story goes, Biden's father, Joe Sr., was the scion of an oil executive and was quite well off. He however lost much of his money to failed business ventures and so became a car salesman. At this time, Biden was quite young but he couldn't escape the impact. He had to take up study-work programs to fund his private school education and lost other trappings of the fine life. The young Biden would persevere through thick and thin to qualify as a lawyer in the late 1960s. He subsequently sought election into public office and by 1973, entered into the U. S. Senate.
As a first-term senator, Biden earned about $45,000 and deployed this to take care of the needs of his wife and three kids. With taxes also inputted, he was barely breaking even and did not have much in terms of personal net worth. This situation would continue for the next several years but by 1991, he got some relief after landing an extra gig as an associate professor at Widener University. This job paid him about $20,000 annually, and coupled with the raise in his senatorial salary (he now earned in the region of $155,000), he was able to accumulate a small net worth running into thousands of dollars.
Joe Biden's Net worth would reach the $27,012 mark by the year 2009. This was as a result of the $160,000 he received in book royalties and audiobook deals (for his 2007 book) as well as his vice president salary which now topped $230,000. This pattern of earnings would sustain all throughout his VP tenure and by the time he left the white house in 2016, he had assets put at $489,000 (with liabilities of about $897,000). One would naturally assume that Joe Biden's departure from the White House would spell doom for his earnings and net worth but the exact opposite is the case.
According to Forbes estimate, the former V.P. has earned about $16.7 million in the three years that he has left office (compared to the $5 million he made in nearly two decades from 1999 to 2008). A breakdown of these earnings shows that Biden made about $11.1 in 2017 thanks to fees from speaking engagements, book deals (which brought in $8 million) as well as his teaching position at the University of Pennsylvania. The figure dropped to $4.6 million in 2018 and for 2019, was about $1 million. It is this three-year surge in earnings that now accounts for the former V.P.'s $9 million net worth.
Joe Biden's Earnings over the Years
1973 – 1992 – 1.44 million
1992 – 1998 – 1.07 million
1998 – 2016 – $5.5 million
2017 – $11 .1 million
2018 – $4.6 million
2019 – $1 million
How Much Will Joe Biden Make as a President?
Joe Biden's net worth will certainly be benefitting from his time as the Commander-in-Chief of the United States as he is set to take home a salary that equals his annual pay as a V.P. and a senator combined. American presidents previously earned about $200,000 per annum until Congress passed a law doubling it in 2001. It, therefore, means that Joe Biden will be receiving an annual paycheck of $400,000 as president. He would be required to pay tax on this sum but his bottom line won't feel the impact much as the country will take care of his other expenses during the rest of his tenure.
An American president is entitled to $50,000 for expenses such as food and dry cleaning; $100,000 for travel account; and $19,000 for official presidential receptions and related expenses. All these sundry allowances are not taxable. Joe Biden will additionally get to enjoy other perks such as free presidential transportation in the Airforce One, Marine One, and presidential limousine known as The Beast. He will receive free furnished housing in the White House as well as $100,000 to redecorate same to his taste. The incoming president will also receive free healthcare from the White House medical unit.
How Joe Biden's $9 Million Fortune Compares to other Past American Presidents
With a net worth of $9 million, Joe Biden has certainly done well for himself. He does not however rank amongst the richest presidents that America has had nor the poorest. He is rather somewhere in the upper-bottom region. When figures are adjusted for inflation, America has had about nine presidents with a net worth of less than $1 million. They rank as the poorest leaders that the country has ever had and they are James Buchanan (No. 15), Andrew Johnson (No. 17), Ulysses Simpson Grant (No. 18), James Andrew Garfield (No. 20), Chester Alan Arthur (No. 21), Woodrow Wilson (No. 28), Calvin Coolidge (No. 30), and Harry S. Truman (No. 33).
Also included on the list of some of America's poorest presidents is surprisingly one of their most well-regarded leaders, Abraham Lincoln. Lincoln was born into a modest family and earned his pay from manual labor in his 20s. Even though he later qualified as a lawyer and then the president, he never built up much wealth in the process.
On the other side of the divide, some of the richest presidents that America has ever had, following adjustment for inflation, are Bill Clinton – $75.9 million, Herbert Hoover – $83 million, Lyndon B. Johnson – $109.3 million, James Madison – $113.3 million, Andrew Jackson – $132.6 million, Theodore Roosevelt – $139.7 million, Thomas Jefferson – $236.8 million, George Washington – $587 million, and John F. Kennedy – $1.1 billion.
The richest president America has had to date is Biden's predecessor, Donald J. Trump, with a net worth of $3.1 billion. Trump inherited nearly half a billion from his father who was a real estate tycoon. He then expanded his father's empire and also made inroads into the entertainment industry. All these account for his present net worth and given such monumental wealth, it comes as no surprise that he refused to receive his annual salary during his tenure. He rather donated it to various federal agencies.
There's been a lot of talk about my vetting process lately. Here's an inside look: pic.twitter.com/tFRKJOE3hi

— Joe Biden (@JoeBiden) August 5, 2020
The 46th President Owns two Homes in Delaware and is a Big Fan of Convertibles.
Joe Biden's situation as a long-life public servant has not afforded him the funds with which to live a lavish life. The former senator has rather concentrated on saving as much as possible and making smart investments in the process. One of Biden's favourite investment outlets is houses and he and his wife own several homes. They include a 4, 8000 square-foot house located near Rehoboth Beach, Delaware, which cost $2.7 million as well as a home in Wilmington which is valued at about $1.3 million.
When it comes to cars, Biden is a preacher of clean energy vehicles but he does own some petrol guzzlers. The former V.P. is a big fan of convertibles and his very first car was a 1951 Studebaker followed by a 1952 Plymouth Convertible. His other rides as he grew up included a 1956 Chevrolet as well as a Mercedes-Benz 190SL. Biden's most beloved vehicle to date is the 1967 Chevrolet Corvette which he received as a wedding gift from his dad in 1967. The 350-horsepower vehicle comes with a lovely tan brown leather interior which compliments the Goodwood-green exterior finish. This vehicle has been kept in prime condition over the years and can attract about $84,000 on the market.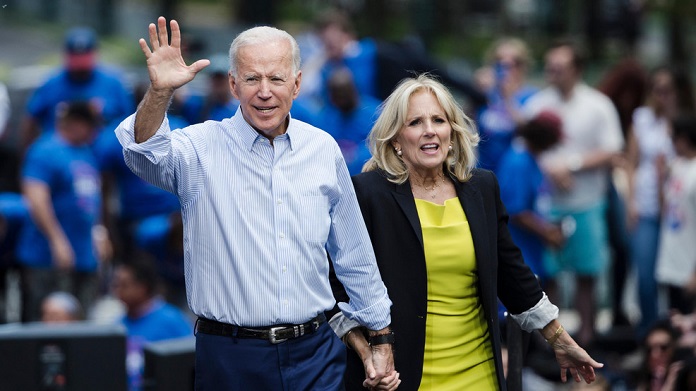 Is Joe Biden's Wife Wealthy?
Throughout the ups and downs of Joe Biden's political career, one person that has stood firmly by his side is his wife, Jill Biden. She has not only helped him achieve success as a politician but has also helped him to build up their joint fortune now put at $9 million. While Biden's wife may not be wealthy in the sense of some heiress who inherited a fortune from her parents, she is certainly worth a couple of millions of dollars thanks to sheer dint of hard work.
Jill Biden has made her money from several sources including her career as an educator. A trained teacher, the lady holds a bachelor's and a master's degree in education as well as other qualifications. She has taught high schoolers. She presently teaches at the college level and has taught at the Delaware Technical Community College as well as Northern Virginia Community College. Her salary at the former was $60,000 while at the latter, it is $83,000.
Jill Biden has also made money from books and speaking engagements, much like her husband. The career educator has penned several books, including 2012's Don't Forget, God Bless Our Troops, and has received six-figure and seven-figure checks for her efforts. She has also spoken at various events and has been well paid for it. According to Forbes, she earned $700,000 in speaking fees between 2017 and 2018 alone.