Since the Green Bay Packers selected Aaron Rodgers in the first round of the 2005 NFL Draft, he has gone on to become one of their most important assets, delivering several eye-watering performances on the field while raising the profile of the franchise in the NFL. In turn, Aaron Rodgers' net worth and salary have received significant boost through multiple lucrative contracts that have made him one of the highest-earning players in the NFL.
This has been a result of the status of American Football as one of the most lucrative sports in the world. Thus, some of the best players in the league, among which is Aaron Rodgers, who is considered one of the best quarterbacks in the NFL, enjoy mega salaries and bonuses for their performances. So, for those wondering exactly what Aaron Rodgers' Net Worth and Salary is? Learn all about it below.
What is Aaron Rodgers' Biography?
Before taking a look at Aaron Rogers' net worth and salary, here is a brief about his background and career thus far. Rodgers was born on the 2nd of December, 1983 in Chico, California where he was raised by parents Darla Leigh and Edward Wesley Rodgers. He was raised along with two brothers, Luke and Jordan.
Although he was born in California, Aaron Rodgers was raised in Beaverton, Oregon for a while where he completed his elementary and middle school and returned to Chico where he attended and graduated high school from Pleasant Valley High School. After his high school career, he went on to play football for Butte Community College for a year before he transferred to the University of California where he completed his college career.
Just as he had a record-setting career in high school, so did he in college before he entered for the 2005 NFL Draft. He has been in the NFL ever since, playing for Green Bay Packers, rising to become one of the most popular and talented quarterbacks in the league.
Aaron Rodgers has spent over 14 years in the NFL and in that time, he has recorded several accolades to his name. One of his biggest accomplishments in the league is leading his team to a Super Bowl victory in 2011 over the Pittsburgh Steelers. His performance in the Super Bowl earned him a Super Bowl MVP award.
Other accolades include being named the Most Valuable Player in the NFL twice in 2011 and 2014 and getting named to the Pro Bowl seven times. His other awards include winning the Bert Bell Award and the Associated Press Athlete of the Year, all of which has earned him a high net worth and salary.
In the NFL, Aaron Rodgers is also a record-setter, owning the record as the all-time regular-season career passer and the touchdown-to-interception ratio in NFL history.
What is Aaron Rodgers' Net Worth and Salary?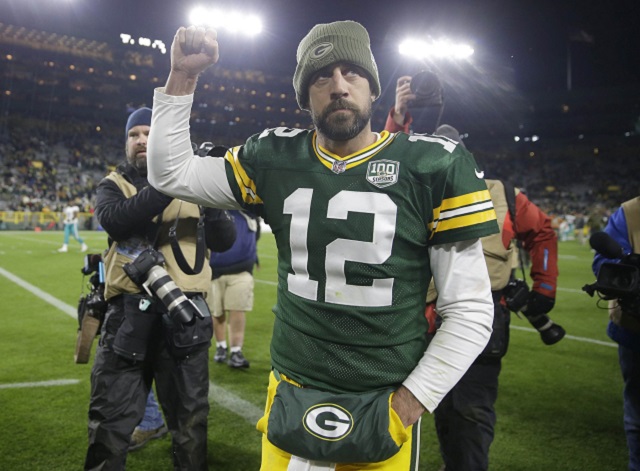 When it comes to Aaron Rodgers' net worth, he has been able to amass a net worth estimated at $89.3 million primarily through his earnings in the NFL.
His large net worth has come through signing large contracts, such as his latest contract in 2018, which was a four-year contract worth $134 million. At the time, it was the largest contract in NFL history. The contract earned him a signing bonus of $57.5 million and he is expected to be making an average of $33.5 million per year, with $20 million in base salary.
Outside of the NFL, Aaron Rodgers' net worth has also come via his investments, such as buying a minority ownership stake in the NBA franchise, Milwaukee Bucks. Others include launching a $50 million venture fund with Roth Capital, investments in the arts and in movies as a producer. He is credited as an executive producer for the show, Destination Dallas and he also earns money through brand endorsements, with one of his major brand partnerships being State Farm.
What Does Aaron Rodgers Spend His Money On?
Through Aaron Rodgers' net worth and salary, which has made him an established multimillionaire, he has been able to afford a number of luxurious expenses. So far, Aaron is known to own two mansions, one in Suamico, Wisconsin and another in Del Mar. He is believed to be living primarily in Wisconsin in a mansion that is considered one of the most expensive properties in Green Bay City. It has multiple rooms, an entertainment room, and several other lavish amenities.
See Also: 15 Richest NFL Players In The World Right Now And Their Net Worth
His mansion in Del Mar shares similar extravagance, including a large swimming pool, a basketball court, and a football field.
Other than his homes, Aaron Rodgers also owns a collection of luxury cars from different brands like Mustang, Ford, Tesla, and Mercedes-Benz.