Mario Batali was once upon a time one of the biggest names in the restaurant business in the United States, hence why everyone is trying to figure out what happened to him and what he has been up to in recent time.
Through the Batali & Bastianich Hospitality Group, which he formed with fellow restaurateurs – Joe Bastianich and Lidia Bastianich in 1999, the Seattle, Washington native co-owned multiple restaurants in cities like New York City, Las Vegas, Los Angeles, Newport Beach, Boston, Westport, and New Haven. He also notably had holdings in a restaurant in Singapore.
Thanks to his culinary expertise and dealings in the food business, he was able to become a media personality, making a name for himself by appearing on different shows on the Food Network like Molto Mario and the Iron Chef America series among others. He later went on to take up a co-hosting job on the ABC daytime cooking-themed talk show, The Chew.
In addition to these endeavors that made him a star, Mario Batali further won the hearts of his fans across the globe due to his philanthropy and social activism. He served as an ambassador and on the board of directors for the non-profit organization, The Lunchbox Fund, which provides daily meals to students of schools in Soweto, South Africa. Batali was also a notable critic of fracking, co-writing an opinion article for the New York Daily News where he and Chef Bill Telepan wrote that New York's agricultural industry and hurt businesses were being destroyed by fracking since the businesses, like that of which they operate, rely on safe, healthy, and locally sourced foods.
But despite all these positive things he was into, Mario Batali had skeletons in his closet that was later made public, thus ruining all he had managed to achieve in his life so far.
What Happened to Mario Batali
In late 2017, Mario Batali found himself facing multiple sexual harassment and sexual misconduct allegations. The restaurant review site Eater reported on the 11th of December, 2017 that four women had accused the chef of these sexual offenses. The following day, four more women came forward with similar accusations, prompting him to take a leave of absence from his position at Batali & Bastianich Hospitality Group as producers of his ABC show asked him to step aside temporarily.
In the following days, Batali whose recognition include 1999 GQ Man of the Year in the chef category, 2001 D'Artagnan Cervena Who's Who of Food & Beverage in America, and the James Beard Foundation 2002 Best Chef: New York City, among many others, was fired from his role as co-host of The Chew while the Food Network shelved plans to release episodes of Molto Mario. Retail giant Target further announced it was pulling Batali's pasta sauces and cookbooks out of sales.
A few months after the first set of revelations were made, an episode of 60 Minutes aired more accusations of sexual misconduct by the chef as the New York Police Department confirmed it had launched an investigation. At this point, Mario Batali released a statement acknowledging that his past behavior was inappropriate but however denied an allegation of sexual assault. This apology statement did not do much to help his businesses as just a few days later, the Las Vegas Sands Corp terminated its partnership with his hospitality group, forcing them to close its three Las Vegas Strip restaurants.
With pressure mounting on Mario Batali, he was left with no choice but to surrender his ownership stake in Batali & Bastianich Hospitality Group, as well as a few other dealings. The disgraced chef was then charged with indecent assault and battery after a woman identified as Natali Tene filed charges, claiming that he groped and kissed her against her will at a bar in Boston in 2017.
Read Also: What Happened To Josh Brolin's Brother, Jess Brolin? The Untold Story
What is He Doing Now?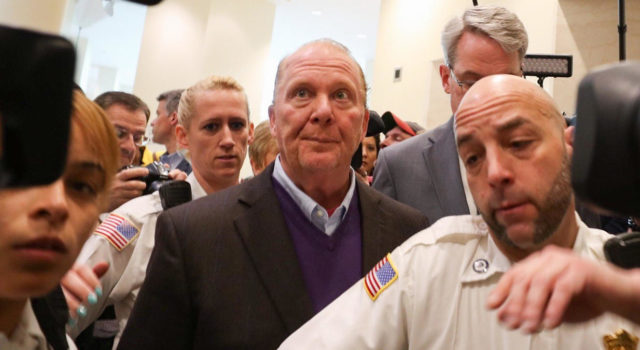 Following what happened to Mario Batali, almost nothing has been heard from him aside from the facts that almost all his business associates have cut ties with him and that his case has moved to trial where reports have it that he entered a plea of not guilty. If Batali is ultimately found guilty at the end of his trial, there is a possibility that he could face jail time and be forced to register as a sex offender.