The recent 'Storm Area 51' trend on social media has rekindled mainstream conversation about the existence of aliens and UFOs. At the heart of that conversation is Bob Lazar, a man who once stunned American citizens with claims that he worked in a secret site on alien technology. His claims have been a subject of controversy, rejected by those who do not believe in the existence of aliens and as proof by those who do. His resurgence in the news has left observers wondering what happened to Bob Lazar after he came out with his claims. In this article, we answer that question, along with answers about what he has been up to and where he is now.
What Happened to Bob Lazar?
On a seemingly regular day in May 1989, history was made when the Las Vegas TV station, KLAS, became the first mainstream news outlet to link the government military base, Area 51, with aliens. It did so via an interview with Bob Lazar, who appeared in the first interview under the pseudonym, Dennis.
To ufologists and alien fans, his interview, in which he claimed that he worked for the US government on alien aircraft at a subsidiary facility in Area 51 named S-4, became proof of what many had spent decades looking for.
According to Bob Lazar, who conducted subsequent interviews with his real identity, he worked on the reverse engineering of a flying saucer. He said the saucer was fueled by a chemical element with atomic number 115, later named moscovium. He also claimed that while working at the secret facility, he read of the Earth's ongoing relationship with aliens from the binary star, Zeta Reticuli, which stretches back to 10,000 years.
His story expectedly went under scrutiny, and they were considered a hoax by a majority of the scientific community. But what happened after he came out with the claims?
A year after the interviews were released, a couple of important things happened in Bob Lazar's life. He was arrested in 1990 for aiding and abetting a prostitution ring. The charges for the crime were later reduced to felony pandering, for which he pled guilty and was sentenced to 150 hours of community service. As part of his sentence, he was also instructed to stay away from brothels and undergo psychotherapy. Later in the year, he filed for bankruptcy.
To those who believe his claims, the wave of legal problems and the financial difficulty he faced after the interviews are believed to have been engineering by the government as part of the effort to discredit him and keep him quiet. Bob Lazar himself continues to insist that what happened to him wasn't ordinary, and he is still under government surveillance to this day.
So far, the evidence of either claim has not been found. And if those incidents were truly meant to keep Lazar quiet, they haven't been very effective as Bob Lazar continues to speak of them to this day.
Where Is He Now?
At the time Bob Lazar was interviewed by KLAS, documents showed that he worked as a self-employed film processor. Now, he owns and operates United Nuclear Scientific Equipment and Supplies, a company based in Laingsburg, Michigan.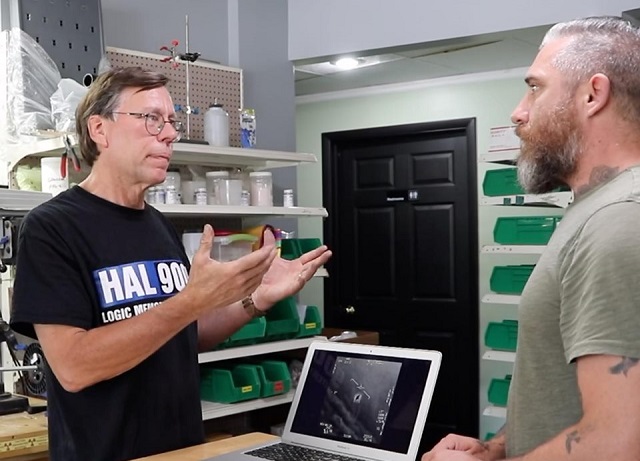 Some of the company's products include radioactive ores, non-radioactive elements, radiation sensors, and a variety of lab chemicals. Since Bob Lazar established the company, he has also faced additional legal problems. He was charged in 2006 for violating the Federal Hazardous Substances Act. In 2007, he was also charged for the illegal sale of chemicals and components used in the manufacturing of illegal fireworks. He pled guilty to both charges.

In mainstream media, the story of Bob Lazar and what supposedly happened to him at Area 51 has been made into a feature-length documentary. The documentary, Bob Lazar: Area 51 & Flying Saucers was released in 2019 on the streaming service, Netflix. It was produced by George Knapp, the investigative journalist who interviewed him initially in 1989.

See Also: 10 Alien, Bizarre and Most Mysterious Places on Earth

Aside from running his company and appearing in documentaries, he also runs an annual festival for pyrotechnics enthusiasts. He runs the festival, which is named, Desert Blast, with his friend, Gene Huff. The festival features homemade explosives, rockets, and other pyrotechnics.

He also appears at the festival for ufologists, UFOFest, where he speaks about his claimed experience and other related subjects.

Fact Check: We strive for accuracy and fairness. If you see something that needs updating,