Anthony Bourdain was a man who changed the way we thought about food and cooking. He was an American celebrity chef, a travel journalist, a writer, and a television host who was featured in varieties of programs that explored the human condition as well as international cuisine and culture. He was a man who lived a great life and did things most of us can only dream of. Bourdain was a culinary legend renowned all over the world for the magic he could work up in the kitchen and on the go. Since his life came screeching to an end in June 2018, many people have taken more interest in knowing about him. he was many things, but was Anthony Bourdain gay? This is just one of the questions people have curiously inquired about the veteran chef.
Was Anthony Bourdain Gay?
A graduate of the Culinary Institute of America, Bourdain was well trained for his chosen profession. He refined his skills by working in several professional kitchens over many years and even served as an executive chef at the prestigious Brasserie Les Halles in Manhattan. He became a global phenomenon after his book Kitchen Confidential: Adventures in the Culinary World (2000) became a huge success. Bourdain is also well known for his tenure as the host of the popular shows A Cook's Tour, Anthony Bourdain: No Reservations, and CNN's Anthony Bourdain: Parts Unknown. He won a Peabody, several Emmys and other honors for his broadcasting work.
While he was alive, Bourdain was a proud and vocal supporter of LGBTQ rights. In 2014, he recorded a video for the Human Rights Campaign that was used to campaign for marriage equality in America. He was constantly calling out homophobes and bashing anti-gang establishments for their stupid and offensive views. He believed that everyone should be able to love and commit to whomever they wanted as long as both parties were consenting adults.
So, was Anthony Bourdain gay? The answer is no. The chef was straight, but he advocated for gay rights and LGBTQ equality throughout his lifetime.
Who Were His Family Members?
If you have ever wondered about the family of the late chef or the people Bourdain left behind when he departed from this realm, here's what you need to know.
Pierre Bourdain
The bestselling author is the son of Pierre Bourdain, an executive in the classical music industry. His father was born in Manhattan, he is an alumnus of Yale University, and he served in the United States Army. Pierre worked for London Records as a sales promoter, then for CBS Records as a classical merchandising manager. He later co-owned Orpheus Compact Discs. According to Bourdain, his father was a man of simple needs who believed food had to be marvelous or not worth mentioning.
Gladys Bourdain
Bourdain's mother, Gladys was also accomplished in her own field. She works as a copy editor for the New York Times. However, when Bourdain was growing up she was an amateur chef and a stay-at-home mom. It was from her that he discovered his love for cooking and eating good food. Bourdain and his mother maintained a very close relationship until his death.
Christopher Bourdain
The bad boy chef as he was fondly called had only one sibling, a brother named Christopher. All that is known about him is that he is related to the late chef. There is no information about what Christopher does for a living what schools he attended, or even if he has a wife and children of his own.
Nancy Putkoski
Anthony Bourdain was married and divorced twice. His first marriage was to his high school sweetheart Nancy Putkoski, and their union lasted from 1985 to 2005. When asked why the marriage ended, both parties alluded that distance was to blame because Bourdain was traveling a lot because of his work and level of fame.
See Also: Is Marc Anthony Gay and Does He Have a Spouse, Kids or Girlfriend?
Ottavia Busia
His second wife, Ottavia Busia is an Italian mixed martial artist. They were introduced by Bourdain's closest friend, Eric Ripert, who was serving as a consulting chef for the Japanese Restaurant Geisha, where Ottavia was working at the time. They hit it off pretty quickly and began dating shortly after. They got married on April 20, 2007, just a few months into their relationship. The couple separated in 2016, stating that while they do still love each other, their professional commitments have complicated things.
Ariane Bourdain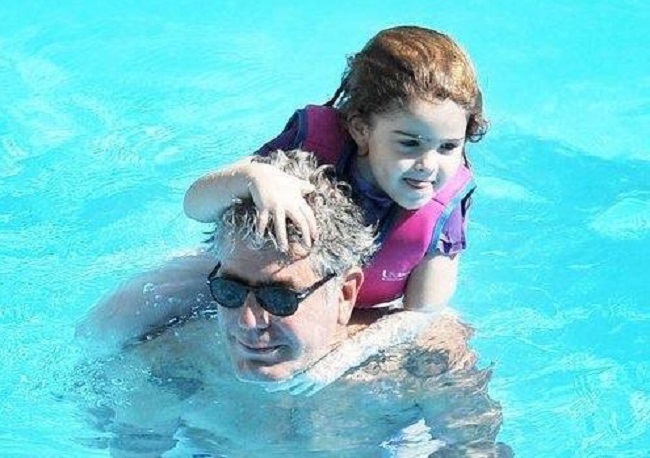 Anthony Bourdain has a daughter named Ariane who was born in 2007, during his marriage to Ottavia Busia. He and his daughter were wonderfully close and she accompanied him on many of his travels. Ariane is a singer and a member of a band. Bourdain left everything he owned to her when he passed away.