Talk about the richest people in the world today and you will just have to mention Warren Buffett's name. An American business magnate, who is also an investor, speaker, and philanthropist, Warren Buffett has stunned people with his business-savvy decisions and incredible drive to achieve more success as an entrepreneur. In the process, he has risen to become one of the wealthiest people on the globe, and is, in fact, now ranked third in the list of the wold's richest individuals. He is considered one of the most successful investors in the world at the moment and is also known for his practical investing strategies and modest lifestyle.
It is popular knowledge that Warren Buffett is rich today, but there are many questions about the man that fans have asked over the years. Some of those questions include how exactly rich the man is. What is Warren Buffet's net worth and how does he make all his money? Also, how does he go about spending the money he makes from his business? Well, allow us to tell you some more about the man.
Who Is Warren Buffett?
It is only fair that before we tell you about Warren Buffett's net worth, we should first tell you about the man's background. Buffett was born on August 30, 1930, in Omaha, the largest city in Nebraska, U.S.A. and grew up there. Buffett was born into a well-to-do home; his father was a Congressman named Howard Buffett and his mother was named of Leila Buffett.
Warren Buffett was the only son in his home and is the second child of three children; he grew up with two sisters whom he became very fond of. During his teenage years, Buffett moved from Nebraska to Washington, D.C., where he finished elementary school and then proceeded to attend Alice Deal Junior High School before graduating from Woodrow Wilson High School in 1947.
Since his childhood days, Buffett demonstrated that he was going to be a good businessman. He is reported to have sold chewing gum as a child. He also sold Coca-Cola bottles and went door-to-door selling magazines, raking in lots of money for himself before the age of 12. By 16, he had already amassed a whopping $53,000. With these entrepreneurial ventures, it was clear that he was very interested in business.
Eventually, in 1947, Buffett attended the Wharton School of the University of Pennsylvania but transferred to the University of Nebraska from where he graduated at the age of 19. He proceeded to study at the Columbia Business School, where he was taught how to invest properly.
Following his studies, Warren Buffet soon began various business partnerships, becoming quite popular for his unique investing strategies. In 1970, he became the chairman and largest shareholder of Berkshire Hathaway, a multinational conglomerate company and has remained in that position ever since. Over the years, he has acquired immense wealth and is now the third richest man in the world.
Warren Buffett's Net Worth
Like we have mentioned earlier, Warren Buffett is a very wealthy man. The man is so rich that he is currently ranked as the third most wealthy man in the world. But, exactly how much money has he been able to rake in over the years? What is Warren Buffet's net worth?
At the moment, Warren Buffett's net worth has been revealed to be $71 billion. This places him behind Bill Gates with $111. billion and Jeff Bezos with 153 billion.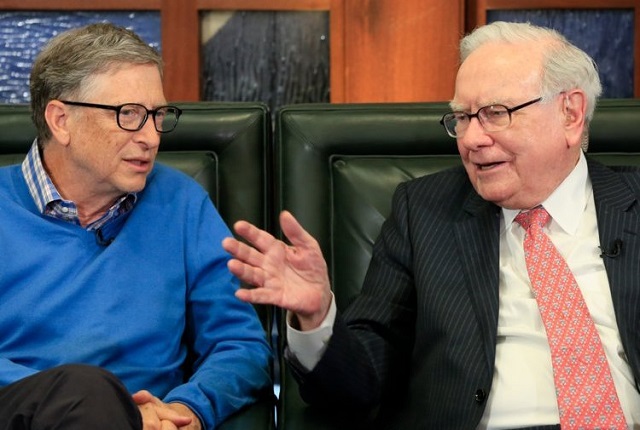 How Does He Make His Money?
According to reports, Warren Buffet makes 99% of his enormous wealth from Berkshire Hathaway. The Berkshire Hathaway business conglomerate is the owner of many companies including Geico an insurance company, Duracell, a company that produces batteries and smart power systems, and Dairy Queen, a fast-food restaurant company. The conglomerate rakes in billions every year and Buffett gets a large chunk from that money.
The billionaire businessman also has investments in Heinz, Coca-Cola, and Bank of America. Today, he is regarded as one of the most successful investors of all time.
How Does He Spend His Money?
One interesting thing about Warren Buffett is that the man does not spend money like his billionaire peers. In fact, it has been revealed that the billionaire still lives in the same house he bought in the '50s and doesn't make lavish purchases. He is well known for his frugal lifestyle and his love for investments.
He is also known for buying and reselling properties. For example, according to reports, he bought a vacation home in Laguna Beach, California, in 1971 for $150,000 and after about forty-seven years, he sold the house for an amazing $7.5 million. The businessman has a Cadillac XTS, which he bought in 2014 for $44,600.
Read Also: Top 25 Richest People in the World
One big way that Warren Buffett spends his money is though philanthropism. Over the years, he has given away billions of dollars to help the less privileged around the world. In 2016, the businessman donated an incredible $2.9 billion to charities to aid people in need of help. Two years later, in 2018, Buffett made another massive donation of $2.6 billion to charity, this time through the Bill and Melinda Gates Foundation. He plans on making more donations in the future.