Waka Flocka Flame aka Waka Flocka is an American rapper and reality TV personality whose wealth is estimated at $7 million.
Like most rappers who grew up in the hood, Flocka has gotten on the bad side of the law more than a couple of times and has been a subject of gang violence.
He was once shot twice in the arm during a robbery incidence at an Atlanta Car Wash. Also, there was a time he was arrested for possession of loaded guns and marijuana.
Waka Flocka Bio
Waka Flocka was born Juaquin James Malphurs on May 31, 1986, in South Jamaica, Queens and raised in Atlanta Georgia by his mother, Debra Antney.
Waka at the age of 19 became close friends with Gucci Mane, who gave him the nick "Flocka Flame" which he joined with his former nickname "Waka" to form his stage name Waka Flocka Flame.
Details Of Waka Flocka's Wife, Mom, and Brothers
Waka Flocka in 2014 appeared on VH1 show "Love & Hip Hop: Atlanta" making his debut in the 3rd season. On the show, Flocka met and married cast-mate Tamara Rivera on May 25, 2014. Instead of using the conventional wedding bands, the couple opted instead to tattoo each other's name on the ring finger. They landed their own spinoff "Meet The Flockas" in 2014.
Wacka has been a proud step-father to Rivera's daughter, Charlie from a previous relationship. After two years of marriage, Wacka's marriage to the businesswoman-reality star crashed following a mutual decision to separate but the pair seems to still be on good terms. While there are allegations that the couple's separation is due to a cheating scandal Waka had with his alleged side chick Simone Patton, Tammy Rivera insists their separation had nothing to do with anyone.
You must have already figured out that the rap star's mother, Debra Antney is also in the hip-hop game. She is the CEO of So Icey/Mizay Entertainment and previously managed rapper Gucci Mane.
Waka lost his brother and fellow rapper, Kayo Redd in 2013 to suicide. Apart from Kayo, he has other siblings, brothers known as Tyquam Alexander, Rahleek Malphurs and Wooh Da Kid. Rahleek died when he was young.
Musical Breakthrough and Earnings
Having a mother who's already established in the music industry, it was certain that Waka Flocka wasn't going to struggle much to gain musical success. His first single "O Let's Do It" released in 2009 was an instant hit that peaked at #62 on the Billboard Hot 100 establishing him as a newbie to watch out for. His success continued with the release of two more singles "Hard In Da Paint" and "No Hands". In October 2010, he released his debut studio album "Flockaveli" – a combination of his name and Tupac Shakur's pseudonym Makaveli. The album debuted at #6 on the Billboard 200. His success in the rap scene in 2010 earned him the 8th position on MTV's 2010 Hottest MC's list.
Waka Flocka in 2011 released several mixtapes and later collaborative album with Gucci Mane titled "Ferrari Boyz". His second studio album "Triple F Life: Friends, Fans & Family" released on June 8, 2012, was preceded by the lead single "Round of Applause" ft rapper Drake. It debuted at #20 on the Billboard 200 selling over 300,000 copies in its first week. The album also featured collaborations from Nicki Minaj, Ludacris, B.O.B and more.
After the release of his second studio album, Waka Flocka focused more on releasing mixtapes featuring top rap acts like T.I, Lil Wayne, Ace Hood, Future French Montana, Howard Stern, and many others. Between 2011 and 2016, Waka Flocka has released 16 mixtapes and a total of 24 mixtapes throughout his career. Waka Flocka has been postponing the release of his third studio album "Flockaveli 2" since announcing the completion of the project on January 22, 2013, and revealing that it would feature Ne-Yo, Wyclef Jean, and Timbaland.
The rapper has so far received 4 BET Awards nominations winning 1 in 2011 for Best Club Banger for his song "No Hands" (ft Roscoe Dash and Wale). A major bulk of Waka's $7 million net worth came from his music endeavors.
Relationship With Gucci Mane
Waka Flocka and Gucci Mane have frequently been on the tabloids for their often rocky relationship. The duo together with other rappers Frenchie, Wooh Da Kid, and OJ Da Juiceman formed the rap group 1017 Brick Squad which was named after Gucci Mane's label – 1017 Brick Squad Records LLC. In 2013, following a beef, Gucci dropped Waka Flocka from the label and later filed a lawsuit against Waka's mother/his former manager, Debra Antney and many others accusing them of racketeering, fraud, and extortion. However, while the origin of their feud wasn't known many speculated it was a result of Gucci firing Debra Atney as his manager.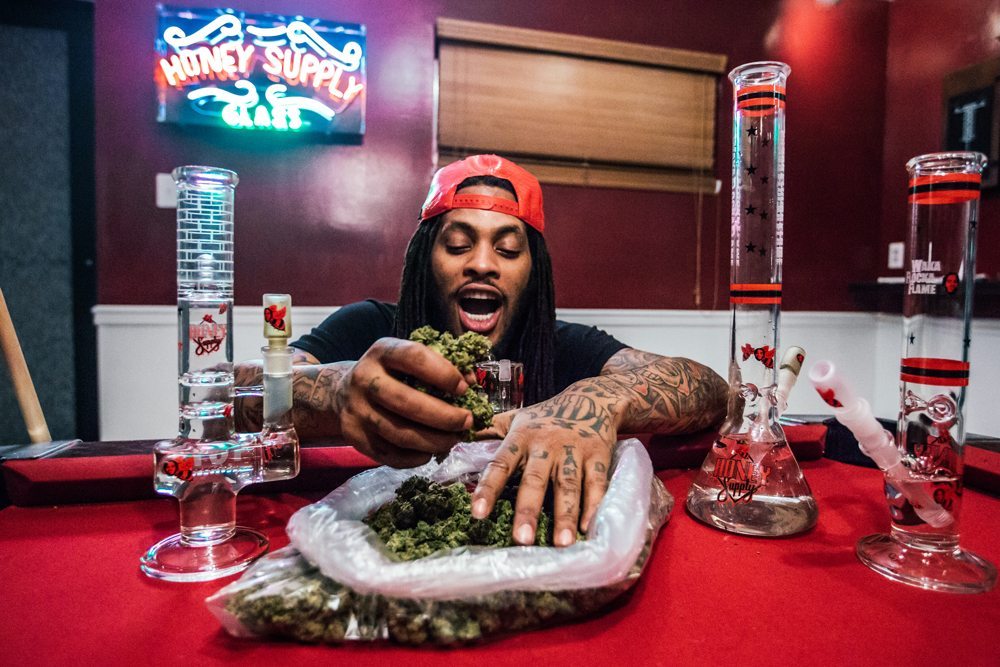 Waka and Mane, following the incident, have taken to social media to have a go at each other as well as releasing diss tracks. The duo appeared to have flushed the bad blood between them in 2014 following a tweet from Flocka, however, they often comment rather awkwardly towards each other, maybe it would never be like old times.
Height
The star is 6 ft 4 (193cm) tall and weighs 97 kg (214 pounds).

Fact Check: We strive for accuracy and fairness. If you see something that needs updating,