Vladimir Putin is not only a dominant figure in the Russian political scene, but he is also, of course, one of the shakers of the world. If not, why then was he ranked the world's most powerful man for four times in a row (2013 to 2016)?
Putin is a world-renowned politician who has been serving as the President of Russia since 2012. His intelligence and demeanour make him a force to be reckoned with across the world as the president of global power – but very little is known about the man himself, his much-garnered wealth and family.
A Peek Into Vladimir Vladimirovich Putin's Life and Career
Born on October 7, 1952, in Leningrad, Russia SFSR, Soviet Union, to a Soviet Navy conscript, Putin is the 3rd and last child of his parents, but at the moment, he is the only surviving member of the family.
Putin attended and graduated from Leningrad State University with a degree in Law. His meeting with Anatoly Sobchak, an Assistant Professor who taught Business Law is believed to have influenced his political views.
While in college, he found his interest in politics and became a member of "Communist Party of the Soviet Union" which later dissolved in 1991. Vladimir started his career as the employee of "KGB", the Soviet Union's main security agency and intelligence agency and worked extensively from 1975 to 1991 in various areas and countries as an undercover at times. Putin rose to the rank of Lieutenant Colonel before he retired from KGB.
His Political Career
Putin worked as an advisor on foreign affairs and excelled in his political knowledge. From there, he got a chance to be the Prime Minister of Russia in 1999 and later in 2000, he was elected as the President of Russia. He served as the President until 2008 and was again voted as the Prime minister of Russia in 2008 and the term lasted until 2012. One of the highly influential persons in Russia, as well as the whole world for more than fifteen years now, Vladimir Putin is serving his second term as the President of Russia since 2012.
How Rich Is the Russian President?
Power and wealth go hand in hand for every leader. This is why many world leaders are incredibly rich. Well, while some are born into it, for some others, their wealth is the product of their resilience. The likes of Putin may be categorized under the latter. He grew up in a communal apartment block in Leningrad, now St. Petersburg.
As for our concerns regarding his finances, Putin, we know is notoriously secretive about everything that concerns his private life and so factual details about his finances remain a mystery. However, if rumours about his stake in various Russian companies are true, then he must have accumulated a lot for himself. However, Bill Browder, former Hermitage Capital Management CEO an opponent of Putin, recently estimated the Russian leader's net worth at $200 billion. His theory posits that Putin struck a deal with Russian Oligarchs that entitles him to 50% of their business deals.
Meanwhile, Kremlin, a Russian President's official website made a post about Putin earning roughly $135,000 in 2018 from his official salary, a military pension, interest on savings, and investment gains. The revelation about his massive wealth is largely attributed to his investments in oil companies. He has invested in many projects linked to gas and oil.
Putin best flaunts his multi-billionaire status through his top-notch luxury toys and accessories. The Russian leader owns several million-dollar mansions all over Russia and shows his expensive tastes through his watches and car brands which are mostly Russian-made. His Russian cars include a yellow Lada Kalina, an ivory-coloured 1956 Volga GAZ-21 and a black Niva. His non-Russian cars include an armoured Mercedes S 600 Guard Pullman and a Mercedes Geländewagen.
A lot of Putin's money also goes to expensive wristwatches one of which is the $500,000 Tourbograph'Pour Le Mérite by A. Lange & Söhne. The watch has an 18-carat gold case, silver dial, crocodile skin strap and sapphire-crystal glass. Putin also has a gold-coated Apple Watch which depicts the Moscow skyline and the double-headed eagle of Russia's coat of arms. The watch which is worth $3,073 was made by the Russian-Italian jewellery brand, Caviar Perna Penna. The political leader only wears watches on his right wrist so that the crown doesn't rub against his wrist.
As an animal lover, a part of Putin's wealth goes to the purchase of some expensive canines. He has a Bulgarian shepherd dog named Buffy (R). His other dog is an Akita Inu named Yume (L). He was gifted with a goat Skazka, a dwarf horse named Vadik and even a Siberian tiger cub.
His Many Controversies
In the course of his political career, Putin has stirred up laudable criticisms and controversies.
He has been accused of crimes against human rights in his country and in Syria by association. Hillary Clinton's loss in the past US elections is speculated to have been a result of Putin's alleged social media interference.
In 2008, Russian lawyer Sergei Magnitsky uncovered a $230 million tax fraud that implicated the Russian leader. The lawyer was soon incarcerated until his death in prison.
Facts About Putin's Relationships – Who is His Wife?
Vladimir Putin recently became a divorcee after his marriage to Lyudmila Shkrebneva ended in 2014 after more than thirty years together.
Lyudmila, a flight attendant for the Kaliningrad branch of Aeroflot during her early adult years met Putin in Leningrad. She was 25 years and he was 30. They both agreed to marry on 28 July 1983 after which they moved to East Germany where Putin was a KGB spy. The couple, however, returned to Russia after the Iron Curtain crumbled.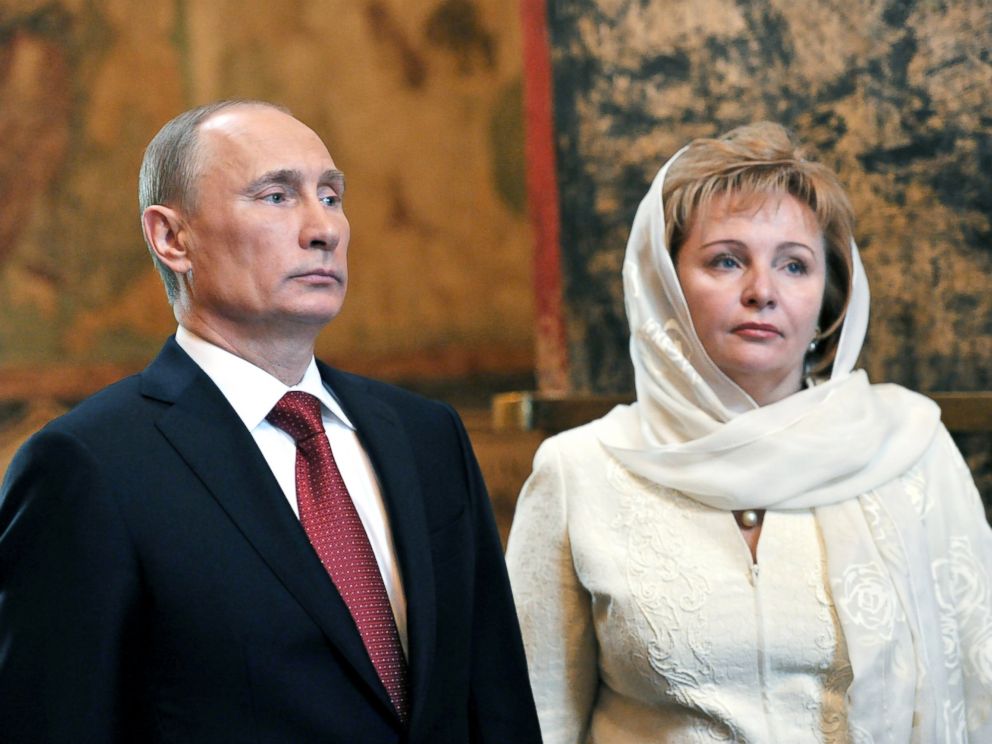 Lyudmila became less public as her husband Vladimir reigned in Moscow. She rarely appeared in the public with him and at some point, there were rumours that he had moved her to a monastery. In June 2013, at a Kremlin production of the ballet "La Esmeralda", the couple announced that they would be divorcing. Nothing was heard of their relationship since then.
Since their divorce, Lyudmila went on to marry a man 21 years younger than her, while the powerful Russian ruler was linked to different women among whom is a 34-year-old woman, Alina Kabaeva who is a gymnast. Although Kabaeva has repeatedly denied any relationship with Putin, rumours about the two also suggest that they are already married and even have a secret family together.
Meanwhile, in December 2018, Putin announced his plan to get married again but as someone who jealously protects his privacy and that of his close family, he never mentioned who he was getting married to.
Where Are Putin's Children Now?
From his first marriage, Putin has two daughters; Katerina Tikhonova who was born in 1986 and Mariya Putina who was born in 1985. The younger of the two is an acrobatic dancer married to Kirill Shamalov – the vice-president of Sibur Holding, a Russian gas processing and petrochemicals company headquartered in Moscow. Katerina dropped her father's surname and instead, picked her maternal grandmother, Yekaterina Tikhonovna Shkrebneva, as her surname.
Mariya, Putin's eldest child is said to be her father's trusted advisor in genetic engineering, especially in the usage of CRISPR to create genetically-engineered babies. She is married to a to Dutch businessman Jorrit Faassen. Both Katerina and Mariya attended a university in Russia under fake names so as to fly under the radar.