Even though Russia pales in comparison to the United States in various metrics like GDP and population, it remains a viable threat to the US. It has been able to maintain this not just because of its vast military spending or global influence but it has been aided by a President, Vladimir Putin, who is considered the unofficial richest man in the world with a net worth of $200 billion.
Considered the most powerful man in the world, Vladimir Putin's wealth has made him a central figure in determining the balance of the world, and in this article, we took a look at how he amassed one of the pillars of his power – his wealth. Check out how Vladimir Putin achieved a net worth of $200 billion below.
How Vladimir Putin Achieved His Net Worth
To determine how Vladimir Putin achieved his net worth, it is important to know that he has an official net worth and an unofficial net worth. His unofficial net worth places him at the top of the global wealth rankings with $200 billion in personal net worth while his official net worth suggests the most powerful man in the world is worth as much as a junior developer at Google.
Starting with his unofficial net worth, Vladimir Putin achieved it through the influence of his power as the Russian president. According to intelligence officials and sources who used to have close ties to the Kremlin, the Russian president achieved the bulk of his net worth through his stake in the state-controlled giant gas company, Gazprom.
Gazprom, which was established in August 1989, is a petroleum, natural gas, and petrochemicals company that also provides gas pipeline services. The Russian government owns 50.23% of the publicly-traded company and that stake is believed to be owned by Vladimir Putin.
In addition to his reported Gazprom income, Putin is also believed to own several business interests across Russia and the rest of the world, particularly in the West, with his close associates and family members acting as proxy owners. His extensive business interests outside of Russia is believed to be a contributory factor for his desire to abolish the Magnitsky Act, which places financial sanctions on Russian officials, and allows the US and other countries with similar legislation to freeze and confiscate their wealth.
Combine his sprawling business interests with his reported ownership stake of Gazprom, as well as reported endless cases of theft, kickbacks, and extortion of Russian oligarchs, and one might be able to see why Vladimir Putin does indeed have an estimated net worth of $200 billion.
Of course, that is not the official story from the Kremlin. According to the Kremlin, the Russian President's net worth, which is placed at less than $5 million, comes from a modest yearly salary of $115,000 as well as an additional $20,000 from his military pension, interest gained from his savings and investment gains. One of the country's federations, The Central Commission of the Russian Federation, reported that Vladimir Putin earned $673,000 between 2011 and 2016.
And while that might be consistent in earnings for a country where the average citizen has an income just below $25,000, the lifestyle of the Russian President suggests he might be earning a whole lot more than his government is letting on.
How Putin Spends His Money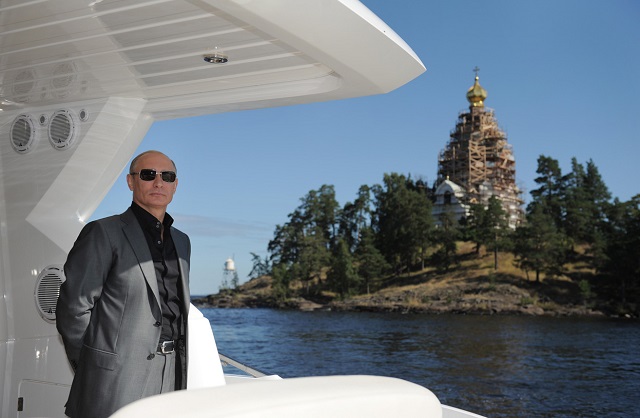 If you stick to the surface and believe the same mouthpiece that said Vladimir Putin has less than $5 million in net worth and earns just under $150,000 in yearly income, then you might believe that he truly only has two cars and a small apartment in Saint Petersburg, but if you dig deeper, you might find Putin to be in ownership of a lifestyle that befits someone worth $200 billion.
The Russian President reportedly has more than twenty palaces and villas in his name spread across the world. While his public records suggest his ownership of vehicles and other forms of transportation is limited to two cars, and a Skif tent trailer, the true picture reportedly includes more than 40 airplanes and several yachts and helicopters.
See Also: Donald Trump Net Worth: How Much Has His Wealth Increased Or Decreased?
He also has an extensive luxury watch collection worth more than $700 thousand as well as suits that cost tens of thousands of dollars. Of course, you are not going to get this confirmed by Putin or any prominent member of the Russian government, certainly not while he is still the president of the country.