Tyler1, otherwise known as the 'The Most Toxic Player of North America,' is a famous American League of Legends player who rose to the limelight following his incredible game-playing skills. He is also famous for being a streamer on the social streaming platform Twitch. The gaming star has garnered over 159 million views on his Twitch channel since he began his career and even more on YouTube. However, he got banned from one of the platforms due to gross misconduct and violation.
Tyler1's girlfriend, a popular social media personality named Macaiyla, also managed to get herself banned for behaviour similar to that of her boyfriend. Birds of a feather, they say, flock together.
Tyler1 Found Fame Doing What Got Others Shunned
The Twitch star was born as Tyler Steinkamp in the United States on 6th March 1995. He grew up with his family in Missouri and developed a keen interest in playing video games from a very young age. There is little information about his childhood and family, but those who keep up with the gamer know he has a brother named Eric. Just like Tyler1, his brother is a gamer and has been featured on Tyler1's League of Legends streaming.
After high school, Tyler1 enrolled in the Central Methodist University to study Computer Science. It was during his college days that the youngster officially kickstarted his streaming career. Unfortunately, he couldn't balance both, so he dropped out of school to focus on the venture that was already paying.
The gamer plays as the character Draven in the League of Legends. Since the inception of his gaming career, he has amassed over 3.2 million followers on Twitch. His YouTube channel also has more than 2.2 million subscribers as of early 2020. He became famous by continuously exhibiting an attitude his colleagues describe as toxic, the same manner that has gotten several other players shunned on the platform.
Apart from League of Legends, Tyler has equally played other games such as War of Warcraft, Counter-Strike, and Call of Duty, among others.
Why Tyler1 Got Banned From Twitch
Tyler1 has been described as extremely loud and aggressive. While his teammates are often the ones at the receiving end of his aggression, Tyler1 often spreads his unruliness to his fans as well. This behaviour has reportedly incurred bans on him multiple times since he joined the streaming platform, until the ultimate one that saw his ID permanently banned for over 600 days by Riot Games. Interestingly, several speculations were surrounding his prohibition, and his fans couldn't say for sure which of his numerous offences got him banned.
However, the much we can gather is that the star violated Twitch's terms of service. According to undisclosed sources, the streamer reportedly leaked his personal Skype address to over 13,000 viewers and got busted.
After about two years away, a "reformed" Tyler1 returned to the Twitch streaming website in 2018.
AFTER 613 DAYS OF INTENSE REHAB I AM FINALLY UNBANNED FROM LEAGUE OF LEGENDS

— loltyler1 (@loltyler1) January 4, 2018
Having been gone for so long, Tyler1 lost most of his followers and subscribers, but once he announced his return, the star not only got his numbers back, but he also surpassed his previous stats.
He further broke Twitch's record for an individual stream with his first League of Legends video after his two-year ban. The video had over 382 thousand views, his personal best so far.
See Also: Emmahdorable Biography, Net Worth, Family Life, and Twitch Ban
Birds of a Feather: His Girlfriend Macaiyla Also Got Banned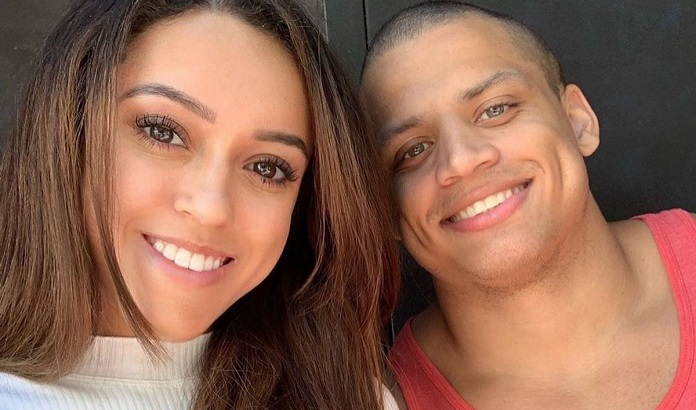 In addition to his successful gaming career, Tyler1 has been in a relationship with a social media star and Instagram idol named Macaiyla. She was born on 21st August 1998 in New York to a Panamanian father and Irish mother. Macaiyla moved to the Colonie City of Albany after dropping out of school. She was reportedly studying criminal justice before leaving school to focus on her social media career.
Starting her social media career in 2012, she joined the video-sharing community YouTube on 6th November 2012, although she never posted any video until 2017. Her first video garnered over 197k views a moment after it was uploaded. She is a fitness lover and often uploads her workout pictures on her Instagram. In addition to Instagram and YouTube, Macaiyla is also active on other social media platforms, including Twitter and Facebook.
Tyler1 and his sweetheart met online a few years ago. They had their first meeting in 2016 during the TwitchCon event, and afterwards, she moved to Missouri so she could be with him.
Like her boyfriend, Macaiyla also plays and streams League of Legends on Twitch, where she got banned on 11th September 2019 for a chance error. She had been scrolling Twitter while streaming when she inadvertently came upon a random boob picture on her timeline. Accidental or not, showing nudity violates Twitch's community guidelines, and she consequently got punished with a 3-day ban.
I'm suspended on twitch for 3 days lol. The clip happened 2 days ago so it's a bit random but ok. I was on twitter trying to unblock Greek and while I was looking for his name to click, I scrolled and there was a slight tit pic shown…sooooo I guess that's a 3 day ban lmao

— C9 Caiyla (@macaiyla) September 11, 2019
Her sentence was reduced from three days to one, following her tweet about how unfair her suspension had been. Two months later, Macaiyla's LoL account got suspended again on the same platform for exhibiting toxic behaviour. Last we heard, she was appealing to get the account restored. Twitch isn't the only online platform to have banned the Instagram model, as she has suffered the same fate on Reddit and Twitter as well.
Going by their social media posts, the influencer couple has been enjoying their relationship, and they live together with their three cats named Emmitt, Nelson, and Theo. They are not yet married but might have plans of tying the knot soon. It would appear the most important thing to them right now is getting to the peak of their respective careers.
His Net Worth is in Millions
The gamer is estimated to be worth over $4.3 million. As you may have guessed, the bulk of Tyler1's money comes from his most popular channels on the streaming and video-sharing platforms Twitch and YouTube, respectively.
His earning on Twitch is dependent – to a large extent – on the number of paid active subscriptions he has in a month. His peak so far has been 35, 127 (January 2018), while his lowest has been as low as 142 subscribers (May 2020). However, on average, Tyler1 has around 10,000 subscribers, and he makes a lot on each of them per month.
hit 30k subs on twitch and 1 million on youtube!!! T1 ALPHA AS FUCK WOOOOOOOO !!!!!!

(thank you everyone) pic.twitter.com/WzeJIoNUIH

— loltyler1 (@loltyler1) January 31, 2018
He expectedly makes $300,000 every year on subscriptions alone. This, in addition to his cut from subscription fee (which can range between 50% and 100%), donations, ad revenues, and bits are how Tyler1 makes money on the streaming platform.
His YouTube Channel, which has over 2.2 million subscribers and 320 million views, gives him more than $365,000 in ad revenue only. Considering this and the several other means in which YouTube generates money for content creators, Tyler1's supposed $4.3 million net worth does not seem far-fetched.