Tyler Christopher is an American actor who is widely revered for his sterling performances on screen. The actor is one of many stars who hit the ground running in Hollywood as his impact was felt right from his earliest days in the industry. In fact, his very first roles in television fetched him awards immediately and made him a household name. The actor also has a very attractive look that has endeared him to fans, especially the ladies, over the years.
Staring out as an actor right from the '90s, the veteran Hollywood star is now best known for his roles in the popular soap opera, General Hospital, which has made very serious waves around the US and the rest of the world.
How Tyler Christopher Started
Tyler Christopher was born on the 11th of November, 1972 in Joliet, Illinois. The actor's father has been identified as Jim Baker and his mother's name is Jimi-Ann Baker. As the youngest child in his family, Christopher has three older siblings; two sisters and one brother. His parents moved to the state of Ohio when he was born so the siblings all grew up together in Delaware, Ohio.
Information about where Christopher had his high school education is not available. However, we know that he attended the Ohio Wesleyan University, a private liberal arts college in Delaware. The actor attended the university for two years before he moved to Los Angeles as he began his quest to hit it big in the entertainment industry.
His joined the cast of General Hospital after several attempts
In 1993, as an aspiring actor trying to find a breakthrough, Christopher auditioned for a role in General Hospital, a popular American daytime television, medical drama. He auditioned for the role of Stone Cates, which was a really small role at the time, he was turned down and failed to be cast.
However, Christopher never gave up. He kept trying to break into the industry and in April 1996, he auditioned for another role in General Hospital; this time, it was for the bigger role of Nikolas Cassadine, and he got hired. He promptly signed a three-year contract and started filming scenes two months later in June. His role in General Hospital launched him into an unprecedented level of fame. He became a favorite of many fans of General Hospital because of his impressive acting skills and perfect role interpretation. In fact, in 1997, about a year after he started acting, he got nominated for several awards, winning three of them. The awards included Soap Opera Digest's Best Newcomer award and First Americans in the Arts's Outstanding Performer in a Television Series award.
However, even with all the impact and success, he was making in General Hospital, the actor decided not to renew his deal with the series after it expired in 1999 and in June that year, it was announced that he was opting out of serial. Following his departure from General Hospital, he began appearances in other movies.
In 1999, Tyler Christopher starred as Michael in Catfish in Black Bean Sauce, a comedy-drama film. The next year, in 2000, the actor bagged a lot of screen time; first, he was cast as Dan in Face the Music – a Music/Comedy film, before going on to appear in four television series; he appeared as Ethan in The Pretender, played Anton in Charmed, acted the role of Bret Folger in Angel and starred as Neil Lumston in Family Law.
Now an established actor, he was not going to rest on his oars. He kept pushing his personal limits and making appearances in more TV series including Days of Our Lives and Special Unit 2 in 2001, as well as The Division and CSI: Crime Scene Investigation in 2002.
In 2003, about three years after leaving the set of General Hospital, it was announced that Tyler Christopher was coming back to the series. The announcement sent fans into a frenzy with serious anticipation. The actor soon began filming and, as usual, got fans glued to their TV sets with his irresistible charm on screen. In 2011, the actor parted ways with General Hospital and started making appearances on The Lying Game, American teen drama mystery television series.
Tyler Christopher then landed a prominent role on Days of Our Lives, a TV series in which he plays the role of Stefan DiMera.
How Much Is He Worth?
Having had a successful career as a Hollywood TV star, Christopher is expected to have made quite a large fortune for himself. Staring out from the '90s, he appeared in many high-ranking television series and other independent movies that have enriched him over the years.
Although the actual amount of money he received for each appearance he made on the General Hospital and other series has not been disclosed, his net worth has been pegged at $7 million.
Details Of His Wife & Kids
Tyler Christopher is a married man; the actor is married to Brienne Pedigo, an auto racing reporter. The couple met in 2005 and started dating shortly after. They got engaged in October 2006 and finally tied the knot during a private ceremony on the 27th of September, 2008. The actor now has two children; a daughter named Boheme Christopher and a son called Greysun James Christopher.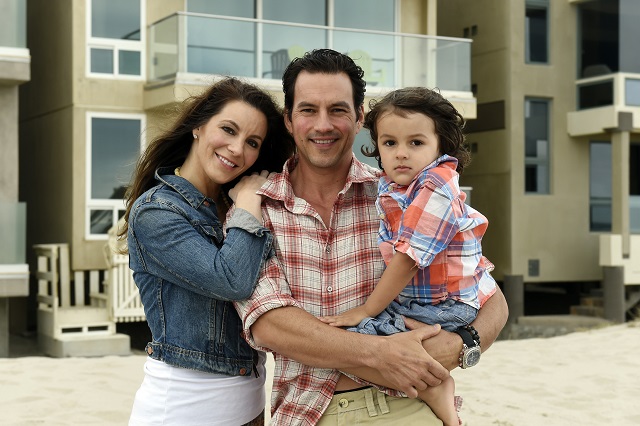 Before marrying Brienne Pedigo, Christopher was married to married to Eva Longoria. The couple got married in 2002 but got divorced in 2004. The actor also dated Vanessa Marcil, an actress who starred with him in General Hospital. They were even engaged but never got married. He has also been romantically linked with Natalia Livingston, another actress.
At the moment, Christopher's married to Brienne Pedigo is solid and there are no rumors of any troubles with their union.
Read Also: Who is Joe Dempsie? Here Are 7 Facts To Know About The Game Of Thrones Actor
Height
Tyler Christopher's physique has been admired by many fans over the years. In fact, this is one of the physical attributes that has endeared him to some of his many fans around the world. The actor is of average height and now stands at 5 feet 10 inches tall.