Trevante Rhodes is an American actor who has become a darling of many movie lovers in recent years. That is because he is not just an amazing actor but also a handsome man who has put in a lot of work over the years as a Hollywood star. Rhodes is renowned for his remarkable ability to interpret his roles perfectly and is loved for his charming personality. Before he became an actor, he was a football player and also ran as a track and field athlete.
As an actor, he is now best known for his portrayal of Chiron, aka Black in Moonlight, an American coming-of-age drama film that drew a lot of buzz around America and abroad. His work in the film earned him a lot of favorable reviews from critics and fans all over the USA. Trevante is also known for his work on Bird Box, an American post-apocalyptic horror-thriller film.
How Trevante Rhodes Went from Athletics to Acting
The actor was born on the 10th of February in the year 1990. He was born in Ponchatoula, a small city in Tangipahoa Parish, Louisiana, USA, where he spent some time while growing up, however, when he was ten years old, his family relocated to Little Elm, Texas, where he spent the remainder of his childhood days.
The actor was born to a father called Jessi Rhodes and a mother identified as Demour Dangelo. Trevante is very fond of his parents and has spoken of how much they helped him push through life to become who he now is. The actor has one brother identified as Giovanni Rhodes. The siblings share a strong bond today.
Growing up, Trevante Rhodes attended the Little Elm High School, a public high school in Little Elm. When he graduated from there, he attended the University of Texas at Austin, where he studied Kinesiology.
Before he went into acting, Trevante Rhodes was an athlete. As a young boy growing, he was very active and took part in sporting activities in school. Trevante played American football as a running back in an option offense. He also took part in track events, competing as a sprinter specializing in the 100 and 200-meter dash.
Trevante was so good as an athlete that at the end of his High School education, he earned an athletic scholarship in track and field to the University of Texas at Austin. While in the university, he competed for the Texas Longhorns as a sprinter from 2008 to 2012.
He was instrumental in helping the US squad to win a gold medal in the 4×100 meters relay at the 2009 Pan American Junior Athletics Championships in Port of Spain, Trinidad and Tobago.
He Has A Growing Filmography
After graduation from university, Trevante Rhodes relocated to Los Angeles and began to work as an actor. He kick-started his acting career in 2012 when he starred as Dr. Peter Montgomery in I Came Back, a short movie. In 2013, he played Shawn in Josep and Shawn and then portrayed Brian in Open Windows in 2014.
In 2015, Trevante began to make some buzz when he got cast in If Loving You Is Wrong, a TV Series in which he played Ramsey Walters. The same year he starred in The Night Is Young as George.
His big break came in 2016 when he played the lead role of Chiron, aka Black in Moonlight, an American coming-of-age drama film. The movie was nominated for many awards, winning the Golden Globe Award for Best Picture – Drama, the Academy Award for Best Picture and other awards. Many people, including critics and fans, hailed Trevante's role in the movie.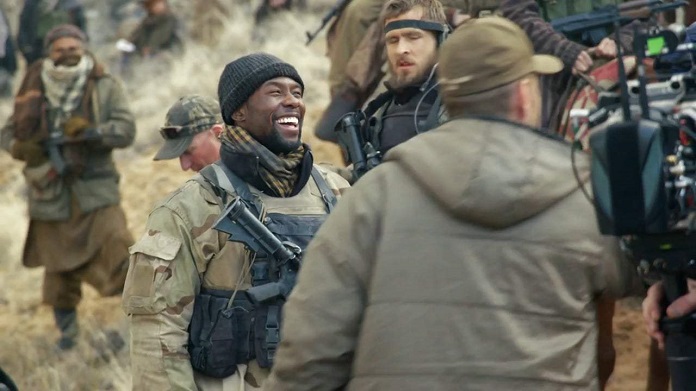 Since his breakthrough role in Moonlight, Trevante has starred in other movies, including Burning Sands in 2017, The Predator in 2018. He also in 12 Strong (2018), Smartass (2017), Lady Luck (2017), and several others.
In several Hollywood quarters, Trevante is considered one of Hollywood's next superstars, and he is well on his way to the title with more than 19 credits in film and Television.
Aside from an impressive budding filmography, he also has more than 14 award nominations, and 11 award wins to his name.
How Much Of His Earnings Come From His Acting Career?
There is not a doubt in the world that Trevante Rhodes has made quite a lot of money since he started acting. He has starred in different TV series and award-winning movies, gaining lots of attention and raking in a considerable amount of wealth.
At the moment, Trevante Rhodes' exact net worth remains unknown, but a few outlets are estimating the Moonlight's actor wealth to be as high as $7 million. Whatever the exact figure is, there is no denying that his chosen profession has made him rich.
Revealing The Truth About His Sexuality
There have been rumors that Trevante Rhodes is gay and that he has a gay partner with whom he is in love. The stories started gaining ground after Trevante Rhodes played a gay role in the movie Moonlight. He succeeded in playing the character so well that fans who watched the movie concluded that Trevante Rhodes might be gay in real life.
However, at the moment, there is no evidence at all to show that Trevante Rhodes is gay. All the rumors being spread around are nothing more than speculations from excited fans. It is safe to assume that the actor is not gay until he comes out to say explicitly otherwise.
Trevante Rhodes is Engaged to be Married
If there were any doubts about Trevante Rhodes's sexuality and relationship status, it was put to rest in 2019. According to a report by Essence, the Bird Box actor is engaged to his girlfriend, Mara Wright. The news broke in August 2019, to the 'disappointment' of hundreds of fans who envisioned a relationship with the actor.
See Also: Is Sandra Bullock Married And Does She Have Any Kids?
His fiancée, Mara, is a fitness model signed to Wilhelmina Models. She is of German and Black ancestry, and she has appeared in a couple of short films, Sarah and Weight. No one knows precisely how long the couple has been together, but an engagement suggests it has been a while.
Trevante Rhodes Really engaged😒😒 pic.twitter.com/CFwjRW8PDy

— Lo Lo (@Leilani_o614) August 6, 2019
If the couple does get married, they will become a family of models. Trevante has also done some modeling work on the side, for Calvin Klein's 2017 Spring Underwear campaign. He also appeared in a music video for Jay-Z's Family Feud.