Travis Pastrana may not be another Evel Knievel although he did become famous in a rather dangerous and risky way like the legendary daredevil performer. The stuntman and professional motorsports competitor has replicated some of the daredevil stunts of Knievel which has resulted in him breaking some bones in the process. He has, however, gained fame in the process and has gotten to compete in many racing events where he has won some accolades for his talent and ability.
Meet Travis Pastrana
As mentioned above, Travis Pastrana is an American stuntman and motorsports star. He is best known for his excellent achievements in supercross, rally racing, motocross, and freestyle motocross competitions. He is also a ten-time gold medalist at the X games, as well as the second world record holder for notable jumps after Evel Knievel. He further holds the world record for being the first stunt performer to pull off a double backflip.
In addition to these, Pastrana has also done some work as an actor. He appeared in the 2014 movie Days of my Youth as well as in the 2018 flick, Action Figures 2. His journey to fame began when he was born in Annapolis, Maryland on October 8, 1983. The future stunt performer was raised by his parents; mother Debby and father Robert Pastrana who is of Puerto Rican descent. Travis attended the University of Maryland where his uncle Alan played football as a quarterback in the late 1960s.
Unlike his uncle, however, Travis Pastrana developed an interest in motorsports and worked to have a career as a racer. He began performing freestyle stunt from the age of thirteen before later launching his career in Freestyle Motorcross Competitions. When he was nineteen years old, he sustained a serious injury after his ride crashed into a tree in Davidsonville, Maryland. This incident did not deter the young man from chasing his dreams as he went on to achieve greater things in his sport of choice.
Details of His Professional Career and Rise to Fame
Travis Pastrana began his professional career in the 1990s before winning the first-ever MotoX Freestyle event at the X Games in 1999. The following year, he won the AMA 125cc National Championship as well as another gold medal at the X Games. He repeated this feat in 2001 and also won the 125cc East Coast Supercross Championship and the 125cc Rose Creek Invitational. He has since tried his hands at the 250cc class level but is yet to clinch a championship title at the level.
Having competed in several X Games, Travis has won 10 gold medals in different aspects of the competition, including Freestyle, Rally Car racing, Best Trick, and Speed & Rally. He made history in 2006 by becoming the third athlete to win three gold medals at a single X Games event and by gaining the highest points ever in the Best Trick Category when he performed a Double Backflip.
All through the 2000s, Travis Pastrana built a name for himself in rallying. Between 2006 and 2009, he was a four-time Rally America Champion, becoming the first person in history to clinch four consecutive Rally America driver's titles. The victory that sealed his fourth consecutive driver's title in 2009 came at the Ojibwe Forests Rally which was his fifth win of that season.
In 2011, Pastrana made his first NASCAR debut and finished in the sixth position at the Toyota All-Star Showdown. He has since competed at the nationwide series in 2013, 2015, and 2017, but has never won the championship.
Travis Pastrana's History With Injuries
All of Travis Pastrana's achievements in motorsports have not come without some sacrifices and personal injuries. In 2000, when he became the first to ever attempt a backflip on a motorbike at the X Games, he ended up with a broken foot. In 2004, he suffered a concussion after he tried a 50 feet (15 m) 360. This, however, did not stop him from performing the next day and still winning a silver medal.
As his career progressed, he kept suffering more injuries that in one interview he revealed that he could not remember most of the injuries he suffered because they were too many to keep track of.
What We Know About His Wife Lyn-Z Adams Hawkins and Family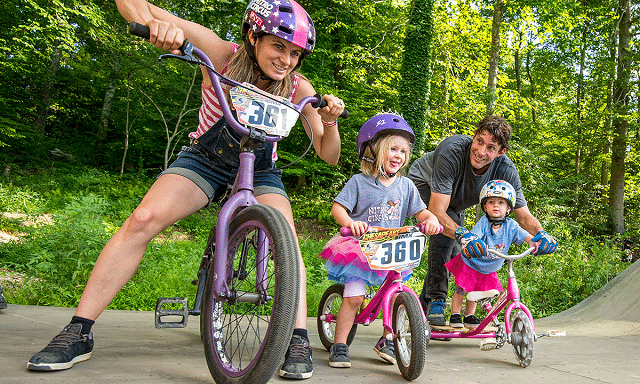 Travis Pastrana has got an amazing family. The stuntman is married to his longtime girlfriend and love of his life, Lyn-Z Adams Hawkins, who like him is a professional athlete.
Hawkins was involved in a number of sports while growing up. She played soccer, baseball, basketball, and gymnastics but, however, decided to turn professional as a skateboarder. This proved to be a good decision as she has won three gold medals, four silver medals, and one bronze medal at the Summer X Games. More so, she is the first female to skate the DC Mega Ramp as well as the first to land a 540 McTwist, a feat she recorded at the Quicksilver Tony Hawk Show in France.
Born as Lindsey Adams Hawkins on September 21, 1989, in San Diego, California, Travis' wife grew up in Cardiff City where she started skateboarding at the age of six and was introduced to a club called Encinitas YMCA by her older brother, Tyler.
Although there is no information available to the public on how Travis Pastrana met his wife, it is known that it was while performing on the MTV show Nitro Circus that he proposed to Lyn-Z in June 2011. A few months later, the duo tied the knot in a lavish wedding that was held in Southern California. The couple have since started a family, welcoming two adorable daughters to the world. The first is Addy Ruth who was born on September 2, 2013 while their second child is Bristol Murphy who was born on February 9, 2015.
In 2014, the interesting couple agreed to pose nude riding a bike for the cover of ESPN The Magazine's sixth annual "Body Issue." Travis was initially contacted to do the shoot but he insisted he was not going to do it without his wife who was pregnant at the time. Because of this, the shoot was delayed until after she gave birth.