Even as actors and actresses are considered gods who live a life beyond the reality of the average person, they still engage in basic human activities like procreation. Sometimes, their children go on to follow in their footsteps as actors while some go on to carve their own path. Travis Bacon, who is the first child of Kevin Bacon belongs in the second category, having chosen to pursue music rather than a life in the world of acting.
Travis Bacon began his career in the acting industry as a teenager and grew to develop an interest in music. He is a member of Idiot Box, a rock-punk-funk band and he is also known for his work outside the studio as a music engineer.
We already know a lot about Kevin Bacon and his work, here is everything you need to know about his son, Travis Bacon, his family and career.
Who is Travis Bacon, How Old is He?
Travis Bacon is the son of Kevin Bacon and Kyra Sedgwick. His father is a known actor who has spent decades in the industry while his mother, is a former actress who became a producer. He was born on the 23rd of June, 1989 in Los Angeles, California and he has a single sister, Sosie Ruth Bacon.
Nothing much is known about his childhood life but after completing his high school education, he attended Evergreen State College where he earned a bachelor's degree in audio engineering.
Despite having parents who were well established in the acting industry, and having made his movie appearance at the age of 16 as Lenny in the movie, Loverboy (2005), he instead decided to turn to focus his creative interest in music and has developed a career in the art form ever since.
He began his career working as an assistant engineer for the record company, The Wild Arctic. Being a hard worker, Travis Bacon's desire to have a music career did not stop in the studio, he also performed in various venues as a member of a band, letting his voice heard at a number of venues from The Acheron to St. Vitus Bar.
Travis Bacon, a man who dresses the part, is a fan of heavy metal and rock music genre and has been with a couple of bands who sing in the genre. As a performing musician, he has been a member of several bands, including the punk rock and heavy metal band, White Widows Pact. He left the band in 2015 and joined an American black-metal band, Black Anvil in 2016. Aside from Black Anvil, he is also a member of the rock band, Idiot Box.
After his time with The Wild Arctic came to an end, Travis Bacon established a sound-recording studio of his own, Broken Box Recording Company which is located in Bushwick, Brooklyn in New York. He currently serves as the head engineer of the studio.
As part of his work as the engineer of the studio, he has composed soundtracks for two TV movies, Girls Weekend and Story of a Girl.
Travis Bacon's Family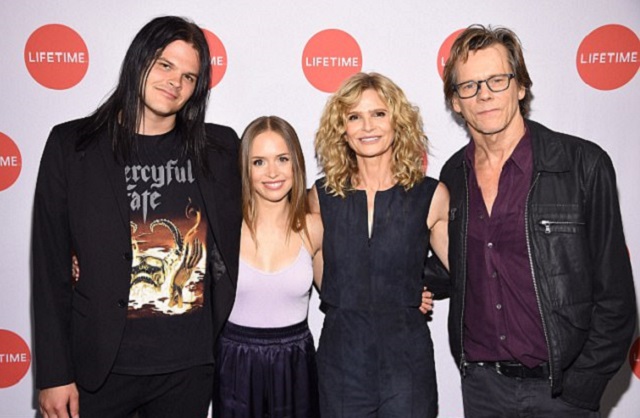 As mentioned earlier, Travis Bacon comes from a small family that includes a sister and two celebrity parents. His father, Kevin Bacon is a widely popular actor who is known for movies like X-Men: First Class, JFK, Apollo, Hollow Man, and A Few Good Men, among others. He became a national star after he starred in the film, Footloose and since he began his career, he has recorded a good number of awards and recognition in his name, including a Golden Globe award.
His mother, Kyra Sedgwick is also an actress who has worked behind the scenes as a director. She has been in the industry for over two decades and has over 70 credits to her name, including titles like The Closer, Another World and several others.
Travis Bacon's parents have been together since 1988 and remain one of the long-lasting couples in Hollywood.
His sister, Sosie Bacon has followed in her parents' path to become a full-fledged actress and she has appeared in works like 13 Reasons Why, The Closer and Story of a Girl, among a couple of others.
Other notable family members include Neal Bacon, his cousin, Michael Bacon, Betsy Bacon, and Robert Sedgwick, who are his uncles and aunt.
See Also: Who Is Kevin Selleck, The Son Of Tom Selleck?
Other Facts You Need To Know
1. When he was a newborn, his father once mistakenly locked him inside the car. Travis was locked inside the car with the keys inside. A strange broke the car window to pull Travis out.
2. His mother was pregnant with him when she was filming Born on the Fourth of July.
3. As a performing musician, Travis Bacon plays the guitar.