| Age/Date of Birth: | November 10, 1968 |
| --- | --- |
| Height: | 5 feet 7 inches |
| Ethnicity/Race: | African American |
| Nationality: | American |
| Net Worth: | $70 million |
| Wife or Girlfriend: | Megan Wollover (m. 2015), Sabina Morgan (m. 1987–2009) |
| Parents: | Alicia and Jimmy Morgan |
Thanks to Saturday Night Live and a friend who urged Tracy Morgan to try earning a living out of making people laugh, Tracy is now famous as an American comedian and actor.
The comedian had a very rough upbringing. Almost nothing was normal for him until he embraced comedy and it became his salvation, liberating him from poverty and a life of crime.
How Tracy Morgan Ventured into Comedy
After dropping out of school in 1987 at the age of 19 to cater for his ailing father, and eventually loosing him that same year, Tracy Morgan began selling crack cocaine as a means of livelihood. Not making much from the illegal trade, Morgan soon added road-side stand up comedy to increase his income. His best friend at the time who was impressed by his skills urged him to actively pursue a career in comedy. At first, Tracy was double-minded about the suggestion but after losing his friend to a gun shot during a gang raid, he decided to pursue comedy in honour of his late friend.
Tracy Morgan began doing stand-up in 1988 at the Apollo Center, Harlem and soon found success that was enough to afford his family a home in Riverdale, a less-violent neighborhood in the Bronx. From 1992 to 1994, Morgan achieved success with a role in Uptown Comedy Club, a sketch-comedy series filmed in Harlem.
In 1994, he landed the supporting role of "Hustle Man" in Martin Lawrence's TV show Martin. He stayed on the show until 1996, a year before it ended.
Breakthrough with Saturday Night Live
Right after leaving Martin, Tracy Morgan got his major break as a cast on the popular sketch comedy show, Saturday Night Live. He began appearing on the show in 1996 and left in 2003 after 8 seasons. Morgan continues to make surprise appearances on the show as host.
Soon after leaving SNL, Morgan launched his own show "The Tracy Morgan Show" in 2003. The show however, aired for only one season due to low ratings. Things looked bright again when fellow ex SNL star, Tina Fey selected him to star as Tracy Jordan, a parody of himself in his hit sitcom series, 30 Rock.
A Breakdown of His Net Worth
As of 2020, Celebrity Net Worth placed the net worth of Tracy Morgan at $70 million. Since after launching his comedy career in 1988, Morgan has made the bulk of his wealth from –
Television
Film, and
Comedy tours
Television and Film
Despite initially earning modestly from stand-up, Morgan's financial worth became worthy of reckoning after he began appearing on Saturday Night Live. Although he never disclosed his exact SNL salary, the talented comedian earned thousands of dollars per episode as reliable sources claim that SNL stars receive a yearly salary of around $300,000. Based on this, Morgan who spent seven years on the series must have pocketed around 2 million by the time he left in 2003.
During his SNL period, Morgan also landed roles in a number of high-grossing feature films which contributed in boosting his bank account. Among them are A Thin Line Between Love and Hate (1996), Half Baked (1998), and Chris Rock's Head of State (2003).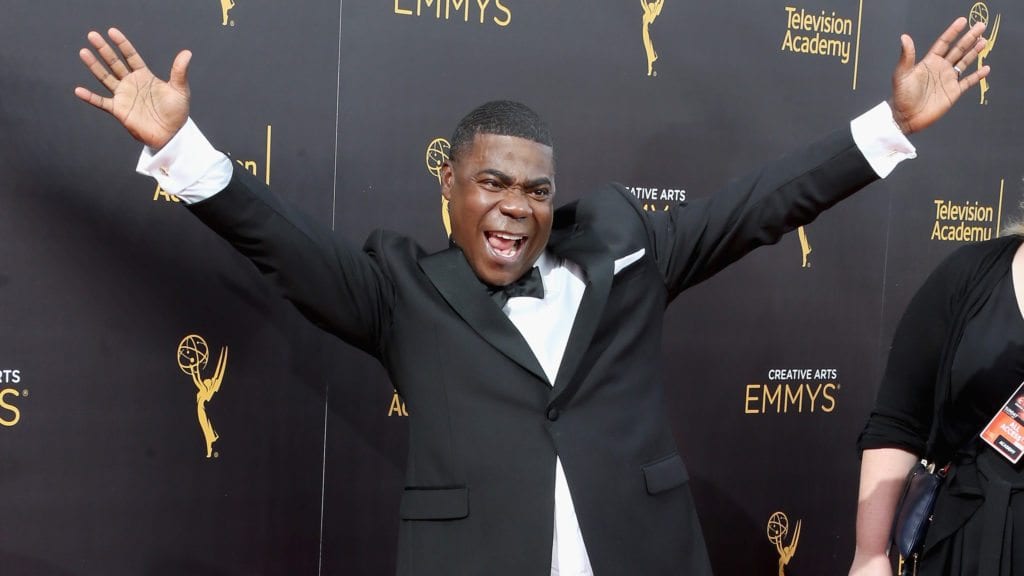 After Saturday Night Live, Tracy Morgan once again started making significant television earnings with his role on 30 Rock. In the sitcom's 2-episode first season which premiered in 2006, Morgan received $75,000 per episode which totaled $1.5 million. That paycheck grew exponentially to the peak of $2.2 million per season from its penultimate 6th season in 2012.
While on 30 Rock, Morgan also starred in a number of commercially successful feature films including First Sunday (2008) which grossed $38 million, Superhero Movie (2008; $71 million), Cop Out (2010; $55.6 million), and Death At a Funeral (2010; $49.1 million).
In 2014, Morgan received a salary of $5 million for reprising his voice role of Luiz in the animated musical comedy sequel, Rio 2. He had earlier played the role in Rio, the original version in 2011. In 2018, he began playing Tray Barker in the TBS comedy series, The Last O.G. He also plays a voice role in the successful comedy series, Crank Yankers starting from 2019, a role he initially played from 2002 to 2005.
Earnings from Stand-up Tours and Shows
As earlier mentioned, Tracy Morgan initially launched his stand-up comedy career in clubs from which he earned modestly. But despite having made it big on TV, Morgan has remained active in the field, embarking on several tours per year.
Since after hitting the spotlight, Tracy reportedly grosses an average of $41,000 per stop of his comedy tours. Based on this estimate, he possibly makes around $500,000 per year. As of 2015, Forbes estimated Morgan's total assets at $18 million. In February 2016, he launched his comedy tour, "Tracy Morgan: Picking Up the Pieces".
Check Out: Top 10 Highest Paid Comedians In The World
Fact Check: Is Tracy Morgan Dead – What Happened to Him?
It is strange people wouldn't stop asking if Tracy Morgan is dead since he was involved in a car crash in 2014. On the 7th day of June in the said year, Morgan alongside comedians Harris Stanton, James McNair and others were returning from a comedy tour in a Mercedes Sprinter minibus when they became involved in a fatal six-vehicle crash initiated by a Walmart transport-truck driver, Kevin Roper in New Jersey.
The crash left Morgan's partner and longtime friend James McNair, aged 62, dead while Morgan who sustained grave injuries was flown via a chopper to a nearby hospital. Morgan spent 8 days in a coma and over a month in rehabilitation. Several months following the crash, Tracy was still confined to a wheel chair, and subsequently walked with the aid of clutches. He has however, since recovered fully from his injuries and returned to his comedy career.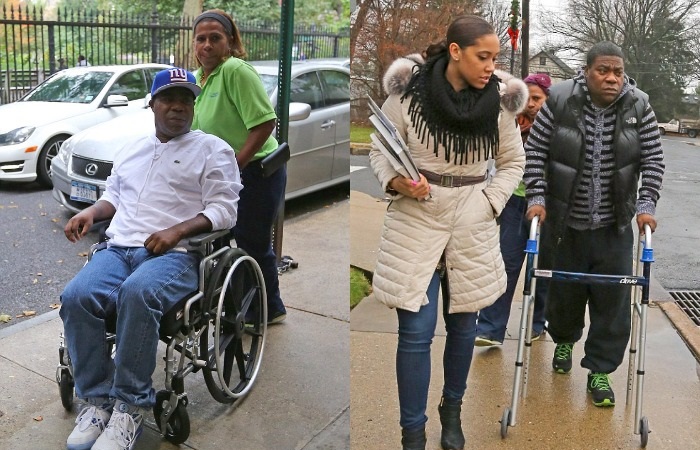 Meanwhile, the comedian filed a lawsuit against Walmart in July 2014 and received an undisclosed settlement fee in May 2015 which has not been added to his $18 million portfolio, so apparently, Morgan could be worth far more than that. While Morgan's settlement fee remains concealed it is known that Walmart paid deceased McNair's two children $10 million.
A Peep Into Morgan's Lifestyle and Properties
Among other things with which his standard of living could be rated, Tracy Morgan has invested a good chunk of his wealth in real estate. In 2011, the stand-up comedian stripped his pocket of $2.2 million to acquire a 4,485-square-foot Cresskill home in New Jersey. Eight years later, he sold sold the property at a loss – precisely for $1.2 million in March, 2019.
In August 2015, Morgan made a much more pricey real estate investment. He purchased a $13.9 million 2-acre estate in Alpine, New Jersey. The 22,000-square-foot mansion comprising 22 rooms also includes among other rare features – a movie theater, basketball court, and bowling alley.
As for automobiles, Tracy may not have a fleet of them but he's got some really pricey ones. In 2019, the TV host bought a 2012 model Bugatti Veyron for $2 million. Unfortunately, he got the car scratched on his way from the dealer and it reportedly took about $32,000 to have it back as good as new again.
His Marital Life and Family Members
As of 2020, Tracy Morgan has married twice. His first marriage was with –
Sabina Morgan
Full name: Sabina Morgan
Date of Birth: N/A
Spouse(s): Tracy Morgan (m.1987; div. 2009)
No. of Children: 3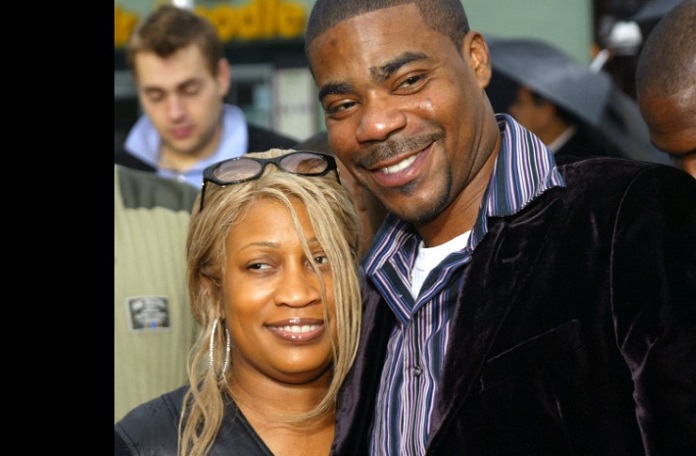 Sabina was Morgan's DeWitt Clinton High School girlfriend. Morgan married Sabina in 1987, the same year he dropped out of school to take care of his sick dad who died later in the year. Sabina Morgan was the woman that stood by Tracy during his roughest years – from the time he learned his dad was suffering from AIDS until the time he found his feet in the entertainment industry.
After 22 years of marriage, Sabina and Tracy divorced. That was in 2009 after the estranged couple had lived separately for 8 years. Speaking about his divorce in a 2010 interview with CNN, Tracy Morgan blamed alcoholism and fame craze on his part as what ruined his marriage with Sabina. Unfortunately, former Mrs. Morgan died of cancer in 2016. With her, Tracy had three sons.
About one year after concluding his official divorce from Sabina, Tracy Morgan met and began dating –
Megan Wollover
Full name: Megan Wollover
Date of Birth: 1987
Occupation: Model, Actress and Producer
Spouse(s): Tracy Morgan (m.2105; div. 2020)
No. of Children: 1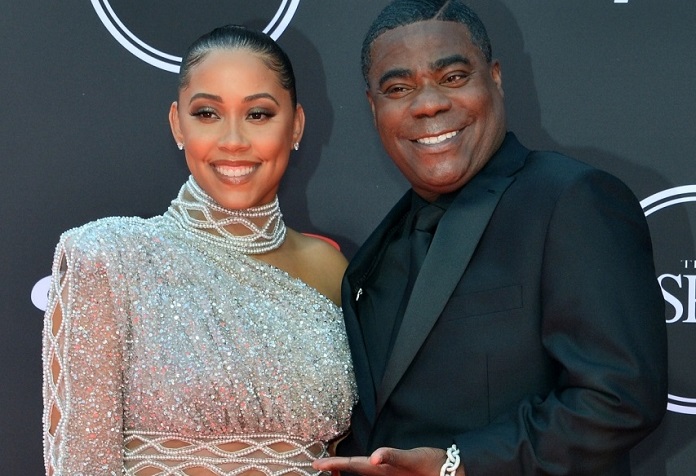 A little over a year after Tracy Morgan survived his 2014 fatal auto crash, he tied the knot with his longtime fiancée, Megan Wollover, an actress and former model. Megan began modeling as a child and later made it to popular mags like Ebony, Maxim, Blackmen and more. As an actress and producer, she has worked/featured in screen projects including Entertainment Tonight, The Last O.G, and Unholy Roller.
Tracy and Megan met on a blind date through a mutual friend and subsequently dated for a little over a year before they became engaged in 2011. Two years later, the pair welcomed a daughter. Their wedding took place on the 23rd of August, 2015 at an elegant estate in New Jersey. They would have married each other in 2014 were it not for Morgan's accident.
Unfortunately, Morgan and Wollover has called time on their union about five years after it started. The couple applied for a divorce in July, 2020.
From his two marriages, Tracy Morgan has four children, namely:
Gitrid Morgan
Gitrid is Morgan's first child and son with his first wife, Sabina Morgan. He was born in 1986 before his parents tied the knot the next year. Gitrid Morgan is apparently living a lowkey lifestyle as he has no noticeable mass or social media presence.
Malcolm Morgan
Malcom is Morgan's second child and son with first ex-wife, Sabina. He was born in 1988. Just like his older brother Gitrid, Malcolm lives his life out of the media eye.
Tracy Morgan Jr.
Morgan Jr. is the comedian's youngest child and son with Sabina Morgan. He was born in 1992. Tracy Jr. obviously maintains a good relationship with his dad and step-mum Megan, as he ha been spotted with the couple at events on a number of occasions. Although Tracy Jr. is the most seen of all Morgan's children, he has no other prominent media presence apart from his once in a while appearances with his dad.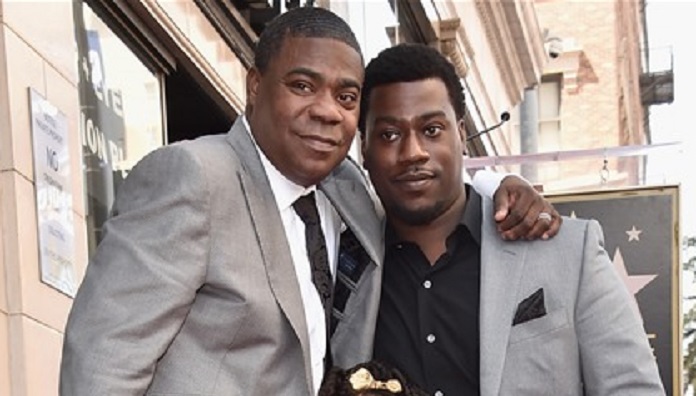 Maven
Full name: Maven Sonae Morgan
Date of Birth: July 2, 2013
Maven is Tracy Morgan's daughter with Megan Wollover. She was born in 2013, two years before the now estranged couple tied the knot. Of all his children, Maven has the closest relationship with Tracy Morgan. She is his only girlchild at the moment.
Profile Summary
First Name:
Tracy
Last Name:
Morgan
Also Known As:

Not available
Sex/Gender:

Male
Profession:

Actor, voice actor and comedian
Famous For:
His seven seasons as a cast member on Saturday Night Live (1996–2003) and 30 Rock (2006–2013)
Colleges/Universities Attended:

DeWitt Clinton High School
Educational Qualifications:

Dropped out
Religion:

Christianity
Birthday & Zodiac

Age/Date of Birth:

November 10, 1968
Zodiac Sign:
Scorpio
Birth Place:

The Bronx, New York, U.S.
Nationality:
American
Ethnicity/Race:

African American
Country of Residence:

USA
Physical Attributes

Height:

5 feet 7 inches
Weight:

84 kg
Eye Colour:

Dark brown
Hair Color:

Black
Other Body Measurements:

Not available
Relationships

Marital Status:

Married
Spouse/Partner:

Megan Wollover (m. 2015), Sabina Morgan (m. 1987–2009)
Family and Relatives

Father:

Jimmy Morgan
Mother:
Alicia (née Warden)
Children:

Maven Sonae Morgan, Gitrid Morgan, Tracy Morgan Jr., Malcomb Morgan
Siblings:
Jimmy Morgan, Jr. (brother) and Asia Morgan (sister)
Other Relatives:

Not available
Net Worth
Estimated Net Worth:

$70 million
Salary:
Not available
Source of Wealth:

His acting and comedy career