Often pulling a fast one on their siblings, close friends or a group of strangers, there are thousands of YouTube pranksters who goof around on camera all day. More so, there are tons of new prank channels popping up every day on the massive, video-sharing platform which was built on the backs of independent creators.
Mostly guys with a camera and some wonderful ideas, their pranks are fun and harmless, but can sometimes lead to harassment, bullying or even arrests. Some of them began their careers as comedians on YouTube uploading humorous content, became overnight internet sensations, defied the odds and still continue to grab media attention many years after.
Ranked by their massive fanbase, these top 10 comically embracing YouTube pranksters will either make you feel awkward, flinch, or leave you in stitches.
1. Roman Atwood Pranks  (10.6m+ subscribers)
One of the most successful YouTubers in the industry, Roman Atwood is famed for being a prankster as well as a family man. The American YouTuber comedian and vlogger has two hugely popular channels. Since 2009, he has been making pranks on his RomanAtwood channel. The Columbus, Ohio resident's antics are what they seem at first glance and he became famous for his vlogs which feature public and hidden camera pranks. 
On the other hand, with his RomanAtwoodVlogs, the father of three has also been posting vlogs about his family life in Ohio since 2013. On this channel which has over 15 million subscribers, Atwood mostly documents daily video check-ins with his family including adventures with his wife, Brittney Smith-Atwood, as well as his kids Alexander, Cora, and Noah, whom he shares with his first wife, Shanna Riley.
In addition to enjoying millions of subscribers and billions of views, the prankster has performed in various cities across the globe and even has some credits on the big screen and TV. Considered one of the highest-paid YouTubers in the business, Roman Atwood can boast of a net worth that is way above $2.5 million.
2.  Prank vs. Prank (10.5m+ subscribers)
Also known as Jesse, the YouTube channel was created by Jesse Michael Wellens and his former girlfriend Jeana Smith. The erstwhile prank-loving couple Jesse and Jeana became instant internet sensations following a series of tricks they played on each other and posted to YouTube.
One of YouTube's foremost couple prank channels, Jesse and Jeana made their YouTube name together in collaborative efforts with their epic prank series. They were once considered the 'Craziest YouTube Couple,' and one of the most prominent duos on the video-sharing platform. In addition to PrankvsPrank, Smith, and Wellens formerly co-headlined the daily vlog channel BfvsGF.
But after 10 years of dating and seven years of making prank videos together for millions of fans, YouTube pranksters Jesse Wellens and Jeana Smith broke up. The couple cited their YouTube careers as the cause of their high-profile split in 2016, stating that the grind of daily vlogging had put a toxic strain on their relationship. Consequently, they both went on to spearhead their own YouTube ventures with Jesse Wellens taking over the PrankvsPrank channel and Jeana Smith taking over the BFvsGF, vlogging channel.
3.  VitalyzdTV (10.1m+ subscribers)
Russian born American prankster, comedian, and budding actor, Vitaly Zcorovetskiy is better known as an X-Rated YouTuber from Vitaly Uncensored. The former porn star who started from ground zero made it to the limelight following his humorous pranks and numerous funny videos. The YouTuber tries to bring out the best reaction in people with his elaborate schemes. In fact, he has been arrested on multiple occasions while filming his prank videos.
Vitaly Zdorovetskiy got his first YouTube breakthrough in 2012 after posting the video "Miami Zombie Attack Prank!" Inspired by the cannibal attack of a homeless man in Miami, the video featured Vitaly scaring random bystanders in the city's poorest neighborhoods. He is also known as the YouTube prankster behind the infamous 2019 Champions League streaker. At the UEFA final between Liverpool and Tottenham, Vitaly's fiancé, Kinsey Wolanski's streak prank not only gained her worldwide recognition but also netted her millions of dollars. More so, Wolanski's stunt helped to promote her boyfriend's website, earning both parties millions of likes and subscribers.
In his prime YouTube channel, the widely acclaimed Youtuber boasts of over 10 million subscribers and billions of views. In addition to that, Vitaly's vlog also has over 2 million subscribers.
4. Just For Laughs Gags (8.9m+ subscribers)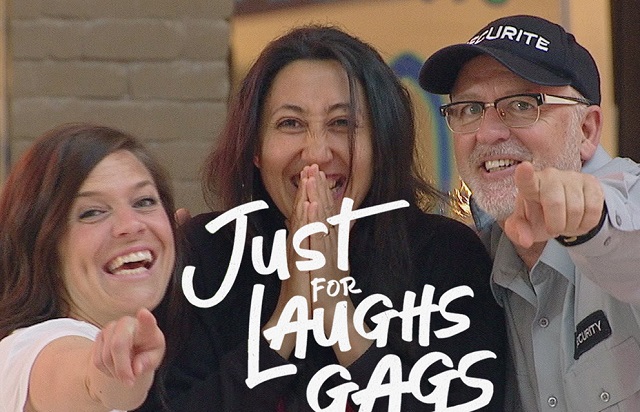 One of the oldest pranksters in the business, Just For Laughs Gags has been around since 2007. Filmed in Montreal, QC, the hidden-camera reality television show already had an established audience in Canada before going online.
One of JLG's trademarks is the wide variety of silent pranks. The creative Quebec-based troupe's content has no voice or language but guarantees plenty of laughs. Using the city as its stage, and its inhabitants, or victims, as characters, the TV show/concept is known for its hidden camera pranks, hilarious practical jokes, and loads of other creative stunts. JLG features the world's top comedic talents, tickles everyone's bones and has been making people laugh in various countries.
5. NqTV/Remi Gaillard (6.8m+ subscribers)
A French prankster, Remi Gaillard is famed for his unconventional comedic acts and outrageous videos. He is also known for his football passion. The former shoe salesman's prankster career was born after losing his job and he then resorted to pranking the unsuspecting public. He shot his first video in 1999 but rose to fame three years later on his official website following his stint at the Coupe de France finals, where he evaded security to celebrate with the winning team. The French prankster/football trickster launched his YouTube channel in 2007.
Rémi's prank videos feature him surprising people dressed up as animals or as different game and cartoon characters. Rémi Gaillard's YouTube channel currently boasts of over 6 million subscribers. He is also a budding actor with some big-screen credits.
6. Magic of Rahat (6.3m+ subscribers)
A Bangladeshi descent, Rahat Hossain is a self-proclaimed magician prankster. His pranks are peculiar because of the magic twist. The hilarious and creative prankster who is known for his out of the box ideas gained fame for incorporating elements of magic into his range of invisible pranks. A practical joker, Rahat typically uses his craft to terrify unsuspecting victims. His risky and weird tricks are a quirky blend of trickery and illusions.
Rahat was catapulted to stardom in 2013 following his "Drive Thru Invisible Driver Prank" video which was also featured on various popular TV shows. The YouTube prankster whom the internet just can't get enough of boast of over 6 million subscribers and millions of views on his channel.
7. HowtoPRANKitup (3.2m+ subscribers)
Created by German-born, Ohio-based Dennis Roady, the HowToPrankItUp YouTube channel is famed for its prank videos featuring unsuspecting strangers as well as challenge videos.
A former UPS factory distributor, Roady began uploading prank videos on YouTube in his spare time as leisure. But he soon turned the passion into profit in 2012 after creating the eponymous channel Dennis Roady Deeds. Encouraged by the positive feedback from his audience, Dennis eventually quit his job to focus on YouTube and in 2013, the howtoPRANKitup channel was born.
Some of howtoPRANKitup's most popular videos till date include his debut video Cops Get Owned!!! – Epic Pee Prank, Sports Car Fire Prank, 10 Prank Toy Reviews, and Sister Pranks Brother, among others. Dennis is also famed on YouTube for his collaborations with other famous YouTubers including Roman Atwood and Vitaly Zdorovetskiy. A natural prankster, Dennis Roady was also featured in the YouTube Red series Fight of the Living Dead: Experiment 88.
See Also: 10 Highest-Earning YouTube Stars In The World
His other YouTube channel Dennis RoadyVlogs which was launched in December 2013 is also hugely popular. While howtoPRANKitup boasts of over 3 million subscribers, the Dennis RoadyVlogs has over 200,000 subscribers.
8. Viral Brothers (2.7m+ subscribers)
The ViralBrothers are a pair of Czech YouTube pranksters who found fame for their "Stupid Crap" and "Revenge" series. Erik Meldik and Cenek Styblo specialize in filming short prank videos that typically involve an unsuspecting victim tricked into shocking reactions on camera.
The prank and comedy video content creators formed the ViralBrothers in September 2011 and are popularly known for their hard, ruthless prank plots. They originally made videos only in the Czech language before trying some in English. But in order to get a bigger global appeal, their prank videos are now mostly in English or they provide translations. Today, the ViralBrothers channel has over 2.7 million subscribers and has accumulated millions of views since it's inception.
9.  LAHWF (2.3m+ subscribers)
The popular YouTube channel LAHWF was created by Andrew Hales. It stands for 'Losing All Hope Was Freedom' and was named after a quote from the Fight Club movie. Yet another awkwardly hilarious prankster, Andrew just likes to make people laugh with videos which he believes are not pranks but social experiments.
LAHWF grabbed media attention for pranks and interactions that leave his victims feeling awkward. Unlike other YouTube pranksters, Hales isn't outlandish or boisterous but prefers the classical one-on-one approach. He is known for approaching lonesome unsuspecting victims, engages them in conversations and awkwardness ensues.
From stealing other people's cell phones to trying to get girls to kiss him, Andrew Hales' magic continues to attract new subscribers and fans. Though criticized by media outlets, he is revered by millions of fans and has consistently achieved viral gangbuster status. With each release, YouTube prankster's videos continue to get more awkward and popular.
10. Improv Everywhere (1.9m+ subscribers)
Improv Everywhere is a New York City-based comedy group famed for staging practical jokes. Created by Charlie Todd, the popular improvisation troupe started a cultural phenomenon in August 2001 and have been putting together large-scale iconic skits for years.
The merry band of pranksters cause scenes of chaos and joy in public places by pulling off harmless stunts that they call missions. The group is designed to go out much like a flash mob and amuse commuters. With acts that include multiple actors called agents, their goal is to surprise and delight random strangers through positive pranks. Led by Charlie Todd, they are known for causing scenes in several public places including retail stores around the city.