Celebrities, maybe, would not have been very particular about what they wear, if there were no cameras and TV's. It would have been a case of wearing what felt right at the moment, believing that fans will forget all about the look as soon as the cloth gets back into the wardrobe. If that was the case, fashion Police and Haley Kittsmiller would have no jobs. There is this thing about celebrities trying so hard to make a fashion statement, and they eventually do, but sometimes not in the way they anticipated. They take hours to look their best and most times end up on lists as this – failed outfits. Well, maybe we should blame it on their designers, costumiers or the camera men who captured the dresses – someone needs to take the fall.
With all due respect, most of the ladies on this list have great senses of fashion, only, the particular outfits on this list went contrary to the rules of fashion. Here are the top 25 worst celebrity fashion fails by Rant Chic. Haley Kittsmiller's comments on these outfits are just enough to pass the message. Check them out.
25. Jena Malone
"I'll be glad when this fad is gone — these bizarre lace dresses combined with ugly panties have been all the rage this year. I am over it. It is not a dress. It does not look good. It is not fashion," said Haley Kittsmiller.
24. Kate Mara
"For someone as striking as Kate Mara, you'd think she'd make better red carpet decisions. Her looks at the Creative Arts Emmys was basically a crappy Picasso painting. You're better than this, Kate," said Haley Kittsmiller.
23. Jessie J
"Sweetie, you do not have the rack for this dress. Your pale skin doesn't compliment the poop-brown ensemble you've chosen. It's hard to ruin a jumpsuit, but Jessie destroyed the garnet at the MOBO Awards this year," said Haley Kittsmiller.
22. Rumer Willis
"The daughter of Bruce Willis and Demi Moore, Rumer has been known for some pretty outrageous things. She showed up in this skimpy number at ELLE's fifth Annual Women In Music Concert Celebration, and had heads turning for all the wrong reasons. What's the fascination with flaunting your lady parts?" said Haley Kittsmiller.
21. Miley Cyrus
"You knew Miley would land a spot on this list. This strappy get-up from the amfAR LA Inspiration Gala not only gave us a nipple slip, but also one of the tackier dresses of the year. For a second, I liked it, and then I realized how trashy it is for an amfAR gala. For a prestigious organization, she could have demonstrated a bit more class," said Haley Kittsmiller.
20. Sandy Powell
"Here's why you don't know who Sandy Powell is; she's a costume designer. She designs costumes — not red carpet gowns. This dress is a total travesty. She is Scorsese's designer of choice for his films, but certainly she can't dress herself," said Haley Kittsmiller.
19. Hilary Duff
"Why Lizzie McGuire would steal this outfit from a girl raised in the projects the night before her prom is beyond me. I didn't know celebrities shopped at Charlotte Russe for red carpet events. This is one of the most perplexing outfit choices of 2014. Hilary is normally a class act, but her inner skank came out in 2014," said Haley Kittsmiller.
18. Zendaya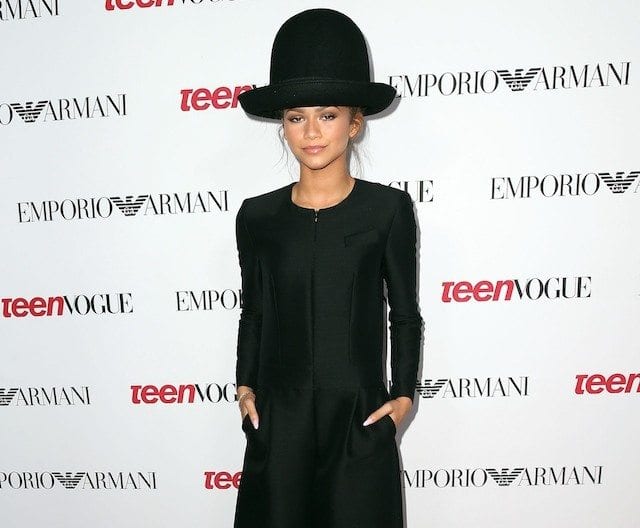 "To quote Zendaya's most popular song, "Make it stop!" Girl, what are you doing? You are not Pharrell. He got tons of backlash for his ridiculous hat and then you put an even bigger one on your head? Fail!" said Haley Kittsmiller.
17. Lena Dunham
"Nothing makes me happier than ragging on Lena Dunham. While many look up to her as a role model, I couldn't despise her more. She looks like the old loofa sitting in your shower that has been used so much it has lost its shape. If she was skinny and if she was Rihanna, this shirt/skirt combo would have killed it," said Haley Kittsmiller.
16. Keke Palmer
"There are two annual events where trash outfits always come out; the MTV VMAs and the BET Awards. Case in point: Keke Palmer. Look how uncomfortable this girl is — you know she's totally regretting this dress choice and spent the entire night trying to cover her taco," said Haley Kittsmiller.
15. Pia Mia Perez
"There's a reason why you've never heard of her; it's because she dresses like this. Dressing as a flamboyant wannabe thug is not going to land you on any best-dressed list, honey," said Haley Kittsmiller.
14. Taylor Swift
"I absolutely adore a jumpsuit. They are easy, comfortable and highly fashionable. Unfortunately, sometimes they go horribly wrong. For hip TayTay, she totally missed on the VMAs red carpet. Yep, the Mary Katrantzou one-piece just did nothing, for no one. The colors were unflattering and the pattern made no sense. In solid red or black, this outfit could have killed," said Haley Kittsmiller
13. Katy Perry
"I understand this dress was an homage to Britney and Justin's red carpet look at the 2001 American Music Awards, but for some strange reason, denim was in back then. It is NOT in now, nor will it ever be in again. Katy, you've got the frame to blow fans away — pick a dress that proves it!" said Haley Kittsmiller.
12. Marion Cotillard
"Marion is one of the most beautiful women in Hollywood. She is undeniably talented and normally has impeccable fashion sense. This was not evident when she attended the 'Two Days, One Night' premiere in October. What is going on with those shorts, girl?" said Haley Kittsmiller.
11. Iggy Azalea
"Where do you even begin with this outfit? For someone with a body like hers, the dress could not be more unflattering. I understand that the VMAs are an outlet for celebrities to push the envelope, but this dress pushed me in all the wrong ways. Let's not forget the shoes. Wait, no, let's forget them," said Haley Kittsmiller.
10. Laura Prepon
"OITNB was the most discussed show at this year's Emmys, so all eyes were on the cast. Stars Uzo Aduba and Taylor Schilling absolutely stunned during their arrivals — then, Laura came out. Good god almighty! You know how you receive an invitation to a tacky 80's prom party, so you go to Goodwill and grab the worst thing you can find? Yeah…," said Haley Kittsmiller.
9. Sarah Paulson
"No matter what she was wearing, I probably would have put her on this list. I cannot stand Sarah Paulson. Luckily for me, she wore one of the most hideous dresses of the year, so this placing was justified. Seriously woman, what were you thinking? No one puts this tulle poof on, looks in the mirror and goes "Oh yea, this is it." Gross!" said Haley Kittsmiller.
8. Amber Rose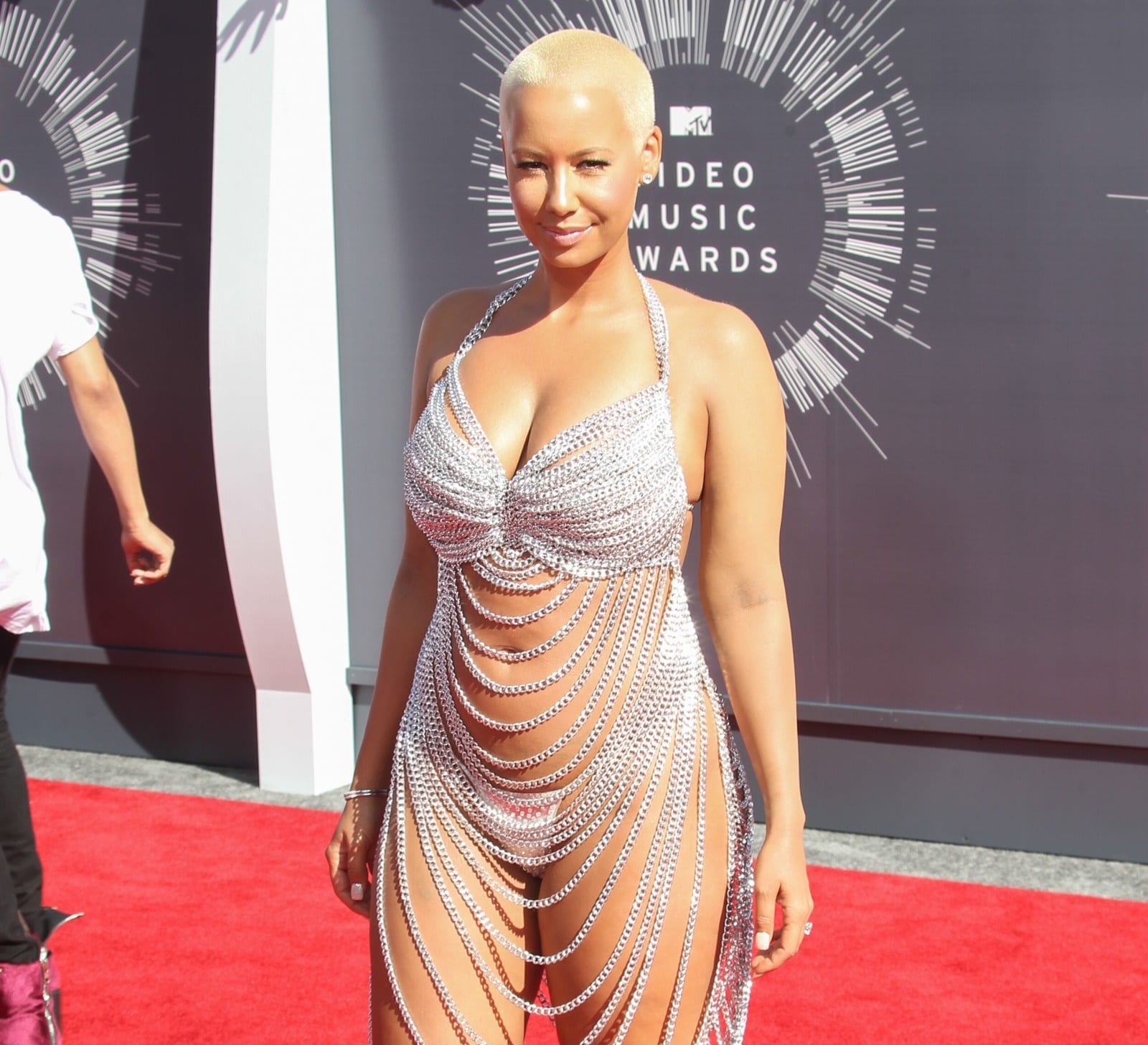 "I don't care if guys all over the country were drooling over this 'dress.' it was completely hideous," said Haley Kittsmiller.
7. Lupita Nyong'o
"Lupita was the icon for fashion during awards season this year. She wore the stunning baby blue Prada gown to the Oscars and the unbelievable red cape Ralph Lauren dress to the Golden Globes. Fashionistas were pumped to see her at the MET Gala, until she showed up in this ridiculous green chain dress made by Prada," said Haley Kittsmiller.
6. Shailene Woodley
"I understand Shailene cut her hair for her dramatic role in 'The Fault In Our Stars,' but short hair is not flattering on her. They make extensions for a reason. The hair is bad, but the dress is all kinds of gag. She has unlimited dresses and beautiful gowns at her disposal, this is the one she chose?" said Haley Kittsmiller.
5. The Olsen Twins
"These sisters love to push the envelope when it comes to fashion, and they definitely did so at this year's MET Gala. Their ever-brooding faces matched their dresses — four things that no one wanted to look at," said Haley Kittsmiller.
4. Lena Dunham
"Let's get one thing straight; Lena Dunham has no idea how to dress. Not a clue. So it's really no shock that her MET Gala dress this year was a total disaster. Next time, cover up that hideous tattoo," said Haley Kittsmiller.
3. Katie Holmes
"Another terrible MET decision is pictured above. Maybe it was just really humid that day and her steamer wasn't working, and maybe she's also colorblind. Forget it, she just has awful fashion sense," said Haley Kittsmiller.
2. Kirsten Dunst
"Anything can go on the MET Gala red carpet — absolutely anything. However, that doesn't mean that anything SHOULD be worn. Case in point; a black gown with the Star Wars Death Star printed at the bottom. Dunst's dress choice is as poor as her movie role selections," said Haley Kittsmiller.
1. Kate Upton
"There is no bigger model in the world right now than Kate Upton. She is filled out in all the right places and is an icon that the average female looks up to. Typically, she makes stunning choices on the red carpet, but this dress falls flat. That's quite the accomplishment for someone with an E-cup," said Haley Kittsmiller.