Depending on whether it is for business, connecting with friends, or marketing a company or product, the top 10 social media sites will vary for each individual. But, the top 10 most used social media sites, based on the profiles, the number of users, and the ease of use and functionality are as follows.
Number 10 on the top 10 list is Habbo. With nearly 70 percent of users being under the age of 18, the site caters to a younger demographic. It features easy to set up profiles, image views, and decent security for online users to the site. Habbo Hotel is a virtual world where you can create your very own Habbo character and design your room the way you like. You'll meet new friends, chat, organize parties, look after virtual pets, create and play games and complete quests.
Number 9 on the top 10 list is Netlog. The website allows you to connect to various businesses, view what offers are out there, and connect to different media forums. Netlog is an online platform where users keep in touch with and extend their social network. It is an online social portal, specifically targeted at the European youth. It is developed by Massive Media NV, based in Ghent, Belgium. In January 2011, Netlog announced that the site would become part of Massive Media, a global media group, focusing mainly on social media, and allowing product portfolio to expand into new markets. Netlog is currently available in 34 languages and has more than 80 million members throughout Europe.
Number 8 on the top 10 list is Zorpia. The site is caters for a wide range of online users, and tends to target users between the ages of 18 to 30. Although the joining age for the site is 13, most users on the site are a bit older. Zorpia was founded in 2003 with a goal of bringing people together from all over the world and allowing them to share their ideas and interests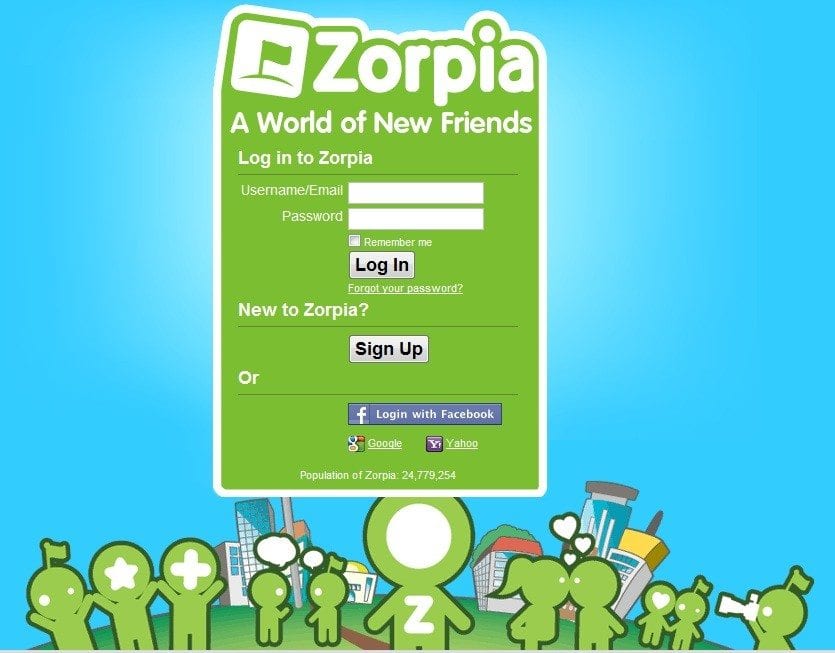 This social media site is visited by people of various age ranges. It offers a fair amount of security settings, 3 MB of image space, and allows for online chats between friends. PerfSpot is a social network for anyone. Profile pages are very similar to those found on MySpace. The company's tagline is "Socialize. Share. Discover. Create."
PerfSpot was created to provide the perfect web portal for people of any age, gender, or background to share their interests and favorite things on the web.
As an international site, the online social media page caters to various users, from countries all around the world. Due to the fact that many users, speaking all languages are on it, the site connects many individuals. Orkut is a social networking service owned and operated by Google. Although Orkut is less popular in the United States than competing social networks like Facebook and MySpace, it is one of the most visited websites in India and Brazil. Originally hosted in California, in August 2008 Google announced that Orkut will be fully managed and operated in Brazil, by Google Brazil, in the city of Belo Horizonte.
This website also features a fairly diverse user base, but is mostly used by Americans. Although some international visitors are on, it is mostly US based, and for a bit older folks as well. Hi5 is a social networking site based in San Francisco, California. The company was founded in 2004 by Ramu Yalamanchi. By 2004, comScore reported that Hi5 had become the third most popular social networking site in terms of monthly unique visitors
This website is generally visited by younger online users. With a young sign up age, it allows various individuals to log on, and chat with friends on the web. In May 2011, Friendster repositioned itself into a social gaming site, discontinuing support for existing users' social data; its new focus is on providing users with entertainment and fun.
Number 3 on our list of popular social networking sites is Bebo. The site is split between business related and friends connections. Depending on what each user is going for, what they are looking for when connecting online, and who they hope to meet, there are many different connection options with this social media site.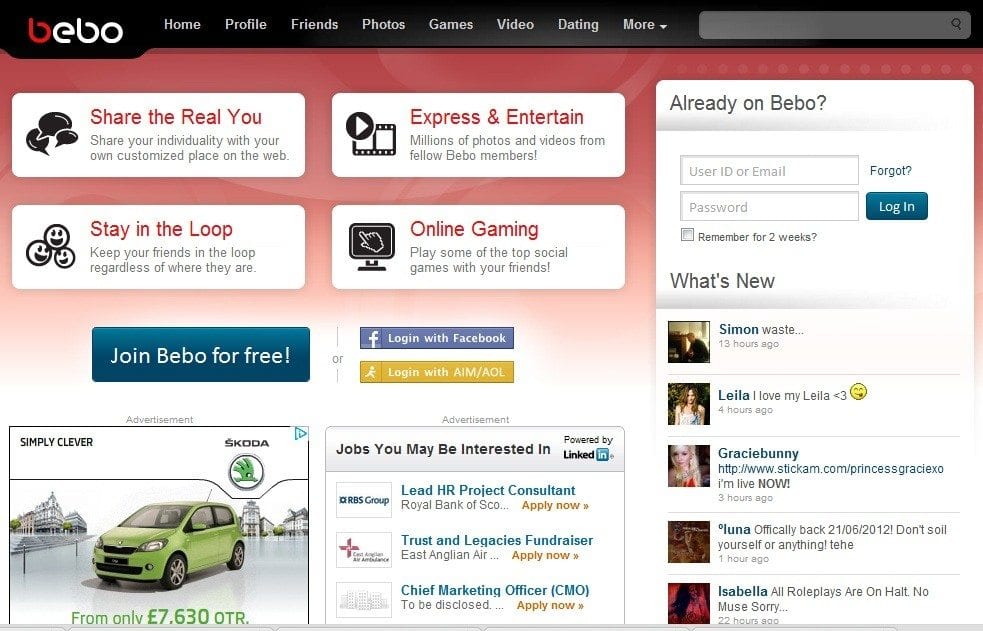 Number 2 on the top 10 list of social networking sites is Myspace. Although it has lost a fair number of users, the site is still a popular forum to chat with friends. Due to the diversity of users, ages, and people from around the world, there are many great connections which users are going to be able to make when they turn to Myspace for their connection forum online.
The number 1 spot on the top 10 list is Facebook. Taking over Myspace a few years back, the site was initially for college students, but today caters to everyone, from businesses, to regular everyday individuals looking to connect with old friends. Facebook is the world's largest social network, with over 1.15 billion monthly active users. Founder Mark Zuckerberg started Facebook in 2004 while he was an undergraduate computer science student at Harvard University.
Somewhere in the middle of these we can have LinkedIn and Pinterest and Twitter, so I'll rather say top 12 rather than top 10, there are some other ones that are growing very rapidly. No matter who you are looking to contact, meet, or get in touch with after several years of not speaking, any of these social media sites is going to help connect online users. From finding a job, looking to reconnect with old friends, and just trying to stay on top of what is going on around you, visiting any of these social media sites is going to allow online users to keep in touch, with anyone, no matter where they live, both in and outside of the US region.