Blogging has become a popular means for businesses, people and organisations to get their names, products, services or information online. The term blog is a discussion or informational site published on the World Wide Web and consisting of discrete entries ("posts") typically displayed in reverse chronological order (the most recent post appears first). As of 16 February 2011, there were over 156 million public blogs in existence, this number is increasing at an alarming rate, in 2013 as at the time of this writing, there are over 100 million blogs on Tumblr alone and over 63 million blogs on WordPress.
According to an infographic from blogging.org which surveyed over 1000 bloggers across the US, it was discovered that there were an estimated 31 Million bloggers as of July 2012 with 42,000,000 Blogs in the US alone, it was also discovered that 329 Million People View at least a Blog Monthly, generating 25 Billion Pages Viewed per month.
There are 500,000 Daily New Posts with 400,000 daily comments. People blog for various reasons ranging from business related reasons to fun. With over 150 million blogs in existence today, you can agree with me that there's a lot of competition in terms of ranking among the top ten most visited blogs, we've put together a list of the most popular blogs online today based on Technorati which is a leading blog search engine and directory, we'll keep updating this list from time to time
10 Most Popular Blogs on The Web
The Business Insider blog focuses on media, finance, and business, the blog offers some of the latest trends in these industries. Apart from providing and analysing business news, the website also acts as an aggregator of top news stories from around the web from sources that includes The New York Times and National Public radio.The Business Insider referred to as TBI for short is a news site with deep financial, green tech and digital industry verticals. The site launched in 2007, it is led by DoubleClick founders Dwight Merriman and Kevin Ryan and former top-ranked Wall Street analyst Henry Blodget.
Coming up at number 9 on our top 10 list of most popular blogs on the web is Gawker. The site is mostly known for its focus on celebrities and the media industry. Gawker was founded in 2003 as the flagship for Gawker Media which is an American online media company and blog network, founded and owned by a British journalist and internet entrepreneur Nick Denton based in New York City. Nick Denton launched Gawker Media as network of 13 theme blogs that includes Defamer (gossip), Gizmodo (gadgets), Fleshbot (porn) and Wonkette (politics). Gawker.com usually publishes over 20 posts per day during the week, this can sometimes get up to 30 posts a day during the week with limited publishing during the weekends.
The 8th most popular blog on the internet based on Technorati rating is Engadget. For those who are interested in the latest gadgets, electronics, and consumer electronics, this is the site to turn to for the latest or next big thing that will be released to consumers. Just as the name implies, it is a  multilingual technology blog network that provides daily coverage of gadgets and consumer electronics. It was co-founded by former Gizmodo technology weblog editor and co-founder, Peter Rojas. Engadget which is part of Weblogs, Inc., (a blog network with over 75 blogs which was sold to AOL in 2005) currently operates a total of ten 'blogs out of which four of them are written in English, the website frequently ranks among the top five in the "Technorati top 100"
Number 7 on our top ten list goes to Ars Technica which is a is a technology news and information website created by Ken Fisher and Jon Stokes in 1998, Ars Technica specializes in original news and reviews, analysis of technology trends, and expert advice on topics ranging from the most fundamental aspects of technology to many ways technology is helping us enjoy our world. It publishes news, guides and tips, reviews on issues related to computer hardware and software, Engineering, science, technology policy and more. The website used to be privately owned until 2008 when it was sold to Condé Nast Digital along with two others for $25 million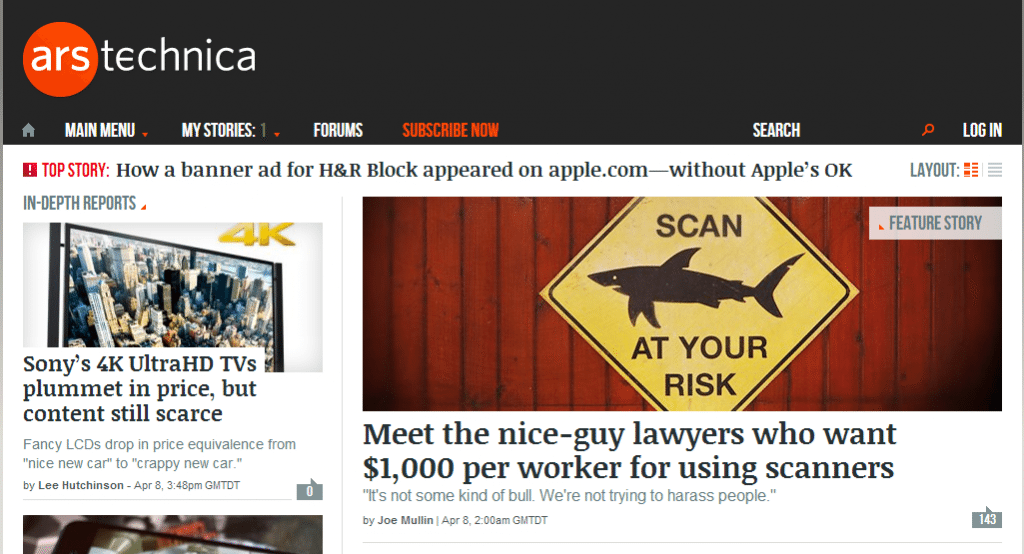 TMZ is where to go for Celebrity Gossip, Entertainment News and Hollywood Rumors. It is a celebrity news website that launched on November 8, 2005 as a result of the collaboration between AOL and Telepictures Productions of Warner Bros before the breakup between Time Warner and AOL in 2009. According to Comscore US Rank, TMZ has a total of 18.5 million US readers as at march 2011 making it the second most read Entertainment News Web Property just behind Yahoo OMG at 23.7 million
This website features a combination of a technology platform for detecting viral content with an editorial selection process to provide a snapshot of "the viral web in realtime, it consists of mainly list of posts usually either a video, image, or link from users and staff members arranged in a chronological order, it also features occasional quizzes
The 4th most popular blog on our top 10 list of blogs is TechCrunch. As the name implies, the blog deals with tech news and updates, the latest in technology, and internet culture. From the latest news, to the latest gadget, all information can be found here. The website basically offers technology news and analysis, as well as profiles of startup companies, products, and websites. It was founded by Michael Arrington in 2005, in 2010, media giant AOL announced that it would acquire TechCrunch for $25 million. The website has affiliations with other websites that include CrunchBase, TechCrunch France, TechCrunch Japan, TechCrunch Europe, TechCrunch TV, CruchBoard, TechCrunch IT.
The Verge is a technology-focused news publication founded in 2011 by Joshua Topolsky and Marty Moe in partnership with Vox Media and its CEO Jim Bankoff, The Verge is based in Manhattan New York City. It's mission is to offer breaking news coverage and in-depth reporting, product information, and community content via a unified, modern platform.
Number two on the top ten list of blogs goes to Mashable! The newsworthy blog that focuses on social media, web development, and similar styles of writing, for those online sites which cater to this audience.
Mashable covers latest technology news and developments in Gadgets, Mobile, Entertainment, Startups, Business & Marketing, With Alexa ranking of about 274, the website ranks as one of the most visited tech websites in the world, it has won several awards including being named by Time as one of the 25 best blogs in 2009, Pete Cashmore launched Mashable from his home in Aberdeen, Scotland in July 2005, Mashable is headquatered in San Francisco & New York City.
The number one spot on the top ten blog list goes to the Huffington Post. The blog specializes in breaking news and reports, from pretty much any area or news source around the world, it offers news, blogs, and original content and covers politics, business, entertainment, environment, technology, popular media, lifestyle, culture, comedy, healthy living, women's interests and local news .. just name it and Huffington Post has it, whether it is politics, or the latest information on your favorite electronic provider, readers are bound to read about it in the Post. In February 2011, Huffington Post was acquired by AOL for $315 million making Arianna Huffington editor-in-chief of The Huffington Post Media Group.