Some 50 years ago, the mere thought of a device the size of a wallet pulling off the amazing things digitally possible in today's world would have been the stuff of dreams. That technological breakthrough has brought us to this point is really remarkable. There are more people in the world today with mobile phones than there are those without!
Since 1917, when mobile phones came into existence, first as a pocket-size folding telephone, it has evolved through various stages to the sophisticated gadgets we have today. Depending on its functionalities, mobile phones to some people are just a device to make and receive calls, while to some others it is an investment. To others, it has become the single most important inanimate object they own.
Everyone enjoys owning the best items ever, and expensive phones are not out of it. Over the years, phones have become a luxury accessory and an avenue to show off wealth, style and class. There is absolutely nothing wrong with buying an expensive phone, as long as the user enjoys using the phone and is comfortable with the price it was bought.
Here is a list of the top 15 most expensive phones in the world. These phones are specially manufactured for the royals and high-class; they are even more expensive than some cars and houses and are endowed with precious metals like gold and diamond. While some of these super gadgets may be packed with some of the latest mobile phone technology and capabilities, most of them can be easily appreciated as a work of art and craftsmanship designed especially for men and women of means who go out of their way to appreciate the finer things in life.
These are the most expensive Phones in the world
15. HTC One Gold Edition ($4,200)
Over the last few years, HTC has done a good job of matching Apple and Samsung in getting a fair share of the smartphone industry. The HTC One Gold Edition came into the market during the same season when the gold-colored iPhone 5s, the Galaxy S5 were released. At the time of its release, only five of these phones were created. It was praised by industry analysts as a great alternative to its peers at a more reasonable budget.
Released in February 2013, this phone boasts of a Glass front (Gorilla Glass 2), with a new colour addition of 24-carat gold on the design of the device, Platinum and Rose Gold editions of the device were also made. Though the popularity of the device somewhat wanned over the years, it remains one of the best luxury devices to come out of the stables of HTC.
14. Vertu Constellation ($6,000)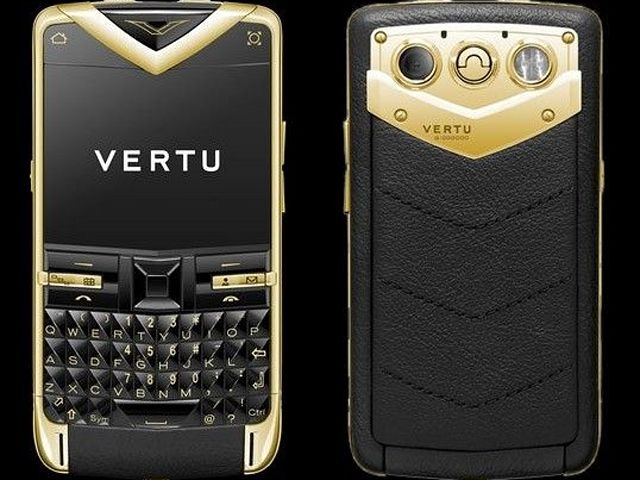 Founded as a division of Nokia, Vertu is not a smartphone brand that is all too popular. They have carved out a niche for themselves as makers of mostly luxury phones. In the Vertu Constellation, the company rolled out a flagship phone that has resonated with the high and mighty.
Released in October 2011, the Vertu Constellation is clothed in polished stainless steel, and black/white alligator skin, red gold, and black leather. Vertu Constellation possesses a 4.3-inch HD display and is shield by a 5.1-inch sapphire crystal that Vertu claims can only be scratched by a diamond.
At $6,000 this device is arguably worth its price simply because of the worth of the precious stones that are invested in its production.
13. Tag Heuer Link ($6,750)
Swiss watchmaker TAG Heuer isn't necessarily reputed for making mobile phones. Over the years they have made a name for themselves as one of the world's top watch-maker. So when you hear about the Tag Heuer Link you'd be forgiven for thinking it's a wristwatch.
Though it is running on one of the old generation Android 2.2, the phone comes coated with 18-carat rose gold- or titanium-finished case. Critics are of the opinion that the phone's worth lies more in its finishing and aesthetic appeal rather than its functionality. You can surely find cheaper mobile phones with a more robust operating system, delivering more speed, but you won't find an 18-carat device on the common tech market.
Offering 256MB of RAM and 8GB on a memory card, with a basic 5-megapixel auto-focus HD camera and 11 hours of music playback, what you are really paying for is the precious metal in your hand not necessarily a smashing tech device.
12. Vertu Signature Diamond – $88,000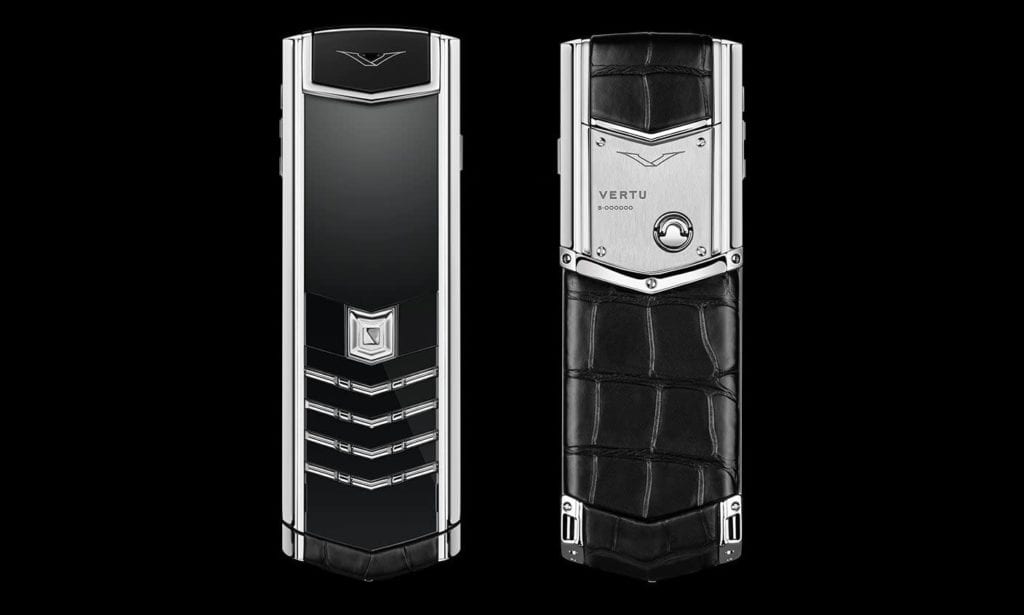 The Vertu Signature is an exotic device in keeping with Vertu's track record of churning out luxury phones of the highest quality. Made of Platinum, this device is adorned with 200 diamond pieces giving it a feel befitting the price tag. Designed with a scratch-free sapphire glass, the device is 15.5 mm thick and weighs 200 grams.
Released in 2005, the Vertu Signature is elegant, sleek and easy on the hand. Its dimensions of 4.80 x 1.65 x 0.61 inches give it a very special feminine feel that enhances its popularity with the female folk.
11. Dior Reverie – $116,000
Chances are that you never know Dior ever made a mobile device, let alone one of the most expensive the world has seen. A first glance at this device and you'd think it's a box of precious stones that has been hand-crafted to precision. A closer look and it reveals a truly interesting mobile device. With the Dior brand associated with this product, it is no surprise that this phone is a favorite for fashion-loving multi-millionaires. It's a mobile device, but it's safe to say it's easily a fashion accessory as well.
Hand-assembled in France and released into the market in 2005, this masterpiece is decorated with 1,539 diamonds, 18-carat white gold specs, and 46 pieces of natural pearls. Beyond the amazing aesthetic appeal, the phone is pretty good on the tech functionality front. It comes with a basic 3.2″ screen with 854×480 pixels resolution, a 5MP camera, and a microSD card slot. Not great in today's terms but just about okay for someone who isn't too tech-savvy.
10. iPhone Princess Plus – $170,400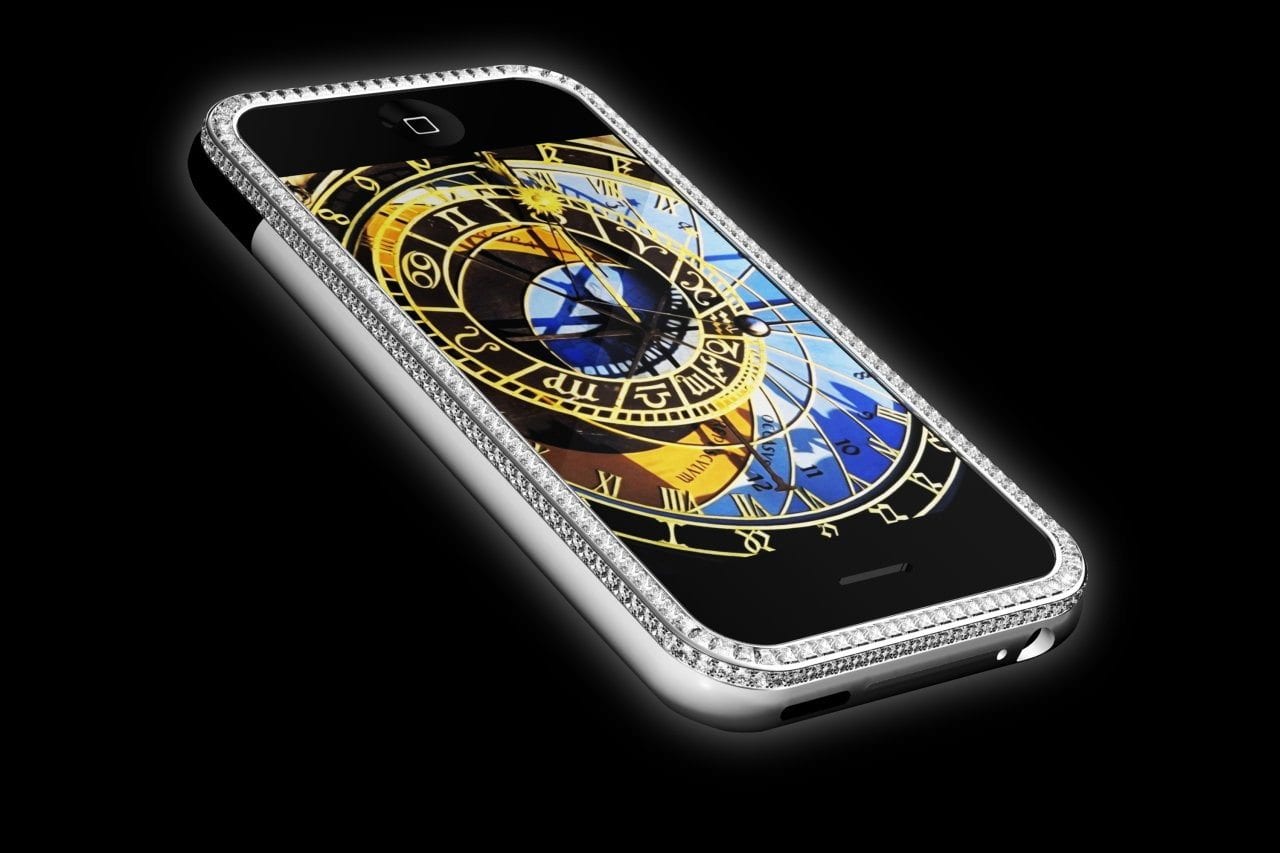 The 'princess' in the name actually comes from the way the diamonds on the phone are cut. iPhone Princess Plus has 318 diamonds on its exterior, with 138 of them being a princess cut. The phone comes with a total of 17.75 carats in diamonds alone, and 18 carat white gold trim on the phone. No wonder the price is breath-taking, and guys don't mind using it to massage their ego, irrespective of the fact that the name of the phone sounds feminine. At $170,400, this device is surely not your regular iPhone. It is designed by Austrian jeweler Peter Aloisson.
9. Savelli Emerald Night – $250,000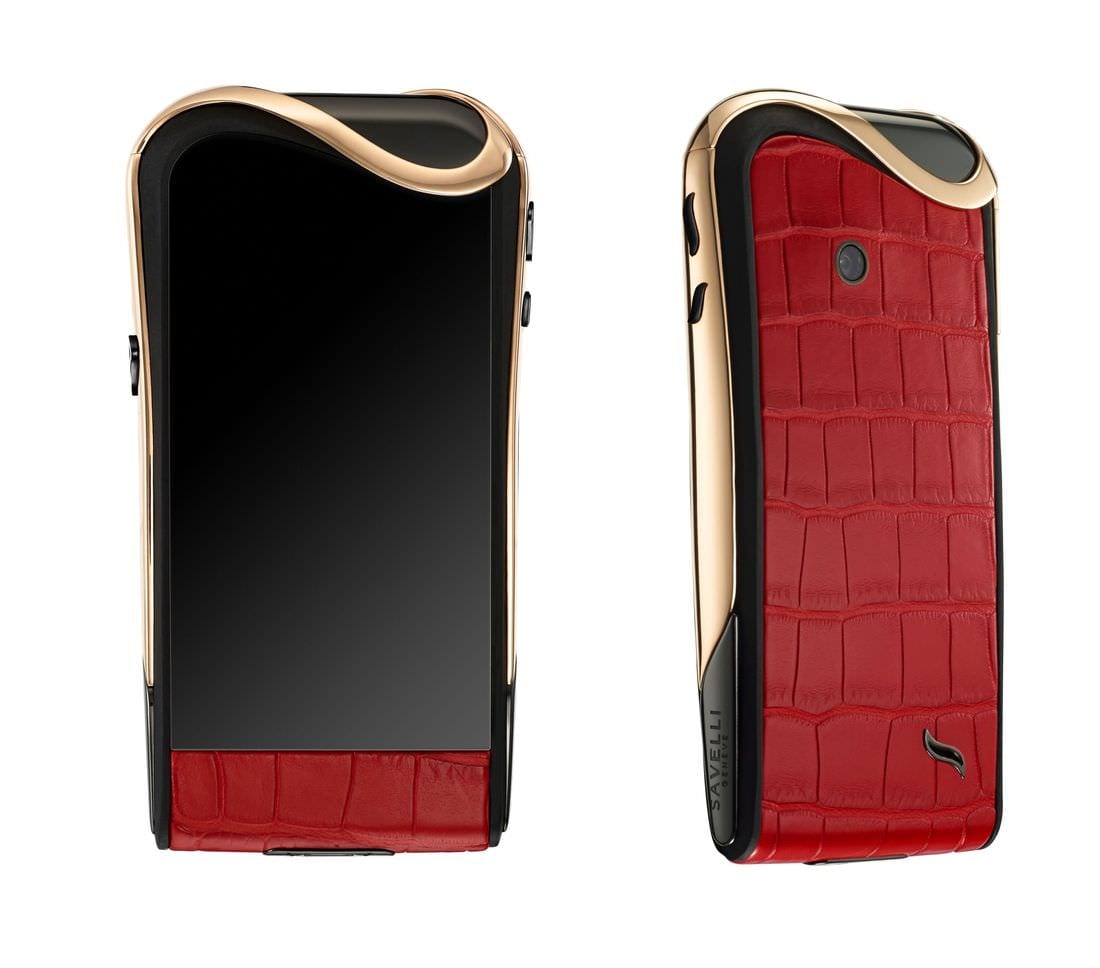 Designed with the female folk in mind, this phone features 400 brilliant-cut emeralds. The design is sleek and curvaceous and has resulted in high popularity among women.
The selling point for Savelli Smartphone is not on special features, but the design of the exterior. Each Savelli phone comes with 18 karat gold and any jewel that you want encrusted into the side – customization is allowed. If you are not OK with diamonds, you can pick from other finishes that can be added to the phone. Smartphones and dead animals don't usually go together, but when they do the price tag is ridiculously high, you don't mind carrying a leopard in your palm, do you?
8. Black Diamond VIPN Smartphone – $300,000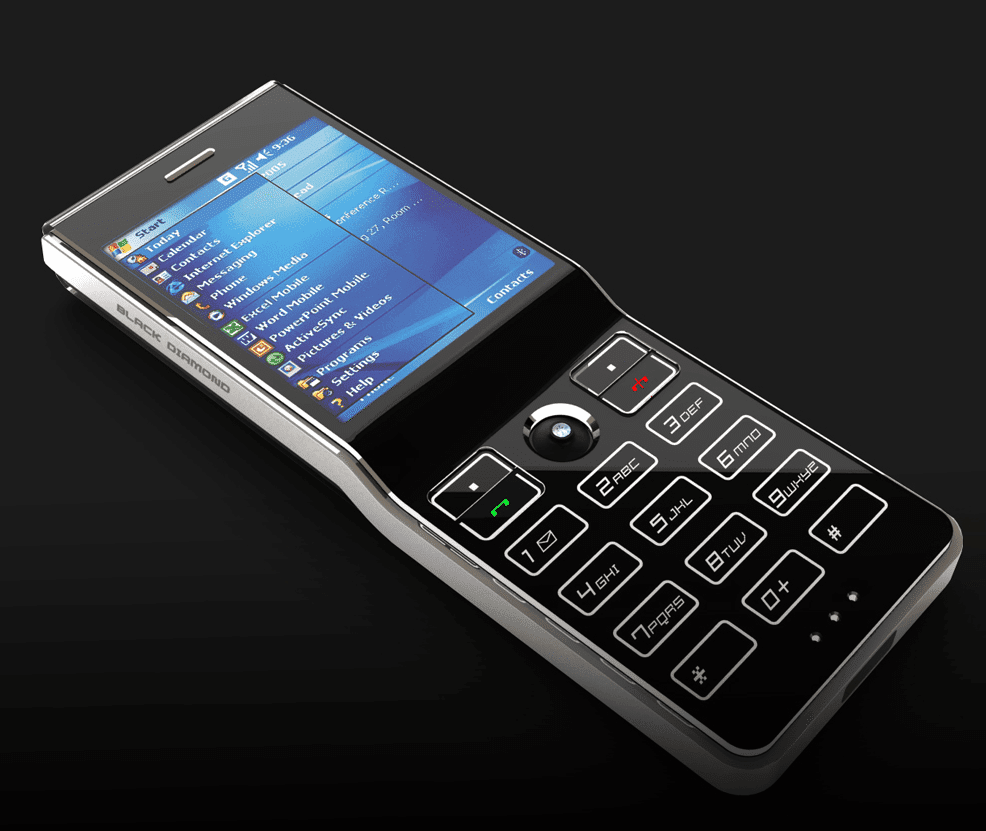 Unlike the first two phones above, the Black Diamond has just two diamonds on it, with a larger one on the back and a smaller one on the stick up front. Though the Black Diamond has navigation sticks like Blackberry, it is still more expensive than common phones. The largest-selling point on this pricey phone is the indestructible fancy mirror it has as a screen.
7. Vertu Signature Cobra – $310,000
The Vertu Signature Cobra may be one of the most unique looking phones on the list. With only eight produced in the entire world, there is a snake that wraps itself around the front edge. The snake on the phone is the reason for its outrageous price; it is made from a pear-cut diamond and for some odd reason wears a white diamond earring. The eyes of the snake are also made from small emeralds and there are nearly 500 rubies on the body of the snake.
6. Gresso Luxor Las Vegas Jackpot – $1 Million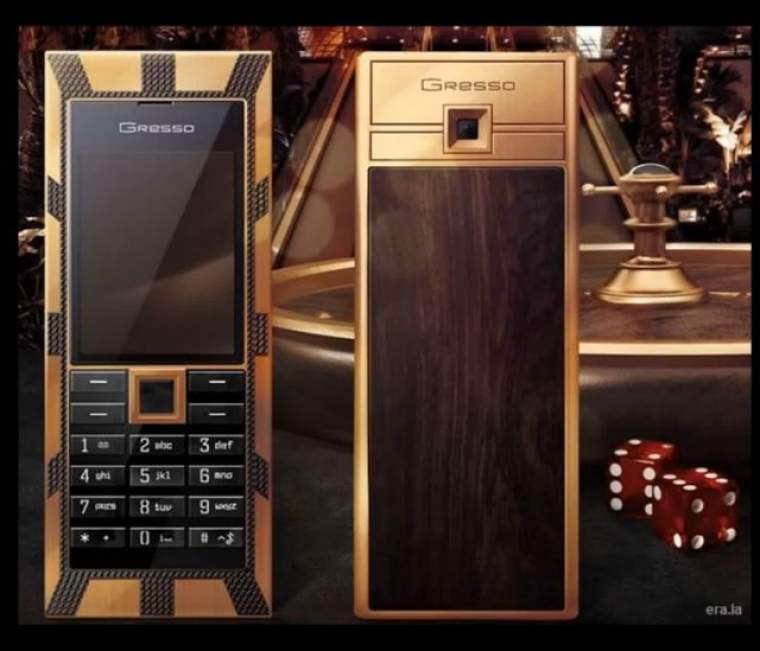 Clothed with 18-karat gold weighing 180 grams, a 200-year-old African Blackwood, 45.5-carats of black diamond, and sapphire, the Gresso Luxor Las Vegas Jackpot oozes class and sophistication. At first glance, you might not notice that the keypad is made of a crystal sapphire which is intricately laid and polished with a manual diamond made hand tool.
Weighing 32 carats, the phone has been mildly criticized in some quarters as been blinged out too much, but that's probably the point, besides it was never intended for the masses. Only three of these were manufactured and you'd probably have to place a special order to have it replicated for you.
5. Diamond Crypto Smartphone – $1.3 Million
Due to their similarities in shape, you might mistake the Diamond Crypto Smartphone for Nokia 3310 if you are not sensitive enough to see the huge diamonds. The phone may not look so cool, but has tech functions; you don't have to worry about having your information stolen since the security on the phone is top of the line. What makes the Diamond Crypto Smartphone worth $1.3 million is the huge diamonds on it; there are 50 diamonds that make up the exterior of the phone.
4. GoldVish Le Million – $1.3 Million
Now, this is money speaking through a phone. With the whole body, except the screen, made of 18 carat white gold, the Le Million may be the most over the top looking phone on this list. Aside from the gold, the phone is covered in 120 carat diamonds. In 2006, there is an exclusive fair for millionaires where lavish items are bought and sold and this phone was the most expensive phone transaction at the fair. A Russian businessman paid $1.3 million to own this beautiful piece of gadget.
3. iPhone 6 Amosu Call Of Diamond – $2.7 Million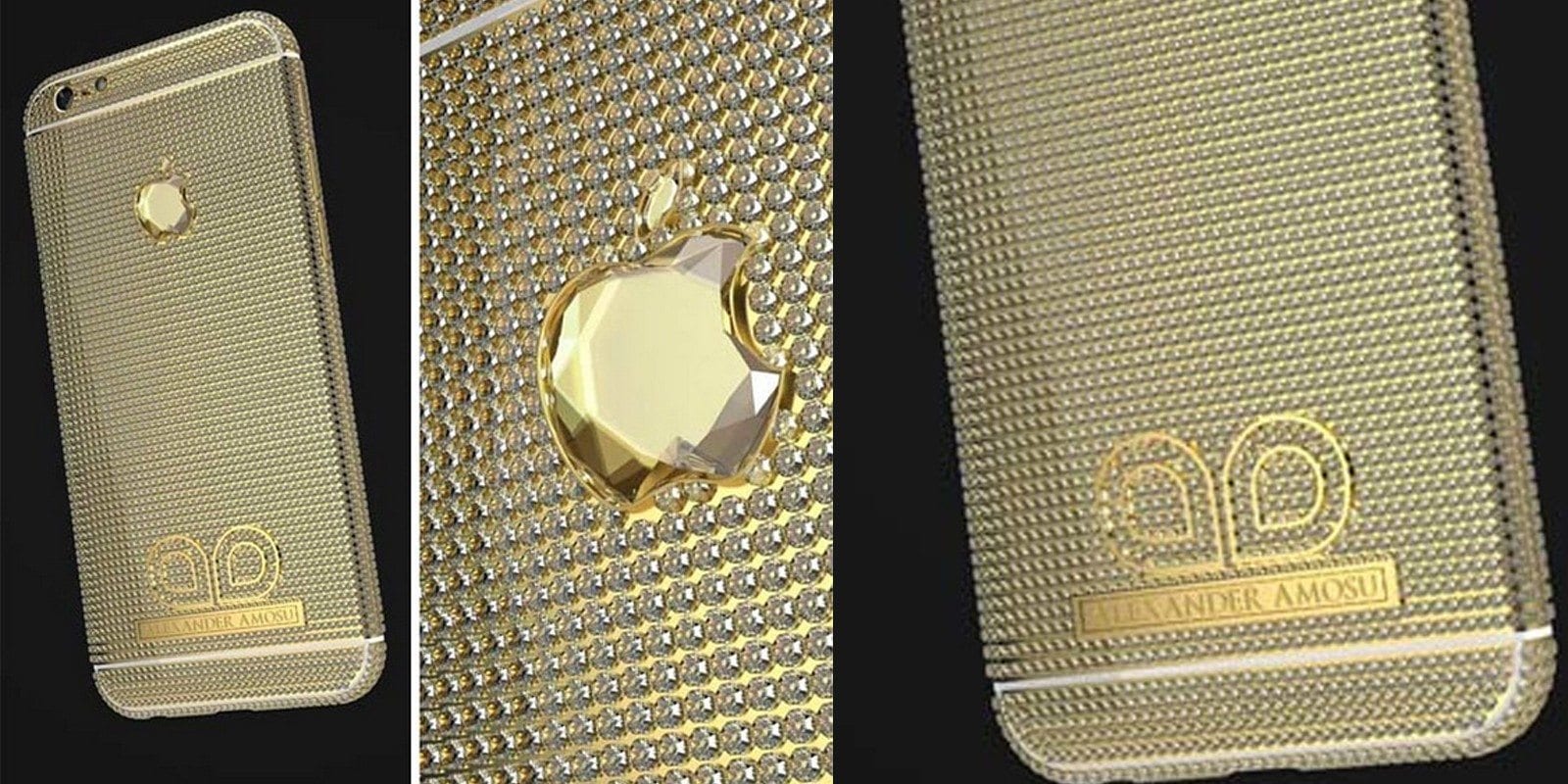 Unlike other Apple Logos on regular iPhones,  the logo on the iPhone 6 Amosu Call Of Diamond is made of diamond. To top that up, there are over 6,000 tiny diamonds on this iPhone. There are limited pieces of this phone because it is both bank breaking to buy and time-consuming to produce; it takes a total of two months to make just one piece of the iPhone 6 Amosu Call Of Diamond. The little diamonds are hand placed, and that attracts a handsome labor cost for the manufacture.
2. iPhone 5 Black Diamond – $15.3 Million
The black diamond is one of the rarest jewels in the world. Stuart Hughes was able to find one of these black diamonds and he placed it on the iPhone. Infact, the chassis was inlaid with 600 white diamonds
The phone also has on it gold, diamonds and other stones that cost a lot. A businessman in China called Stuart Hughes to place an order on the phone; the Chinese man wanted Stuart to make only one of the phone, specially customized for him, and not to be reproduced or sold in the market. From the time of order, it took nine weeks to build what has become one of the most expensive mobile devices ever made.
1. Falcon SuperNova Pink Diamond iPhone 6 – $48.5 Million
Imagine just how much $48.5 Million can buy you. It can easily get you 52 Ferrari's, 9 limited edition Lamborghini's and some of the choicest real estate in Los Angeles. The fact that that amount can be coughed out for a mobile phone tells how much is at the disposal of the select few that can afford this gadget.
Fortunately, the makers of The Falcon SuperNova Pink Diamond iPhone 6 recognizes how expensive it is, so they came up with a payment plan that runs over a time frame. As expensive as the Falcon SuperNova Pink Diamond iPhone 6 is, it does not have so many diamonds like its peers, instead, it has one main feature. It has an 18 karat gold casing and one huge diamond stuck at the back. Falcon embedded a pink diamond and that alone was the leading cause for the huge price tag.
One of the few people that own one of these is Nita Ambani, wife of the richest man in Asia, Indian businessman Mukesh Ambani.
Recap
Below is a list of the 15 most expensive phones in the world today and their prices:
Falcon SuperNova Pink Diamond iPhone 6 – $48.5 Million
iPhone 5 Black Diamond – $15.3 Million
iPhone 6 Amosu Call Of Diamond – $2.7 Million
GoldVish Le Million – $1.3 Million
Diamond Crypto Smartphone – $1.3 Million
Gresso Luxor Las Vegas Jackpot – $1 Million
Vertu Signature Cobra – $310,000
 Black Diamond VIPN Smartphone – $300,000
Savelli Emerald Night – $250,000
iPhone Princess Plus – $170,400
Dior Reverie – $116,000,
Vertu Signature Diamond – $88,000
Tag Heuer Link – $6,750
Vertu Constellation – $6,000
HTC One Gold Edition – $4,200
We hope you enjoyed our list of the 10 most expensive phones in the world. This list of most expensive phones have been compiled from various sources around the web including YouTube, Luxhabitat, Luxatic, and Mashable