With so many models out there, most especially on social media, have you ever wondered who the hottest Instagram female models could be? Picking the hottest among them may seem like a walk in the park, but it is not. This is because apart from the professional models, there are many others who were ordinary people before the internet and Instagram, in particular, turned them to sensations.
In the midst of many beauties to behold and models that will make your day, here are our top female models on Instagram in no particular order.
Hottest Instagram Female Models
1. Cindy Kimberly (@wolfiecindy)
Cindy Kimberly was living a normal life and working as a babysitter with hardly any plans of becoming a model. But then, in 2015, Justin Bieber took to his feed where he posted a picture of the beauty with a caption asking who she is. That gave rise to her career as a model on Instagram.
Cindy was born to an Indonesian mother and a Spanish father in the Netherlands on November 16, 1998, but was mostly raised in Spain. The Insta model grew up as a regular girl until her life was changed in 2015. From then onward, she has appeared in a number of magazine covers and has also worked with some major brands.
With a height of 5 feet 7 inches and a weight of 56kg to complement her flawless looks, Kimberly has a legion of over 5.6 million followers on Instagram. She is in a relationship with social media star and model Neels Visser.
2. Kindly Myers (@kindly)
With her ravishing beauty and a face for the cameras, there is no way Kindly Myers will escape falling on any list of the hottest female Instagram models. The blonde beauty was born in the United States in 1985 and before becoming famous as a model and on Instagram, she once worked in the National Guard, putting in four years of her life.
After that, she proceeded to work as a bartender while pursuing her modeling career. She also worked with Walmart as a customer service rep. She has a very good stature that measures 34-26-35 inches (bust, waist, and hips), and a height of 5 feet 6 inches.
On Instagram, she has followers of over 1.6 million and has worked with many brands, as well as graced the cover of magazines such as Maxim, Coed, FHM, and others.
3. Liu Wen (@liuwenlw)
Liu Wen is one of the biggest models to have emerged from China. She started modeling as a teenager with the help and encouragement of her mother, although what she had wanted to be while growing up was a tour guide. But with her captivating beauty and perfect body build which is cut out for the runway, her success came pretty much effortlessly.
She was born in China in 1988 and was raised as an only child. By 2005, she started modeling professionally and only a couple of years later, she became an international star after attracting global brands and big fashion names. Wen has done campaigns for Dolce & Gabbana, Calvin Klein, Roberto Cavalli, Hugo Boss, and almost all other big brands.
On Instagram, she has a following that is over 4.7 million. She has a good height of 5 feet 10 inches.
4. Megan Williams (@meganmayw)
A blonde British beauty with gentle appearance and piercing looks, Megan Williams does not have the biggest following on Instagram, but she is still among the hottest models on the platform and one of the fastest rising. She is a Victoria's Secret model who was born in 1994 in Southampton, United Kingdom.
Even though her career is still fresh, the Insta beauty has walked for Dolce & Gabbana, Ralph Lauren, Philipp Plein, as well as in the Victoria's Secret Fashion Show. In addition to that, Williams has appeared on the covers and pages of magazines such as Madame Figaro and Harper's Bazaar. Megan has also done campaigns for Guess, among others.
With a height of 5 feet 9 inches and bust, waist, and hips measurements of 32-23-34 inches, she has attracted over 700,000 followers on Instagram.
5. Emily Ratajkowski (@emrata)
Emily Ratajkowski is not only one of the hottest female Instagram models around, but she is also one of the most popular. With her stunning looks and enticing body, the American model has an Instagram account with more than 23 million followers and she doesn't seem to be slowing down.
The model was born to American parents in 1991 in England, although it was in California that she was brought up. Her rise to fame was pretty sudden – after she appeared topless in Robin Thicke's music video for "Blurred Lines", which was the number one song of the year. She was also on Maroon 5's "Love Somebody" music video. She continues to appear in movies and TV shows, as well as commercials.
The eye-catching model has a height of 5 feet 7 inches and in 2018, she got married to American actor and producer Sebastian Bear-McClard.
6. Jasmine Tookes (@jastookes)
A top model and Victoria's Secret Angel, Jasmine has it all, from good looks to great body build, nice smile, and everything else that would make one a hot Instagram model. She has amassed more than 3.6 million followers on Instagram, as well as good following on other social media platforms.
The model was born in the United States in 1991 and was brought up in California. With a fashion sense that cannot be questioned, she has a celebrity fashion stylist mother. Before she started modeling, when she was 15, she was a gymnast and also played softball and volleyball.
With a height of 5 feet 9 inches, brown eyes, and dark brown hair, she has been involved in many ad campaigns and has also appeared on many runways, including for Tommy Hilfiger, Tom Ford, Calvin Klein, Burberry, Salvatore Ferragamo, and many others and she has appeared on many magazine covers as well.
7. Arianny Celeste (@jastookes)
More than an Instagram model, Arianny Celeste is very famous as a ring girl for the UFC. She has featured in the Playboy magazine. Of Filipino and Mexican descent, the beauty has more than 3.2 million followers on Instagram.
She was born in the United States in 1985 and was brought up in Las Vegas where she attended the University of Nevada, majoring in Fitness Management and Nutrition. In 2006, she became a ring girl and was named the Ring Girl of the Year. She would be named again from 2008 to 2011 during the World MMA Awards. As a model, she has worked for a number of magazines, including FHM, Sports Illustrated, and Maxim.
Also a TV host among other things, Celeste has a height of 5 feet 5 inches.
8. Tammy Hembrow (@tammyhembrow)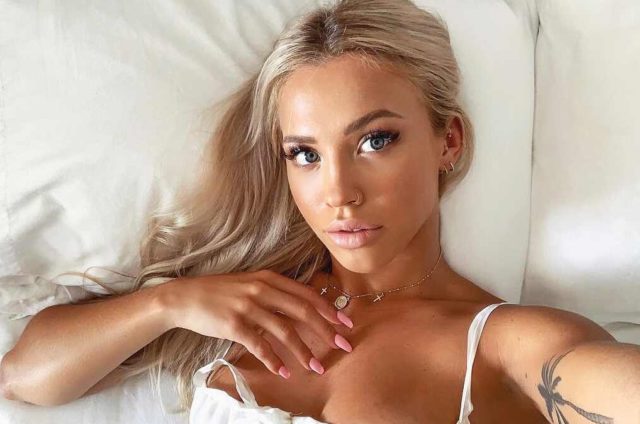 Judging by the close to 10 million people following Tammy Hembrow, the Australian mother of two has been one of the hottest female Instagram models for a very long time, and even with a steady relationship and kids, she doesn't seem ready to slow things down for now.
The well-polished and packaged model was born in Australia in 1994. She is a marketing degree holder whose fame first came through Instagram following the fitness program she designed. Thanks to her unexaggerated good and easy looks, as well as her well-shaped body, she soon attracted a following that only keeps growing.
The blonde who stands at 5 feet 5 inches in height has two children, a son, and a daughter and was in a steady relationship with her ex-fitness trainer boyfriend, Reece Hawkins. The two were engaged to get married but later decided to go their separate ways. She has gone on to date rapper Jahkoy Palmer.
9. Chanel Iman (@chaneliman)
This Victoria's Secret Angel has a very smooth beauty and a unique sense of style. She has close to 2 million followers on Instagram and has been modeling since the age of 12. She is regarded among the top 30 models of the 2000s by Vogue Paris.
Chanel was born in 1990 to a father who is a basketball coach and a mother who is half African-American and half Korean. She began her modeling journey even before she was a teenager with Ford Models and has since grown to be a regular feature in many magazines such as Vanity Fair, Allure, and many others.
She stands at 5 feet 10 inches in height and has black hair and brown eyes. In 2008, she got married to NFL star Sterling Shepard with whom she has a daughter.
See Also: 12 World's Most Breathtaking And Awe-Inspiring Plus Size Models
10. Joann van den Herik (@joannvdherik)
When it comes to plus size, this curvy beauty will definitely find herself among the hottest female Instagram models. Only a glance will reveal that she has the looks of the Hadid sisters. That is because she is their cousin. The plus-size model doesn't yet have millions of Instagram followers but she is gradually making her way up. She was born in 1999.
Joann has modeled for Debenhams and many other brands and has featured in many magazines, including People, Teen Vogue, and Elle UK. The stunning beauty has always used her Instagram handle to encourage people to embrace body positivity.